"This is Umbria – Small, bashful. But with an excellence still yet to discover" -Aldo Fiordelli.
The soft-spoken and seemingly shy Fiordelli, an Italian journalist and wine writer, used these words to describe Umbria while speaking at the 2012 International Wine Tourism Conference this past February. Those familiar with Umbria know that this "excellence" Fiordelli describes can be found in the wines of Sagrantino di Montefalco.
This past week I attended a lunch at Eataly's Manzo Restaurant in NYC that highlighted the wines of this small region and kicked off a month long promotion of Sagrantino in the city.  In attendance were many producers from the Montefalco region and I was able to speak with them about their wines and goals for promoting this region.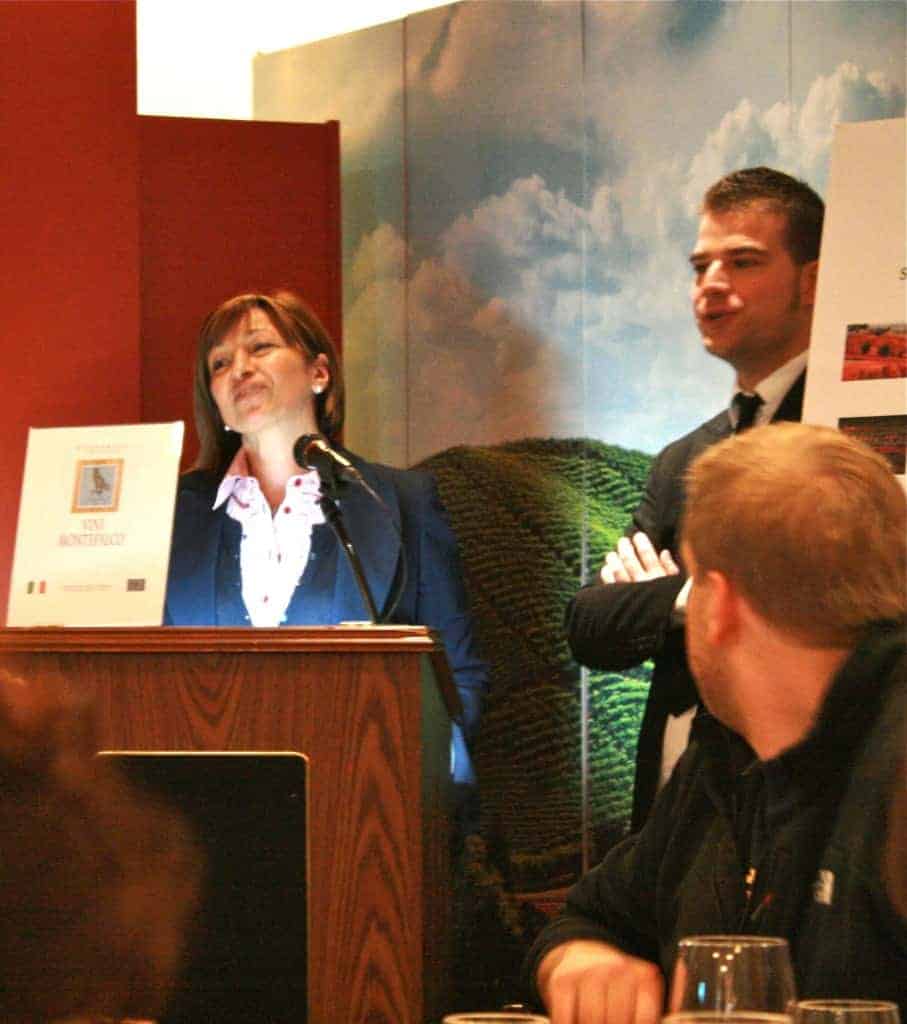 The city of Montefalco lies in the center of Umbria, which is located in the center of Italy, making it literally the "heart of Italy", as stressed by Donatella Tesei, the Mayor of Montefalco, who spoke at lunch.
The "jewel (and most important grape) of this region" is the Sagrantino grape.  The history of this indigenous grape dates back to the Roman times, but only started to earn serious recognition over the last thirty years. Many tribute this to Marco Caprai and his dedication to showcasing the grape's true potential through improved viticulture practices, using modern production methods, and research.  He and a small group of dedicated producers raised the quality of the grape and wines of the region – bringing Sagrantino di Montefalco from a DOC status (which it was granted in 1979) up to a DOCG (the highest status in Italian wines) in 1992.
Sagrantino is a grape that grows and matures slowly.  I was told harvest for Sagrantino is late, usually in late September through October.  The slow growing cycle helps the grape to develop its resulting skins and tannins.  The skins of the grapes are very thick and full of rich astringent tannins that give this wine its longevity.
After lunch I sat down with Donatella Adanti, of the owners of Adanti Winery, to ask her what she most wanted people to understand about Montefalco Sagrantino.
"That they are not all sweet" (referring to the passito style, described below).  A petit woman with passionate energy she further explained, "Our real 'tradition' in the area is to make the sweet passito wines. Even for the Romans, they liked the wines sweet, and it is still our tradition to this day.  The dry version of Sagrantino came about more recently, and has come a very long way in the last thirty years."  This dry version "is what we are to talk about today".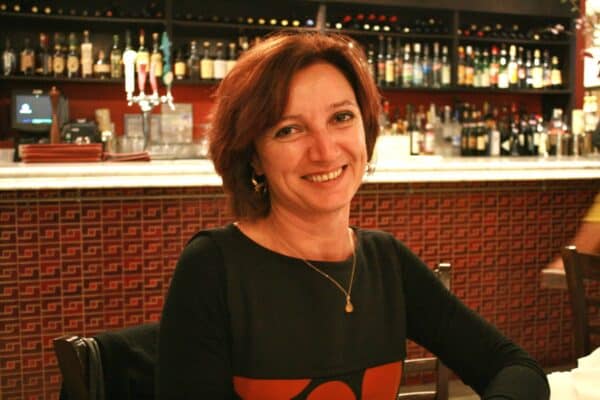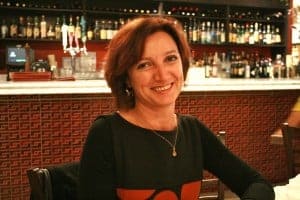 Adanti said that even in Italy, people have the misconception that Sagrantino is always sweet.  "Even our own neighbors don't understand us. It is a problem".  She went on to explain that these are serious wines with long aging potential. "They are very tannic when young. They are not meant to be drunk early.  Instead you should wait 10-20 years.  It is a slow wine."
This is something that was apparent during our lunch. All of the wines served were from the 2005, 06, and 07 vintages.  All of them were tannic and strong, but certainly mellowed out by the food we were presented with.
I explained to Adanti that this is difficult to stress to consumers who typically buy wine that day to drink that same evening.  It is hard to convince somebody to buy a wine now, but hold onto it for 10+ years.  She then explained, "that's why you must eat food with the wines then. It will help to soften the tannins".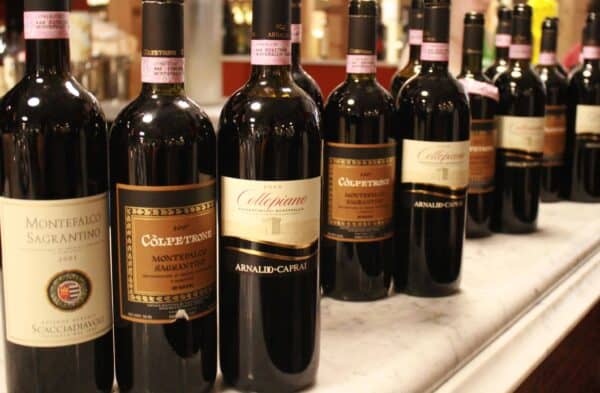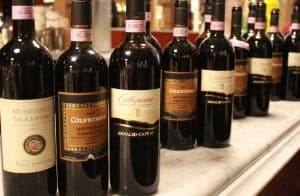 Of the wines at our lunch, the 2005 Scacciadiavoli, Sagrantino di Montefalco DOCG, seemed very balanced with less tannins therefore drinkable with or without food (though the Italians would say it is always better with food!).  It was rich in both fruit and mineral flavors.  I purchased a couple bottles of this one to take home to see how it tastes after a few more years.  The 2005 Arnaldo Caprai, Sagrantino di Montefalco DOCG Collepiano  was delicious, intriguing and complex, but was by far the boldest, and needed the food to soften its rich tannins.
If you want to get a taste of Montefalco but don't want something so big, and don't want to wait years for it to mellow, Adanti stressed that the Montefalco Rosso is what you should look for.
Montefalco Rosso DOC is made with primarily Sangiovese grapes (which are widespread in the area) blended with Sagrantino, to give it structure and characteristics typical of Montefalco, and small amounts of Merlot or Cabernet Sauvignon.  They are simpler than the wines described above, but great for everyday drinking as well as more affordable.
Two Montefalco Rosso's I've really enjoyed recently are from producers Arnaldo-Caprai and Adanti.
Other wines to seek out from the area:
Montafalco Sagrantino Passito DOCG – As Donatella Adanti explained the Passito is still the tradition for many wineries in Montefalco. This is a sweet wine, made from Sagrantino grapes left out on mats for at least two months to dry out. This dehydrates and therefore concentrates the fruit immensely.  When the fruit is finally pressed it is concentrated and sweet, but structured because of the high tannins found in the Sagrantino grape. I tried many examples of these on my recent trip to the area and found them to be divine.  We had a  2006 Antonelli, Sagrantino de Montefalco Passito with lunch and it was a stunner with its textured sweet black berry fruit flavors.
Montefalco Bianco DOC – these are white wines made from Grechetto (which is another grape indigenous to the area), and Trebbiano grapes.  This is a wine that I enjoy for its versitility.  It can stand alone or paired with food with its crisp, fresh, floral and fruity characteristics.
Throughout the month of April The Consorzio Tutela Vini Montefalco will be promoting the wines of Montefalco (primarily Sagrantino) through events, tastings, and dinners in NYC.  If you happen to be in NYC this month there will be many opportunities to taste the wines of Montefalco throughout the city.
If NYC is not on your radar, ask your local wine shop what wines they have from Montefalco.  If they don't carry any, encourage them to order some for you and discover some of these gems for yourself.
Related articles: