I think I'm finally (FINALLY!!!) excited about fall. All because of this…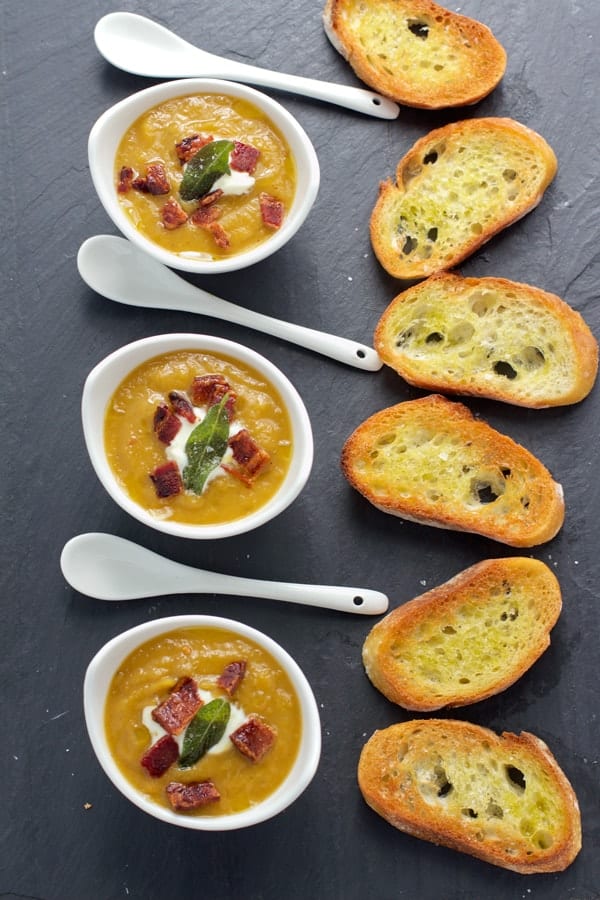 Smoked Butternut Squash Soup with Smoked Bacon and Fried Sage 
Sean and I have talked about smoking various squashes for years. The idea seemed odd to me. Not sure why, we've had success with other seemingly odd smoking contenders, like strawberries, tomatoes, and even water.
Perhaps I thought the deep and sweet flavor you get from roasting butternut squash would get lost and overpowered by smoke. Nope. Not at all. It's actually quite fascinating and completely delicious.
You still get some natural sweetness from the squash, but we discovered you do need to give it a little extra help when it comes time to make the soup. That's where adding some apple did the trick. You could also add brown sugar as well, but I like the natural sweetness of a red apple. It's also important to use a mild wood, like fruit wood (we used apple wood), unless you want the intensity then use mesquite or hickory. But to not overpower the lovely flavors of the squash we opted for a milder wood.
As far as smoking the squash, instead of simply cutting in half like we would if we roasted it in the oven, we removed the skin and cubed the squash. This allows more surface area to take in the smoke flavors. It doesn't take much time to add this step and gives you more opportunity to get that lovely smoke infusion.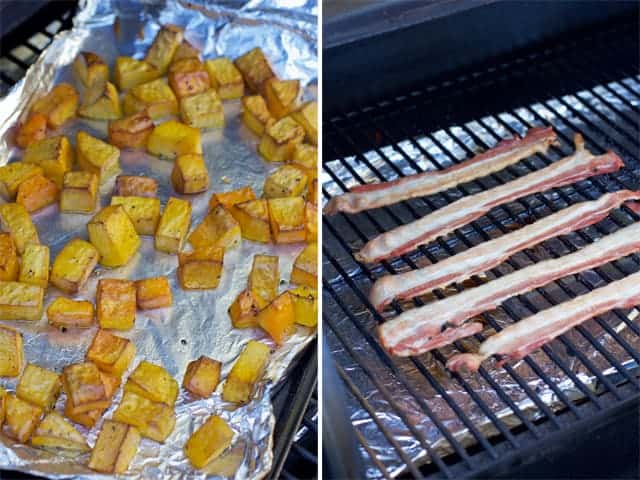 Butternut squash soup is pretty simple. So I like to jazz it up with a few accessories. And what could be better than a little smoked bacon and fried sage???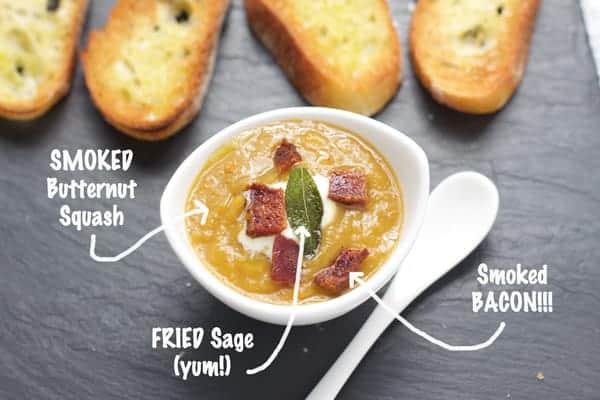 The answer, my friends, is nothing!
Well, perhaps a dollop of creamy crème fraîche to add little extra richness.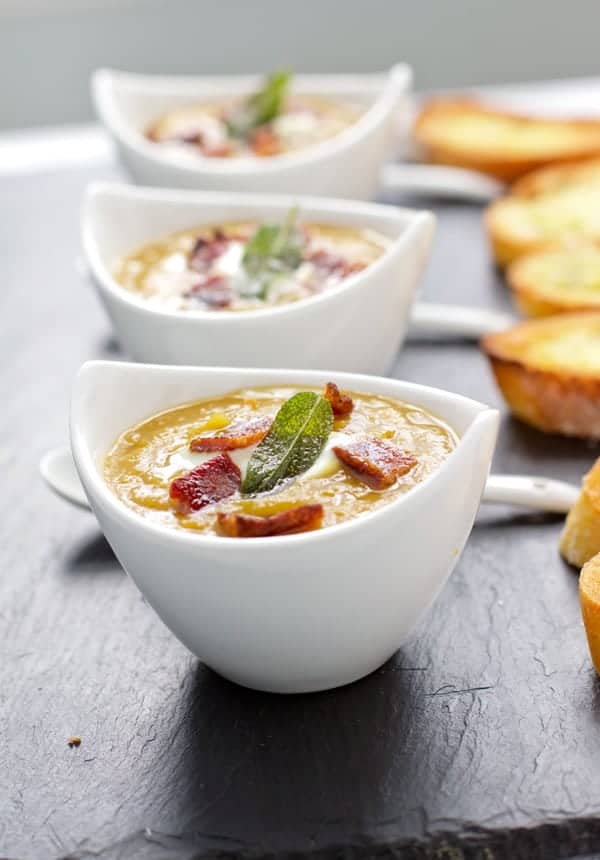 I'm a huge fan of butternut squash soup and didn't think it could get much better than simply roasting, but I was wrong. Smoking adds such great flavor! I could eat a whole bowl as my main meal (and did several times this week).
But thinking of fall gatherings, and… um… THANKSGIVING(!!)… I honestly can't think of a better appetizer for your holiday meal. You could serve it in small little serving cups or bowls like these with some toasted baguette, that way nobody gets too full before the main event.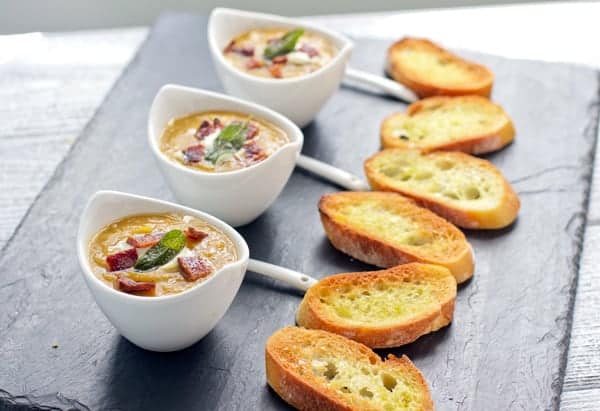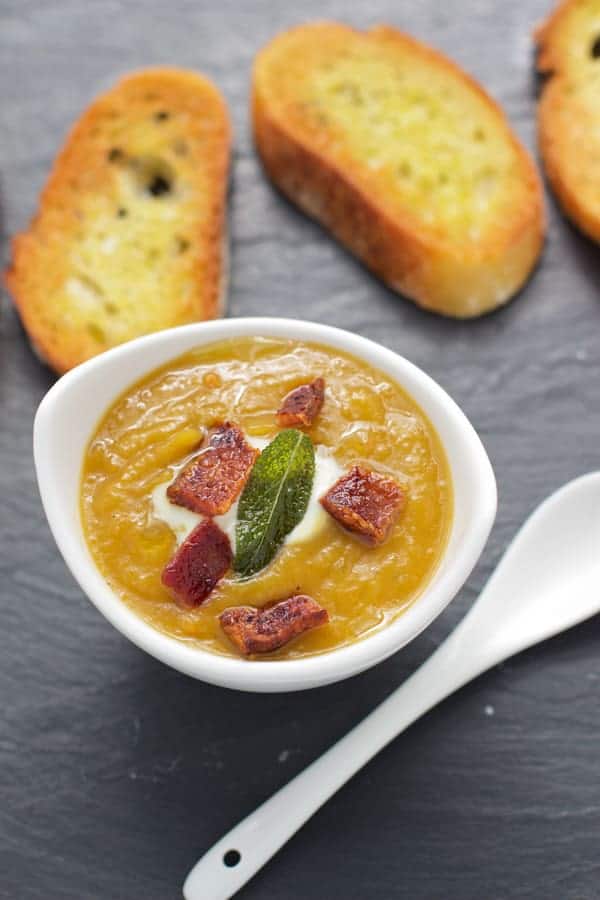 So fall and so very very good.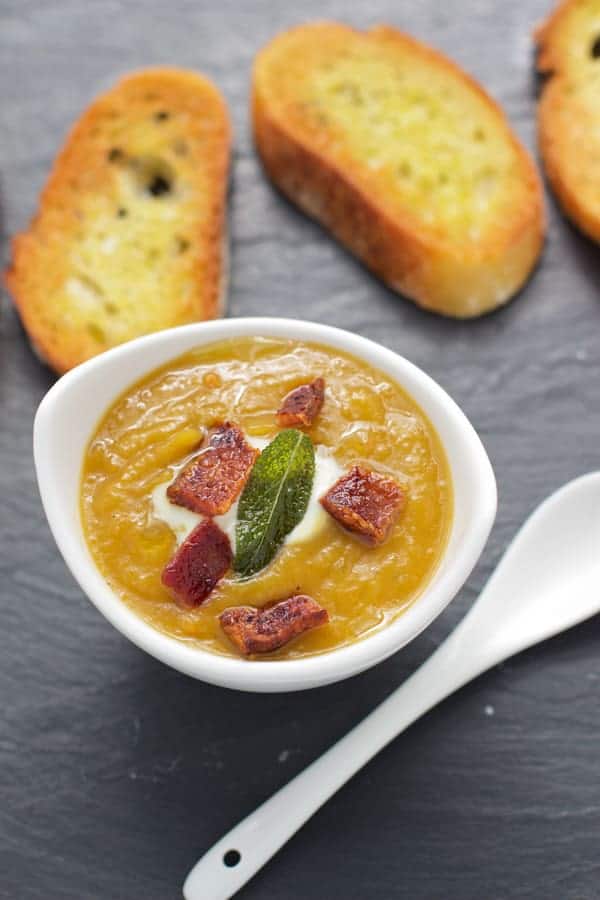 Smoked Butternut Squash Soup with Smoked Bacon
Add a delicious smoked flavor to butternut squash soup by cooking in the smoker instead of oven. Top with some smoked bacon and fried sage and you've got the perfect fall dinner or appetizer for parties or Thanksgiving dinner.
Print
Rate
Ingredients
To smoke the butternut squash and bacon:
1

butternut squash

about 2-3 lbs, skin removed and cut into cubes

Extra virgin olive oil

Salt and pepper

about 1 teaspoon each

4

pieces

of bacon
For the soup:
1

tablespoon

olive oil

1

tablespoon

butter

1

medium onion

chopped

1

medium apple

peeled, core removed, and cut into cubes

1

garlic clove

diced

4-5

cups

chicken stock

smoked or regular stock

¼

teaspoon

red pepper flakes

Salt and fresh ground pepper
Toppings:
Crumbled smoked bacon

Fried Sage

see notes

1/2

teaspoon

Crème fraîche

or sour cream
Instructions
To smoke the squash:
Prep smoker to 225 degrees using apple wood.

Cut the squash in half lengthwise and remove the seeds. Peel the skin of the squash with a vegetable slicer and then cut into cubes. Toss with extra virgin olive oil and salt and pepper, just to coat.

Place on a baking sheet with foil liner. Place on smoker for up to 3 hours, or until you see some caramelization and the pieces are fork tender.

While the squash is smoking add the bacon and cook for 45 minutes - 1 hour (or until it is nice and crispy).
For the soup:
In a large pot, over medium heat, add olive oil, butter, onions and apple cubes. Cook until the onions and apples are soft but not caramelized (about 5 minutes). Add garlic and cook for 1 more minute.

Add broth, smoked butternut squash cubes, red pepper flakes, salt and pepper. Continue cooking over medium heat and bring to a simmer, about 15 minutes.

Puree soup with a hand immersion blender (or countertop blender in small batches) until smooth. If soup is too thick, add more broth until it reaches desired consistency.

Serve in bowls with a dollop of crème fraîche and top with fried sage and smoked bacon crumbles.
Notes
To make fried sage just heat up 1 tablespoon of butter in a small pan. Add several sage leaves and fry for about 2-3 minutes, until crispy. Place on a paper towel to remove excess butter.
Wine Recommendations
Mmm wine. For this soup I'm a fan of hearty white rich wines like a mildly oaked Chardonnay. We tried it one night with a Gewürztraminer and it was actually quite tasty. The floral and spicy flavors of the Gewürztraminer were very reminiscent of fall flavors and had nice freshness to brighten up the hearty soup. But for the most part the richness of Chardonnay and the toasty oak really compliment the mild applewood smoked flavors from the soup and matched its richness. This Friday I'll give you a rundown of all the Chardonnays we tried with the soup.
---
For more recipes check out the Recipe Index.
Want more? If you liked what you read you can subscribe to Vindulge and have new posts delivered directly to your inbox.