Sean's back… again! He's been blog shy for nearly three months here and all it took was me to suggest he recommend some game day recipes and he's suddenly all about blogging. We need more food holidays in our lives to keep this guy active!
He's back today with more Super Bowl awesomeness. But let's not kid ourselves here. These smoked jalapeño poppers are really good for any day of the week. Even Thanksgiving. In fact, they'd be fan-flippin-tastic to eat on Thanksgiving day while everything else is cooking. Or Valentine's Day (because what's more romantic than bacon and jalapeños?!), or Memorial Day weekend to celebrate the unofficial beginning of the greatest season ever – summah!
But because Super Bowl is just a week away, we're adding them to the roster of game day party food!


MY LATEST VIDEOS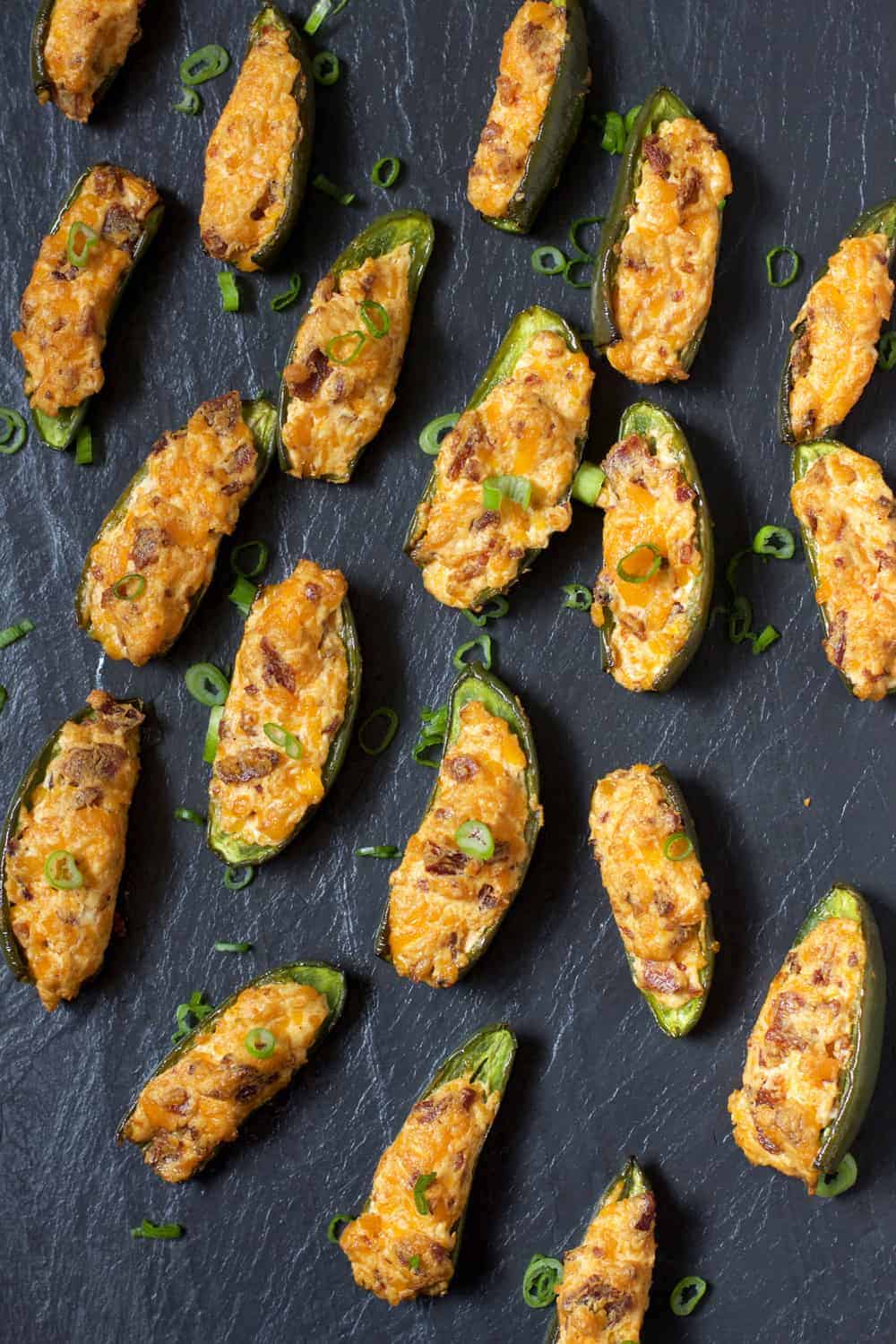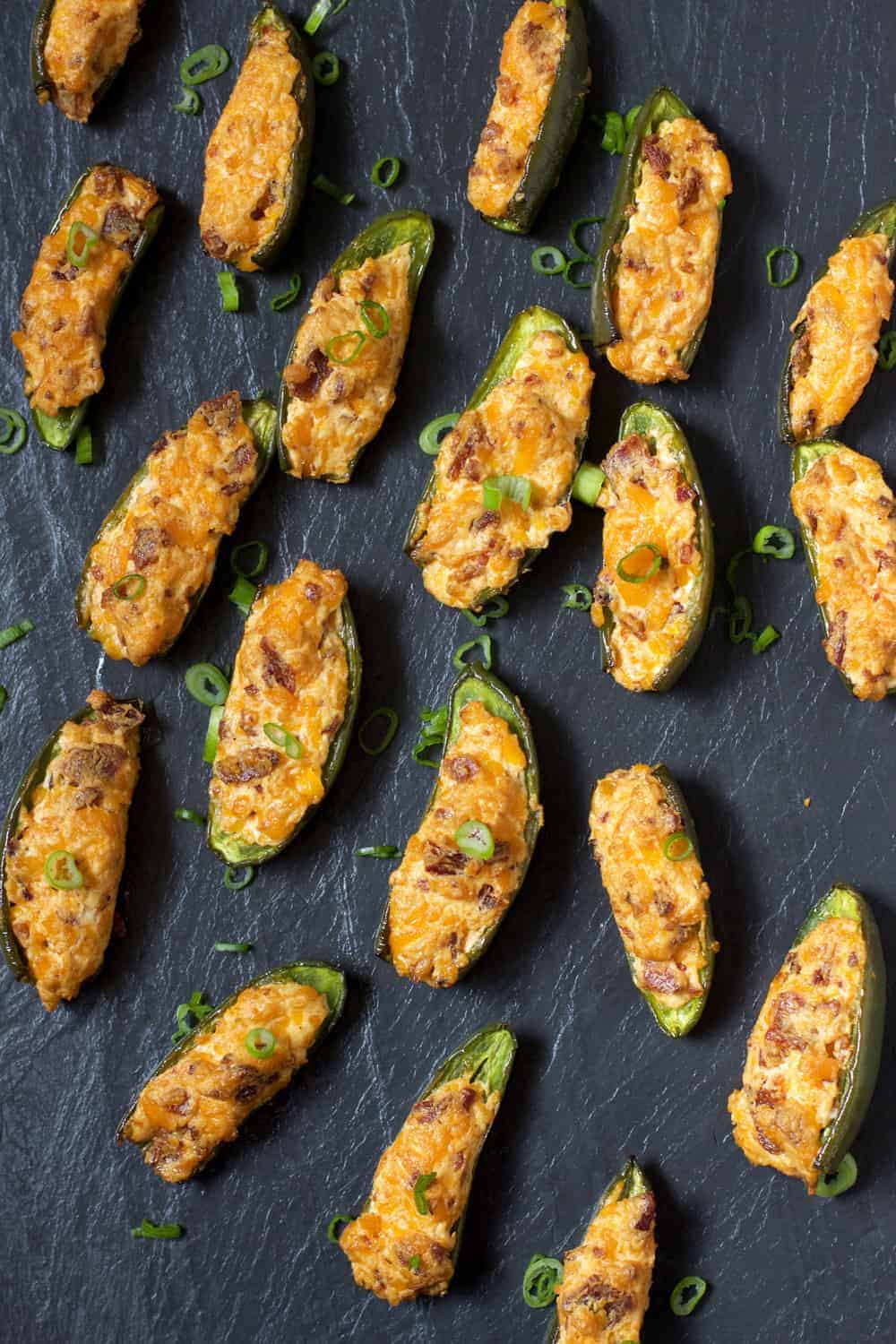 By contributing writer and pitmaster, Sean, the hubby
If there is ever a season for awesome bites it's the late winter and early spring. Between the football playoffs and March Madness, having friends over and wowing them with some delicious finger foods cooked on the smoker is always a treat.
This is so easy to make yet seems to intimidate so many people we talk to. My take on the classic popper is to deconstruct it a little. A lot of folks will stuff the jalapeños with dense cream cheese and wrap in bacon or deep fry. For me, I like the flavor of the jalapeño pepper to stand out balanced with some crunchy bacon and creamy cheese.
So instead of deep frying or wrapping in bacon, I cut the jalapeños in half and then stuff with a mixture that includes diced crispy smoked bacon and creamy cheeses. Then I smoke them for a nice rich and delicious jalapeño popper. You can grill it too or even roast in the oven, but if you have a smoker, you'd be silly to not take advantage of what awesomeness will come about.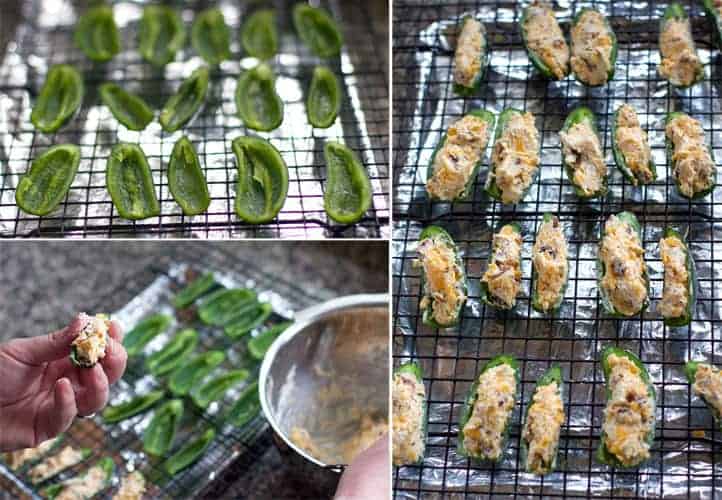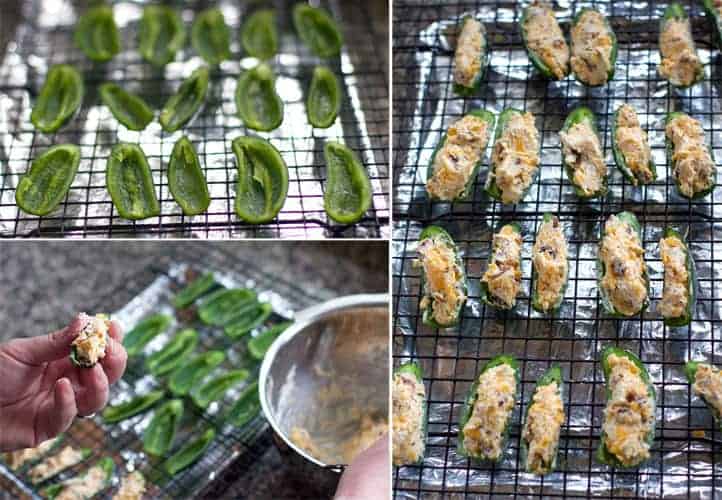 If you smoke them, watch out for a couple things:
1) Many jalapeño popper recipes cooked on the smoker call for wrapping a whole piece of bacon around the jalapeño. Now I love me some bacon just like the next guy (unless that guy next to me is a vegetarian), but what I'm not a fan of is soggy bacon. We've found when we do it that way the bacon doesn't crisp up enough for my taste, but rather steams in the smoker never getting that crunchy exterior. It gets soft and sometimes soggy rather than crispy. So we smoke the bacon first, to get it nice and crispy, and then dice it up and add it to the cheese mixture.  On the flip side, if you go longer or higher heat and try to crisp the bacon, you can run the risk at overcooking the pepper or drying out the cheese making for a not so pleasant texture.
2) For a creamy filling we like to whip the already softened cream cheese a bit, and then mix in some smoked cheddar (regular sharp cheddar also works just fine). This helps for the filling to be creamy instead of dense. Recipes that call for just cream cheese (not whipped) tend to come out a little dense when slow cooked on the smoker. Not a fan. This way, you get everything — crispy bacon and a creamy filling.

You're almost ready for the game!
Add some cheesy dips to the mix and it's on. Try this beer cheese dip with smoked sausage for a nice accompaniment. And if you ask my wife about a wine pairing? Sparkling wine would be her go to.  Shocker.
We'll have some more game day suggestions for you later this weekend, but until then….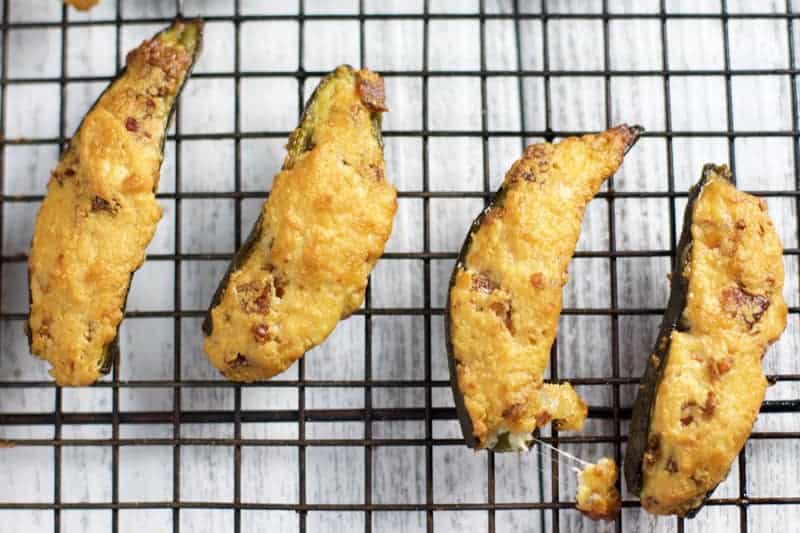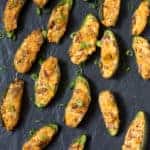 Smoked Jalapeño Poppers with Smoked Bacon
Smoked Jalapeño Poppers with Smoked Bacon. An easy appetizer for Super Bowl made with crispy smoked bacon, cream cheese and cheddar cheese.
Cuisine:
appetizer, bbq, Game Day snacks, Super Bowl
Servings
:
20
jalapeno poppers
Ingredients
4

slices

of thick cut bacon

(yields approx 1/3 cup when cooked and diced up)
For the poppers:
10

medium sized jalapeño peppers

1

cup

smoked cheddar cheese

shredded

4

ounces

softened cream cheese

whipped

Garnish

can use green onion, Italian parsley, etc
Instructions
Preheat smoker to 250 degrees and place bacon on smoker for about one hour or until crispy.

While bacon smoking; cut the stems off the jalapeño and then cut in half lengthwise. Remove ribs and seeds (that's where a lot of the heat comes from).

Arrange on a sheet tray or cookie drying rack.

While waiting for the bacon, whip your cream cheese, either with a fork whisking quickly, or use a mixer at high speed for just a few seconds.

When bacon is crispy, remove from smoker and finely chop, then add to a bowl. Add remainder of ingredients to the bowl and mix together. If you want more creaminess add more whipped cream cheese.

Fill each jalapeño with about 1 tablespoon of the mixture; it should be lightly packed with a slight rise to the mixture (see photo above).

Place on smoker at 250 degrees for 30 – 45 minutes. You are looking for the cheese to melt and the jalapenos to look slightly roasted. Remove and serve.
Recipe Notes
You can prepare everything in advance until it's time to smoke the poppers. Just stuff the jalapeños and put in fridge in batches and just keep them added to the smoker throughout the game so that each batch is warm and fresh. Awesome finger food.
Wine or Beer Pairing?
By Mary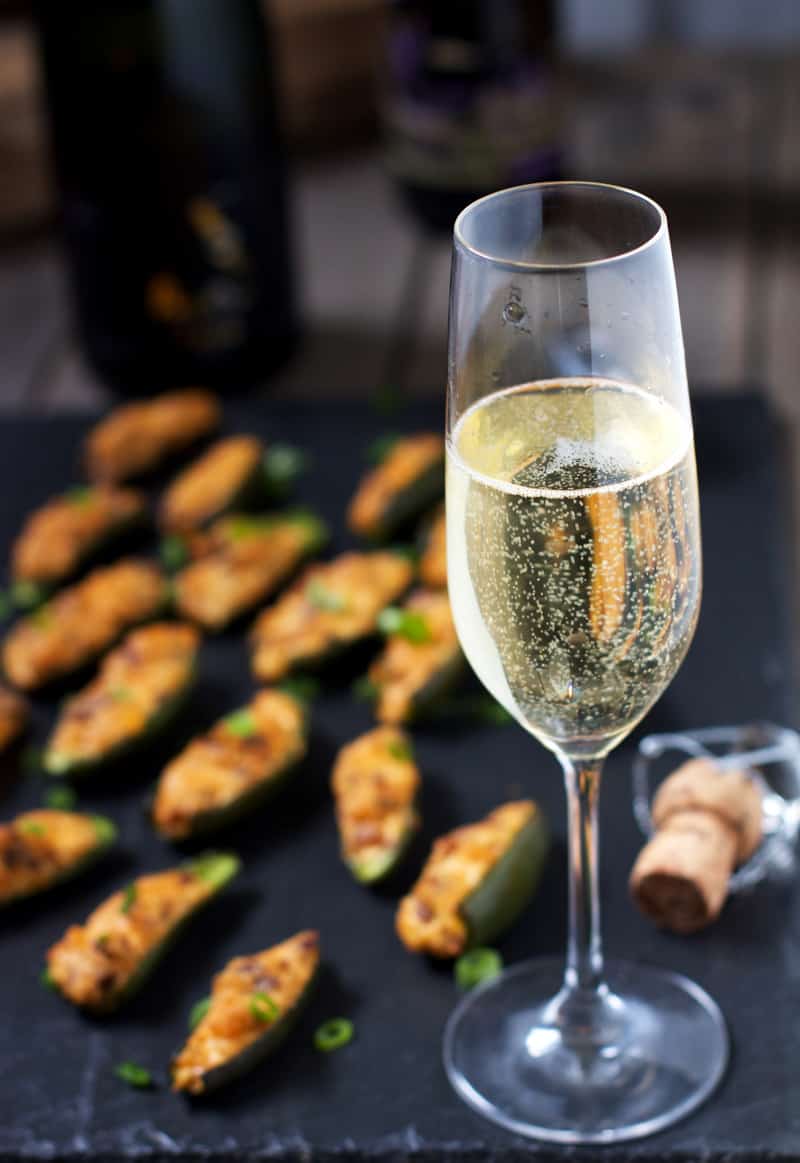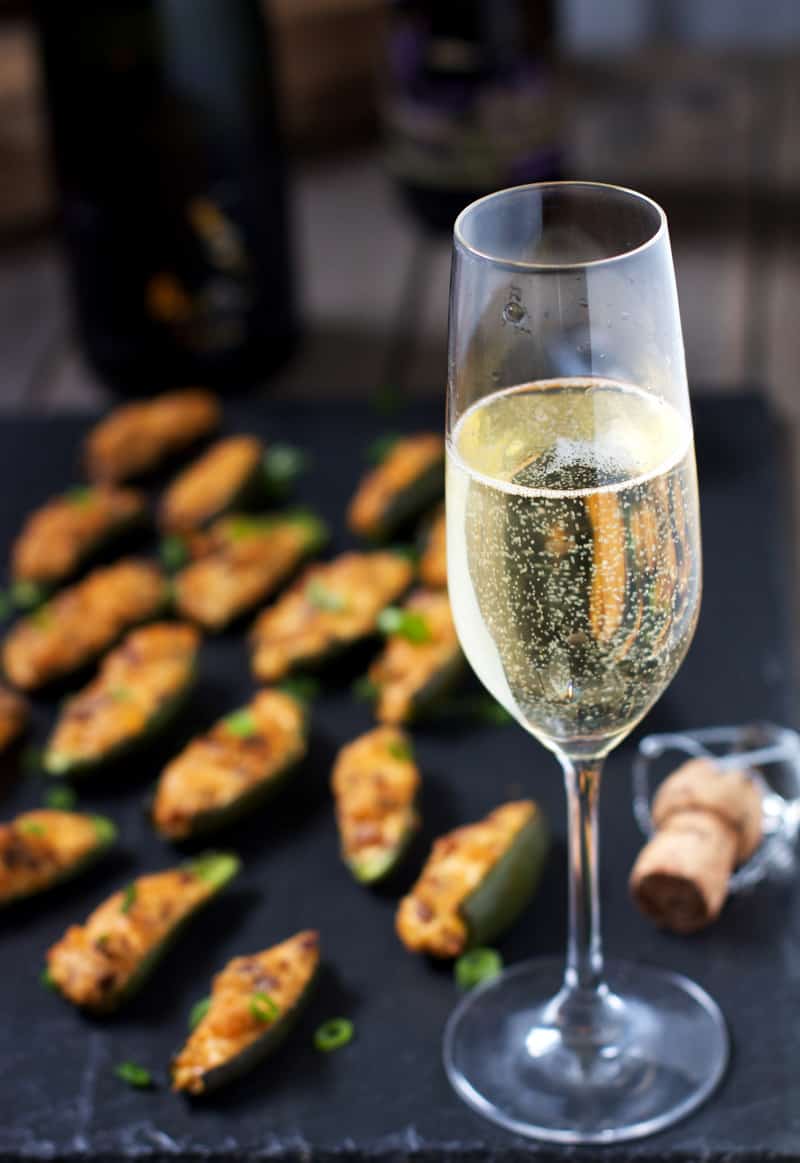 It's Game Day, so you may be thinking, silly Mary, this is beer holiday! Well you can go ahead and drink your beer if you wish (I think a crisp pilsner tastes awesome with these poppers), or you can take my advice and drink bubbles. Spanish Cava works wonders with these poppers. They tend to have bolder flavors that can stand up to the smoky bacon and the powerful bubbles can cut through the creamy cheese the same way a beer would.
Poema Brut Cava from Penedes Spain is a great option. It's affordable at around $12, and is nice and tangy with green apple, fresh pears, and bright citrus. This wine is bold and zesty and stands up like a champ to these poppers and will stand up equally well to whatever else you serve on Super Bowl Sunday. (media sample)
What's your plan for for Super Bowl 50?
---
About the author:

Business by day, BBQ by night. Father of twins. Husband of the author of this awesome blog.  Co-founder Ember and Vine wood-fired catering and events. Finally ditched PBR and replaced it with Occidental Kölsch.

*****

Want More?

For more recipes check out the recipe index.
Don't want to miss anything in this BBQ Basics series?  You can subscribe to Vindulge and have new posts delivered directly to your inbox.