For something different this fall try smoking a pumpkin at a low heat, slowly roasting, then adding the cooked puree into a creamy risotto dish. Smoke + pumpkin + risotto + wine = pure fall love.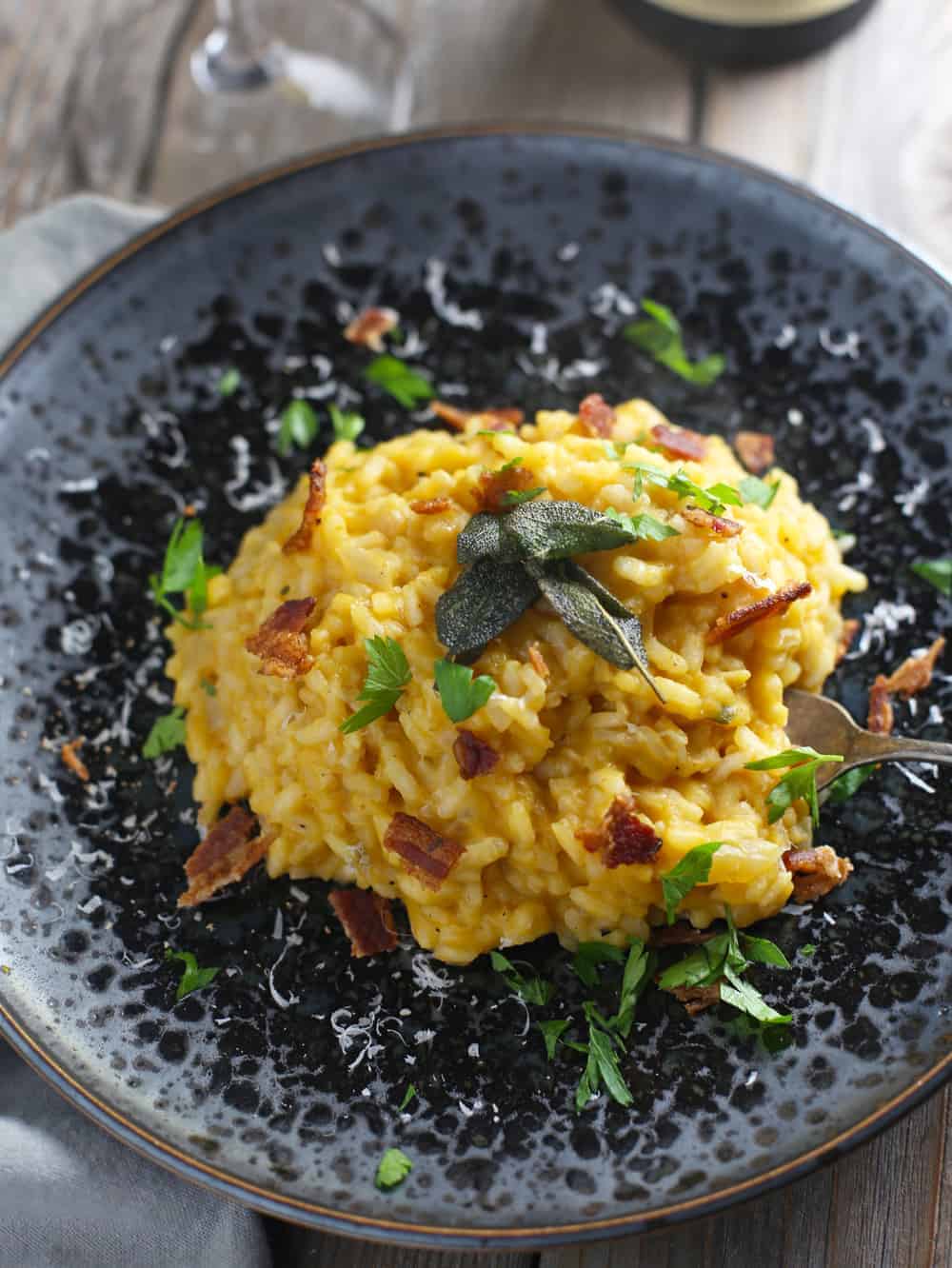 I'm not one to jump on the fall bandwagon very easily. My motto is summer forever! Therefore it takes me a while to fully embrace the season (hence finally coming to terms with fall in late October). I am, however, a big fall squash fan. I want all of it. Give me all the butternut squash, acorn squash, spaghetti squash (as long as I don't tell my kids we're eating "spaghetti" because they know it's a cold and evil lie), you name it.
Soups are certainly a great use for squash, but they can get a bit old after your 15th bowl of squash soup for the week. Now risotto? That's something that never gets old. Creamy, rich, indulgent, heavenly risotto. And you can do amazing things with leftover risotto, like make Arancini (yesssssss!).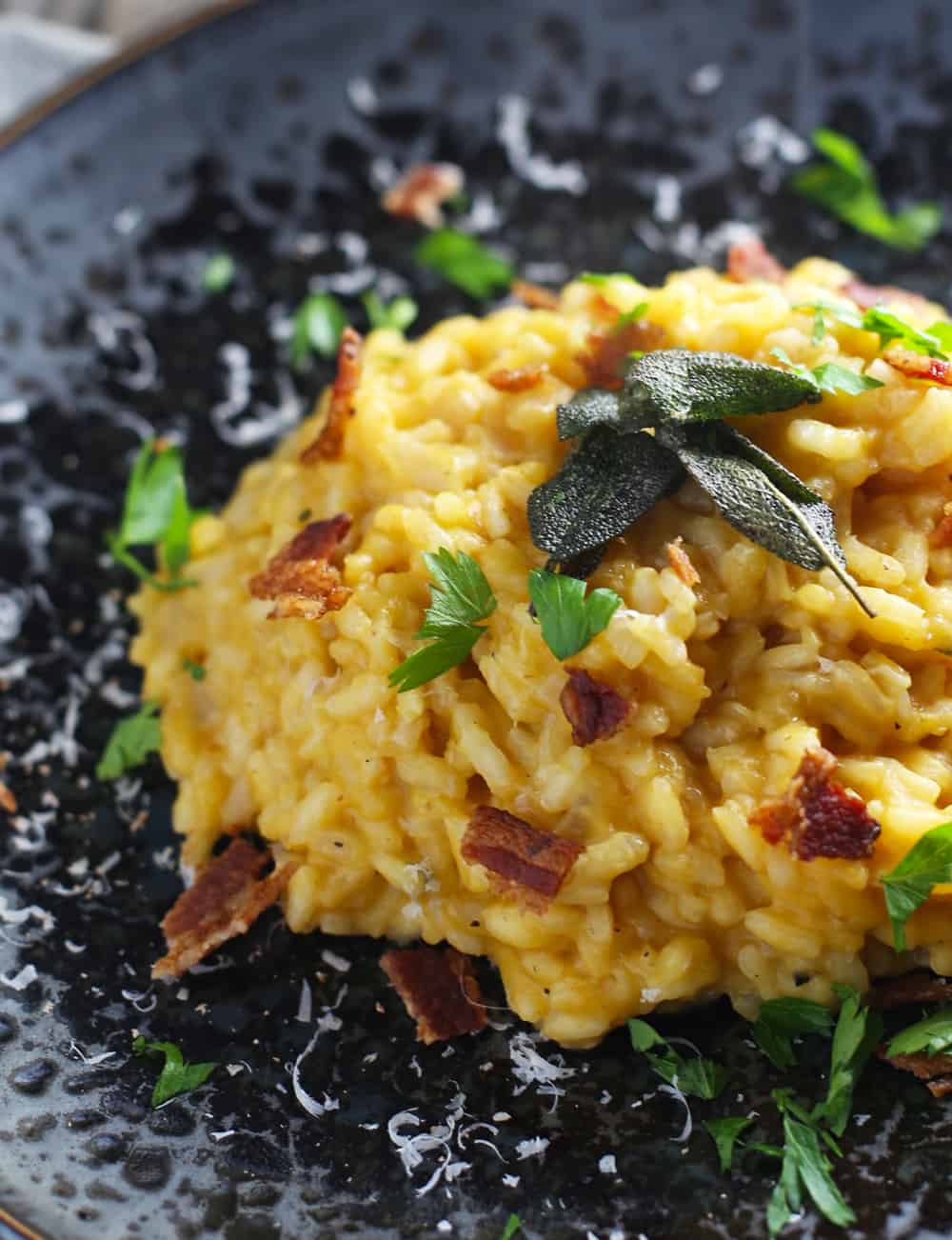 We make a lot of butternut squash risotto, where we basically roast (or smoke-roast like we're doing here) the squash, then puree the softened flesh, and add it into the risotto mixture as it's cooking. But we recently received a yellow pumpkin in our CSA that had me thinking we had to smoke it and use it for our favorite risotto recipe.
This is a yellow (or "Sunlight" as our CSA farmer called it). The flesh is sweet with a creamy and buttery texture. The color of the flesh resembles more of a butternut squash vs. the inside of a dark orange one (hence the color of the risotto isn't super orangey).
All squashes (at least all of the styles of squash we've cooked on the smoker) really take to the smoke flavor quite well, and this was no exception. We smoked it low, at around 225, for one hour (while the bacon was also cooking by it's side). You can quarter the pumpkin or peel and then cut into cubes.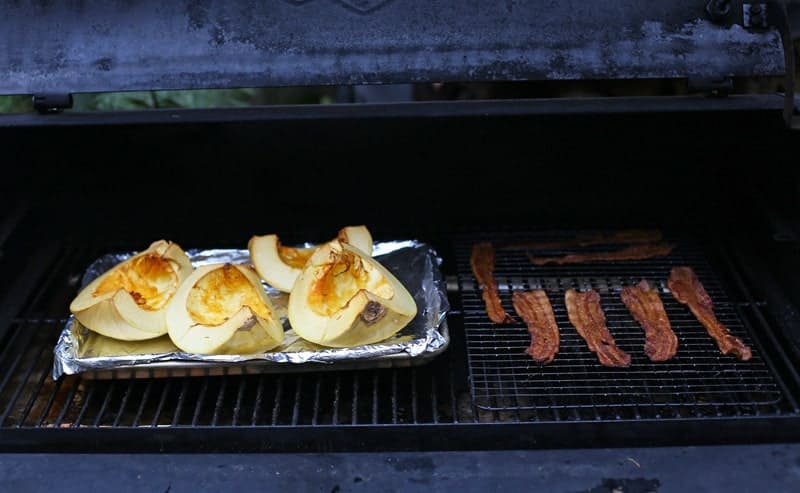 After one hour the bacon should be done, so remove it from the smoker and set aside. At this point the squash should have taken in enough smoke flavor so you can jack up the temperature to around 300 degrees for another 30-60 minutes, or until it is fork tender (this will depend on the size of your pumpkin).
Once it's soft enough I scoop out the flesh and put it in the food processor to get really smooth. You can opt to use a fork to break it up and smooth it out if you don't mind a few chunks. But I like it as smooth as the kind of pumpkin purée you get from a can. It makes for a more creamy risotto (with no chunks). The flavor is awesome. And like I said, there's a good amount of smoke in the actual pumpkin puree, BUT when you mix it into your risotto a lot of that initial smoke flavor is tamed. If you want to maintain more of that smoky flavor then use this smoked chicken stock in place of regular store bought stock.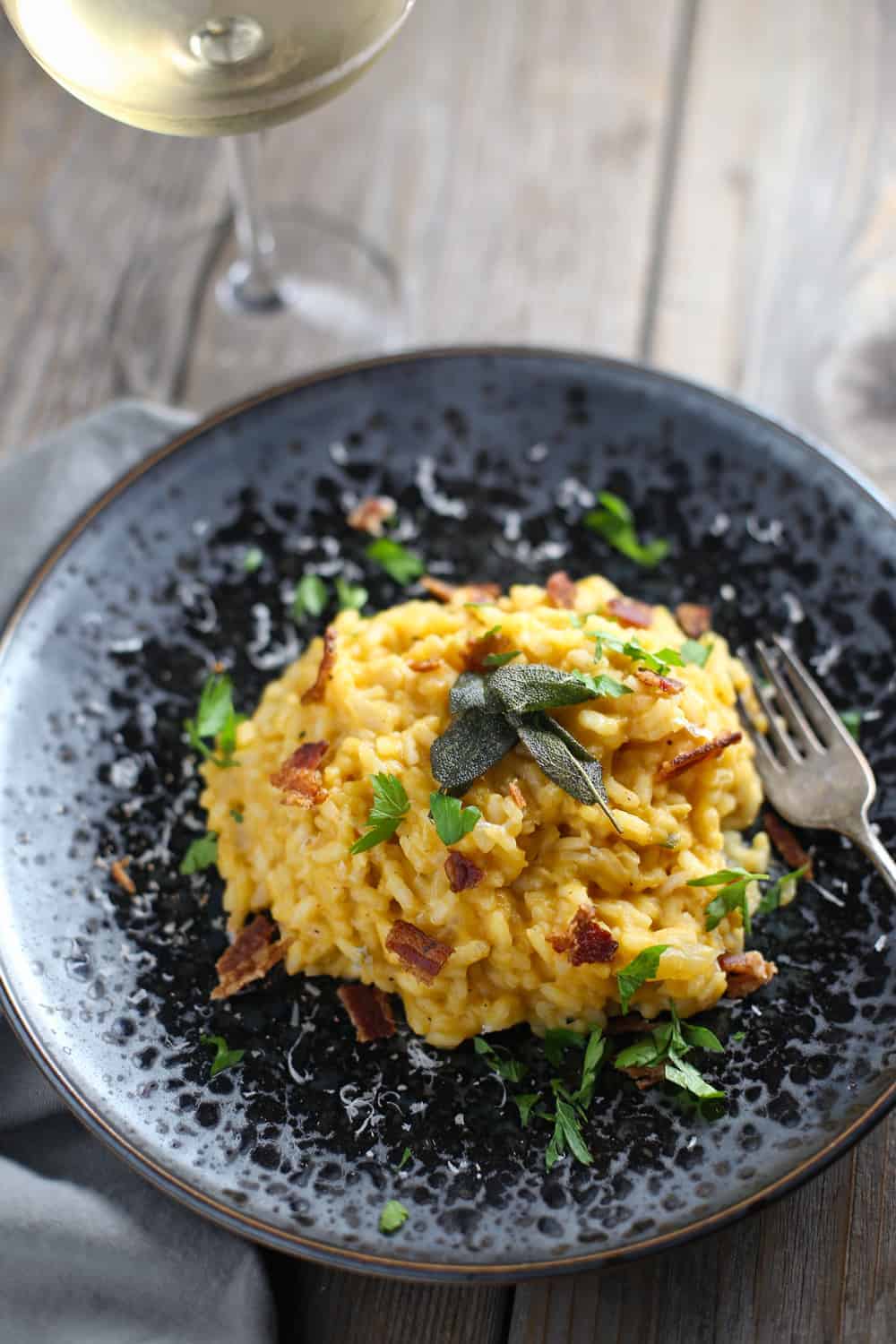 When you're making your risotto, each time you add a ladle of the stock just add about ¼ cup of the pumpkin puree to slowly blend it into the mix until you've added about 1½ cups of the puree total.
Finish it off with some fried sage and that smoked bacon and you've got yourself an indulgent fall dish for smoke-food lovers!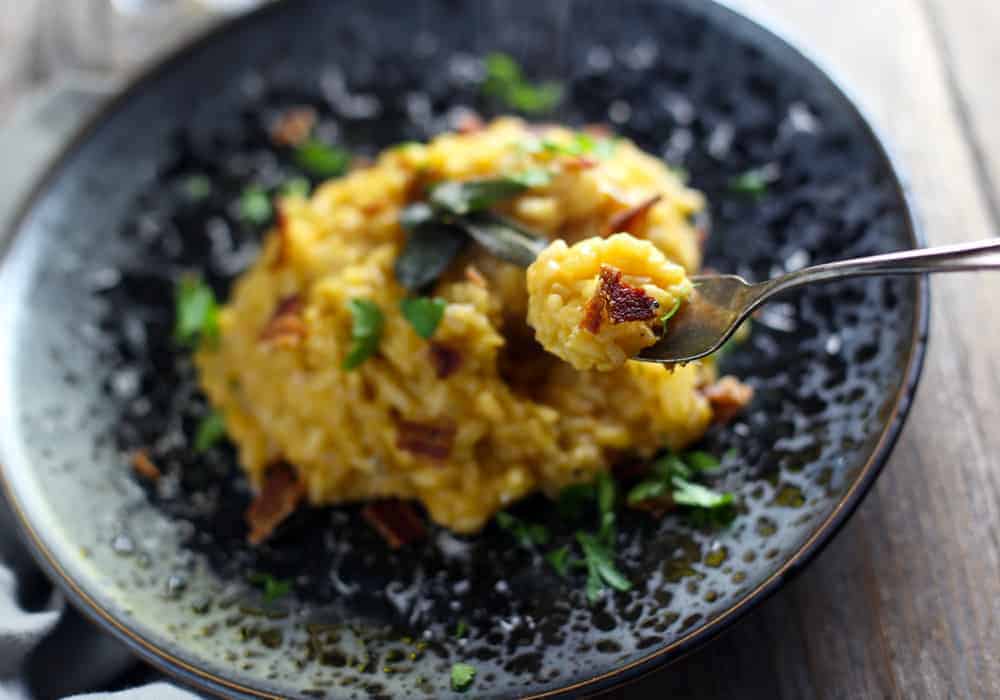 *Note: you can easily make this vegetarian by subbing veggie stock and eliminating the bacon (but why would you do such a thing?).

Smoked Pumpkin Risotto with Smoked Bacon
Author:
Mary Cressler, Vindulge
Cuisine:
bbq, barbecue, Italian, fall
Ingredients
For the smoked pumpkin and bacon:
1 yellow or sugar pumpkin (4-5 lbs), seeds removed and quartered
6 slices of thick cut bacon
For the risotto:
5-6 cups of chicken stock
1 small onion, chopped (about 1 cup)
2 tablespoons butter
1 lg clove of garlic, minced
6 sprigs of thyme
1 ½ cups Arborio rice
¾ cup white wine
1½ cups of the reserved smoked pumpkin puree
Salt and Pepper, to taste (approx 1 teaspoon salt, ½ teaspoon pepper)
A pinch of nutmeg
¾ cup Parmesan cheese, shredded
For the fried sage:
6-8 pieces of sage
1 tablespoon butter
Instructions
For the Smoked Pumpkin and Bacon:
Preheat smoker to 225 degrees
Place the pumpkin quarters on the smoker, skin side down. Add the bacon to the smoker, and smoke the pumpkin and bacon for 1 hour. After 1 hour remove the bacon if it has fully cooked and looks crispy. Set the bacon aside.
Increase temperature to 300 degrees and continue cooking the pumpkin until it is fork tender (30-60 additional minutes). Remove from the smoker and when cool enough to handle spoon out the flesh and puree it in the food processor (depending on the size of the pumpkin this should yield about 3-4 cups of puree. Reserve 1 ½ cups for the risotto).
For the Risotto:
In a small to medium sized saucepan, heat up the smoked chicken stock and bring to a simmer.
In a large heavy saucepan, melt the butter and add the onion. Cook until tender (about 5 minutes). Add the garlic and the thyme and cook one minute.
Add the rice and stir together just to coat. Next add the wine and simmer about 1-2 minutes, until the rice has absorbed it.
Next add about 1 ladle of the simmering chicken broth and ¼ cup of the pumpkin puree and slowly stir until it has been absorbed, about 3 minutes. Continue by adding a ladle of the broth and ¼ cup of the puree at a time, stirring constantly, until all the rice has been cooked and is tender. This should take around 25-30 min total. The risotto should be creamy and the rice a bit al dente. Add in your salt and pepper to taste, and a pinch of nutmeg (more or less depending on how you like the flavor). Turn off the heat. Stir in the Parmesan cheese. Serve immediately and top each dish with fried sage and the crumbles of the smoked bacon.
For the Fried Sage:
In a small pan heat up 1 tablespoon of butter to med-high heat. Add several sage leaves and fry for about 2-3 minutes, until crispy. Place on a paper towel to remove excess butter and sprinkle with a touch of salt.
Notes
Alternatively you can peel and cube up the pumpkin and toss on a baking sheet and place in the smoker. This will speed up the smoke roasting process and allow more smoke infusion into the pumpkin.
To make a vegetarian friendly version just sub veggie stock for chicken and eliminate the bacon.
Wine Pairing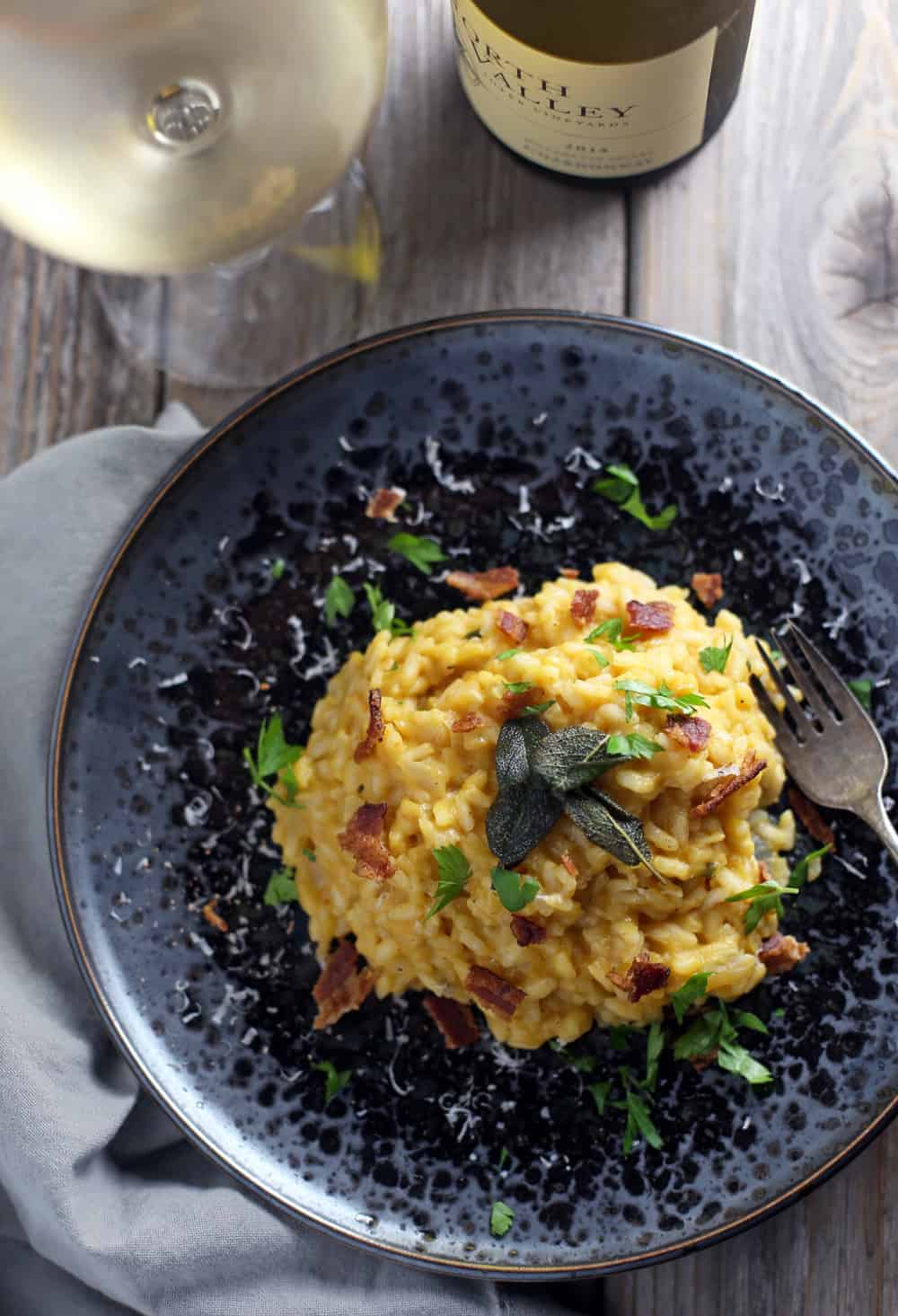 Risotto is creamy comfort food at its finest! There are several wines that can go with this indulgent dish. The pumpkin isn't a strong flavor, so we're not too concerned here. We've got some baking spices, savory bacon and sage, sharpness from the parmesan, all mixed into that rich texture. My favorite wine to pair with any risotto is Prosecco, because it always reminds me of the natural pairings of the two from my trip to the Veneto region where Prosecco and risotto are everywhere. The brightness of the wine cuts through the creaminess of the dish like a charm.
But if you're not feeling the bubbles, and prefer a still wine, then Riesling is definitely a good match, especially if you go generous on the baking spices (like nutmeg). But we also love risotto with Chardonnay. And according to my last post I clearly haven't been drinking enough Chardonnay.
2014 Soter Vineyards, North Valley Chardonnay (Willamette Valley, OR)
This one is about a 50/50 mix of barrel fermented (all used oak) and stainless steel. So it's not going to give the effect of an oak bomb by any means. This is bright with ripe pear and apple fruit with some fresh lemon, lime, and mineral undertones. It has just enough creaminess to stand up to the dish while also having bright acidity to cur through the richness.  13.2 % abv  |  $30 (purchased direct from winery)
Have you ever smoked (or grilled) a pumpkin? What kinds of things do you like to do with it?
---
Related Recipes:
---
For more tasty recipes, BBQ tips and tricks, check out the Recipe Index.
Want more? If you liked what you read you can subscribe to Vindulge and have new posts delivered directly to your inbox.