Remember that homemade smoked chicken stock we made a few months ago?
And remember how I said it would be great in risotto. Well, it's true.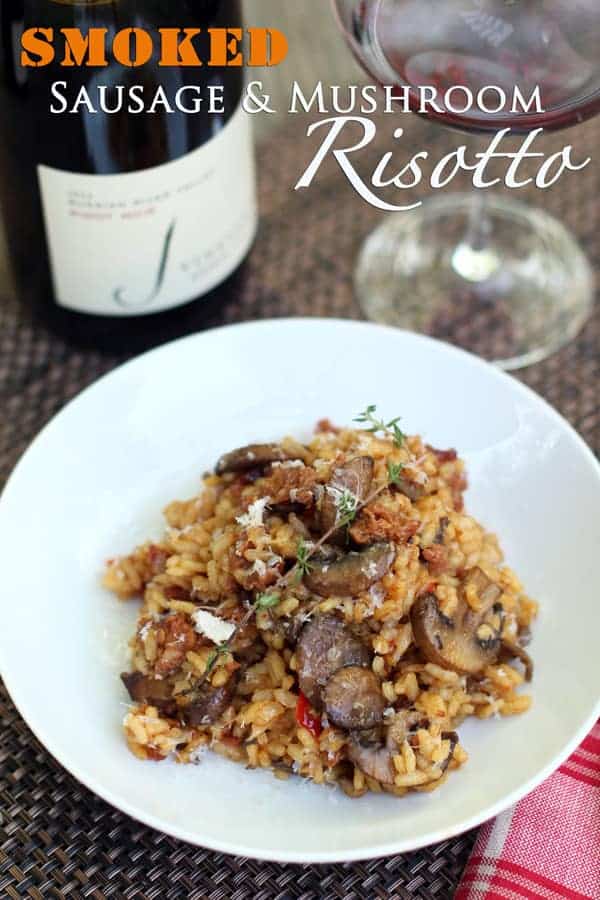 Mushroom Risotto made with smoked sausage and smoked stock has just taken traditional risotto up about 100,000 notches.
I'd been looking for excuses to make risotto again since falling head over heals for arancini (aka the greatest use for leftover risotto, ever), so we came up with a smoked version. Only it came out so delicous the first time we made it that we didn't have any leftovers for the arancini. #foodpeopleproblems
This current batch did yield enough leftovers and you bet I'll be making arancini with them later this week. Smoked sausage aranchini. Don't even try to stop me.
But first, let's talk about how good this smoky risotto is.
There's something so comforting about a warm bowl of creamy delicious risotto. This one is creamy, rich, hearty, and also has the perfect smoky backbone to it.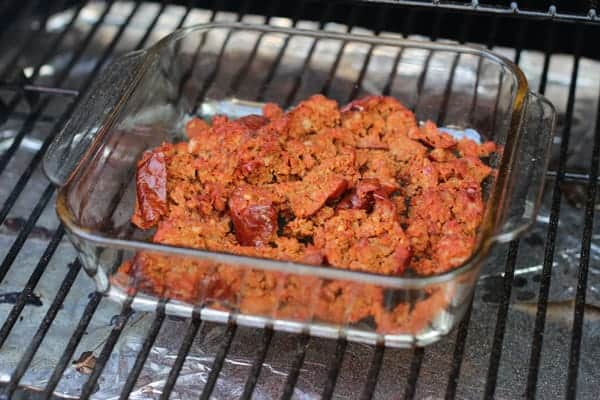 We started by smoking the sausage. This pic here is chorizo sausage, but I also love it with regular Italian pork sausage. Chorizo will garner smokier results. So chose whichever style you want.
Once the sausage is cooked, it's time to make risotto! And we used smoked chicken stock to give it that smoky backbone. You can go ahead and use store bought stock too, but I promise it won't be the same. That's why you must always have smoked stock on reserve in your freezer, for moments like this! It's the #1 rule of smoker ownership. True story.

The key to this risotto is to layer it slowly (and to use that smoked stock). Start by cooking up your bacon, then setting it aside. I pour out a bit of the bacon grease if there's too much (I don't want that strong of a bacon flavor. You won't need it. But go ahead and do what your heart tells you).
Then heat up your veggies until they begin to soften, add your rice, your liquids, and start simmering and stirring away. Make sure you have something nice to drink while you're cooking because you won't be leaving the kitchen. You need to be close to the pot since you'll be stirring away and adding more liquid every few minutes. So stick around and sip on something delicious while you patiently perfect your risotto.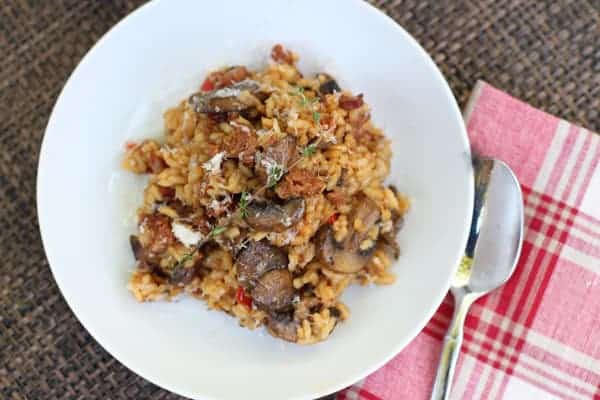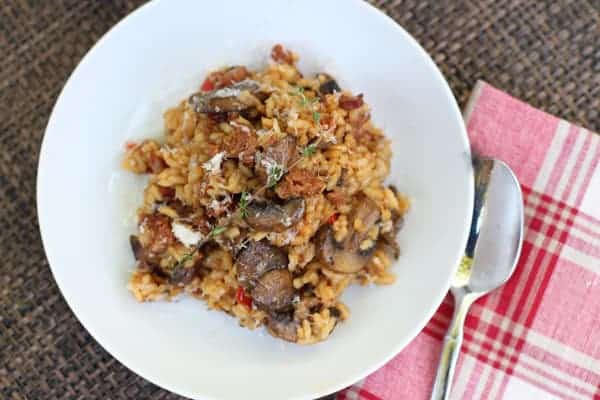 Smoked Sausage and Mushroom Risotto
Mushroom risotto made with smoked sausage and smoked chicken stock. This recipe will take your typical mushroom risotto and kick it up about 100,000 notches by adding a delicious smoky backbone.
Print
Rate
Ingredients
½

lb

sausage

casings removed (chorizo or Italian pork sausage recommended)

5

cups

smoked chicken stock

2

tablespoons

butter

2

slices

thick cut bacon

diced

½

cup

shallots

diced

½

cup

red bell pepper

diced (about ½ a red bell pepper)

8

oz

mushrooms

mix of wild and cremini mushrooms

Salt and Pepper

to taste (approx 1 teaspoon salt, ½ teaspoon pepper)

1 ½

cups

Arborio rice

¾

cup

white wine

¾

cup

Parmesan cheese

shredded
Instructions
For the Smoked Sausage:
Preheat smoker to 250 degrees

Put sausage in smoker for about 2 hours or until internal temperature reaches 165 degrees with a meat thermometer
For the Risotto:
In a small to medium sized saucepan, heat up the smoked chicken stock and bring to a simmer.

In a large heavy saucepan, melt 1 tablespoon of the butter and add the bacon and cook over medium heat until the bacon is cooked and crunchy (about 5 minutes). Remove the bacon and set it aside. Pour out any excess bacon grease (a little left inside is fine).

Add the other 1-tablespoon of butter, then add the shallots, red bell pepper, and mushrooms, and sauté until tender (about 5 minutes).

Add the rice and stir together.

Add the wine and simmer about 1-2 minutes, until the rice has absorbed it. Next add about ½ cup of the simmering smoked chicken broth and slowly stir until it has been absorbed, about 3 minutes. Continue by adding about ½ cup of the broth at a time, stirring constantly, until all the rice has been cooked and is tender. This should take around 25-30 min total. The risotto should be creamy and the rice a bit al dente. Stir in the Parmesan cheese. Serve immediately. Feel free to add more Parmesan cheese on top.
Nutrition
Wine Recommendations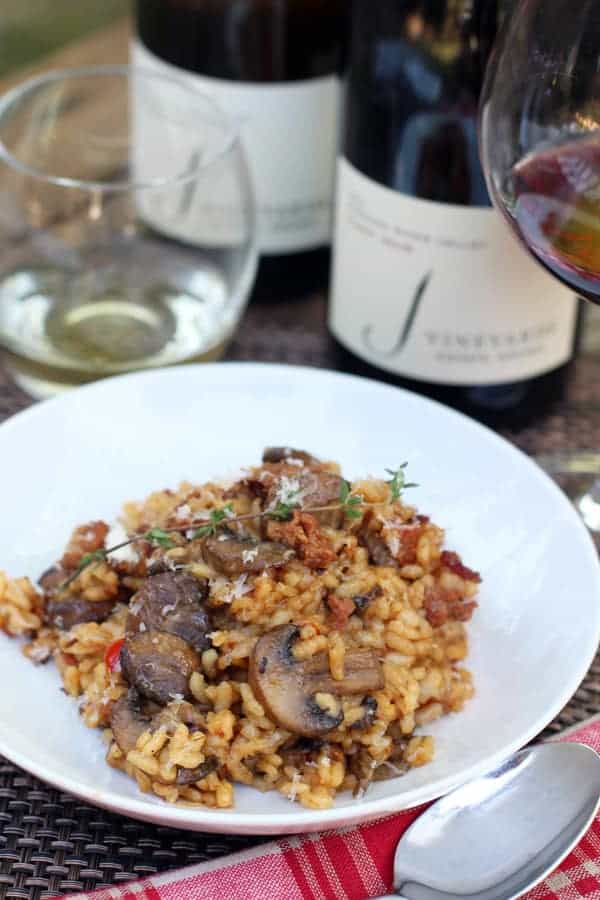 I've been playing around a lot lately with pairing a single dish (like this) with both a white and a red wine, to see how different the experience is. So, having recently been sent a Chardonnay and a Pinot Noir from J Vineyards, I thought they'd be perfect contenders for this experiment. And to my surprise they both worked fantastic with this dish.
The elements to pay attention to are the sausage, earthy mushrooms, mild smoky flavor, and creamy texture. I wanted wines that would compliment the mild smokiness especially. I'm thinking Syrah (especially from the Rhone Valley) would be fantastic, but I decided to go Pinot and Chard this last round. But feel free to try Syrah and report back to me.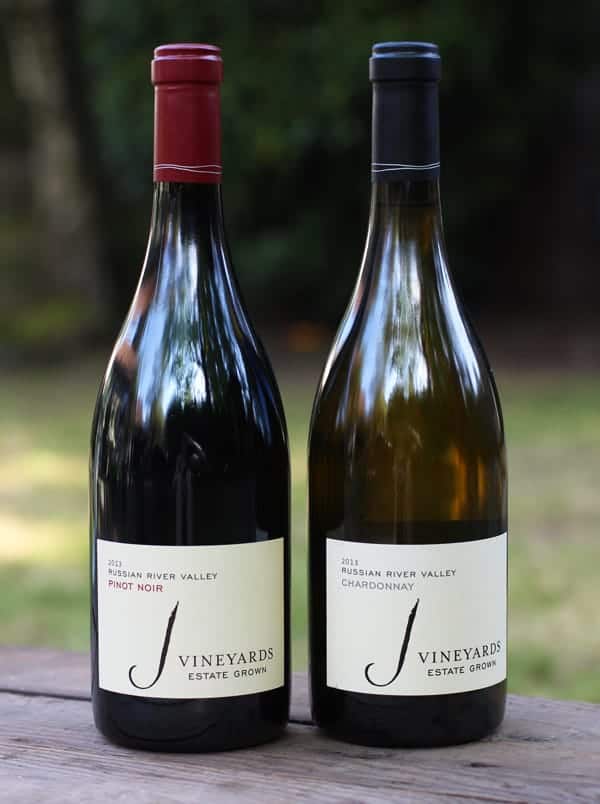 The Wines:
J Vineyards Chardonnay 2013 (Russian River Valley, California) ~ $28
J Vineyards Pinot Noir 2013 (Russian River Valley, California) ~ $40
(wines provided as media samples for review)
The Chardonnay has spice and some wood flavors from being aged in oak barrels. It also had some pretty tropical aromas to it. The spice really stood up well to the sausage and the oakiness blended in well with the smoked flavors of the dish. It also had nice acidity that cut through the creamy texture of the risotto. It definitely worked.
The Pinot Noir was fruity with some rich cherry and black berry flavors as well as some vanilla and a nice spice note. It also had this lush texture I really enjoyed. The fruitiness of the wine added a really nice element to the dish (which was more earthy, smoky, and spicy), and ended up freshening up the dish itself.
Both are good options, but should you sway away from these exact recommendations just make sure (for a white) that you choose wine that has seen some oak and has some weight. The oak flavors will compliment the smoke flavor also found in the dish. For Pinot stick to New World Pinots that are fruit driven (not earthy style), and oaked (for the same reasons as the Chard). But really, do try Syrah or Rhone-style wine too. That's what I plan to try next.
Have any leftover risotto?
Make sure make these Arancini if you do. They rock, big time!
---
For more recipes check out the Recipe Index.
If you like this recipe we'd truly appreciate it if you would give this recipe a star review! And if you share any of your pics on Instagram use the hashtag #vindulge. We LOVE to see it when you cook our recipes.
---