One of the greatest, and also most frustrating, things about wine is that once you think you have something figured out (be it a country, a region, a grape variety) someone can step in and show you how little you actually know.
This happened to me recently during a Wines of Austria Master Class I attended in NYC courtesy of Snooth.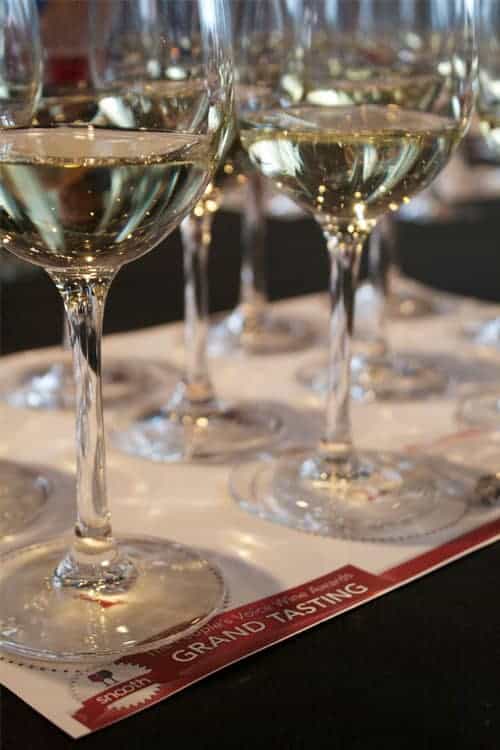 The seminar, presented by Aldo Sohm, focused specifically on different styles of Grüner Veltliner from Austria. Sohm, Chief Sommelier at Le Bernadin, winner of the Best Sommelier in the World Award 2008, and winemaker, is also Austrian born and a wealth of wine knowledge.
As a country Austria produces only 1% of all the worlds' wine; this includes a wide variety of wine styles from a vast array of grape varieties. So to focus specifically on Grüner Veltliner from this country made this a very focused tasting.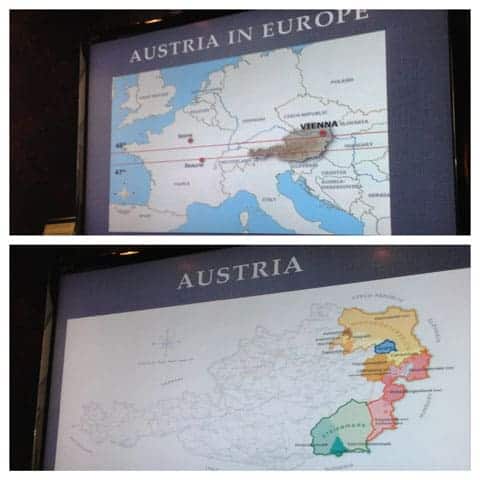 The lineup consisted of 12 different Grüner Veltliners from different producers, regions, and price ranges. What I discovered is that there is no easy way to describe this grape variety. Some will describe it by its characteristic white pepper and vegetal notes. But, in fact, the wines can range from light, bright and simple, to rich, powerful and complex. Aromas and flavors can range from white pepper, green apples, yellow fruit, stone fruit, and can feel zesty and bright in the mouth or oily, minerally, and heavy. I used to think there were just two general styles of Grüner – light, fresh, citrus driven vs. spicy, weighty, and bold. But in fact there are plenty of examples that fall in between. There's much more to this complex grape variety than can be generalized into a couple of sentences.
Sommeliers generally love Grüner Veltliner because of its versatility as a food pairing wine since it pairs well with otherwise challenging ingredients (especially those found in spring green veggies like asparagus and artichokes; two veggies I personally LOVE to grill and cook with). If you want to see a wine pairing gone terribly wrong try pairing grilled artichokes and Cabernet Sauvignon. I'm serious. The artichokes will make the wine taste metallic and undrinkable. I've done it (that poor Cab. It deserved better than that!). Grüner, on the other hand, can hold its own with those veggies.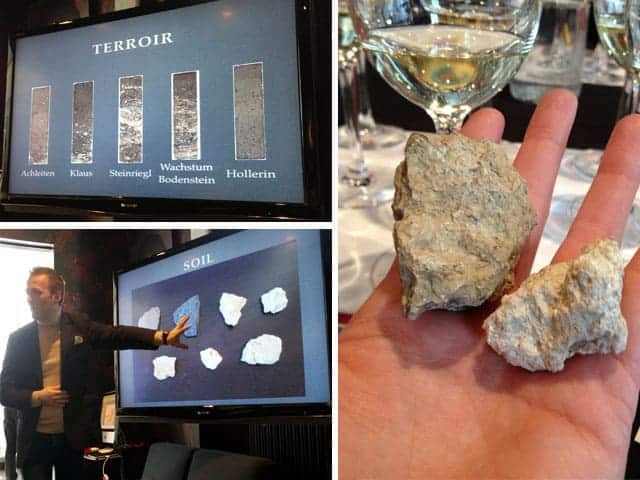 These are terroir driven wines, as stressed by Sohm who enthusiastically described the regions and soil characteristics that drive the flavor profile of many of these wines. In fact, Sohm is so passionate about terroir that he carries around rocks and soil samples from his trips to vineyards to illustrate his points. He explains, "There's only so much you can read about limestone in a textbook. You have to touch it." As someone who has been known to collect rocks, shells, and small pieces of earth when I travel, I love that! You really get a sense of what "mineral" means as a wine descriptor when you actually smell or (dare you try it!) lick an actual rock.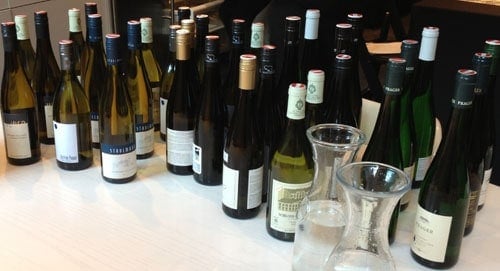 I grape variety I thought I was familiar with, I now feel like I'm just scratching the surface of what Grüner Veltliner can offer. If you are curious to explore the range of Grüner look to Fass 4 – Ott 2011 ($26) as a typical example. This seemed the most standard example to me with green apple, fresh juicy peach, slight lemony citrus. Lots of aromas here. Smooth in the mouth with slightly rich and full bodied with lingering acidity. This is the style that comes to mind with a typical GV. Or at least what used to come to mind.
For something entirely different try Stockkultur – Prager 2011 ($90), with intense and atypical tropical aromas of banana and pineapple. The acidity hits you immediately on the palate and then you get a jolt of sweet pineapple and fruit cocktail. This wine was intense, fruity and minerally, with some residual sugar. A different and daring wine I thought.
For a Grüner with a lot going on try Vom Schloss – Graf Hardegg 2011 ($18), with its vibrant mouth of bright citrus, pineapple, strong acid, white pepper, peach. Loads of flavor, but not heavy or weighty on the palate and leaves you with a very comforting feeling. Almost a touch rustic.
If you want one to seek out for the coming warm summer months, try Lamm – Schloss Gobelsburg 2011 ($62). Light citrus, bright nose. Fresh and refreshing. Clean. Lean (not heavy or weighty). This is a good one for a warm day while sitting outside with a nice book.
For my favorite aromatics, try the Obere Steigen – Huber 2011 ($22). I loved the nose best on this wine with its citrus focus with lots of lemon on the nose and palate and light tropical fruit and peach in the background. Medium bodied, minerally, slightly oily on the palate, with some richness to it.
For something funky and rustic yet lightly floral and almost delicate on the palate check out Birthal – Ebner Ebenauer 2011 ($18). And for the best value at $16 seek out Grüner Veltliner – Stadlmann 2011 — minerally, clean, mild apple flavors, smooth with balanced acidity. This is one I will be seeking out to have on hand because of its combination of great price and equally great flavor.
But don't stop at these. I encourage you to get out and explore the range of Austrian Grüner Veltliner for yourself. Let me know if you your favorites.
Until then I plan to keep tasting and learning.
---
Related Reading from the Snooth PVA Weekend: