Looking for some sparkling wine for the holidays? Here are some great Sparkling Wines for All Occasions this Holiday Season.
This past weekend was a big one. We went from Sean's 40th birthday directly into celebrating the twins 5th birthday — two big milestone birthdays just three days apart. The later, to me, was more of a "we survived five years of twins" and stayed happily married celebration. That alone is reason to celebrate, with bubbles. And bubbles we drank.
But it doesn't need to be a special occasion to enjoy a good bottle of sparkling love. I can think of a few reasons just off the top of my head why today is a great day to open bubbly.
Reasons to open up Sparkling Wine:
It's nearly the end of the year! Time to celebrate your 2015 accomplishments. Or, if you hated 2015 and you'd rather rejoice that this year is over and a new one is on its way, sip on. Bring it, 2016!
It's the holiday season. Time to turn on some tunes and sip on some bubbly while doing what you do best to celebrate the season. Or if you hate the holidays, pop some bubbly, watch some horror movies, and ignore all the fuss.
It's Taco Tuesday (hooray!), and you need something to drink with dinner.
You finally caught up with The Walking Dead and need something to drink to hold you over until its return in February.
You're cold. Seems counterintuitive to drink something crisp and bubbly when you're already cold, but believe me, it will warm you up in no time.
You're thirsty.
Bonus reason: You survived celebrating your husband's and your twins' birthdays all in the same weekend. Oh wait, that's just me. But feel free to celebrate with me. Cheers!
How the heck are they five already???
No matter what is going on in life, it's always a good time to pop some bubbly.
As many of you know I'm super passionate about bubbles, and for unlimited reasons. One of the biggest reasons is that sparkling wine is simply the most versatile food pairing wine out there. Period. You can pair sparkling with everything from barbecue (true story!), bold meats, to appetizers, and even difficult-to-pair foods like eggs, sushi, and other Asian cuisines. It's my favorite beverage to sip on its own (outside of water), and there's really nothing that welcomes anyone to a party better than a flute full of bubbly (and yes, the flute is my vessel of choice for drinking sparkling! Thanks for asking).
And since 'tis the time of year for the bulk of sparkling wine sales in the country, I decided to do a quick roundup of a few standout bottles I've tasted over the last couple weeks (and a few solid go-tos) that fit into every price-point. While Champagne (remember, real Champagne is only from the Champagne region of France) may be out of many people's budgets, nobody should be left out of bubbly love, especially this time of year.
$5-$15: Bargain Bubbles
These are good for holiday parties, brunch, and sparkling wine cocktails. They are affordable enough to buy in bulk quantities. Overall crisp, dry, and playful.
There is an abundance of great and affordable Cava and Prosecco available in this price range. The Cavas will tend to be more fresh, dry, and citrus driven, made from grapes such as Xarel-lo, Macabeo, Parellada and sometimes Chardonnay, whereas the Proseccos, made from Glera grapes, will often show stronger fruit and floral flavors and have a bit more sweetness than Cava. Most are all fine and dandy on their own, but also great to use for sparkling cocktails, like these festive Pomegranate Mimosas.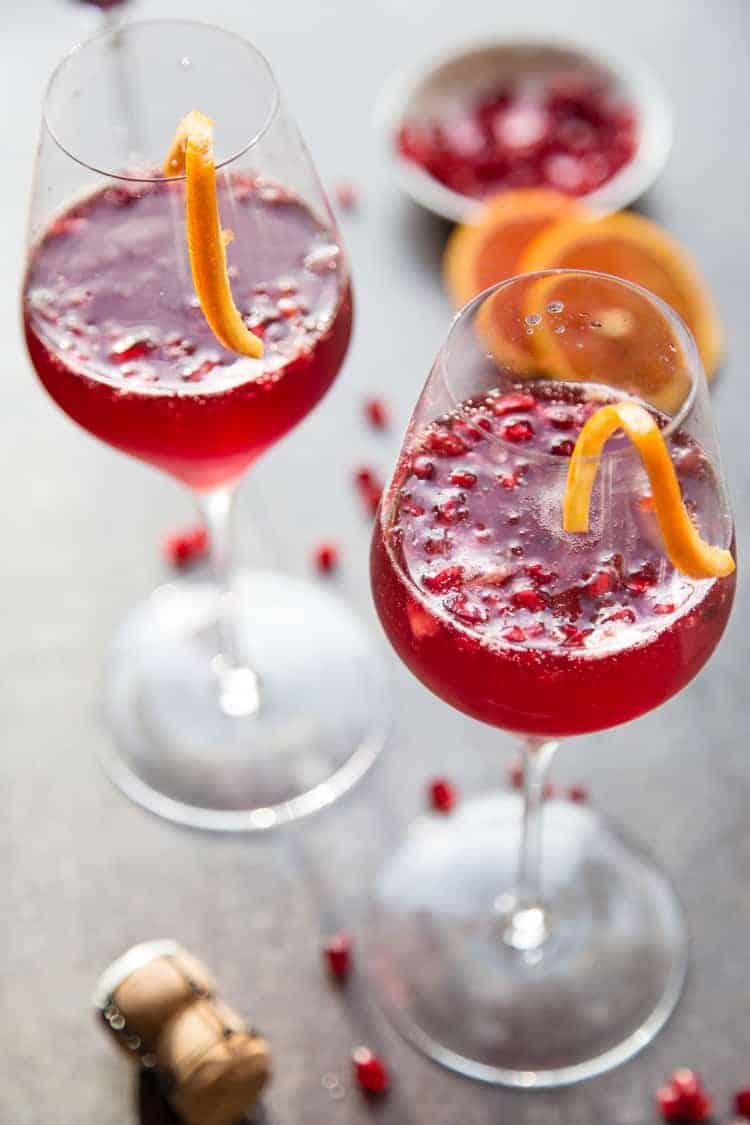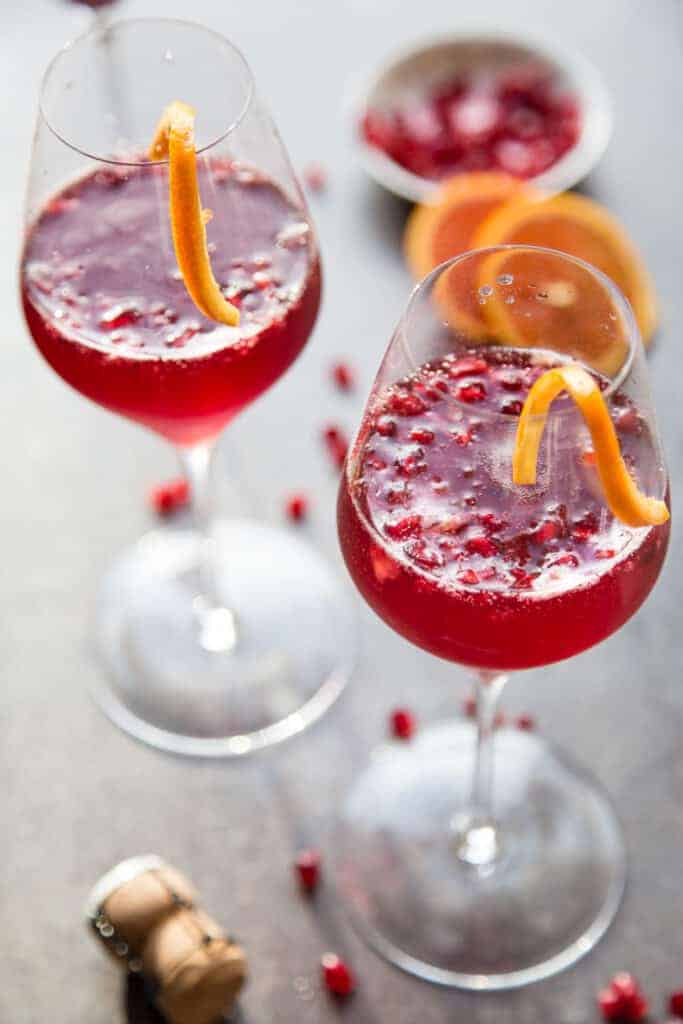 Best Mixers for Cocktails: I tend to lean towards drier style Cava for cocktails. The following three are all fairly straightforward wines, but solid enough for large parties and mixers. I prefer them on the drier side so I can be in control of how sweet the end drink will be. I've seen all three of these as low as $6 per bottle. When you see that price, buy a case and party on.
Jaume Serra Cristalino Brut NV Cava (Spain): I've been drinking this bad boy for years. It's so cheap, yet always reliable for its fresh lemon crispness, and can be found anywhere I travel in the country. Great for cocktails. $7 avg (purchased)
Segura Viudas Brut NV Cava (Spain): Fresh and crisp with lots of lemon and apple notes. My favorite for brunch mimosas. $8 avg (sample)
Freixenet Cordon Negro Brut NV Cava (Spain): Mildly sweet with lemon and some juicy fruit. Nice on it's own or as a mixer. $10 avg (sample)
Vilarnau 'Barcelona' Reserva Brut NV Cava (With Limited Edition Gaudi Sleeve) (Catalonia, Spain): Fresh and fruity with dominate lemon zest and green apple flavors and bright acidity. This is a nice one to sip on its own. Good for parties or to pair with holiday appetizers. Around $12 avg (sample)
$15-$30: Happy Medium Bubbles
These are good options for smaller gatherings, dinner with close friends, host gifts, or gift ideas to wine geeky friends. This is one of my favorite price points for sparkling. There are tons of great options within this range and the quality can be pretty darn high. These four are solid options.
Paul Cheneau Blanc de Blancs Reserva Brut NV Cava (Spain)
Around $17 (sample)
Fresh, zesty, and savory with nice acidity and a little pleasant tartness on the finish. The flavors are fairly bold with an intriguing toast-bready note on this making it a good choice for food or a stand-alone for parties. It will stand up to a wide variety of appetizer fare or salty foods.
Lucien Albrecht Crémant d'Alsace Brut Rosé NV (Alsace, France)
$20 (sample, and also purchased)
Year after year I recommend this wine. This was one of my first favorite sparkling wines. I love it because when I'm traveling to visit family for the holidays I don't have to seek out a specialty wine shop to find this wine. I can find it nearly everywhere, it never fails to impress, and is priced just right. Elegant strawberry and raspberry aromas lead to a lively mouth full of savory, herbal, and berry fruit flavors, and just the slightest hint of sweetness. Definitely a crowd pleasing wine and tastes like it's worth much more than its $20 price tag.
Barone Pizzini Animante Franciacorta Brut (Franciacorta DOCG, Italy)
Around $25 avg (sample)
When it comes to bubbles and Italy most people associate the country with fruity and friendly Prosecco, made in the region just east of Lombardy. But this neighboring region is making complex, intriguing, and serious wines in the traditional method with mostly traditional Champagne grapes (Pinot Noir, Chardonnay, along with Pinot Bianco). These wines could very well be Italy's best-kept secret. They generally range from around $20-$40 and are incredible values for what you get inside the bottle. I've yet to be disappointed with the sparkling wines from this region.
One that impressed me recently is Barone Pizzini Animante Franciacorta Brut. This blend of 78% Chardonnay, 18% Pinot Nero, and 4% Pinot Bianco is fresh with a delightfully tart nose, a bit of green apple and citrus. It was super refreshing, bright, tart, lean and vibrant! It still went strong on the second day, unlike many other bubblies that tend to start losing their vibrancy on day two. For more on Franciacorta wines, check out this post.
Speaking of non-Proseccco sparkling wines from Italy…
Ferrari Brut NV (Trentino-Alto Adige, Italy)
$22 (sample)
I'm always excited to taste this wine made in the classic Champagne method. It is lovely and elegant, with fresh lemon, lemon peel, and sweet toasted brioche scents. The bubbles are smooth, delicate, and clean. Not too sweet, not too fruity. Good pick for brunch, or even a dinner party. It's versatile enough to pair with a wide variety of foods.
$30+ Splurge Worthy Champagnes
When you're ready to splurge, you want a great gift for the boss (or me!), an elegant dinner, or a special toast for New Years; these are all totally worth the price.
Charles Heidsieck "Brut Reserve" Champagne NV (Champagne, France)
Around $60 avg (sample)
A blend of nearly equal parts Pinot Noir, Chardonnay, Pinot Meunier, this wine has an incredible balance of being borderline rich and creamy but also fresh and lemony. It's a bit of both. It's complex and expressive. The more you sip it the more intricate flavors evolve; like baked apples, rich brioche fresh out of the oven, baking spices, and lingering minerality. Elegant dinner party option or a gift to impress.
Champagne Duval-Leroy Brut Rosé Prestige NV (Champagne, France)
Retail around $80, but can be found around $60 (sample)
Oh wow! What a treat. We tried this one on the boys 5th birthday and I couldn't think of a better wine to celebrate five years of parenthood. Made from mostly Pinot Noir (with 10% Chardonnay) from only Premier Cru and Grand Cru vineyards this wine had a fantastic balance of lemony citrus flavors along and red berries (strawberry, cherry, and raspberry). It explodes in the mouth with complexity, introducing some lime, lime peel, barely under-ripe strawberry (not sweet or cloying), minerals and the slightest hint of fresh toast. Hot damn, this wine was delicious, with this lingering savoriness that had me craving more. We were pretty sad when the last drop was poured. This would be a fantastic gift wine or something special to open up on New Year's Day. And such a pretty pale pink color too!
Besserat de Bellefon Cuvee des Moines Brut NV (Champagne, France)
Around $40 avg
Fresh lemon zest, apples, and mild floral notes are balanced out by fresh toast and hazelnut aromas. It's silky and smooth with fine bubbles that make for a creamy texture with each sip. I love the balance of fruit, nutty, toasty, and mineral flavors on this. Lively, harmonious, elegant and great value for the price. I used this wine for a Champagne class I taught over the summer and it was a class favorite.
2006 Baron Fuente "Grand Millésimé" Brut Champagne (Champagne, France)
Around $40-$50 avg, but can be found as low as $30
Most sparkling wines are non-vintage, meaning the wine is made from a mix of different vintages to ensure consistency year after year. Vintage wines are different. They are meant to express the best fruit from a specific year. This wine spent more than seven years on its lees, developing rich textures and flavors. It has deep almond and crème brule flavors balanced with lemon curd and dried fruit. It walks a balance between rich flavors and gorgeous elegance with a creamy mouse. It finishes with a lingering nuttiness and fresh acidity. This was another wine I used for a Champagne class I taught just a couple months ago. It's a fantastic vintage Chapmpagne for the price. Generally found for around $40-$50, but I'm seeing it on the K&L website for $30. That's an awesome bargain if you ask me!
What to drink for New Years?
As far as New Years, it's totally up to your budget! If you're hosting a party and need something cheap and cheerful (I totally stole that term from my friend Jameson Fink), yet tasty enough to satisfy even your wine-geeky friends, then focus on those under $30 recommendations.
But if you're looking for something really special to say adios to 2015 and bienvenida to the New Year and you have the budget to splurge, then this is the occasion to splurge away! Any of those above would be high on my own list. I'm pretty sure I'll be picking one of those two for New Year's Day.
---
More Sparkling Wine Resources: