My birthday fell in the middle of last week. That means only one thing — it became absolutely okay to open up some amazing wines on a Wednesday.
In my job I am incredibly lucky to have the opportunity to taste amazing wines on a regular basis. But what I buy and drink at home usually falls into the "reasonable" "weekday" and "budget" categories.  In other words, I'm not drinking expensive wines everyday.   I, like most people, save those for special occasions or dinner with friends.  Not Wednesday nights.
But for birthdays, especially milestone birthdays, I am all about busting out the good stuff, no matter what day of the week it should fall.  It's a day all about you, and you deserve to drink the best (whatever "best" means to you).  So for my birthday I opened two of my all time favorite bottles of bubbles – one Champagne the other my favorite from Oregon.  We also opened up a stunning bottle from Argentina, sent to me for review, to go with my indulgent dinner hubby made me.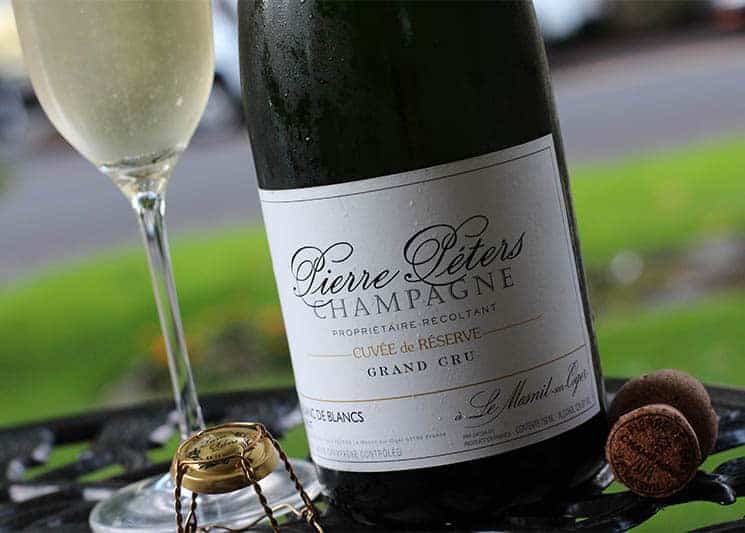 Pierre Peters "Cuvée de Réserve" Brut Blanc de Blancs Champagne
Champagne, France
12% abv  |  $60 (purchased from cork • a bottle shop)
I'll be the first to admit, I have a soft spot in my heart for the wines of Pierre Peters.  I met winemaker Rodolphe Peters several years ago in New Orleans for the The Independent Champagne & Sparkling Wine Invitational.  The event, which brought 75 sparkling wine producers (72 of them Champagne growers) and over 250 Champagnes and sparkling wines, was poorly attended, allowing me all the time in the world to interact with some of the most respected producers in Champagne.  Rodolphe Peters was one of them.   In the time I spent talking with him and listening to him speak in various seminars his passion and also charm became wildly evident through his personality, and also in all the wines he produces.
His wines are also considered Grower Champagnes, which means wines produced from the estate from which the grapes are grown.  Large Champagne houses, like Moët et Chandon, Veuve Clicquot, etc. source fruit from several sources, and generally make wines to reflect a "house style" (not that they don't make wines reflective of terroir, but their base wines, the ones you are likely to see in your wine shop, are more of the "house style").  Growers generally reflect more of an "artisanal" style and demonstrate the terroir of their regions.  Basically, they are the little guys, and many of them make some of the best Champagnes out there.
The Pierre Peters "Cuvée de Réserve" Brut Blanc de Blancs was my favorite wine tasted at the event way back in 2010, and remains one of my favorite Champagnes to date. It's also reasonably priced, for Champagne, at around $55.
Made from 100% Chardonnay grapes the wine is bright, creamy, minerally, with intoxicating freshly baked brioche bread notes, and has a delicious savory quality that makes you keep going back for more, and more, until, sadly, the bottle is finally empty.
This is a birthday worthy wine.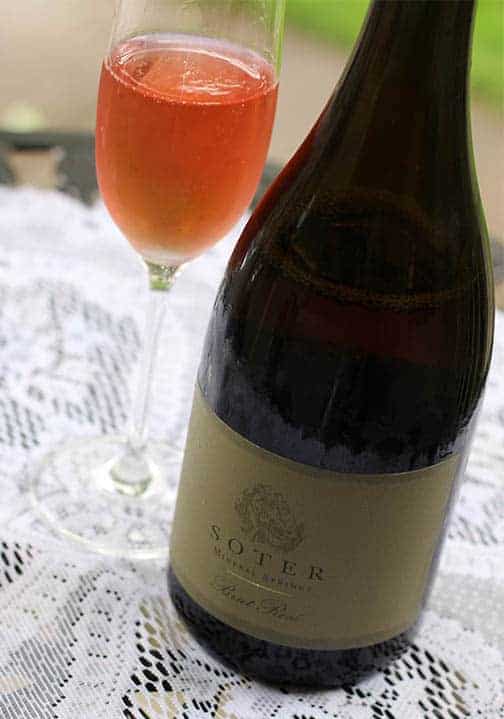 2009 Soter Brut Rosé
Yamhill-Carlton District, Oregon
12.8% abv  |  $65 (purchased from cork • a bottle shop)
I've been a fan of this wine since I first moved to Oregon and was exposed to its pure awesomeness.  I mentioned in my last post, about Kramer Vineyards, that I am baffled at why so few Oregon wineries make sparkling wine, and Soter is living proof why more need to be making bubbles!  Year after year, they make one of my favorite sparkling wines.  It's definitely no bargain wine with its hefty $65 price tag, but one worthy of a splurge or special occasion.
Instead of designer bags or shoes, I ask for things like sparkling wine for my birthday.  My husband did not disappoint.  He brought this bottle home for us to enjoy on "Mary's Eve" (the name I assigned to the day before I turned 30. It stuck. Now every year on the eve of my birthday we pay tribute to Mary's eve.  It's obnoxious, I know. But I also have twin toddlers and get few opportunities to celebrate "ME", so I'm allowed to be obnoxious on my birthday… and birthday eve.)
I will admit I have enjoyed previous vintages of this wine more than this release.  It surprised me with its dark salmon color and bold fruit flavors.  I'm used to a lighter color and a more delicate and elegant version of the Brut Rosé.  But it is still a complete delight to drink.  The dark color gives you an indication of the more intense fruit notes you get, freshly picked strawberries to be specific.  The body of the wine is fresh and lively with a very long, lingering, finish.  The acidity on this is striking, and makes for a more crisp wine.
Though I was taken aback, I realized the beauty of this experience is when you find a wine you love and buy it buy year after year, you learn to appreciate the nuances that each vintage brings.  When you pay that much for a wine, you focus more on what you are drinking, and thus pay attention to every single sip.  You remember.  To me, this is what "wine appreciation" is all about.  And I'm thrilled Soter makes wines that make you think, focus, and reflect.
I also just heard over the weekend that this very wine was awarded Portland Monthly Magazines #1 Sparkling Wine, which means only one thing… it won't last long.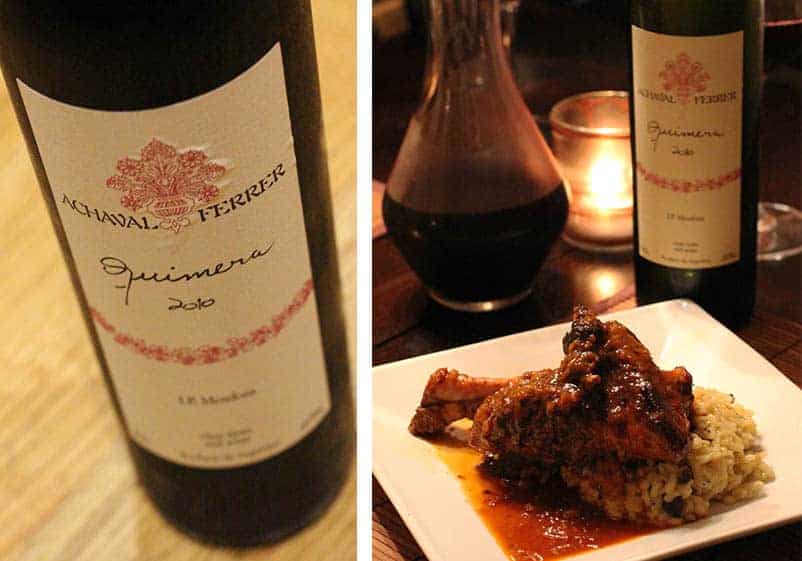 Achaval-Ferrer 2010 Quimera, Bordeaux-Style Blend
Mendoza, Argentina
14% abv  |  $56 SRP (media sample)
Argentina is known more for producing value driven wines, not necessarily those demanding a $50 + price tag, so I was intrigued wen I received a sample of this wine.  Would it be worth it when there are so many great options for less than $20?  According to the label "Quimera" means "The perfection we dream of and strive for. The search for an ideal wine".  This wine reflects the winemakers search for perfection."  Would this wine live up to that dream?
Achaval-Ferrer's goal in making this wine is to reflect its origins and terroir.  The origins of this wine come three different high altitude (3,600) vineyards located just outside Mendoza, all with mineral rich soils.  The final wine is a blend of 31% old vine Malbec, 27% Cabernet Sauvignon, 20% Merlot, 18% Cabernet Franc, and 4% Petit Verdot.  The resulting wine is a lush, full-bodied, well-structured, and elegant.
I waited for the right opportunity to open up this wine.   This isn't what most people would consider an everyday drinking wine so I didn't want to treat it as such.  It's one to wait for the right moment, or meal, to open.  My husband made me a rich braised lamb stew for my birthday dinner, so I figured this would be as good a moment to open it.  The wine is not filtered so I decanted it to avoid any deposits that may have settled to the bottom of the bottle, and also to allow it time to breathe and open up.
On first smell I knew I was going to like the wine.  At least I hoped the taste wouldn't disappoint.  It is powerful, as I mentioned, but richly textured with baking spices, deep dark berry fruit, vanilla bean, and intriguing dusty earthy qualities, and bold tannins.  It changes as it opens, with earthy qualities, spice, forest floor, and dried cherry becoming noticeable after awhile.  It's a complicated wine this way, as it always changes, and nothing dominant stands out.  You want to keep sipping it to see what you'll discover next.
My only downfall was the pairing.  The stew itself wasn't quite powerful enough for the wine, yet full of its own complex and elegant flavors.  This wine is young and powerful, and I think a simple grilled steak would have been a better choice.  Less to compete with.  The rule complex wine paired with simple food would be better suited for this.  It was still a lovely wine, and an equally lovely dinner.  They just didn't do each other too many favors.
Is it worth the pricetag? Yes.  It was an intriguing wine.  I would like to lay this one down for a few years to see how it evolves after 5, even 10, years.
What are your favorite splurge worthy wines?