Wine recommendations that are fantastic for spring sipping. From light bodied whites, to rosé, to elegant reds, to what to drink while staying home, there's a wine for all occasion this season. This is what we've enjoyed as we've been home this season.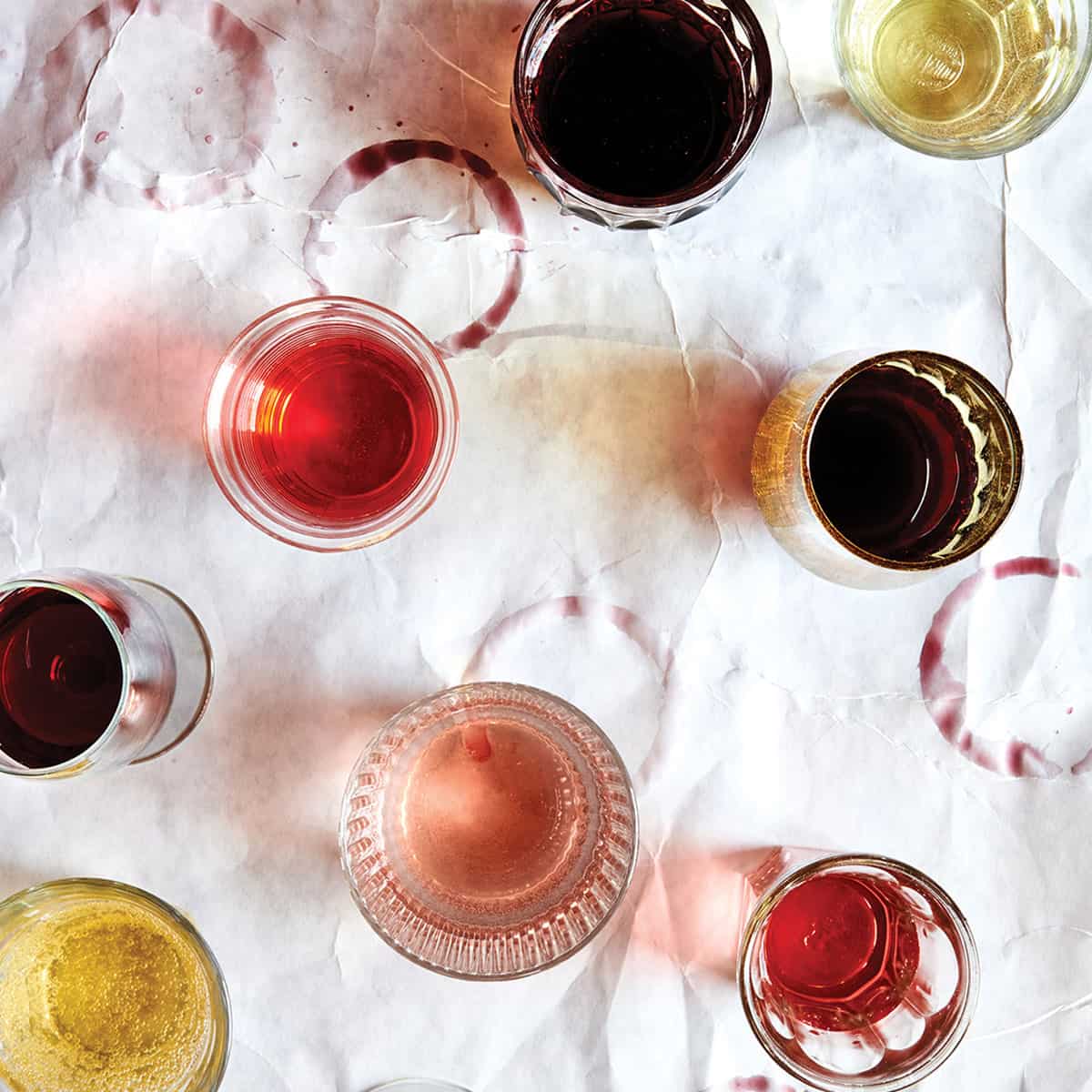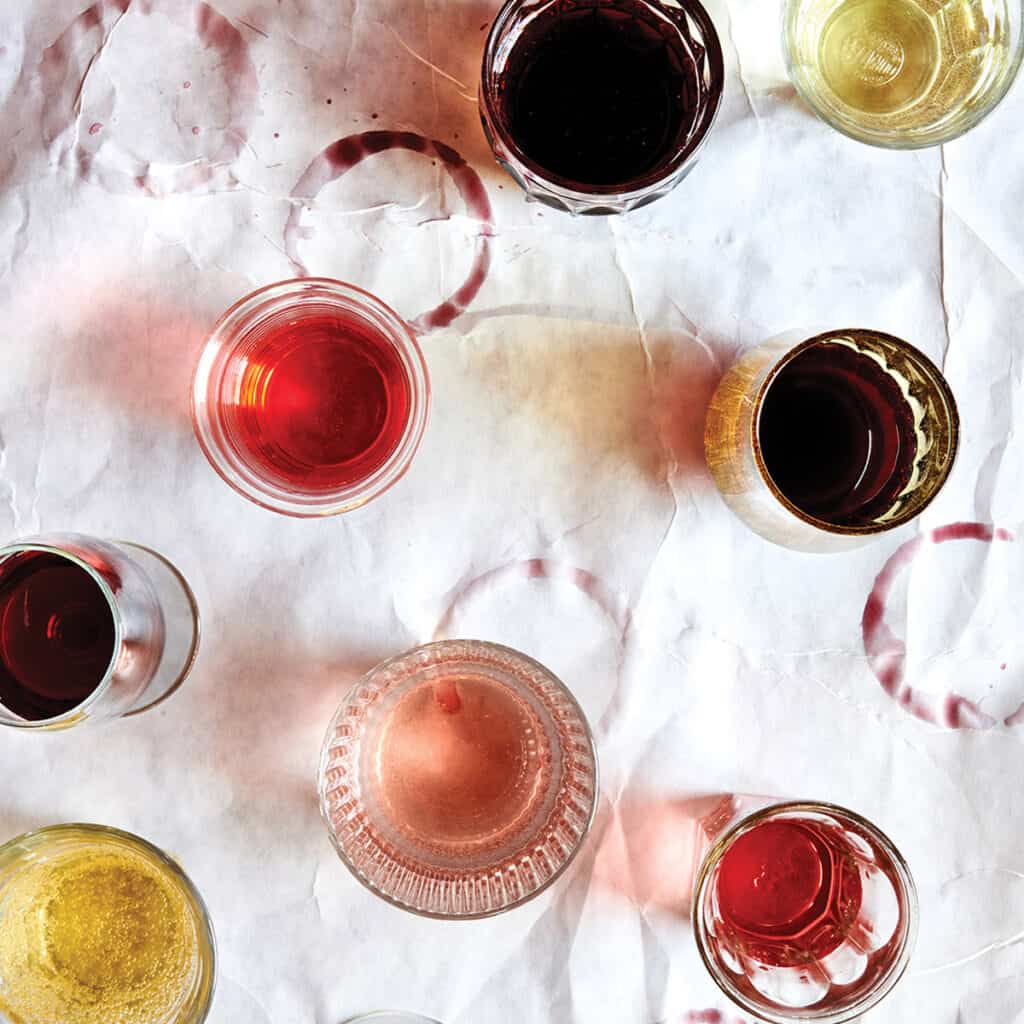 I like to review wines the way most people taste them, with food. Many of the wine reviews you'll see on this site are accompanied by a recipe. When we test recipes we usually open a few different wines of various styles that we think will work, then write about the best pairing.
But often we taste wines — either those sent as samples for review or those we purchase on our own – that are definitely worthy of mention even though they weren't part of a recipe. These wines below fit that bill.
And with most of us at home these days, refraining from going out to bars or restaurants, I've put together a range of wines I've been drinking for weeknight sippers, celebratory wines (if you can't go spend money at a restaurant to celebrate a special occasion, then perhaps celebrate at home by popping something special), to "please help me survive homeschooling my kids" wines. And with summer upon us, many of these are summer wines or rosés (but not all of course).
Bonus: a few of these wines were featured as our Wine of the Week in our Friday newsletter. If you're interested in our weekly WOTW feature, you can subscribe to our newsletter here to receive that and other exclusive features for our awesome group of subscribers.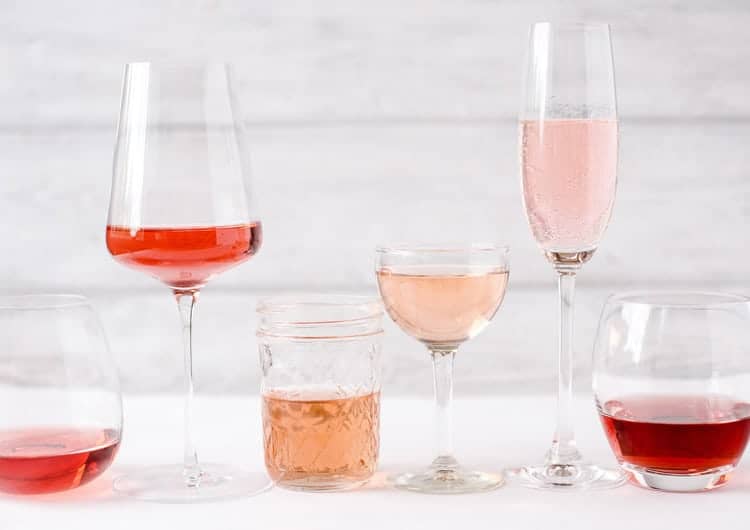 2019 Ferrari-Carano Fumé Blanc (North Coast, California)
Lots of tropical flavors, primarily passionfruit and guava, along with some grapefruit and lime. Fresh and crisp, this is definitely more of a fruit forward style of Sauvignon Blanc (vs. herbal and grassy), which is what I love about it. The grapes need lots of sunshine, so the winemakers work to ensure the grapes get plenty of sunshine in the vineyard so it ripens into those tropical notes. This is an excellent value, and would be a great pairing for summer seafood, tangy salads, or even spicy food.
100% Sauvignon Blanc | 13.8 abv | $15
2019 Charles Krug Sauvignon Blanc (Napa Valley, California)
Similar in style to the wine above. Light and bright with tropical fruit (like passionfruit and guava), grapefruit and lime, with a nice overall balance and bright acidity. It's a really lovely Sauvignon Blanc for the price and one that has me craving grilled shrimp with lemon, or even ceviche.  
13.4% abv | $17
2019 Justin Sauvignon Blanc (Central Coast, California)
This wine was inspired by the classic Bordeaux style Sauvignon Blanc. Really pretty tropical notes, pear, melon, fresh citrus and a touch mineraly. Refreshing, citrusy, and bright. A great one to sip on during a hot summer afternoon. A fantastic match for mussels or other light fish dishes, or salads (Justin's founder, Justin Baldwin, recommends this with a traditional caesar salad and I can see why! I'd love to try it with this grilled romaine caesar).
100% Sauvignon blanc, aged 100% in stainless steel (no oak) no secondary fermentation | 13.5% abv | $16
2019 Chateau Minuty "M de Minuty" (Côtes de Provence, France)
Light dusty strawberries with some fresh lime. It's fresh and light, with nice minerality with a bright acidic finish. Easy going easy drinking solid Provence style rosé and would be great with salads, seafood, or while having a (socially distant) conversation with your neighbor.
Blend: Grenache, Cinsault, Syrah  |  13% abv   |  $17 average
2019 Château Minuty "Rose et Or" Côtes de Provence Rosé (Côtes de Provence, France)
Cinsault and Grenache are blended together for this elegant wine. It has a bright and fresh nose with mild strawberries, tropical fruit, and peach. Light. Fresh. Clean. Refreshing. Drink on its own, or with something light, like freshly prepared seafood, or salad with a mild dressing. This one is definitely a splurge, but sometimes it's nice to see the wide range of elegance and styles that can be achieved with a rosé wine.
Blend: 80% Grenache, 20% Cinsault | 12.5% abv | $55 (but can be found as low as $30-range)
2019 Château Minuty "Prestige" Rosé (Côtes de Provence, Provence, France)
This blend of Grenache, Syrah, Cinsault, and Tibouren is very pretty and pale in color with light berry fruit and fresh citrus (and lime peel), with nice minerality. Light. Fresh. Nicely balanced. Lightly floral. This would be a nice one for a cheese and charcuterie plate, or even some grilled fish tacos. 
Blend: 60% Grenache, 20% Syrah, 10% Cinsault, 10% Tibouren | 13% abv | $30
2019 Los Vascos Rosé (Colchagua Valley, Rapel Valley, Chile)
Bright with a very red berry focus (lots of cherry, strawberry, raspberry), almost bubblegum-like, with a touch of fresh citrus peel. Really good value, found for around $12. This one screams pool party (oh yes, these days are coming, even if it's just you and your kids in your own backyard). Or if you don't have a pool you can drink it while sitting in a lawn chair in the sun, dreaming of owning a pool, like me.
Blend: 50% Cabernet Sauvignon, 40% Syrah, 10% Mourvèdre | 13.5% abv | $12
2019 Abacela Grenache Rosé (Umpqua Valley, Oregon)
I look forward to the release of this rosé each year. This one did not disappoint! It's really fresh and bright, with lots of citrus and strawberry. Nicely balanced, its one I'd love to sip on during any summer picnic or outdoor gathering.
13.2% abv | $19
2019 Jean-Luc Colombo Cape Bleue Rosé (Provence, South of France, France)
Some sweet red berry flavors, along with some lime and banana. A little reminiscent of bubblegum with a sweet dusty strawberry in the mouth. It's fairly straightforward, but if you can find it in the $10-$12 range, it's worth it for the value. A good weeknight wine for those long summer nights that are almost here!
12.5% abv  |  $10
2019 Fazi Battaglia Rosato (Marche, Italy)
Lemon, lime, grapefruit, cherry with some tropical notes, and a touch of floral scents. It's very versatile, with an intriguing savory finish. I like it! It's a light and bright everyday summer sipper! Another great value rosé and a good one for grilled pizzas.
12% abv | $11
2016 Perinet Merit (Priorat DOQ, Spain)
Intriguing nose with lots of dark sweet berries, black licorice, tobacco, and even some mint. It's full bodied and luscious with nice textures throughout. If you take your time with it, the wine opens up nicely and some of that mint gives way to more deep berry and plum flavors. This would be interesting to try with smoked lamb and would be a good one to consider if you're planning something fun for Father's Day.
Blend: 35% Merlot, 30% Syrah, 19% Garnatxa, 16% Carinyena | 14.5% abv | $25
2015 Tenuta Sant'Antonio "Selezione Antonio Castegnedi" Amarone della Valpolicella (Amarone Della Valpolicella, Veneto, Italy)
Dark concentrated flavors, tobacco and leather, vanilla and spice, and deep blueberry flavors. It's not super tannic, but it does have an intensity to it, balanced by a nice smoothness. Almost a cherry-cola intensity and maraschino cherries. We paired it with a dry aged steak and it was outstanding pairing! Its savory finish was delicious with the seared meat. 
15% abv | $50-$60
2017 Justin Trilateral (Paso Robles, California)
Rhone-style GSM blend of Syrah, Grenache, and Mourvèdre. There's a fun and funky gamines along with some bacon flavors at first. It has a very round and soft mouthfeel, with some roasted meat flavors, deep cherry, blackberries, with some vanilla bean, smoke, and spice. It's very savory with some pepper and spice and would be fantastic with grilled meats, stews, braised beef. Would love to try it with lamb. I also LOVE that founder, Justin Baldwin, recommends it with Ben and Jerry's Cherry Garcia (I must try that someday!). That sounds like the perfect quarantine snack while catching up on Netflix!
Blend: 72% Syrah, 20% Grenache, and 8% Mourvèdre | 15.5% abv | $55
2017 Justin Reserve Malbec (Paso Robles, California)
This wine spent 15 months in French oak (only about 35% new), and offers lots of black fruit, cherry, blackberry jam, some tobacco leaf. There's a bit of a grippy quality that I think would make it a stunner with a grilled steak (maybe even with some melted blue cheese over the top?). I'm thinking any grilled beef or even lamb would be a mighty find match. Can't go wrong with some reverse seared ribeyes with this tasty wine.
100% Malbec | 15% abv | $45
*2016 Open Claim Vineyards Pinot Noir (Willamette Valley, Oregon)
This wine is stunning, and big! The grapes spent 16 months in 40% new French oak prior to bottling. The nose is deep with rich cherry, blackberry, and some earthy (almost even a eucalyptus and spearmint) flavors. The body is rich and bold (but in the best possible way). This is not a wimpy pinot, but even in its richness, it shows great elegance. This would be a delicious pairing for beef (but a lean cut like tenderloin or filet), or even Coq au Vin.
14.1% abv | $75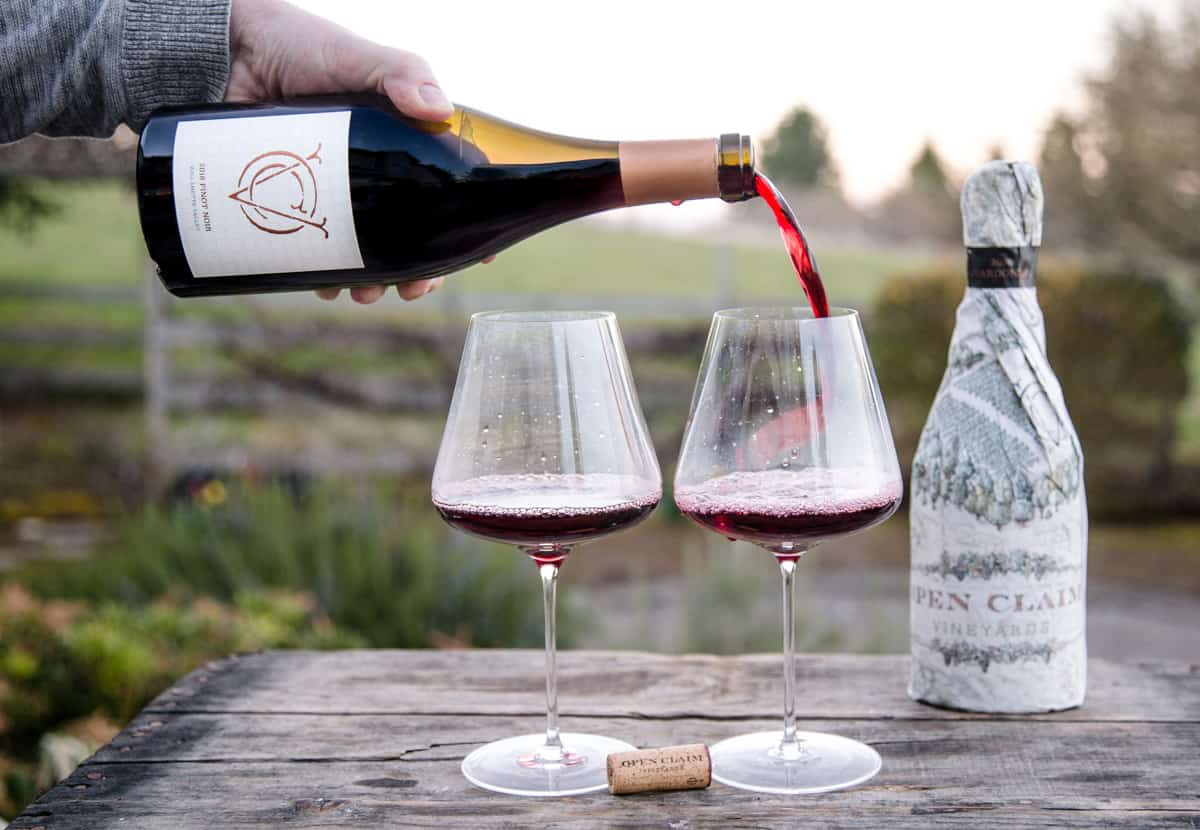 ---
If you want to learn about our featured Wines of the Week, make sure to subscribe to our newsletter for exclusive reviews, recommendations, and tips!
*Many of these wines were were media samples for review. See my sample policy here.