Having just returned from Sicily, and now preparing for a family vacation with kids, several people have asked me how I get it done between constant international travel and traveling with small children. That got me thinking that others may benefit from some tips and tricks I've learned along the way.
Here are some of my favorite travel tips, for business to family travel.
Work Travel
Most of my travel for work is international. And most of the time it involves at least three different flight transfers. That means lots of opportunities for bags to get lost, which for me happens 50% of the time I travel (I kid you not! I've got some bad travel luck on my hands.) And when I'm traveling, we're usually moving from town to town, staying in different hotels every night. This means I need to pack light, and super organized.
Travel with Kids
When I'm traveling with my kids I don't have to worry about international travel (yet), but I do have to think about all of their 10 million items we need to lug around with us (carseats, diapers, blankets, snacks). I'm grateful we no longer have to add pack-n-plays and strollers anymore! But since they're still fairly small, they aren't ready to carry their own bags, that means mom and dad get to do all the packing and lifting. This means we need to pack light, and super organized.
After losing bags, missing flights, getting robbed, and having a carryon bag break 10 minutes before a 24 hour travel day that included three layovers, dealing with screaming children… I've learned a few things about staying organized (and sane) while traveling. So I was pretty stoked when The Container Store® and TownePlace Suites® reached out to me asking me to share my tips on staying organized when I travel. They gave me a $50 gift card to use on my favorite travel essentials, and they also offered to give a $100 TownePlace Suites® gift card to one lucky reader! Boom.
My Top Travel Tips
First to all comes down to organization
Spreadsheets!
I kid you not. I have an Excel spreadsheet for work travel, and one for family travel, listing all the bazillion things to think about, do, and pack, before leaving on a trip. Before any new trip I sit down, and scan through the list and update it with any specifics. Then I print it off, and check things off as I pack. This keeps me from stressing out before any trip, because I have everything I need, listed on a nice organized spreadsheet.
This worked wonders when the kids were babies and we needed to pack things like a thermometer, bottles, bottle cleaners, sippy cups, meds, toys, you name it. Who can remember all of that?! For international travel, it also has things like power converters, passport, and business cards at the top of the list!
Pack Smart and Pack Light
Organize your bags so you know where everything is. Eagle Creek compression bags (see below) are excellent for helping you organize your belongings and minimize the space you take up in your suitcase. They're also super lightweight! Whether traveling alone or with kids, every ounce you pack makes a difference! You can put entire outfits in each bag, or sort by item (socks, shirts, pants, etc.).
Pack a carry on with at least 2 days worth of necessities
For international travel this is a must. 50% of the time I travel my checked bags do not make it to my destination. Like I said, I've got bad travel luck! I'm learning to deal with it. I've learned to pack at least 2 days worth of clothes, makeup, etc., into a carry on. Since I'm carrying this bag with me through airport layovers it needs to be light, and I need to be able to access things quickly!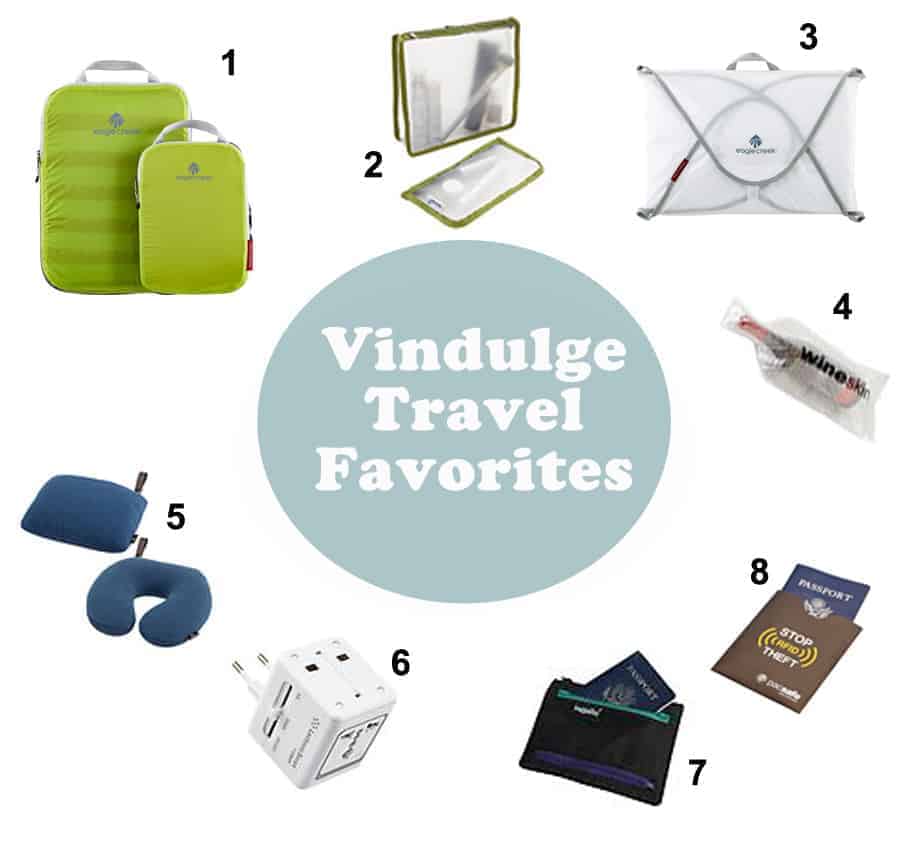 A few favorite and must-have travel items to help with organization:
*I just purchased items 1-3 with my gift card from The Container Store®. These are perfect for maximizing the space in your suitcase and keeping your clothes organized! I always travel back from anywhere with wine, so #4 is a must to protect your bag in case of wine bottle breakage. Items 5-8 are absolute must haves for any international travel.
Book Suites When Traveling With Kids
When I'm traveling with the kids one of my first priorities is to find a hotel that has suite-style rooms.  It's hard enough to travel with kids, and at the end of the day parents need a kid-free zone!  I love hotels that have a separate room for the kids, so we can veg out on a sofa and have a deserved glass of wine, and not have to tip toe around the hotel in the dark to keep from waking up the kids. It's also a bonus if the room has a kitchen, so we can make a few of the meals in the room.
---