A few years ago, while on vacation with friends in Oahu, Hawaii, we threw an impromptu BBQ on Waikiki Beach. Instead of another night of overpriced tourist food we decided to do what we do best – grill.  We made a quick trip to the grocery store for a few essentials and took to the beach. The dinner turned out fantastic, and for less than the price of one single dinner at any beachfront restaurant in Waikiki Beach we served six happy beachgoers for this unique sunset beach experience.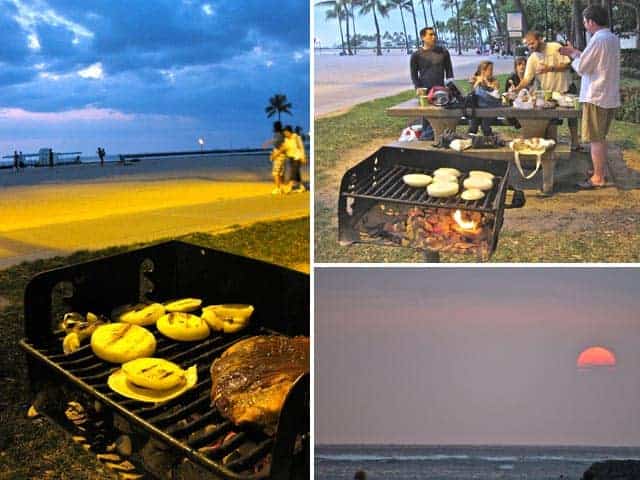 What began as a quickly put together dinner with some very simple ingredients and limited supplies ended up being one of our current at home staples for summer grilling season.  We've made it now dozens of times since and has become a favorite of friends and family.
Since our weather here in CT seems to have taken a turn for the worse, with no sign of summer in the near future, we decided to fire up the grill this past weekend – sending a message to the universe that we are ready for summer, rain or shine!  If you cook like it's summer, summer will come (right?).
Marinated Flank Steak with Pesto and Arugula
This meal is great for gatherings as it is quick, easy to make, and yields a lot. Serving on a small ciabatta roll makes it a great nibbler for a party and is a much more satisfying alternative to sliders. 
Ingredients: 
One 2-lb flank steak
Marinade

¼ cup soy sauce
¼ cup Worcestershire sauce
1 clove of garlic, smashed and diced
½ tablespoon fresh graded ginger
½ tablespoon rosemary, finely diced
¼ teaspoon fresh ground pepper (a few turns of the grinder)
Rolls (we like ciabatta rolls – firm on the outside, soft on the inside, good for sandwiches)
Pesto, store bought or homemade
Arugula
Instructions:
Rinse the meat and pat dry.
In a large freezer bag add all the marinade ingredients and shake, combining it all together.
Add the meat to the bag, zip it, and try to avoid excess air.
Put freezer bag into the refrigerator for a couple of hours (up to six) and occasionally shake it up, making sure the marinade is being evenly distributed to the meat.


Warm up grill to medium high heat and remove meat from baggie.
Grill for six minutes each side for a medium rare steak, but adjust for thickness as needed.
Remove from grill and let sit for 20 minutes to let juices settle.
Slice across the grain in thin slices.


Cut the ciabatta rolls in half and toast on the grill.
Apply a desired amount of pesto to each side of the roll, add meat, and top with arugula (the warm meat may wilt the arugula slightly).
Enjoy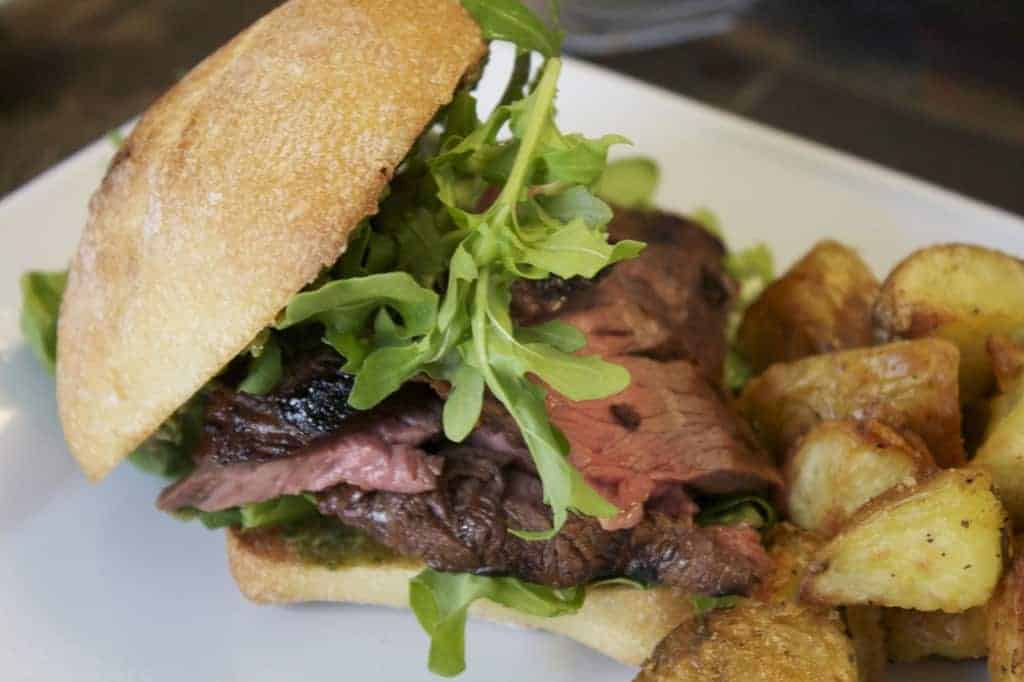 Wine Pairing:
The flavors that dominate  are the soy and rosemary from the marinade and a hint of garlic and basil from the pesto.  Don't over think it, as there are a lot of flavors going on in this dish,  just explore.  I was looking for a Zinfandel the evening we made this but couldn't find one. Instead I reached for the 2005 Robert Biale Vineyards "Zappa" Napa Valley Red Blend we bought at Cork bottle shop before leaving Oregon. It was a blend of Zinfandel, Petite Sirah, and Syrah.  The rich and deep dark fruity flavors of the Syrah seemed to dominate the wine, less peppery than I hoped for, but it was still a fantastic wine and mingled just fine with the dish.
With the various textures and flavors from the marinade, spices, and pesto sauce, my recommendation would be go for a peppery Zinfandel or perhaps a Syrah from Northern Rhone.  But again, don't over think it!  It's meat, it's grilled, it's delicious, and will probably be gone too fast for you to even think sipping wine while indulging in this meaty masterpiece.
Summer weather may not be here just yet, but it doesn't mean you can't cook like it is!