(This is a revised and extended version of an article I wrote for the 2012 International Wine Tourism Conference held in Perugia, Italy earlier this month. To read the original please click here)
"We are small. We are new. We want to produce our own wines with our own personality.  As a new producer it is important for us to have people listen to our story."  – Federico Bibi, Sales and Marketing Director of Terre Margaritelli Winery
In a region where so many producers have been around for generations how do you begin fresh and stand out?  Intimidating for anyone to consider in any industry and something that Federico Bibi and Jennifer McIlvaine of Terre Margaritelli Winery are attempting.  Located in Umbria between Perugia and Assisi in the wine region of Torgiano, this winery spans 52 hectares of vineyard and produces over 50,000 bottles of wine annually from the 15 different varieties of grapes that grow on their vineyards.  Though I visited the winery during the evening when it was already dark I can imagine classic Umbrian hillsides with views of Assisi in the distance.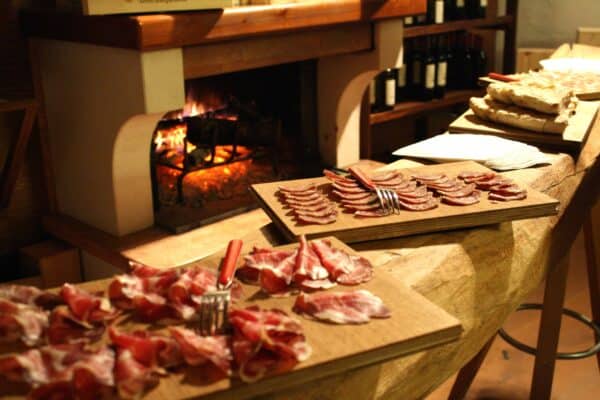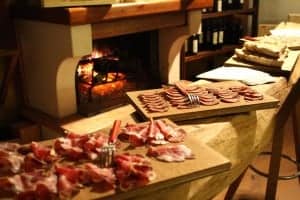 We visited the winery on February 1st during the International Wine Tourism Conference to find out what makes them different from their older neighbors.  What they may lack in generations they make up for in creativity, passion for the business, and the wine in the glass.
Though they have been around since the 1950's, Terre Margaritelli is considered a newer member of the wine community with a winemaker who has been there only six years.  Back in the 1950's, Federico explains, "There was just 'red' grapes and 'white' grapes, but nobody knew exactly which grapes they were".  It was twelve years ago they decided to replant everything so they had full control and knowledge of the grape varieties planted. They also decided to become certified organic, a process not easy to obtain. "It is hard to be organic in a big property," stresses Federico, "but for us there is no other way. It is our philosophy."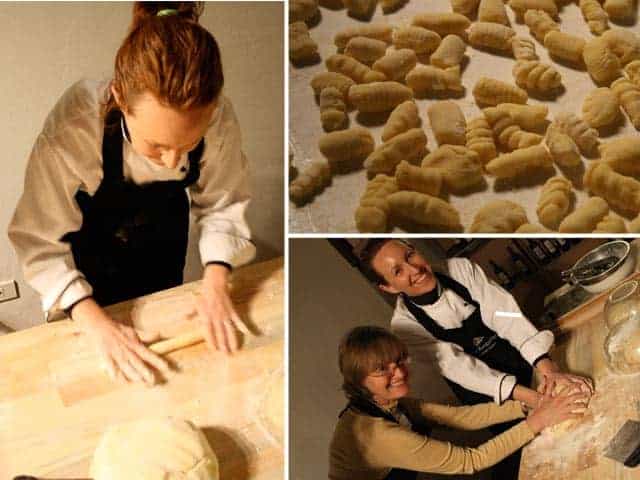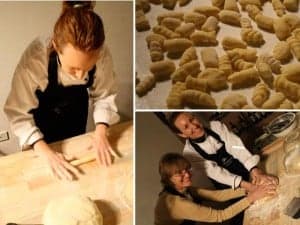 This philosophy is not only displayed in their vineyard practices but also their hospitality. During our visit we were treated to hands-on cooking lessons making traditional gnocchi; something many of us genuinely enjoyed and learned from.  As we sat down to eat our creation we noticed biodegradable plates and utensils, a small but telling detail that fits the precise and compelling way Federico expresses his passion around the philosophy of the winery.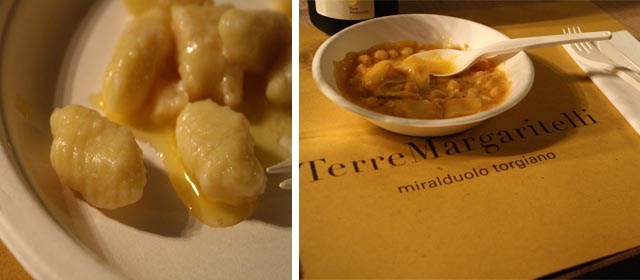 Their hospitality seemed as organic (no pun intended) and natural as their winemaking principles.  After finally sitting down for dinner and learning about the wines, we became witness to Federico as not just a businessman, but also a loving husband and new father.  His passion shows both in the work he does for Terre Margaritelli and relationship with his wife and chef Jennifer McIlvaine of Life Italian Style.  You can sense their camaraderie and love for each other simply by the way they interact and laugh together.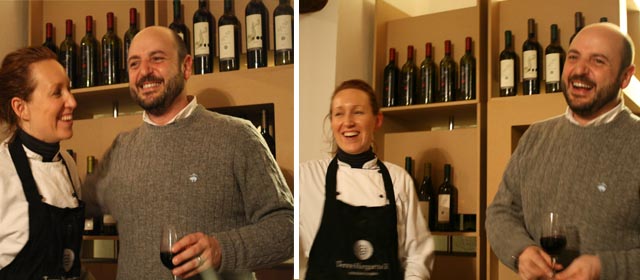 It may sound a bit romantic, but they made us feel like part of their family during our dinner sharing wine, great food, laughter, warmth and stories.  And we knew the couple was truly having a good time when Federico decided to bust out a magnum (the equivalent of two bottles of wine) after our dinner followed by a bottle of delicious Champagne to share with the group.  As you may imagine the laughter and stories (and wine) continued late into the evening.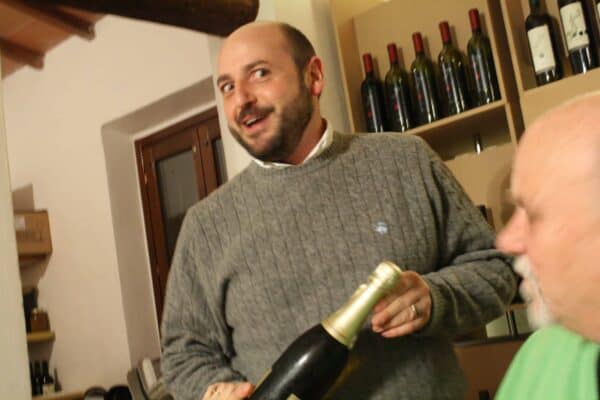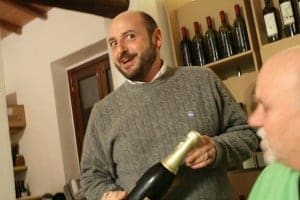 This hospitality, good food and wine created a very memorable experience for fellow bloggers and myself. Something I hope many other travelers, both wine and food lovers, can have the opportunity to experience.  If you are ever considering a trip to Italy, make sure to add the region of Umbria to your list, and specifically Terre Margaritelli Winery or any of Jennifer's cooking classes or tours for Life Italian Style.
In my next post I will share Jennifer's gnocchi recipe that we learned during this visit.  I made it for my family this past weekend and I think I did a pretty darn good job at it if I do say so myself!  Stay tuned…