Quite often you hear stories about second or third generation winemakers, those who learned from their parents before them. It's not as common to hear about the winemakers who mentored and trained young and aspiring winemakers, who then went on to start their own successful wineries or businesses. Those mentorships can often create learning experiences that cannot be taught in a classroom or through a book.
One of Washington's most esteemed winemakers, Chris Upchurch, co-founder and executive winemaker at DeLille Cellars, has been a mentor to several of the states up and coming winemakers, including: Chris Peterson of Avennia, Lisa Baer of Baer Winery (or rather, Baer's brother), Louis Skinner of Betz Winery, Jason Gorski of DeLille Cellars, and Kit Singh of Lauren Ashton Cellars.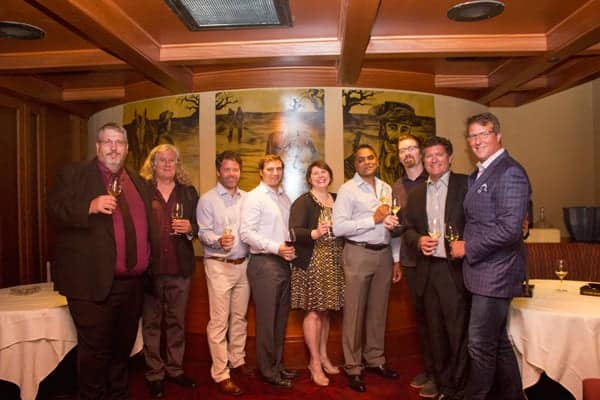 Andy Perdue (emcee of the event) along with Chris Upchurch, Chris Peterson, Jason Gorski, Lisa Baer, Kit Singh, Louis Skinner, Greg Lill, Chad Mackay.
Photos by Carlye Skinner 
Last month, this legacy was celebrated at a dinner held at El Gaucho Portland to recognize the mentorship Upchurch has provided to so many winemakers who have worked under his leadership.
When it came to working with Upchurch, Chris Peterson said the only rule was, "Always bring something to the table."
Upchurch added, "You have to have passion. And you have to add to the conversation if you want to work for DeLille."
When asked about how he felt about all these talented winemakers eventually leaving DeLille to start their own projects, Upchurch responded, "They don't take away defensive quarterbacks from teams that are losing." He adds, "I am thrilled that DeLille has set the bar for helping create great Washington State winemakers."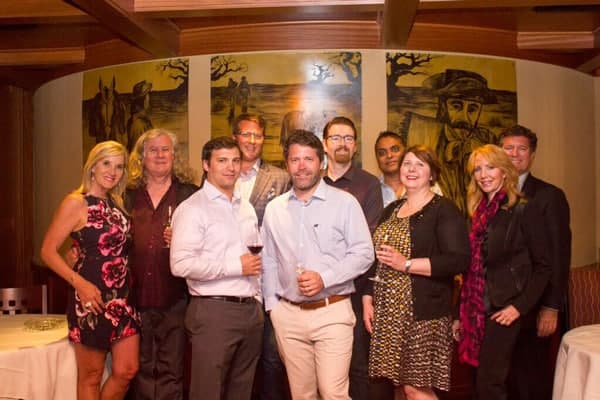 I have to admit, it was pretty cool to be in a room surrounded by such a talented group of winemakers and listen to them share stories from their past. I had a chance to chat with Kit Singh, from Lauren Ashton Cellars, about his experience with DeLille and his own winemaking inspiration. Singh is a super interesting guy. By day he's a dentist, and by night a winemaker. He's also a husband and father (Lauren and Ashton are his kids, hence the name). Even though he's had a successful career as a dentist he always had the bug to make wine. So he started taking classes and learning where he could. But he wanted to learn from the best, so worked his way into DeLille to learn directly from Upchurch. Seems to have been worth the effort. I've really enjoyed Lauren Ashton wines since I was first introduced to them a couple years ago at Taste Washington. See how well his Cuvée Mirabelle pairs with Rosemary and Soy Marinated Grilled Flank Steak here.
Speaking of pairings, I can't begin to praise El Gaucho enough for the ridiculously amazing job they did with this large crowd. It's not easy serving a five-course meal to a crowd of over a 100, let alone serving each course cooked to perfection. I honestly have never had halibut so perfectly tender and flavorful in my life, layered with coconut, yellow curry, and a corn reduction. It was paired with the Lauren Ashton Rosé. So delicious.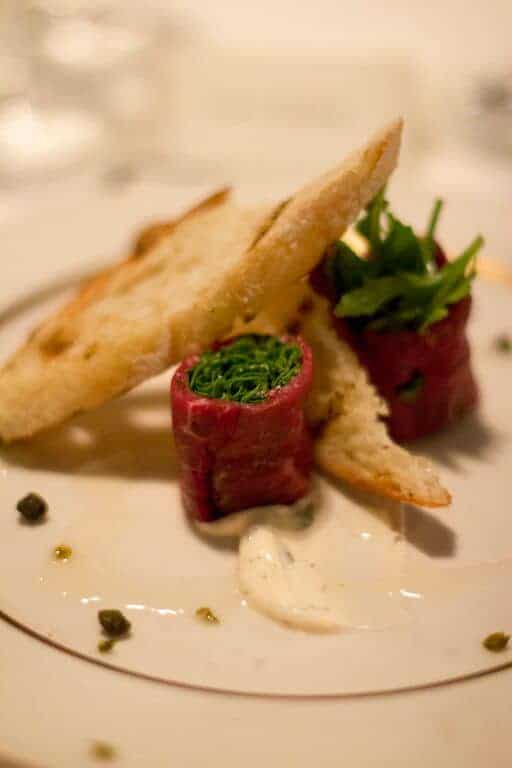 One of the coolest things about the dinner was the daring pairings. El Gaucho Portland Executive Chef, Steve Cain, wasn't afraid to pair white wine with beef short ribs (above), like he did in the first course, or scallops with a red blend in the second course. Or even a dry Cabernet Franc with a decadent double chocolate cake with chocolate ganache (so good).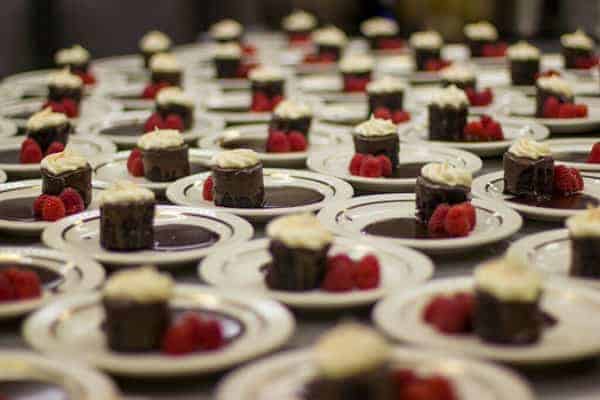 Ask most wine writers and sommeliers and they will tell you pairing dry red and chocolate is the biggest wine pairing no-no, but Cain proved them wrong. It was off the hook. All of the pairings were spot on. I wish I could show you more pictures, but it was super dark and the photos I took just didn't do the meal justice.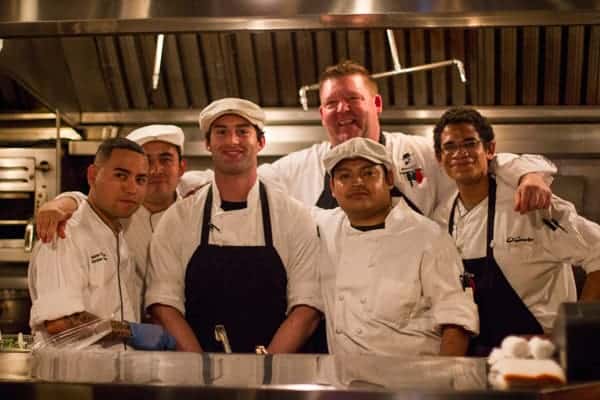 El Gaucho Portland Chef Team. Executive Chef Steve Cain in back.
I've been thinking about this meal for weeks now and am very much looking forward to returning to El Gaucho on my next date night. If they can execute this kind of a meal to a large crowd, I'm dying to see what they can do for a table of two on a regular night.
El Gaucho was a very cool venue to host such a memorable dinner. And while this dinner is a thing of the past, you can seek out the wines produced by those who studied under one of Washington's most revered winemakers, like: Avennia, Baer Winery, Betz Winery, Lauren Ashton Cellars, and of course, DeLille Cellars itself.
*Photo credit, Carlye Skinner, El Gaucho