It has been over a week now since we hit the road with the twins for our month long journey across the country.
Unsurprisingly, I have noticed a lot of questions coming my way.  "Why did you guys decide to do this trip?"  "You really flew across the country, and are doing a month long road trip, just so you could attend a conference? Why?"  I figure people are simply curious about what would drive us to go through so much work just to see our friends and family, and go to a conference in Portland.
To be honest, I wasn't even sure why I decided to go through with this journey.  I just knew I needed to do it.  Something inside me was telling me I had to.
After surviving the flights to Oregon with twin toddlers (more on this later), and eleven days in Oregon I now know one of the many reasons I needed to come —  The People.
Meet…
Ron and Linda Moore, Monks Gate Vineyard 
Carlton, Oregon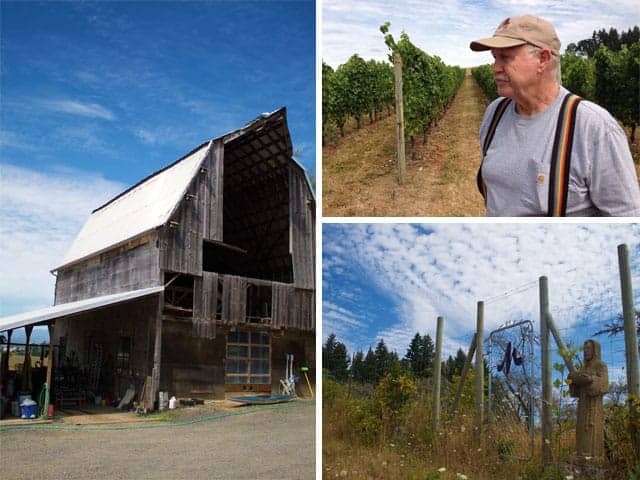 Meeting many of the amazing winemakers, farmers, and winery owners through the Wine Bloggers Conference was inspiring to me.  And thanks to the Carlton Business Association I was invited to experience a two day post conference excursion exploring much of what Carlton had to offer.  During that tour I met Ron and Linda Moore from Monk's Gate Vineyard and toured their property.  I learned the history of Monk's Gate, tasted through their wines, and more importantly I learned what drove a man of 56 to "retire" to Oregon and start a vineyard.
Ron was born and raised on a cattle and sheep ranch before his thirty year career in aviation.  Upon retiring, he and wife Linda had the dream to start a vineyard "to get back into farming, the way I [Ron] grew up."  They purchased a 50 acre farm in 1998 and started planting vines.  On their property they now have 2 acres of Riesling planted and 18 acres of Pinot Noir, selling most of their fruit to local wineries, and keeping just enough to produce roughly 300 cases of wine for their own label.
What struck me about Ron was not only his humble nature, but his genuine appreciation for everything he has.  When I asked about why he decided to start a vineyard later in life he stressed that it was their dream, and that he and Linda "were very fortunate" in their lives, and "very grateful for all we have".  When asked about the community in Carlton and how they took to a couple of Californians moving into the neighborhood he again stressed, "we are incredibly grateful for how well the community embraced us".  It is clear that they don't take what they have for granted and express gratitude for everything they have.
When I asked if he ever wanted to grow and produce more than 300 cases he laughed. "No,  Mom and Pop want to just stay Mom and Pop".
Though you won't find these wines outside of Oregon, you can visit the winery from May thru November on Fridays, Saturdays, and Sundays from noon-5:00pm, or by appointment.  And the unique thing about visiting Monks Gate is the likelihood that Ron and Linda will be in the tasting room pouring for you.  You rarely get to meet with the actual owners at most other wineries, and when you do it makes for an engaging experience.  If you do visit, don't miss the 2011 Pinot Noir Rosé.  It is beautiful, dry, expressive and fruity.  Another one not to miss is the 2007 Pinot Noir, a great example of the balance the earthy/fruity qualities you can expect from a good Oregon Pinot Noir, especially one from a challenging vintage such as 2007.
In the five years I lived in Portland I rarely spend much time in Carlton doing more than just walking around to a few of the tasting rooms in town.  I am both surprised and inspired by what is happening there and will be writing more about my experience in Carlton in the weeks to come. 
In addition to some of the strangers I met who inspired me, I had the chance to reconnect with some old friends who are making a name for themselves in their own communities.
Lynnette Shaw and Amy Wilder, Republic of Jam
Carlton, Oregon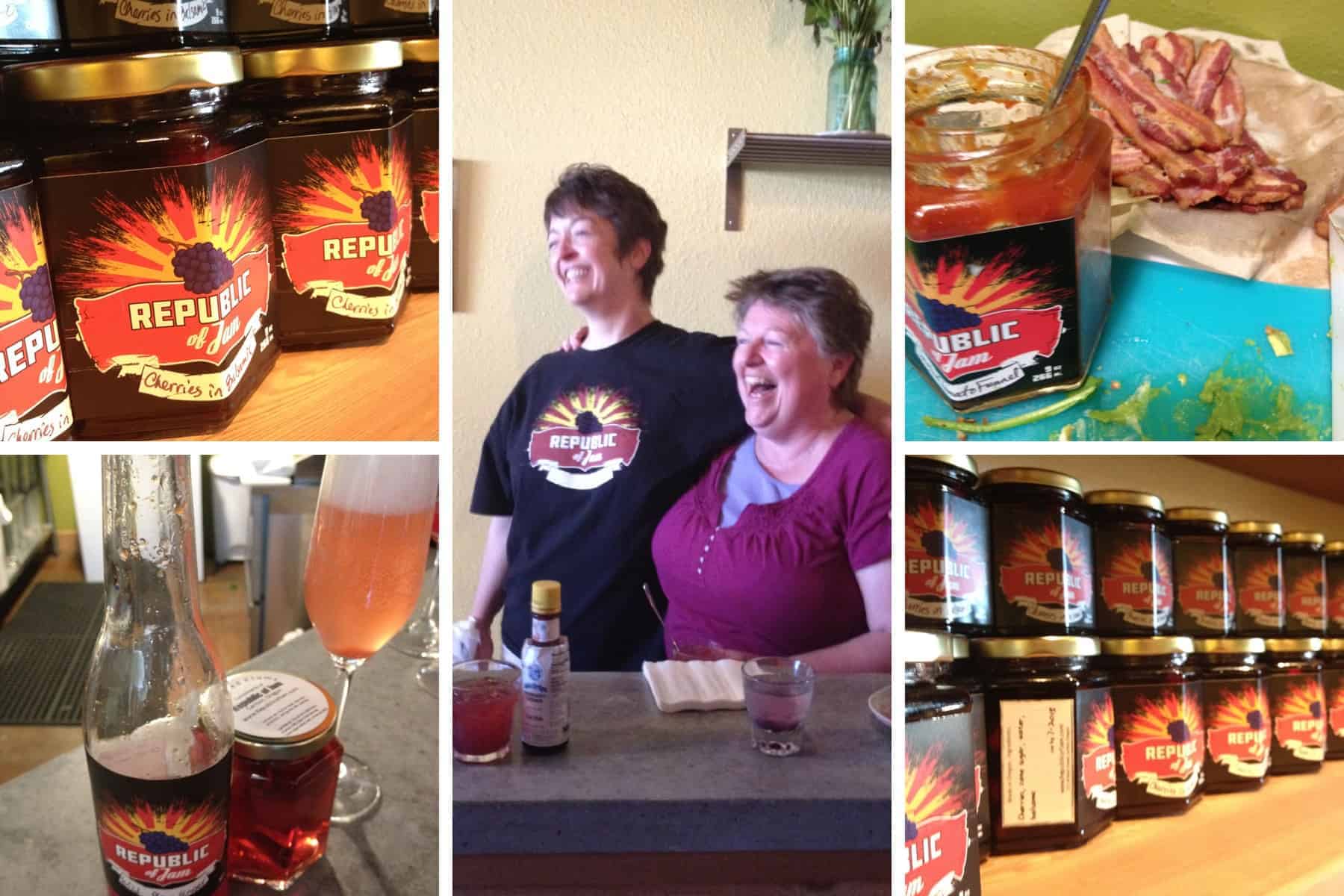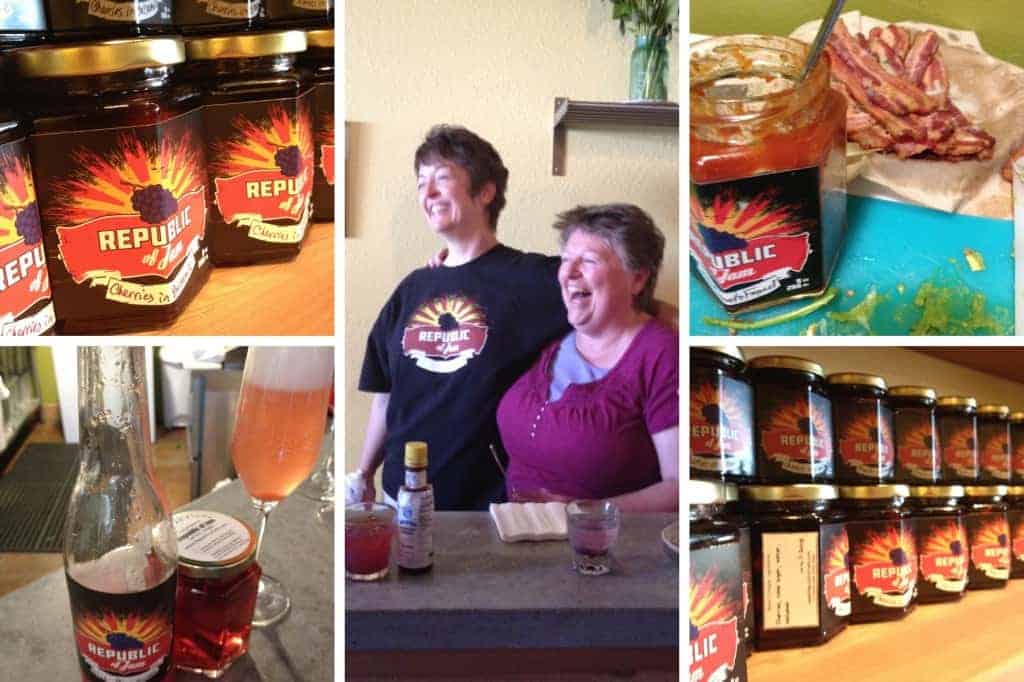 I met Lynnette and Amy through the Wine Bloggers Conference in 2009, but it wasn't until 2010 that we became friends when Lynette put together a tour for some bloggers visiting Portland.  Shortly after my husband and I moved to Connecticut later that year Lynette and Amy launched Republic of Jam, describing themselves as "purveyors of artisan fruit preserves".  But what they do is so much more than simply make jam.  They have revolutionized the way I, personally, think about fruit in a jar.  Starting with the remarkably creative jams they make, like Spiced Fig with Port, Marionberry Sage, and Strawberry Basil; to their own line of syrups and sodas; and how they use their products in recipes like a BLT with avocado, arugula, Smoked Tomato Fennel Jam, and bacon; and a Strawberry Julep.  My favorite creation of theirs, however, had to be a Blue Cheese Cheesecake with chocolate ganache, balsamic reduction and sweet cherries (made with Rogue Creamery Oregon Blue).
Creativity is not the only thing they have going for them. Their products, from the jams, to their culinary creations are ridiculously delicious.  I am so proud of what they have accomplished in the two years since they started this endeavor, and more than that I am inspired by their passion and drive.
You can visit Republic of Jam in their downtown Carlton tasting room from Thursday -Monday, noon – 5:00pm.
Sirota and Matt Johnston, Boda's Kitchen
Hood River, Oregon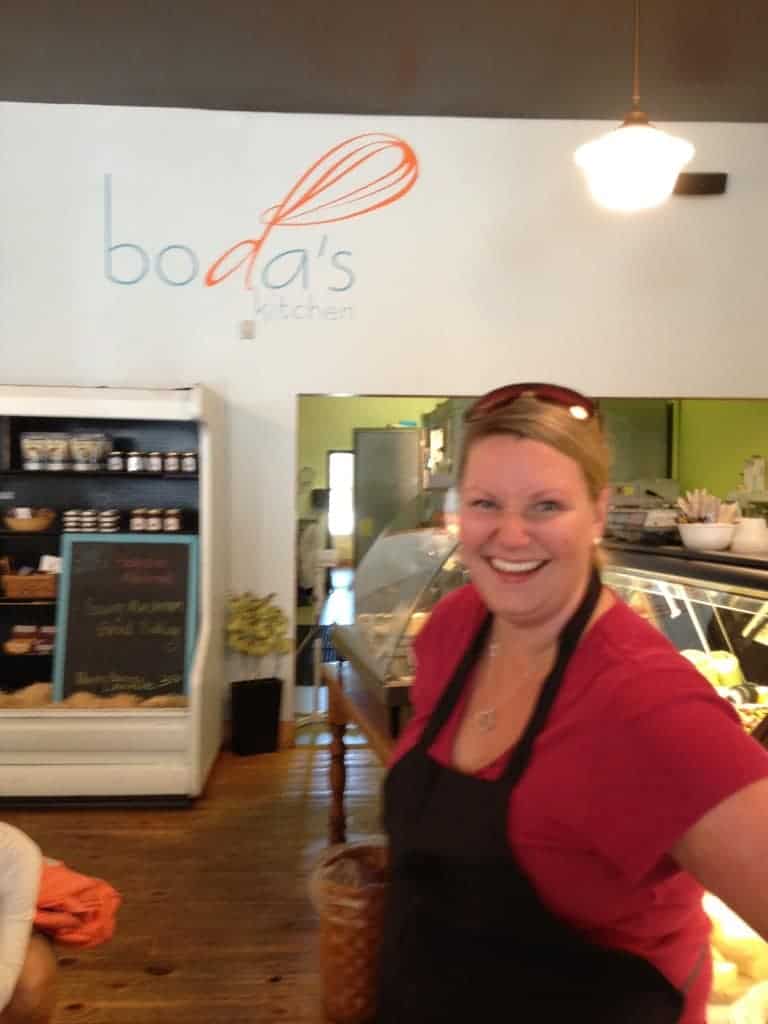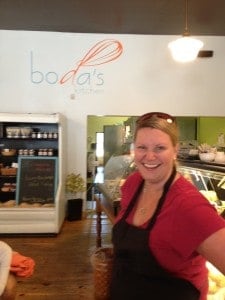 I've known Sirota for years.  And for the entire time we were co-workers and friends one thing was certain  — Her passion for food and wine, and her desire to start her own business combining those two interests.  Two months ago she and her husband Matt made it happen — in Boda's Kitchen.   Boda's Kitchen is a quaint cafe and deli, serving made to order sandwiches, and other gourmet take out delights, located in the heart of downtown Hood River, OR.  Sirotas dream of being a caterer is also now a reality in Boda's Kitchen as well.  In addition to the cafe, she also offers full service catering for all types of special events (from small parties to weddings).  Forgive my blurry picture, I was just so excited to see her and tour her place that I barely remembered to whip out my iPhone to take this one, solo, blurry picture.
It took me forever to decide what I wanted to eat when I visited last week.  Everything looked good and Sirota had just made this amazing looking wild mushroom savory bread pudding that was way tempting.  But since I had the kids with me I wanted some things I could share with them.  I opted for the most delicious tomato peach salad with feta, basil and Marvin's almonds; a grilled corn salad with red bell pepper, tomato, cilantro, cotija and mint; and a Greek Veggie Wrap with fresh organic greens, roasted red peppers, tzatziki, feta, hummus, and kalamata olives.  Everything was fresh, delicious, and each item had a unique "something" about it making each dish memorable (like combining mint with the grilled corn in the corn salad).
You can visit Boda's Kitchen Monday-Saturday from 11:00am-6:00pm, and on Sundays from 11:00am-4:00pm.
Sirota, Amy and Lynette, the Moores, as well as many other individuals I met, represent the kind of people who inspire me.  But more than that, they represent the kind of people I like to surround myself with.  Passionate, creative, driven, and focused, with an entrepreneurial mindset.  On top of that, they all had a genuine attitude of gratitude for what they have created.
When thinking about what inspired me from the conference, and my week here, I realized it is the people.  It was the people who inspired me and my husband to move here in 2005 when we knew nothing about Oregon, nor knew a soul.  It was the people who made it difficult to leave in 2010.  And so far it is the people that remind me why we are doing this trip.  They reinvigorate me — a feeling I have been missing lately.
And so far I am not regretting our decision to go on this trip. Not for one second… even when one of our kids got carsick in our brand new car as we entered Grants Pass on our way down to California… but that is a story for another day.
Stay tuned for more on the Wine Bloggers Conference and tales from our road trip.