I am so super stoked about todays post and giveaway! Since our last giveaway was so successful and so much fun (I hope you're enjoying your KitchenAid Stand Mixer, Jessie!) we decided to do an even bigger giveaway, this time for an incredible beginners photography kit. Whether you're a blogger, hobbyist, business owner, wanting to take better pics of your kids/dogs/food/whatever, or just wanting to upgrade from a point and shoot camera (or your phone!) to a DSLR camera, this is a great opportunity for you!
Among the prizes is nearly the exact same camera I currently use, the Canon Rebel T5 DSLR (although I currently have the previous model, the T4). It's a great camera if you're just getting started learning how to use a DSLR. Nearly all the photos on this very site are taken with that same camera.
And I'm thrilled to have teamed up with another group of awesome bloggers for this giveaway.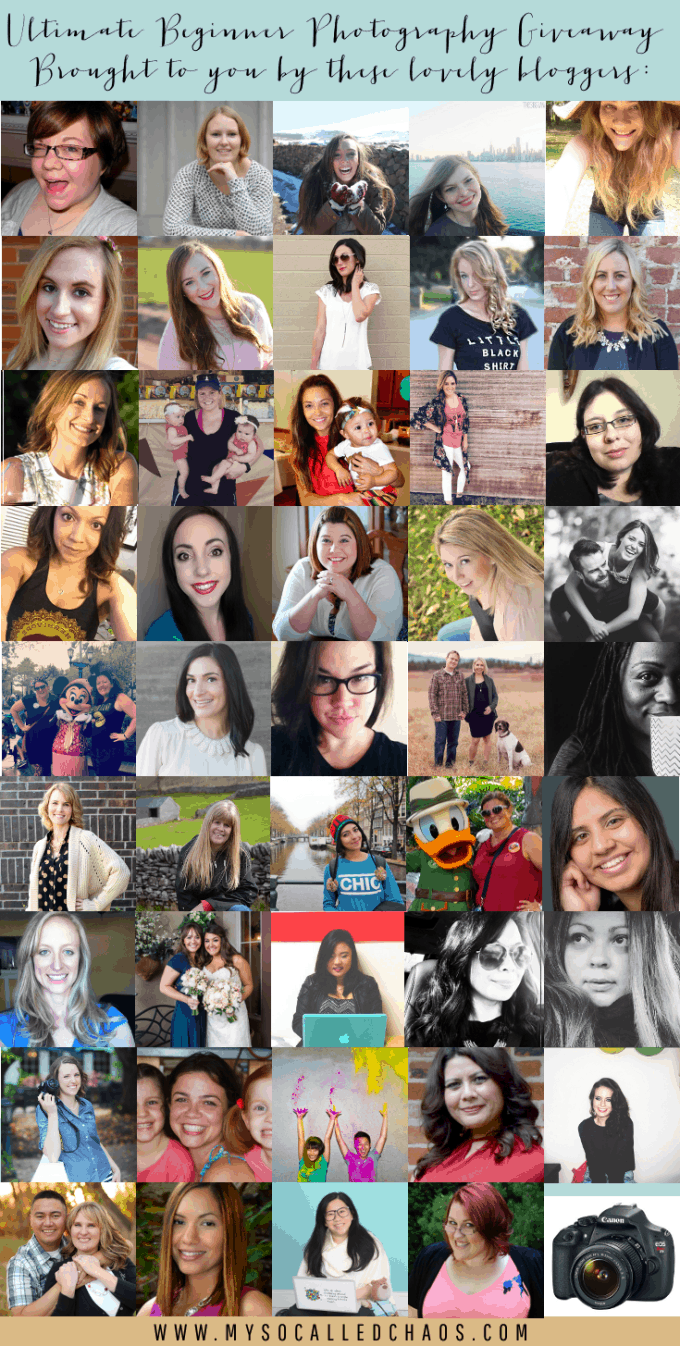 Since this giveaway is all about photography, Angie over at My So Called Chaos asked each of us what our favorite photos to look at on Instagram were and shared our answers on her blog (you can check it out here).
Since I write about wine, food, and travel (and occasionally my kiddos) my answer should come as no surprise:
"Cool food and drink shots, as well as vineyard and travel images." – Mary from Vindulge
I kind of lied though. Being a mom of twins I also have a weak spot for photos of cute kids. Just scroll through my own insta account (you can find me at @marycressler … Hi!!!) and you can't get past two or three lines without seeing a crazy kid pic. Though in all honestly it's mostly food porn and wine love (but seriously, who can't resist a pic of a 5 yr old wearing onion goggles?). Ok I'm done. See you on instagram. In the meantime, here's how to enter this awesome photography giveaway …
Enter the Giveaway
This giveaway includes the following*:
Canon Rebel T5 DSLR Camera w/Lens
Canon Rebel T5 Supplies**
The Beginner's Photography Guide
2 Soft Box Lights
Enrollment into the Grow Your Instagram Mini Course
*Prize is subject to change based on availability.
**Supplies may/may not be exactly what is pictured in the giveaway image due to availability.
This Giveaway is open worldwide and ends on 1/12/16 at 12AM. Entering below confirms that you agree to all terms and conditions within the rafflecopter widget. Entries will be verified. Prizes sent via Amazon Prime for domestic winners (USA) or substitution of $500 cash & the Instagram Course given for international winners.
GOOD LUCK!!!
And while you're here, please leave a comment below letting me know if you're on Instagram! If so, what are your favorite types of photos to look at on Instagram? I'd love to know!
---
Want more? If you liked what you read you can subscribe to Vindulge and have new posts delivered directly to your inbox.