A weekly roundup of some of my favorite things in the categories of wine, food, travel, and lifestyle.
I've been slacking on my "Friday" Favorites and figured since it's already the weekend that I'd instead highlight some of my favorite things from the last couple weeks.
This past week has been a blur.  Hubby was out of town for six days and I was alone with the toddlers who refuse to acknowledge that daylight savings actually happened (they've been waking up around 4:30 every. single. morning. ugh).
So by the time hubby returned from his trip I was ready to sleep… then celebrate with… of course… bubbles!
WINE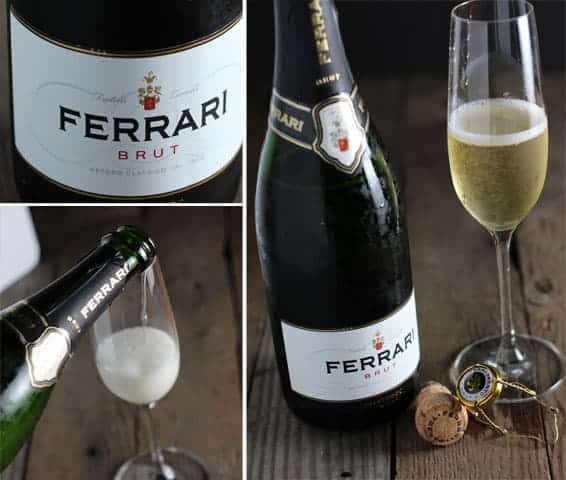 Ferrari Brut NV Sparkling Wine
Trento DOC, Italy
Grapes: 100% Chardonnay
12.5% abv  |  $25 srp (media sample)
After an exhausting week these bubbles hit the spot, perked me up, and made me forget abut any stresses that led up to popping this bad boy open.
Such a lovely and elegant wine, with fresh lemon, lemon peel, and sweet toasted brioche scents.  The bubbles were very smooth and delicate leading to a clean and fresh  finish.  Overall a very fresh, light, clean, and elegant bubbly that would be a great pick for brunch or alone as an aperitif.
Ferrari (not to be confused with the luxury car) was founded in 1902 by Giulio Ferrari.  After living and learning about sparkling wine production in the Champagne region, Ferrari returned to the Trentino region in Northern Italy to plant Chardonnay – one of the primary grapes used in traditional Champagne production.   Now recognized as one of the top sparkling wine producers in Italy, they are making stand out wines.  This was my second time reviewing the wines of Ferrari, both with great results.
FOOD
When I'm alone for the week with the kids I usually spend the weekend before cooking, preparing food in advance so that I have easy weeknight dinners that don't take much time to prepare.  But I did manage to take the time to make these amazing pumpkin raviolis this past Wednesday to eat with a Doña Paula Chardonnay I was reviewing for a Snooth virtual wine tasting event.  Holy ravioli!!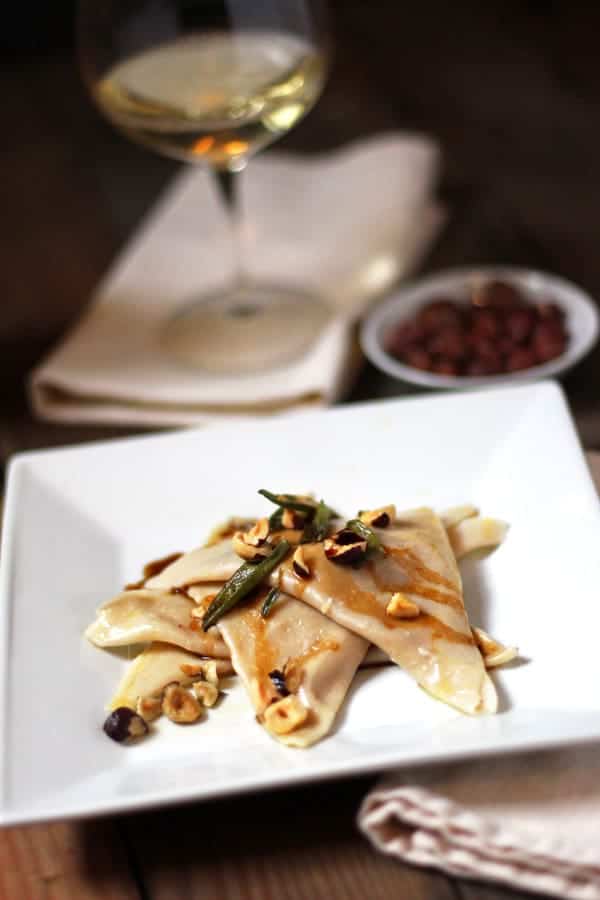 When I looked at the ingredients to the recipe that inspired me to make these raviolis I realized I didn't have many of the necessary ingredients, nor was I about to attempt to make my own pasta dough on a Wednesday, when I was alone, with two very active toddlers.  No… So I cheated and used wonton wrappers instead of fresh pasta, and improvised the filling with flavors and spices that I prefer mixed with pumpkin.  Hence…
Pumpkin Raviolis with Sage Butter Sauce and Toasted Hazelnuts
Ingredients
Filling
1

cup

pumpkin puree

I used homemade

½

cup

roasted butternut squash puree

4

fresh sage leaves

minced

1

sprig rosemary

minced

a few dashes of freshly grated nutmeg

approx 1/4th teaspoon

a few dashes of freshly grated cinnamon

approx 1/4th teaspoon

a few dashes of freshly grated ginger

about 1/4th teaspoon

2

tablespoons

room temperature cream cheese

½

cup

freshly grated Parmesan cheese

salt & pepper to taste
Sauce
½

stick butter

6-8

fresh sage leaves

roughly torn

1

tablespoon

good aged balsamic vinegar

½

cup

toasted hazelnuts

pre-roasted in the oven for 6-10 minutes to get crunchy, chopped
Instructions
Filling -- Combine all filling ingredients in a medium sized bowl and mix well (or process in a food processor until smooth).

Spoon about one tablespoon of the mixture in the center of a wonton wrapper. Brush all sides of the wonton wrapper with egg wash, then bring 2 opposite sides together to form a triangle, pinching edges to seal. Repeat with remaining filling.

Bring a large pot of water to a boil, season with salt. Add ravioli and cook until they float, about 4-5 minutes.

In a skillet, add butter over medium heat. Once it melts add the sage and cook until the sage begins to fry (about 3-4 minutes). Watch closely and don't let the sage burn. If you start to see them turning brown, turn the heat off and take out the sage leaves. Remove from heat.

Add raviolis and hazelnuts to the skillet and gently toss to combine.

Once plated drizzle a bit of balsamic over the raviolis.
I'm telling you. These are out of this world.  My husband, who's not a pumpkin guy, absolutely loved them (incidentally they also freeze well, and I made another batch for him last night so he could taste the for himself).   I have to admit, I'm not one for the raw flavor of pumpkin either, but mixed with all these herbs, spices, and the combo of nutty and creamy cheeses… wow! Just wow.  Pumpkin lovers will swoon. And pumpkin naysayers will really want to consider giving these raviolis a chance.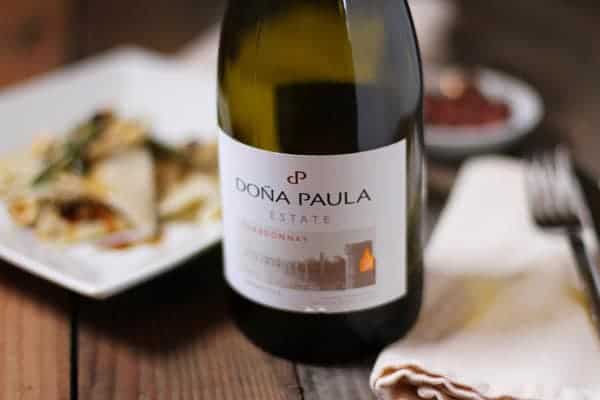 And they went remarkably well with the Doña Paula Chardonnay, Mendoza, Argentina ($15).  The wine alone was nice but not remarkable.   It had some nice buttery and toasty notes and some pretty apple, pineapple, and lemon aromas and flavors.  But mixed with the creamy pumpkin, fried sage, and hazelnuts really brought out something that was missing in the wine – that pop of flavor.  It was an excellent pairing.  If you can't find the Doña Paula Chardonnay, look for a full-bodied oaked white wine.  This is where you can really celebrate those buttery oaked Chardonnays (just make sure it's not overoaked bomb or the heavy oak will dominate and distract).  The meal has all the same characteristics of that style of wine (savory, creamy, nutty, toasty), making the flavors very complimentary.
READS 
Pairing Wine and Cheese, Made Easy by Meg Houston Maker
Writer Meg Houston Maker has an incredibly eloquent yet straightforward way of describing a complicated subject – pairing wine with cheese.  Check it out!
Top 10 Wine Destinations Around the World
I was happy (though not surprised) that Oregon's Willamette Valley was selected among Huffington Posts Top 10 Wine Destinations Around the World.  This is my backyard, and I spent the last three years missing the beauty and bounty that this region offers.  It is an incredible region to visit, for its wine, food, scenery, people, and so much more.  Also in the top ten were a few other favorite regions of mine including Bordeaux (where I visited this past September), and New York's Finger Lakes Region (where my husband is from), and Napa & Sonoma (where I first fell in love with wine).
What about you? What were some of your favorite things from the past week?
*****
Why I write these Friday Favorite Posts
Previous Friday Favorite Posts
Want more?  If you liked what you read you can subscribe to Vindulge and have new posts delivered directly to your inbox.