Guest post by Michele Boyer, M&B Concepts
The items in my headline are absolutely at the top of what I love to do… and when I'm not DOING them, I'm planning on doing them.  It's what my life is all about (except for my dogs and visiting with my grown son).
My dear friend, Mary (wine educator, traveler, Mom of twins, blogger at Vindulgeblog.com), asked me this question recently:
"How do you find all the great places you dine and drink at when you're traveling?"
Good question. One I'm delighted to answer and share with all you lovers of traveling for food and wine.
I'm going to break it down for you here into categories… stick with me.
Old School: Magazines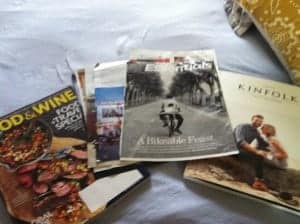 I'm a magazine JUNKIE.  I love them so much.  (At the top of my list is Food & Wine magazine.  Loved it for years. They have great writers and excellent, current info.) So, I have subscriptions to several magazines and love nothing more than curling up on the sofa, with a glass of wine and having a read.  And then I get to cutting.
Cutting what you ask? Cutting out pages of the magazine! I dog-ear pages and highlight info while reading and then I go BACK and tear out the info I want to keep.
Where do I put them? I'm a super nerd. I have a three-ring notebook filled with clear plastic sleeves that have magazine pages in them now… and I have the notebook sectioned out: recipes, goods, travel, restaurants, bars, shops/markets… oh my! It's awesome and I love it. It really brings out the "scrap-booker" in me.
Web: Eater.com
If you don't follow Eater.com, you must do so NOW. There is so much to love about Eater that I'm not sure where to begin.  It is a great source of what's hot and why. The site also has micro-sites for hot food cities (NY, Portland, Austin, SF, Chicago…etc.) and you can get info STRAIGHT TO YOUR INBOX! I subscribe to Eater National and Eater Portland right now. I want to subscribe to more cities but am (rightly) afraid I will spend my days lost in an Eater hole, never to emerge. The writers are funny, snarky and supremely knowledgeable. Food, booze, chefs, restaurants, farmers markets, shops, bars and laughter… all in one place.
Kate Krader on Instagram
Kate Krader is the Restaurant Editor for Food & Wine magazine and is:
An amazing writer
Eating out all the time, at the absolute BEST places
Super fun (I've had the immense pleasure of hanging out with her)
In addition to reading what's up in the magazine, I follow Kate on Instagram. She takes great food photos and notes the restaurants she's at. When I see something I like, I add it to my list that I keep in a moleskin notebook of restaurants I want to dine in, and what city it's located in (the list is long!).
Friends
I'm super lucky to have amazing friends who also find immense pleasure and value in long lunches on a lovely patio, with multiple courses, delicious wines and excellent conversation, so I make sure to check in with them when I'm planning a trip.
Here are some highlights of my last few trips
San Diego: my good friend, Sara, and her family are quite the adventuresome travelers, living in and exploring different parts of the world every few years and doing a great job of knowing their current community. Coronado Island is where they currently call home but I tap her quite a bit when I need insight and recommendations across the country and the world.
On this trip to San Diego, I was visiting and staying with her so I knew it was going to be fabulous without any research needed. We started off my weekend visit heading straight from the airport to the Little Italy Farmers Market. I grabbed a most excellent coffee from a café, Papaleggos, run by a VERY Italian family that was just like being in Italy. Yummy coffee. Incredible food selections and lots of bikers lined up for provisions (it's how I picture Italy).  From there, we toured and shopped at the market, stocking up for the dinner we were planning on cooking at home the next night. The Little Italy market is not one to miss. We bought incredible teas, salts, oysters, greens and Indian flatbreads with yogurt sauce. YES and YUM.
That evening, we took the ferry from Coronado Island and a bike taxi ride (umm, quite the journey!) to Café Chloe, a lovely and charming French bistro, in the Gaslamp District. We sat at the little bar and enjoyed bubbles, rosé, some of the most delectable pomme frittes ever, mussels and, of course, a cheese plate for dessert. I highly recommend going when you visit San Diego.
Seattle: both of my sisters live in Seattle. This is both sad (I'm not close by) and great (I have reasons to visit Seattle often!) for me. While they both live there, they have families and busy lives, and tend to dine out at the same places frequently for convenience and time sake. However, when I come to town, we ALL see it as an opportunity to go "outside the box" if you will. I LOVE that! So, I go to Eater Seattle to see what's what and where I should go. But, I also need to mention that I will hop onto Jameson Fink's blog – Wine without Worry to see if he's been anywhere cool lately that I need to check out, as he lives in Seattle and is a great resource.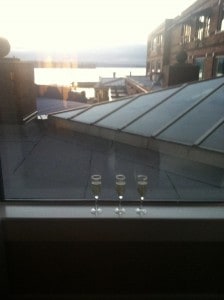 On this last visit, we planned a "girls night out" for my first night and my sister, Jenn, booked us a night at this grand Lake Washington hotel, The Woodmark, where they greeted us with bubbles AND we had a driver for our dinner excursions. Nice.
We went to the hotel restaurant, Bin on the Lake, for a snack and drinks and had some amazing rabbit meatballs (I LOVE rabbit and will order it whenever its on a menu) and then we took our car to Black Bottle Postern in Bellevue for dinner. This restaurant is NOT to be missed when you go to the Seattle area (they have one in Seattle proper as well). A laid-back, cozy vibe doesn't begin to do the atmosphere justice. I love the space so much. I would closely copy this place if I was going to copy and open a restaurant! With excellent small plates and a creative wine list, it is an all around favorite and now I always want to go here when I'm in town.
Austin: OH. MY. GOD. I love Austin. I almost moved to Austin back in the 90's. I went to visit. Hung out on 6th street. Ate amazing food. Danced to indie rock bands. And ended up moving to Tucson (which rocked and kicked off my food & wine obsession, but that's a story for another time). Fast forward to 2012 and WHY hadn't I been back to Austin yet? So, I decided to go for my birthday for a couple of days. I booked an Airstream (yep, an Airstream, which lived in this funky couple's backyard) on Airbnb (it was an adventure, be assured) and started planning my trip. I was friends on facebook with a guy that I had gone to school with from elementary through high school but hadn't seen in 20 years and he lives in Austin. So, how about a reunion? He was AWESOME. Was really excited to see me and to hang out and celebrate my birthday by coming along on my eating and dining adventure. My friend Allison flew in from Santa Barbara too. It was a party.
Here is where I used ALL of my resources: friends, tear sheets, Eater and KK.  Austin had been on my radar for quite awhile as a food destination and I was ready to throw down!  Here are two major highlights:
Thanks to my good friend Sara (San Diego!), who had just recently been in Austin, I was turned on to Perla's, which was our first stop after getting off the plane around noon. With a lovely, shady patio located right on Congress, this place was a hip hangout that was perfect for easing into that Austin-vibe. I ordered a glass of delicious rosé bubbles and the freshest, tastiest ceviche… yum.  It was so fun to hang out there!
The other highlight of the trip was thanks to Sara, KK, Eater and Top Chef: Uchi. Are you kidding me? Yes. Please. Uchi is very well-known. It's also very busy. Even on a Tuesday night. The only time I could make a reservation was at 9:30 p.m. (which I didn't mind at all but it seemed late to others I shared this with) and it was SO worth the wait. The food, the service, the wine list were all incredible. The standout was the winner for both taste and presentation: the Wagyu Hot Rock-"sear it yourself" wagyu beef, ponzu & a (blazingly hot) Japanese river rock. As I'm sure you have figured out, you sear it yourself. Awesome. However, everything we had was delicious, both innovative & simple, and impressed me beyond the buzz. I can't wait to go back.
So, there you have it. That's how I do it. I am forever planning my next trip out to eat and drink. Whether it's in my current city or when I'm jetting out…this is how I cobble it together. The planning and researching and anticipation is half the fun.
NOW, I want to hear from you! Go to the comments and let me know how you plan where to eat and drink on your travels. OR share what the highlight of your last culinary or drinking adventure was? I would love to know and check it out myself.
Cheers and happy travels
Michele Boyer is the owner and chief wine enthusiast at M&B Concepts. Specializing in direct to consumer strategies, social media, experience development and strategic partnerships, M&B Concepts also has a full creative department to serve the wine world. Wine, food and the guest experience is what Michele is most passionate about. You can read more at her website or follow her on facebook.
Want more?  If you liked what you read you can subscribe to Vindulge and have new posts delivered directly to your inbox.