A few months back my husband made me proud.
He remembered a simple lesson I shared with someone about how not to get overwhelmed when shopping for wine.  "When all else fails, just remember the names of a few great importers".  If you don't have a good relationship with a wine steward (or there is not one to be found) just look for the name of those key importers on the bottle (usually found on the back label).  If you see that name on the wine you can generally feel comfortable with your purchase.  It is not a guarantee that you will like the wine, but it does mean you are getting something of quality.  One of those importers I encourage people to look for is Kermit Lynch.
Kermit Lynch has been a wine retailer and importer for over 40 years and has earned the reputation for being one of the most respected in the business.  His selections focus mostly on France and Italy, and I have never been disappointed with anything I have tried bearing his name.
These two wines I enjoyed recently are the perfect reminder of the lesson I've preached in the past — a lesson that has apparently rubbed off on my husband.
2010 Éric Chevalier Muscadet, Côtes de Grand Lieu, Sur Lie 
Loire Valley, France
This wine was inspired by one we had a few months back.  My husband and I had the rare opportunity to meet friends for happy hour (remember we have two year old twins) — finding ourselves at Max's Oyster Bar in Connecticut with a plate full of fresh raw oysters.  My typical choice for oysters is bubbles, but after recently reading my friend Jameson Fink's book I was inspired to drink a Muscadet instead.  Muscadet is a white wine made in the western Loire Valley of France made from the Melon de Bourgogne grape.  The salty, briney, and refreshing wine couldn't have been a better choice for our oysters.
The next day hubby came home with a bottle of this, and we drank it that night and loved it.  I asked him what prompted the purchase and he said he enjoyed the wine we had with our oysters the previous night, wanted something similar, and this particular wine came bearing the "Kermit Lynch seal of approval".  I then asked how he knew about Kermit Lynch and he told me he remembered me mention telling a class once that if you see the name Kermit Lynch on a bottle of wine you can trust it.  Hubby is a good listener 😉
In his book, Jameson wants readers to know "Muscadet, Muscadelle, Moscatel, Moscato and Muscat all sound similar, but only Muscadet is made from [the grape] Melon de Bourgogne, and it will always be a dry white wine."
Two of the key characteristics of this wine are its fresh minerality and crisp acidity, making it not only a refreshing wine to drink on its own, but also one that pairs with a wide variety of food (especially shellfish and light salads).  This particular wine fit the bill, and was also full of citrus (lime and lime zest), pineapple, and a slightly tart mouthfeel.  It also had great price tag of around $14/bottle.
Apparently hubby liked it as much as I did because a few days later he came home with a case, so now we have plenty to share next time a guest arrives (hopefully bearing a plate full of fresh oysters).
Producer: Éric Chevalier
Region:  Loire, France
Grapes:  Melon de Bourgogne
Alcohol:  12%  
Purchased at Harvest Wine and Spirits, West Hartford, CT.  
The second wine that hubby surprised me with was purchased the day before Thanksgiving.  I was spending the evening cooking, baking, and otherwise prepping for our holiday dinner in a hot kitchen and was craving something light, bright, and low in alcohol (I had a lot of cooking to do and had to stay alert!).  I asked hubby to pick up a Vinho Verde or something similar.  Well, he did not bring a Vinho Verde at all, but instead bought this.  A wine neither of us had ever heard of.  I was initially skeptical so once again I asked him, what promoted him to buy this wine?  His response, "I don't know, it was already chilled, it was a good price, and had the Kermit Lynch seal of approval".  What he also didn't know was that it was exactly what I was craving that evening.
Elvio Tintero, "Grangia", Vino Bianco Secco 
Piedmont, Italy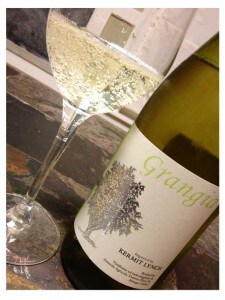 At the first sip of this wine I had to grab my notebook.  It was unexpectedly and intriguingly aromatic and fizzy (not sparkling, just slightly effervescent).  It had lovely floral, spicy, melon aromas, and a hint of sweetness.  It was also fairly low in alcohol at 11.5%.  It couldn't have been a better surprise and the perfect wine to sip on while I spent the evening preparing for our Thanksgiving feast the following day.  I loved it and we've been buying it ever since.  Though it would be the perfect wine for a hot summer day, it is also (as I found out) great when you just want something light and refreshing to drink (which can happen year round).
We bought it for about $14 at West Side Wines in West Hartford, CT, but I'm seeing it for as low as $9 elsewhere online.  If you can find it for under $10, you best do yourself a favor and buy a case!
Producer:  Elvio Tintero
Region:  Piedmont, Italy 
Grapes: 50% Favorita, 25% Moscato, 20% Arneis, 5% Chardonnay
Alcohol: 11.5% 
Key characteristics:  Fizzy, refreshing, low in alcohol
Of course there are other great importers out there, and several easy ways to discover new wines.  Have you found any new gems lately? If so, I'd love to hear about them, and how you found them.
Cheers