I like to review wines here the way most people taste them, with food. Many of the wine reviews you'll see here are accompanied by a recipe. When we test recipes we usually open a few different wines of different styles that we think will work, then write about the one that was the best pairing.
But quite often we taste wines — either those sent as samples for review or those we purchase on our own – that are definitely worthy of mention even though they weren't part of a recipe. These wines below fit that bill.
It's been a winter heavy on reds, and heavily weighted on Pinot Noir, which is actually quite surprising to me since I'll drink a crisp white wine in the middle of a blizzard! But hey, when the weather calls…
A Lenné Exploration
These first three are all in the Lenné wines lineup, a 21-acre vineyard and winery just outside the town of Yamhill, Oregon. I visited the winery about a year ago and was impressed by the gorgeous, incredibly steep, south facing slope vineyard that overlooks the valley. Just standing in that spot you know you're in for something good. While Lenné makes several different Pinots these three wines represent a good example of how the grape expresses itself in these vineyards.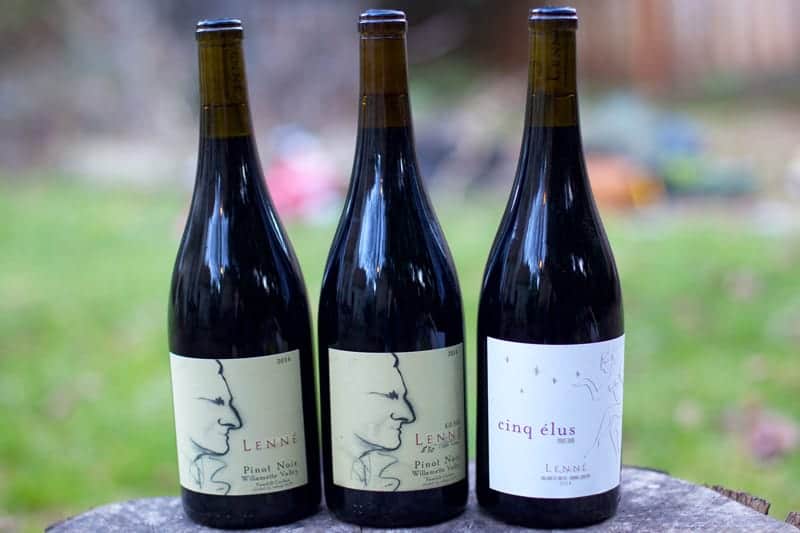 2014 Lenné "Willamette Valley" Pinot Noir (Yamhill-Carlton, Oregon)
Earthy initially, with a little of that Oregon funk. It struck me at first as an old-word style of Pinot with some leather, earth, and even a touch tobacco. It opens up gracefully revealing pretty red berry (cranberries, cherry), and herbs, with some creamy vanilla. The longer it opens the softer the fruit becomes, the more round the wine gets, always maintaining balanced acid.
14.2% abv | $38
2014 Lenné Estate "Kill Hill" Pinot Noir (Yamhill-Carlton, Oregon)
The block, "Kill Hill", was named after the many plants that didn't survive the harsh conditions of that steep hillside. This is a deep and rich wine, with similar rustic earthy notes along with rich cherry and raspberry fruit, with cocoa and spice.
14.2% abv | 125 cases produced | $55
2014 Lenné Estate "Cinq Elus" Pinot Noir (Yamhill-Carlton, Oregon)
The Cinq Elus (pronounced sank aloo) Pinot Noir represents the best barrel from each of Lenné's five different clonal blocks, and is just the second vintage of them making this wine. This wine was gorgeous. The most balanced with the earth, blue and red berry fruit, toast, and spice. This is not a "big" style of Pinot by any means, but it is well structured and complex (my notes range from rich, to elegant to balanced). I can see this with a nice roasted duck or some kind of mild gamey meat.
14.2 % abv | 100 cases produced | $72
2014 Panther Creek Pinot Noir, Kalita Vineyard (Yamhill-Carlton, Oregon)
Deep dark cherry and herbs fill the nose on this full-bodied (by Oregon standards that is) Pinot Noir. It's spicy in the mouth (making me think of grilled meats to pair it with), along with some more dark cherry and bright raspberry flavors, and a lively peppery finish and structured tannins. This could stand up to a holiday roast (pork or beef), with its structure, fruit, and spice. A winter Pinot Noir for sure!
14.2% abv | $50
2015 Peter Zemmer "Rollhütt" Pinot Nero (Alto Adige, Sudtirol, Italy)
This Pinot Nero (Italian for Pinot Noir) is from the Alto Adige region of Italy. This wine was quite interesting and different from what you might expect from Oregon or California (or even Burgundy for that matter). It's very light, clean, bright, and acidic with dark cherry fruit (think maraschino cherries), rose petals, and some mild baking spices. This would be a fun one to bring to a party to see if folks can identify where it's from.
13% abv | $18 (but can be found as low as $12)
2012 Thomas George Estates Russian River Valley Pinot Noir (Sonoma County, CA)
This Pinot Noir is quite opposite in style as the one above, but no less interesting. This had lots of intensity to it, richness, and depth. Deep dark berries, rich black cherry, and cranberry mingle with savory herbs and spice. Still quite smooth and balanced, this is the kind of Pinot that can stand up to bolder meats or that wine that will soothe you on a cold winter night.
14.3% abv | $42
2013 Kunde Family Estate Cabernet Sauvignon, Drummond Vineyard (Sonoma Valley, CA)
This wine was luscious and velvety with some toasty notes up front and black and red berry fruit. There's blueberry and dark cherry on the palate, with more toasty, cocoa, and a rich texture. This is a full-bodied wine with mild tannins, making it approachable and a good match for a variety of full flavored winter dishes (I'm thinking braised beef stew, smoked prime rib, even tri-tip).
14.5% abv | $50
2013 Avignonesi Vino Nobile di Montepulciano DOCG (Tuscany, Italy)
I don't preach the idea of decanting wine too often. This is because, well, most people just want to pop open the bottle and drink it. But I do encourage you to either decant this bad boy, or open it and let it breathe for a while. You'll reap the benefits! It goes from being intense and tight to bright and approachable. Made from 100% Sangiovese grapes there's bright cherry (and even some maraschino cherries in there) contrasted by some spice, leather, and earthy tones.
14% abv | $25
2014 Avignonesi Rosso di Montepulciano (Tuscany, Italy)
A nice contrast to the previous wine, made from the same producer and also 100% Sangiovese. This one is lighter and fresher, with bright cherry and raspberry, and some savory herbs. It's more approachable and easy drinking in the mouth, with very bright lingering acidity. This, to me, screams pizza wine.
13% abv | $16
2013 Marchesi Fumanelli Valpolicella Classico Superiore (Veneto, Italy)
This tasty wine has some high-toned red berry fruit up front with lots of savoriness on the palate. Cherry, cocoa, vanilla, and baking spices (think star anise) flavors evolve as it opens. It remains fairly light and fresh with mild tannins. This is a nice easy drinking wine that would be awesome with a charcuterie plate.
13.5% abv | $29
2012 Bodegas Carlos Serres Rioja Crianza (Rioja, Spain)
I think this was one of the big surprises of the month. This bad boy has a lot going for it for being only roughly $11. This blend of 85% Tempranillo, 10% Graciano and 5% Mazuelo is fruity, filled with red and black berry fruits, spicy, with some sweet vanilla flavors lingering in the finish. It's smooth and balanced, especially for this price. While this screams for backyard summer barbecues, it's also a nice one to have on hand for your weekday sipping. Great value.
13% abv | $11
THE WHITE WINES
2015 Clos Bellane Côtes du Rhône Villages Valreas Blanc (Rhone, France)
Smells very fresh and bright with some sweet citrus, a touch of pineapple, some honey, along with some mild mineral/stoney notes on the palate. Round and medium bodied, with some apricot and more juicy pineapple on the mouth, yet still feels very fresh throughout. Really enjoyed this, and it's a great value, to be found anywhere from $12-$18.
13.5% abv | $18
2015 Cave de Tain l'Hermitage Crozes Hermitage Grand Classique Blanc (Rhone, France)
Made from 100% Marsanne this wine had some mild floral, lemon peel, and almost under-ripe pear. There's some interesting minerality on the palate with a nice richness, or viscosity, to it. It's fresh, but has some nice richness for winter sipping. There's a lingering salinity on it that gives me mad cravings for some oysters.
13.5% abv | $24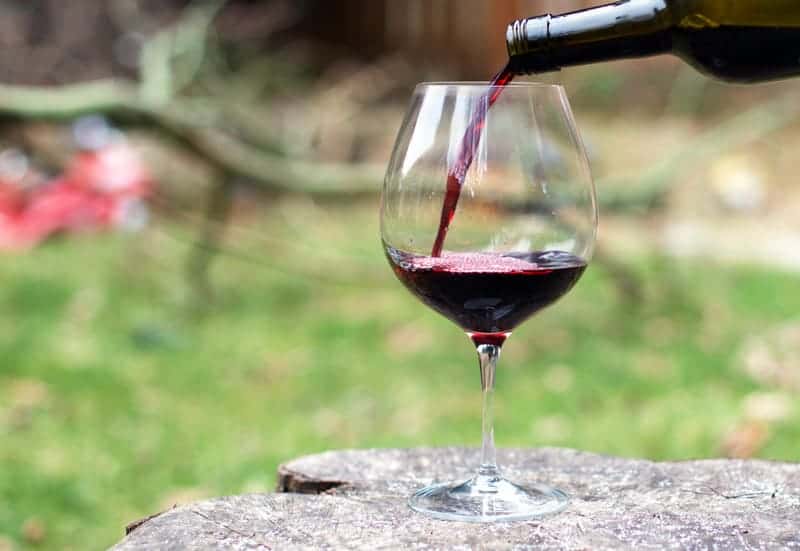 What were some of the wine highlights you've had so far this winter? Anything new? Old favorites?
---
*Most of these wines were were media samples for review. See my sample policy here.
---