Well this post is a bit overdue! Originally intended as my "September Wine Highlights" and then look what happened. It's now nearly the end of Oct-friggin-ober. How did that happen?!
That being said, it's never too late to share some great wine finds, and I'm sure most of these wines are still hanging around waiting for someone to give them some lovin'.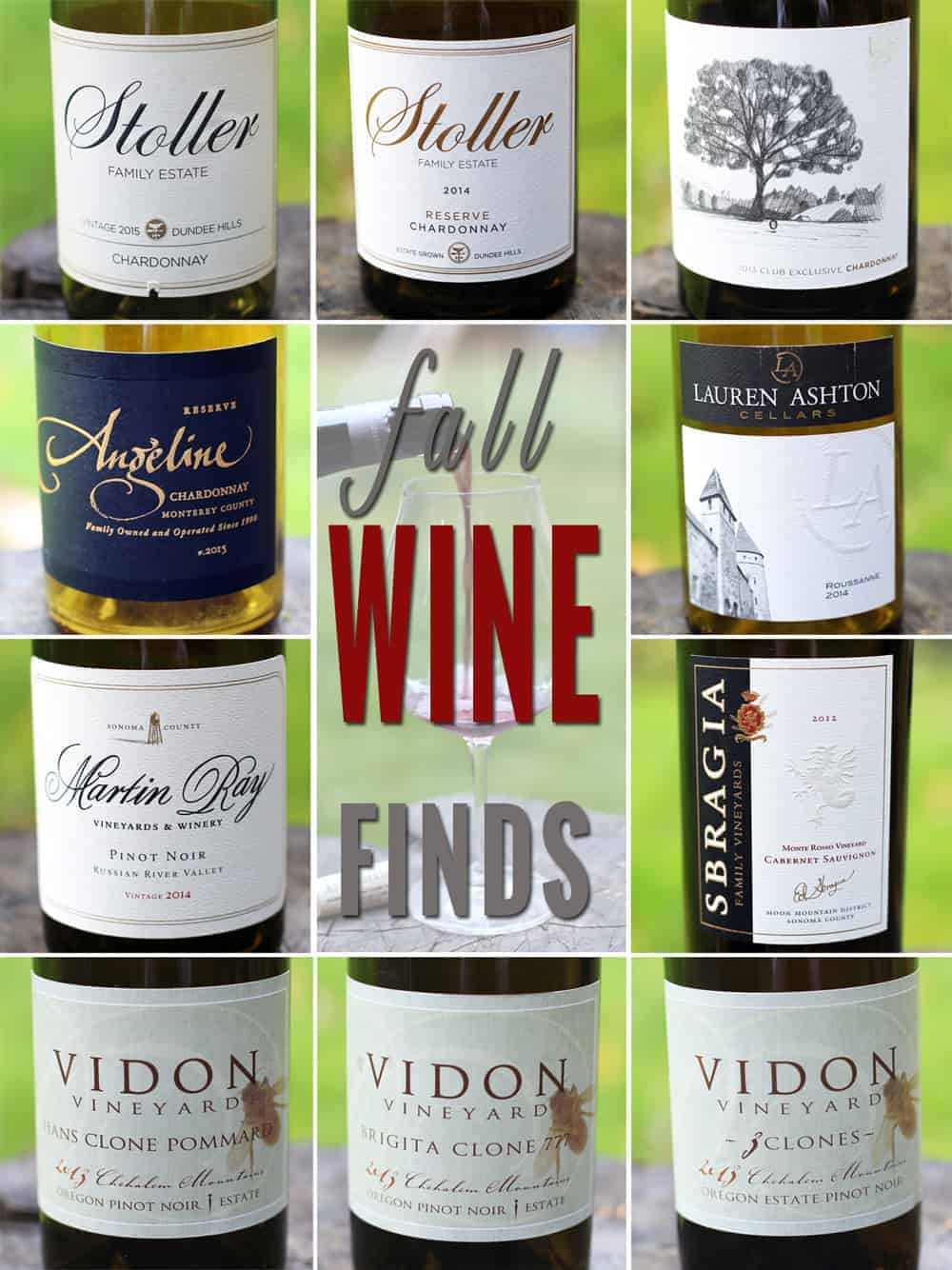 We've got a bit of a theme here. Mostly Chardonnays and Pinot Noir with two surprises. I guess I've been on a kick lately with this theme, but hey, they're all great wines to ease into the fall season.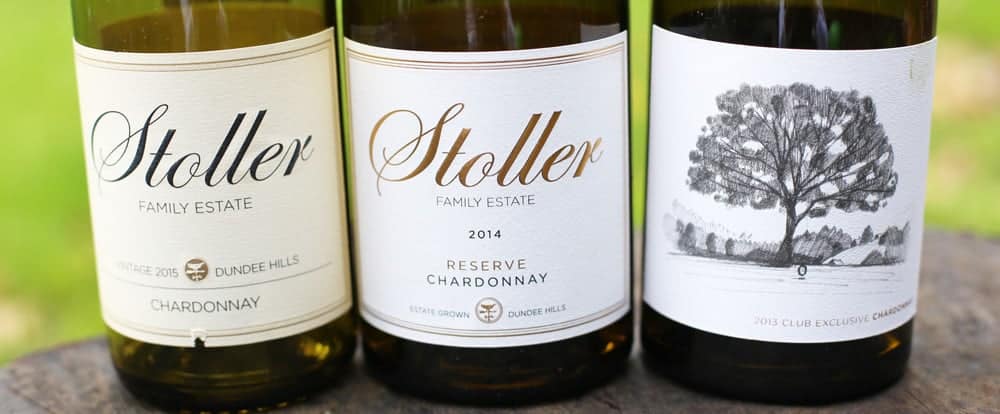 2015 Stoller Family Estate Chardonnay (Dundee Hills, Oregon)
These three wines represent the beauty and versatility of the Chardonnay grape in Oregon. And winemaker, Melissa Burr, is fantastic at showcasing the many faces and personalities of this grape.
Starting with this wine, made in all stainless steel. It's like a virgin version of Chardonnay, unaffected by oak. Just Chardonnay in its purest form. It's super clean and crisp, with the freshest examples of apple and lemon, and even a touch of lime characteristics. With its bright acidity it's fantastic with light seafood (think white grilled seafood like tilapia, halibut, etc.), salads, or sipping sans food at the end of a long day. 12.5% abv | $25
2014 Stoller Family Estate Reserve Chardonnay (Dundee Hills, Oregon)
Moving along to the Reserve, the difference here (besides vintage!) is that this one is sourced from the oldest Dijon clone plantings on their estate. It's also barrel fermented and aged in French oak for 11 months. We're moving into oak territory, only Mellissa is one of those winemakers that uses what I refer to as "responsible oak". Her wines are never in-your-face oaky. Instead she brings out the best that the barrel can offer. Instead of you describing your first whiff as "oaky" you describe it as Crème Brûlée (yum!). Or at least that's how I describe it. Baked apples, and Crème Brûlée having a dance party in the glass. There's a lovely creamy texture balanced by nice acidity that brightens up the richness. 13.8% abv | $35
2013 Stoller Family Estate Club Exclusive Chardonnay (Dundee Hills, Oregon)
This wine is such a cool addition to the Stoller lineup. Now even though it's a club exclusive wine, doesn't mean I can't tell you what a cool wine it is. Instead of stainless steel or oak barrels, this wine was fermented and aged almost entirely in concrete (with just a small percentage aged in French oak to round everything out). Burr made a very small amount (77 cases) just for the wine club (which, full disclosure I'm a happy paying club member). I think if I were to describe the differences between these two, it is a distinct savoriness and minerality in this one vs. the other two. It's very clean and creamy without being "oak-influenced-creamy". Very cool wine, and another great representation of what the grape can do in Oregon. 13% abv | $35
2015 Angeline Reserve Chardonnay (Monterey County, CA)
Moving on to California we've got a different style of Chardonnay here. This one is filled with fruity and ripe tropical flavors. It was bright with fresh juicy pineapple. The fruit is balanced with bright acidity. I quite liked it. Would be great with some grilled chicken topped with a spicy mango salsa. Now if you'll excuse me I need to go fire up the grill! 13.8% abv | $14
2014 Lauren Ashton Cellars Roussanne (Columbia Valley, WA)
I know we're breaking our pattern of Chardonnays here, but it's for good reason (and to be honest this wine has a similar richness and texture to many Chardonnays). It's a bit smoky at first, perhaps from barrel aging. There's some pear and lemon zest along with some mineral undertones. The rich texture of the wine made it a great match for smoked salmon and the last of our summer tomatoes served over rice. 13.5% abv | $25

A trio of Pinot Noirs
So, in a similar theme to the range of Chardonnays we had above from Stoller we have three different Pinot Noirs from VIDON Vineyard, based out of Newberg, Oregon. Though instead of showcasing the different "styles" of Pinot Noir we have an experimentation in different clones. We have two single clone wines from a single vineyard and one that is a combination of three clones. If you haven't geeked out with me when it comes to Pinot Noir and clones then stop what you're doing right now and read this article on my Brooks Blending Experience where we got super geeky talking about 13 different clones from over 30 different blocks of Pinot.
Now back to VIDON and their Pinot Noirs. All three of these wines were planted in the same vineyard, located in the Chehalem Mountains AVA between 300-500 ft elevation, on southwest facing sites.
2013 VIDON Vineyard, Hans Clone Pommard, Estate Pinot Noir (Chehalem Mountains, Oregon)
This one is 100% Pommard clone and has a nice soft approachable beginning with balanced red berry fruit and smooth throughout. This seemed pretty solid as a solo wine. Interested to see how it mingles in the final 3-clone blend. 14.3% abv | $50
2013 VIDON Vineyard, Brigita Clone 777 Estate Pinot Noir (Chehalem Mountains, Oregon)
100% Clone 777, this was very bright and perfumed and a touch spicy with some concentrated cranberry and rich cherry aromas with some toasty cedar. Light and fresh on the palate with more cranberry and a bit of some smoky notes. 14.3% abv | $50
2013 VIDON Vineyard, 3 Clones Estate Pinot Noir (Chehalem Mountains, Oregon)
The "3-Clones" is a blend of the 777, 115 and Pommard clones, blended after 18 months of barrel aging.
This one initially expressed some pretty concentrated ripe red berry fruit on the nose with some bright perfumed notes and a touch of sweet graham cracker/toasty notes. It had barely a touch of noticeable oak that really mellowed out as the wine was open. In fact the wine got better and better with some air time and by the second day it was super smooth and everything seemed in balance with fresh strawberry and sweet cherry flavors. $14.3% abv | $40
2014 Martin Ray Pinot Noir (Russian River Valley, CA)
A bit concentrated and smoky at first but opened up quite nice. There's a nice balance of cherry and cranberry flavors with some earthiness and cola. As it opens it shows off some nice toast vs smoke and has a lingering savoriness that I really enjoyed. I'm wishing we had some grilled salmon to pair with this because I think it would be a great match. 13.8% abv | $30
2012 Sbragia Cabernet Sauvignon, Monte Rosso Vineyard (Sonoma County, CA)
Breaking up the Pinots now with a fantastic rich Cab from Sonoma. In just your first smell you can tell this is going to be a rich wine. Cassis, black currant, black licorice, cedar, and mint are all there. The wine is rich in fruit with smooth tannins. This is a wine that's meant for a reverse sear ribeye steak like the one below. 14.8% abv | $65 SRP (but you can find it for around $50)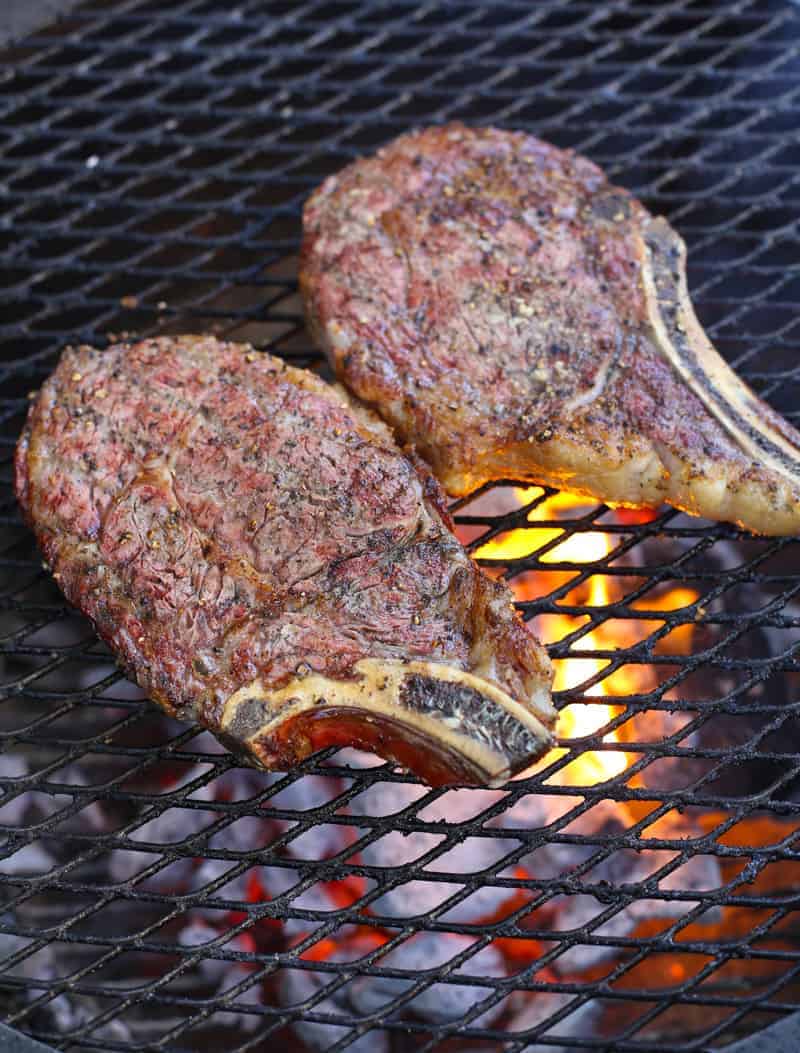 ---
*Most of these wines were were media samples for review. Though I am a wine club member of Stoller Family Estate and pay for my wines there in addition to receiving occasional media samples. See my sample policy here.
---