I was having drinks with a friend the other day and when I ordered my usual glass of bubbles she called me out. "Do you ever drink anything besides bubbles?" she asked.  "Of course" I laughed.  She then dared me to name five wines I have had in the last couple weeks that did not have bubbles in them. My response?   "I'll take your five and double it, then post them on the blog".
While yes, I do drink a lot of bubbles, and though I have also been on quite the Italy kick lately, here are ten memorable gems I have enjoyed this past month (and at least five of them are neither bubbly nor Italian).
None of these are wines were from trade tastings or events.  They are all wines I've enjoyed slowly in the comforts of my own house, with good company.

2009 Soter Vineyards "North Valley" Pinot Noir  
Willamette Valley, Oregon
$25 | 13.8% abv
Soter Vineyards makes excellent wines, hands down, and this is no exception.  I poured this for a wine education class I taught recently in CT to introduce my students to domestic Pinot Noir.  It is a great example of a value priced Willamette Valley Pinot Noir (yes $25 is considered value for that area).  I liked it so much I ended up buying additional bottles to enjoy at home. With an intriguing nose full of deep dark cherry, a balanced body, and long lingering finish, you will savor it till its last drop. And when its gone, you'll run right back to the store to buy more.
2008 Stoller Vineyards SV Estate Pinot Noir
Dundee Hills, Willamette Valley, Oregon
$40 | 13.60% abv  | 3500 cases produced
This wine was sent to us as a gift from friends back west. After drinking it I'm convinced it was part of an evil plot to lure us back to Oregon.  If that was their intention, it worked.  Though there are no immediate plans to move back, it did seriously tempt me.  The smell of this wine was Oregon in a glass. Earthy, fruity, funky, spicy, savory, full of depth and flavor. This wine runs the gamut.  If you can find this in your neck of the woods, check it out, otherwise look for their JV Pinot Noir, which clocks in at close to half the price of the SV Estate.
2008 Marchesi de Frescobaldi Nipozzano Chianti Rufina Riserva DOCG
Chianti Rufina, Tuscany, Italy
$23  |  13.5% abv
This wine was sent to me earlier this year as a media sample for review.  I had been holding off on opening it since I have been focusing on the wines of southern Italy lately and this didn't seem to fit into any particular focus.  I finally drank it last night and I'm glad I did. Though it took awhile to open up (so pop this open at least a half hour before you intend to drink it) this wine had bold rich cranberry and cherry fruit, and though the mouth wasn't as rich as I suspected it might be it did not disappoint. Low tannins, good acid, well-integrated vanilla makes it a good bet for a variety of foods.  I emailed my hubby before he left work yesterday with the threatening message – "don't come home unless you have pizza".  Pizza he brought, and it was a perfect match for this wine, though it would also be good with bbq chicken, or anything with a bold red sauce to bring out its acidity.
Hahn Family Wines
I recently participated in a twitter wine tasting focusing on the wines of the (very large) Central Coast region of California.  These two were standouts to me because of the value they offer the drinker.  Though they were samples sent to me for participating in this tasting, I wouldn't mind spending my money on either wine – they are great values.
2010 Nicky Hahn Pinot Noir, Monterey County
California
$14  |  14.5% abv
Bright and youthful nose with lots of cranberry-raspberry fruit flavors.  Additional sweet vanilla and toasty oak linger with a very dry finish.  It's hard to find a *good* Pinot Noir anywhere in the world for under $20, so for $14 you can't really go wrong with this one.
2010 Nicky Hahn Chardonnay, Santa Lucia Highlands
California
$14  |  14% abv
Bright tropical fruit, slightly creamy and buttery on the palate, with nice acidic finish.  Who says all California Chardonnays are oak/butter bombs?  This one has nice balance of all flavors at a good value.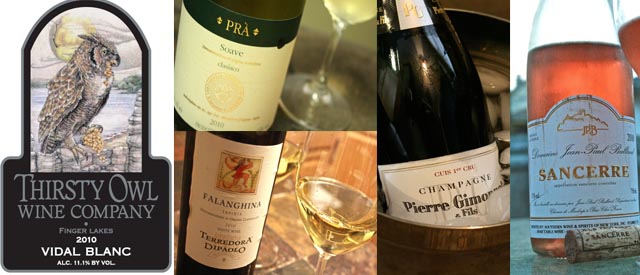 2010 Thirsty Owl Wine Company Vidal Blanc
Finger Lakes, New York
$11  |  11.1% abv  |  1.9% residual sugar
Visiting my in-laws recently in Rochester we took a drive down to the New York Wine and Culinary Center in Canandaigua, for a light lunch.  I was pleasantly surprised by this wine, and especially its price, so we picked up a few bottles to take back home with us.  Slightly sweet and fruity – something that usually turns me off – however, the sweetness was balanced out with great acidity.  Summer, I'm coming for you, and I'm bringing this Vidal Blanc with me.
2010 Terredora di Paolo Falanghina Irpinia DOC
Irpinia, Campania, Italy
Grapes: 100% Falanghina
$15 |  13% abv
You didn't really think I would write this whole list without recommending some southern Italian love?  This is probably the Terredora wine I've had the most lately, and that is honestly because it's the only one my local wine store carries.  Though I did find a bunch of their wines at a liquor store in Rochester NY.  If you want to know why I am so intrigued by the white wines of Campania, seek out any of the white wines of Terredora and you'll understand.  Drink with seafood, or a charcuterie plate.   Read more about Terredora here.  Imported by VIAS imports NY
2010 Prà Soave Classico
Veneto, Italy
Grapes:  Garganega
$17 | 13% abv
Yes this is another white wine from Italy, but from the opposite part of the country.  We're talking northeast Italy with this wine.  I originally purchased this wine back in January at West Side Wines (West Hartford, CT) and have been a fan ever since.  Whenever I send Sean to the wine store he always seems to come back with a bottle so it clearly has won his taste buds over too.  It has beautiful balance of both floral and fruity aromas, with a rich body making it a good winter white.  Plus it's great with a variety of dishes. We've had it with everything from burgers, pizza, grilled fish, to rich cream based pasta dishes.  What's there not to like about a wine so versatile?
2010 Domaine Jean-Paul Balland, Sancerre Rosé
Loire, France
$22  |  13% abv
I wrote about this wine, and my newfound obsession with Sancerre Rosé, last September.  I haven't gotten over it. We saved a couple bottles from our purchase last fall and I'm glad we did.  Last week we had summer weather in New England.  Summer weather calls for rosé.  Summer weather IN March calls for really good rosé, and this is what I busted out to celebrate our sneak peak at my favorite season.
Wine stores of Connecticut, I'm begging you, start carrying this wine so I don't have to keep driving to NYC to get it!
NV Pierre Gimonnet & Fils, Blanc de Blancs Cuis Premier Cru Brut, Champagne
France
$38  |  12.5%
Bubbles.  Sue me.  This Champagne, made from all Chardonnay grapes, is starting to become a staple in our house. Mostly because it's such a great price (for Champagne) and it's available within walking distance of my house.  It's racy, bright, and has beautiful clean long-lingering bubbles. Plus it's delicious.
These are the wines that have won me over this past month. What about you? What have you been drinking lately?