I recently attended two fantastic events showcasing Northwest wines. First, at Taste Washington in Seattle, and second (and closer to my own backyard) the Columbia Gorge Winegrowers Grand Tasting in Portland. In addition, I've opened several standout wines at home recently that I've wanted to share.
So I decided to highlight some of the best wines I've had in the last few weeks today…. starting with…
Hyland Estates Pinot Noir
Among the many reasons I'm obsessed with Oregon Pinot Noir and thrilled to be back in the region, surrounded by so many fantastic examples.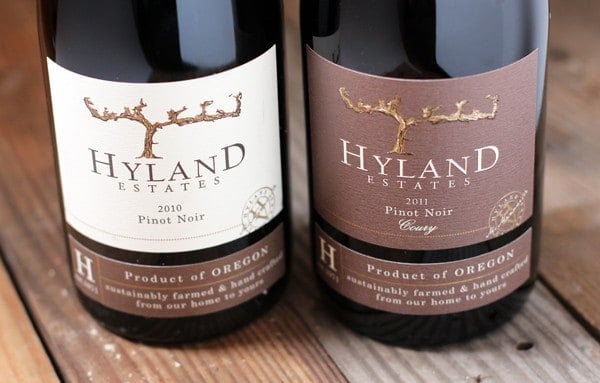 Hyland Estates wines was created by longtime winemaker, Laurent Montalieu, and wife, Danielle Andrus Montalieu, who partnered up with John Niemeyer. This boutique brand is the culmination of 40-year-old vines and 60 years of wine growing experience. In short, exciting stuff!
Per the website:

The historic Hyland Vineyard lies nestled in the foothills of the coastal mountains near McMinnville, Oregon where it benefits from the influence of cool maritime air every evening that is the trademark of the Willamette Valley's Pinot Noir.

Originally planted in 1971, just five years after the first Pinot Noir was planted in the Willamette Valley, the 100 acre vineyard has been the source of fruit for many top scoring wines from some of Oregon's most recognized producers.
Those producers include; Penner Ash, Beaux Frères, Trisaetum, Four Graces, Brittan and now the Montalieu's own Soléna Estate.
2010 Hyland Estate Pinot Noir
McMinnville AVA, Oregon
13.7% abv | $35 (media sample)
Hailing from a cool vintage in Oregon, this wine initially opens up with some earthy funk (in a good way!), tobacco, mushrooms, and spice, evolving into pretty cherry and cranberry fruit aromas. Overall it has a truly elegant balance of fruit, spice, and earth components with soft tannins. Would be great with simple pork dishes, chicken, salmon, and even duck.
2011 Hyland Estate, Coury Clone Pinot Noir
McMinnville AVA, Oregon
13.3% abv | $60 (media sample)
I was intrigued by this wine from the first smell, which exudes spice, herbs, tobacco, and fresh ground pepper, with mild berry fruit in the background. Cherry and raspberry evolve on the palate along with balanced earthy flavors and mild oak integration. This is not a fruit driven wine, nor is it particularly earth or oak driven. It is another truly elegant balance of all factors making it complex, intriguing, and delicious. I'd love to pair this with one of my favorite smoked pork tenderloin dishes we make at home.
A Gorgeous Rosé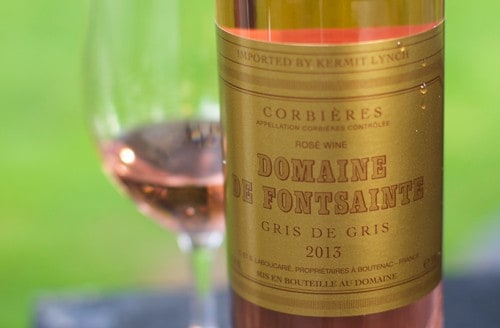 2013 Domaine de Fontsainte, Corbières "Gris de Gris" Rosé
Languedoc-Roussillon, France
Grapes: 70% Grenache Gris and Grenache Noir, 10% Mourvèdre, 10% Carignan, 10% Cinsault
12.5% abv | $15 (purchased from Whole Foods. Imported by Kermit Lynch)
I am currently smitten by a new rosé in town — this lovely little Rhone-style blend I purchased recently from Whole Foods. I've been back twice to restock, and will continue to buy more until it's gone. It has super clean and fresh aromas of dusty strawberry, melon, pineapple, and a bit of bright lemony citrus. The wine has some fun tropical flavors in the mouth, with almost creamy-like texture. Smooth, fresh, clean, and downright delicious. This is going to be a staple at my house this summer. Great to sip alone on a warm sunny day, or pair with light appetizers, salads, salty foods, poultry, and seafood.
Highlights from Taste Washington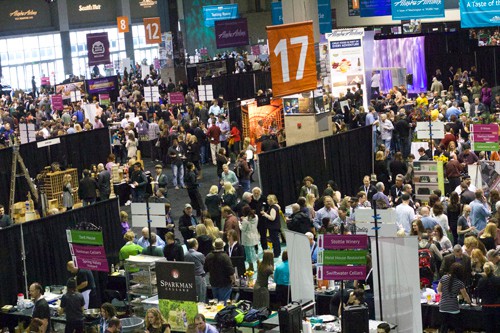 I tasted several standout wines from Taste Washington (even though I barely scratched the surface of what was available that weekend), and will certainly be seeking out full bottles to enjoy the true pleasure of each wine.
Avennia "Justine" Red Wine ($38)
I loved every single wine I tasted from this fairly new producer, but I especially loved the "Justine" Red Wine, Yakima Valley (a Rhone style blend of 46% Grenache, 30% Mourvedre, 24% Syrah). It had beautiful dark berry aromas and this amazing bacon-y note and savoriness that I can't wait to try with smoked pork.
2011 Gramercy Cellars, Mourvédre L'diot du Village, Columbia Valley ($42)
A Rhone style blend of 90% Mourvédre, 5% Syrah and 5% Cinsault, with gorgeous dark berry fruit, and an intriguing smoky meat quality. Another one perfect to pair with something from the smoker!
Other producers I was excited about and can't wait to try more: Ancestry Cellars, Doubleback, Lauren Ashton, Northstar, and so so so many more.
Columbia Gorge Portland Grand Tasting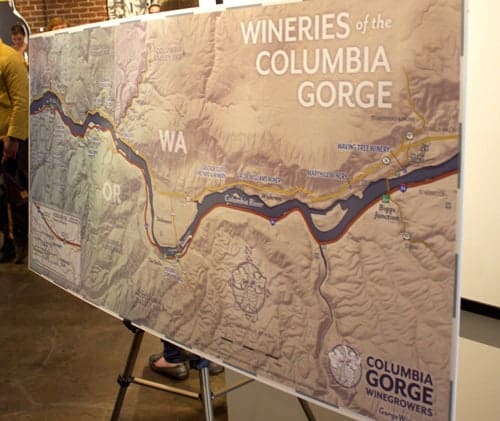 I have a soft spot for the Columbia Gorge Wine Region. In part because I worked for a winery in the region several years ago and immersed myself in the wines of this small but growing region as I grew to know the great people behind them. The region is also situated in what I believe to be one of the most visually stunning locations in the Pacific NW for winemaking.
There are exciting things happening in the Columbia Gorge that I'll be sharing with you over the next few months. In the meantime some producers that stood out at the tasting were Cor Cellars (in particular their new 2013 Rosé of Cabernet Franc, called "Ro-Sae"), The Pines 1852 (their Old Vine Zinfandel is outstanding right now), Syncline's Grenache, Viento's Gruner Veltliner, Cerulean Skies Winery (this new-to-me-winery impressed me with their Riesling and Nebbiolo in particular), Wy'East Pinot Gris, and everything from Phelps Creek Vineyards.
More on the wines of this region to come
WINE OF THE WEEK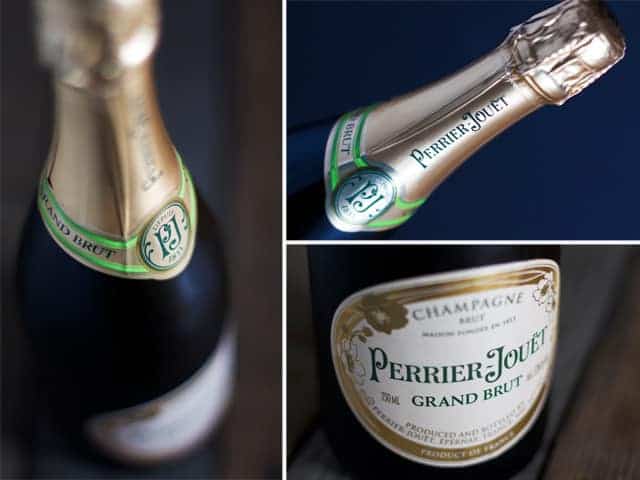 Perrier Jouët "Grand Brut" Champagne paired with the How I Met Your Mother series finale
A Champagne fit for a TV show? You betcha. And not just any TV show. This was one of my favorite shows on TV, and it's now over. This review was intended for last week's "Friday Favorites", but was postponed due to time.
My history as a fan of HIMYM was not very long. It began in 2010. Prior to that I had only seen a few episodes here and there, usually on an airplane. In 2010, however, my children were born and I needed something to pass the time during those late night/super-early-morning feedings. We started watching HIMYM every night at midnight, then again at 3am, then again around 6am… you get the point.
Each 22-ish-minute episode was the perfect length of time to feed the kids before heading back to sleep.
During that time I fell in love with the show, the characters, and the writing. And throughout that same year we caught up on all past seasons and began watching it regularly.
Last Monday marked the series finale of its successful nine-year run. I had to open something worthy of celebrating all the laughter the show has brought me (as well as a few tears… damn you writers for killing Marshal's dad)
This called for Champagne (are you shocked?!)
Perrier Jouët "Grand Brut" Champagne
Champagne, France
12% abv | $45 avg (media sample)
This wine had elegant aromas of almond, sweet caramel, along with some apple, apricot, and citrus undertones. Elegance continued in the mouth with a lovely mousse, creamy texture, and a beautiful (but refrained) toastiness, with structured acidity. Savory, caramely, fruity, fresh, and simply luxurious.
God I love Champagne!
During the middle of the episode there was a scene that took place at the groups favorite pub, MacLaren's, and I kid you not the group was drinking a bottle of Perrier Jouët.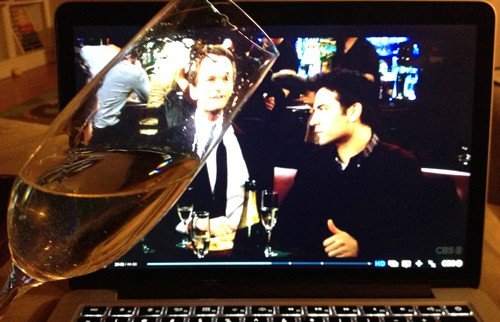 I cannot confirm this, but I've got a pretty good eye and that PJ brand stood out. I decided it was a sign from the shows producers that I picked the right wine to sip while watching the finale (and of course had to take a snapshot). Cheers gang. Thanks to a great run.
Question: What are some memorable wines you've tasted lately?
******
Like what you read? You can subscribe to Vindulge and have new posts delivered directly to your inbox.
You can also follow me on Twitter, Instagram, Facebook & Pinterest (I'm kind of obsessed with Pinterest these days!).