In lieu of Friday Favorites this week I'm simply sharing my favorite wine and food experience of the week. 
Wine of the Week
2012 Durant Vineyards Pinot Gris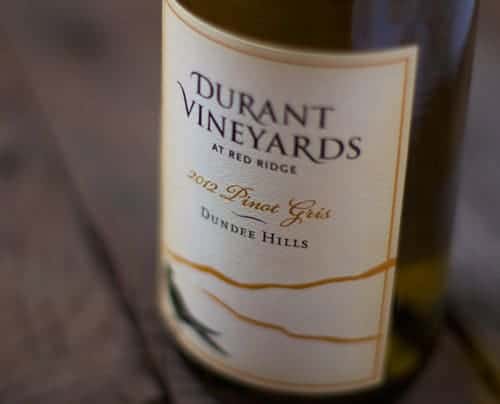 A few months ago I had the honor and pleasure of attending an incredible harvest dinner at Red Ridge Farms.  My only regret that evening was not going early to explore the incredible property, and visit their olive oil and wine tasting rooms.  It's been on my radar since.
So, when I took my friends out to wine country a couple weeks ago I finally made it a priority to revisit Red Ridge Farms, and specifically their tasting room.  And lucky for us there wasn't a single soul in the tasting room on that cold and foggy afternoon, other than the employees, so we were able to bring the kiddos in with us so both hubby and I could taste this time.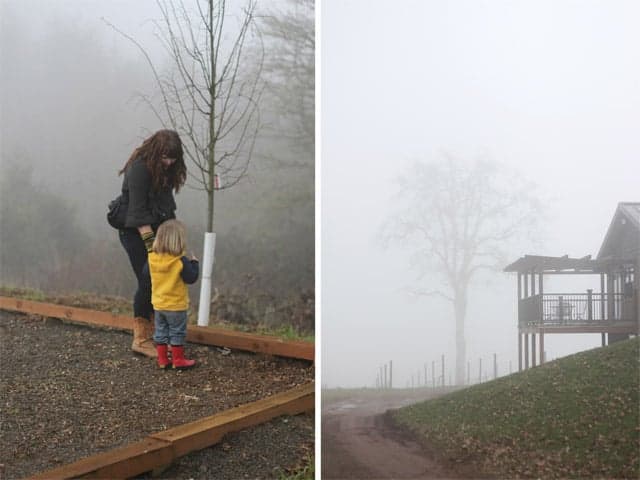 Outside the tasting room on a foggy day
We enjoyed all the wines we tasted, they're all well made, but the one that stood out was their Pinot Gris.  I'm not much for Pinot Gris, never have been.  It's one of Oregon's most planted grapes, but it's just never been my thing.  Plus, typically priced between $15-$20, I can usually find something much more interesting in that price range at my favorite wine shops.
But not only was the Durant Vineyards Pinot Gris quite delicious, it was also on sale for $12/bottle (when you purchase a case).  At that price?  I was sold.
2012 Durant Vineyards Pinot Gris 
Dundee Hills, Oregon
13.5% abv | $18 (on sale for $12/bottle when you buy by the case)
Bright and crisp from the get go with aromas of pear and citrus with some orange peel.  Fresh and crisp in the mouth and those pear and orange flavors linger and linger.  There's very little sweetness to this Pinot Gris, just fresh and dry.  A great deal if you can get it for the sale price.
When you find a wine you enjoy at such a great value, it's definitely worth it to buy by the case! You'll be kicking yourself if you don't (believe me, I've been there several times).  We drank a couple bottles the weekend my girlfriends were here, and I had some throughout this week with my weeknight dinners.  It's definitely a wine that goes quickly.
I still never made it to taste the olive oils during my visit to the winery.  I guess that constitutes another visit!
For more on the winery and history, check out this post.
Some technical info about the wine:  aged 6 months in stainless steel, 600 case production, Winemaker– Jesse Lange, Lange Estate Winery
Favorite Dine
The Grilled Cheese Grill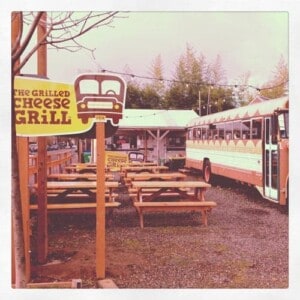 The Grilled Cheese Grill offers four reasons to visit on their website; they all applied to us when we stopped in yesterday for our very first visit, especially these…
"It's an anecdotally-proven fact that food always tastes better when somebody else makes it, and usually even better if Mom made it.  Well if you can't get your mom to make you a grilled cheese right now, we'll be your mom.  A couple of bearded dudes in a food cart will be your mom."
This is just downright funny!
"You probably don't have a converted school bus or double decker bus at your house as a dining room.  Conveniently, we do."
And the kids thought this was so cool. So did the adults.
"You know you don't feel like cooking anyway."
100% true. Hubby just got in from a work trip and we were both exhausted, hungry, and had no motivation to cook…. And we just so happened to be driving down Alberta Street.  Therefore it was meant to be.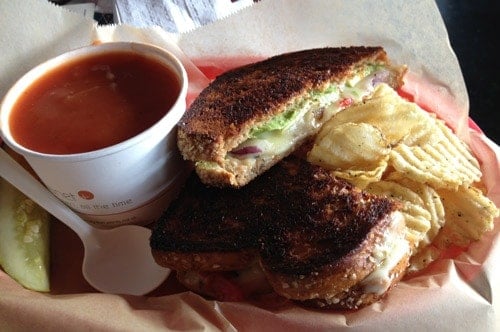 I had The Mondor filled with ooey gooey delicious Tillamook Pepperjack, Avocado, Fresh Red Onion and Roasted Red Peppers on Portland French Bakery Multigrain Wheat.  I love anything with avocado, and that combined with melted cheese and roasted peppers and crunch buttery bread.  It hit the spot.
The kids devoured a couple kids grilled cheeses while hubby, the carnivore, had the The Quesus, which we debated whether it was technically considered a "grilled cheese" or, in fact, a cheeseburger, which I believe it is.  Check out their other tasty creations here.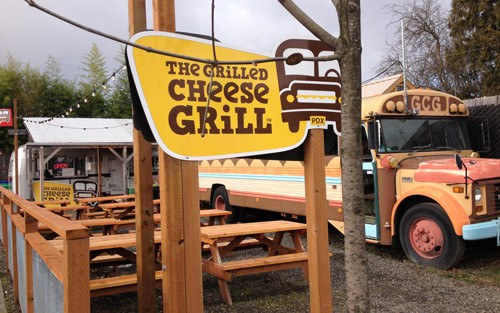 I'm glad I FINALLY stopped here, after all these years.  It's definitely rich and buttery goodness, but sometimes you just crave that level of comfort food (without knowing how much butter went into it).  I'm sure the kiddos and I will be making regular visits this summer.  Plus, it's just so Portland to eat in an old school bus.  Seriously.
Have a great weekend everyone!  And for all of you planning to watch the Super Bowl, what do you plan to have in your glass during the big game?
*****
Why I write these Friday Favorite Posts
Previous Friday Favorite Posts
Want more?  If you liked what you read you can subscribe to Vindulge and have new posts delivered directly to your inbox.