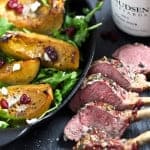 Print
Roasted Acorn Squash Salad, Smoked Lamb Chops, and a fantastic Wine Pairing
A super easy date night dinner. Double or triple for an elegant dinner party. Squash recipe inspired by Clyde Commons Restaurant in Portland, Oregon.
For the Lamb
1

lb

lamb chops

3

garlic cloves

crushed

1

teaspoon

salt

Fresh ground pepper

a few twists

½

tablespoon

fresh thyme

chopped

1

tablespoon

fresh sage

chopped

1

tablespoon

fresh rosemary

chopped

2

tablespoons

extra virgin olive oil
For the Salad
2

handfuls of fresh arugula

about 1 ½ cups

1

teaspoon

extra virgin olive oil

1

tablespoon

chèvre

broken up

2

tablespoons

dried cranberries

Salt and pepper

to taste

Aged balsamic vinegar

optional (just a drizzle)
For the Lamb
Preheat your smoker to 250 degrees (we used apple wood)

Rinse lamb with cold water and pat dry.

In a small bowl combine the ingredients for the paste and stir together.

Coat the lamb chops liberally with the paste and put onto the smoker.

After 40 minutes check the internal temperature of lamb. Insert the thermometer into the center of cut, between the bones and pull at 140 – 145 degrees for medium rare. Let sit for about 10 minutes for juices to redistribute.

Cut between the bone and serve alongside the squash.
For the Roasted Acorn Squash Salad:
Preheat oven to 400 degrees.

Cut butternut squash down the middle, lengthwise. Remove seeds, then cut each half into 3 equal pieces (you'll have 6 pieces total).

In a large bowl, combine the melted butter and brown sugar. Toss with the acorn squash pieces, then add salt and pepper. Toss again.

Lay out the pieces on a foil rimmed baking sheet skin side down. Place in oven for 35-40 minutes, or until squash is fork tender. Remove and brush with more melted butter if you desire.

In a separate bowl, toss together arugula, olive oil, chèvre, and dried cranberries. Place on your serving dish and top with the roasted squash pieces. Drizzle with aged balsamic (optional).