Print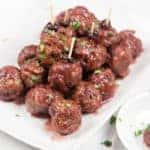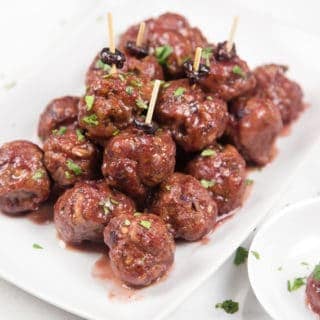 Smoked Meatballs in a Cranberry Pinot Noir Sauce
A simple, delicious, and elegant appetizer idea for the holidays. Smoked meatballs made with pork and beef, cooked on the smoker, and then braised in a sweet and savory cranberry wine sauce.
Total Time
1
hour
10
minutes
For the Cranberry Wine Sauce:
1

16-ounce can cranberry sauce

1

cup

Pinot Noir

or other fruity red wine like Zinfandel

½

cup

brown sugar

2

tablespoons

Dijon mustard
For the Meatballs:
Preheat smoker to 225 degrees.

Mix all meatball ingredients together in a large bowl. Mix well with your hands.

Shape into approximately 1-inch balls.

Place on the smoker until the internal temperature of the meatballs reads 165 degrees (roughly 1 hour on the smoker). Remove from smoker and add to the cranberry wine sauce (below).
For the Cranberry Wine Sauce:
In a medium size saucepan, combine the cranberry sauce, wine, brown sugar and Dijon mustard.

Bring to a simmer and whisk continuously for about 5 minutes to allow the sauce to begin to reduce and thicken.

Serve, or to keep warm for a long period of time, transfer the sauce to a crock-pot, add the meatballs, and gently stir together. Keep warm.
Alternatively you can cook the meatballs on the stovetop in a heavy pot or large pan, coated with oil and set to med heat. Cook, and rotate the meatballs so all sides get browned (roughly 4-5 minutes). After they are browned transfer to an oven set to 375 for an additional 10-15 minutes until the internal temperature of the meatballs is 165 degrees.
TIME HACK?
If you don't have time to make your own meatballs buy frozen meatballs and thaw them in the sauce for a super quick and easy holiday appetizer.