Smoked meatballs braised in a sweet and savory Cranberry Pinot Noir Red Wine Sauce is one of our all time favorite holiday appetizers. These cranberry meatballs are ALWAY a hit at any party or gathering!
The best part is the cranberry wine sauce comes together with 4 simple ingredients!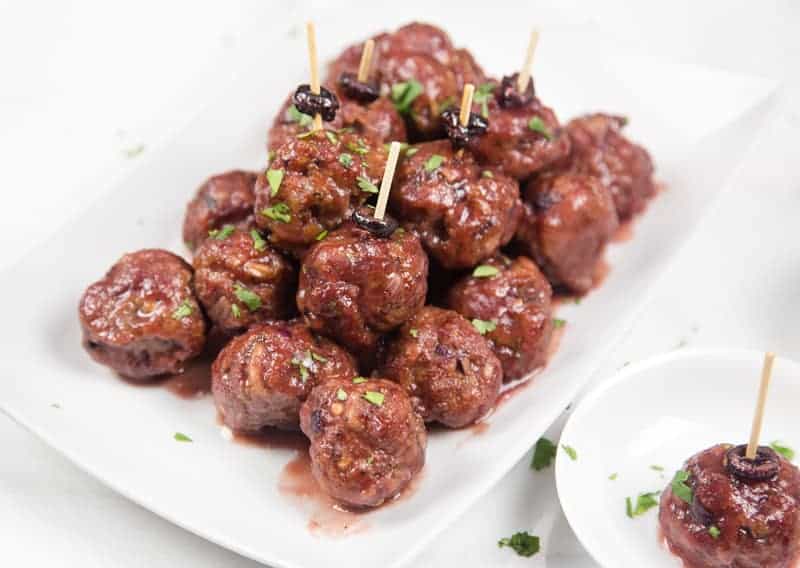 These Smoked Meatballs in Cranberry Pinot Noir sauce were originally inspired by a recipe we had a thousand years ago at a winery.
Several years ago I was out wine tasting during Thanksgiving weekend, and the owners of a particular winery were putting cranberries — which are overabundant during the holidays — to good use. They were serving up store-bought meatballs cooked in a cranberry and Pinot Noir sauce. A light bulb went on, and we started making our own version, based on what we remembered that original one tasting like.
And of course our meatballs are smoked!
Cranberry Meatballs Appetizer
For this recipe we roll homemade meatballs with a base of ground pork and beef, then cook them on the smoker, and finally add them to a rich, sweet, and slightly savory ingredient cranberry red wine sauce.
If we serve these during the holidays we'll even add some dried cranberries to the meatball mix. It adds a lovely sweet kick to them.
This recipe is super simple, and oh-so delicious, and the cranberry wine sauce makes for a festive holiday appetizer.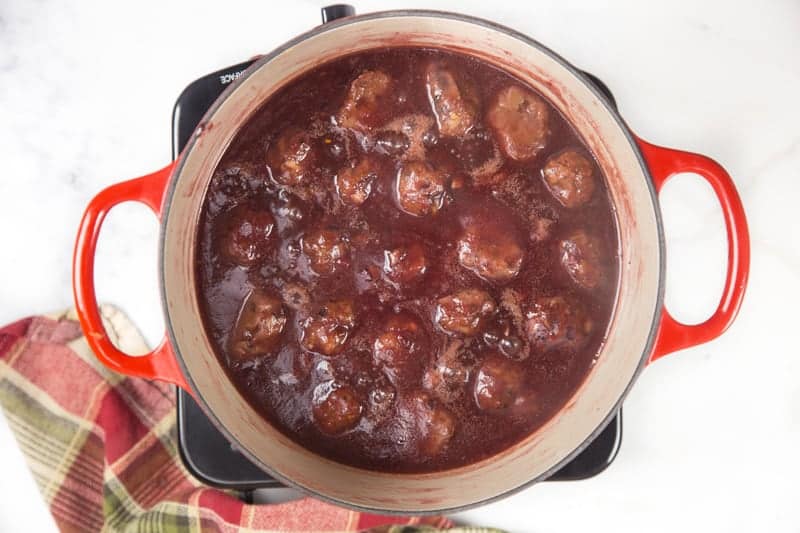 How to Make Cranberry Meatballs
Start by smoking your meatballs. These meatballs are a combination of pork and beef, with some additional seasoning ingredients. Sometimes we'll also add some dried cranberries to our cranberry meatballs (especially if we're serving them around the holidays). Smoke the meatballs at 225 degrees for roughly 1 hour (or until the internal temperature of the meatballs are 165 degrees F.
While the meatballs are smoking make the sauce. This sauce is so simple (only 4 ingredients!): canned cranberry sauce, red wine (we use Pinot Noir), brown sugar, and Dijon mustard. That's it! Simmer together and keep warm.
Once the meatballs are done, add them to the sauce. If you're taking this to a holiday party transfer everything to a slow cooker, and keep it warm.
Catering Tip: If you're serving the meatballs to a crowd you can use frozen Costco meatballs, or you can go big and make our smoked pork/beef combination meatballs. They are absolutely delicious and really make this all around dish shine.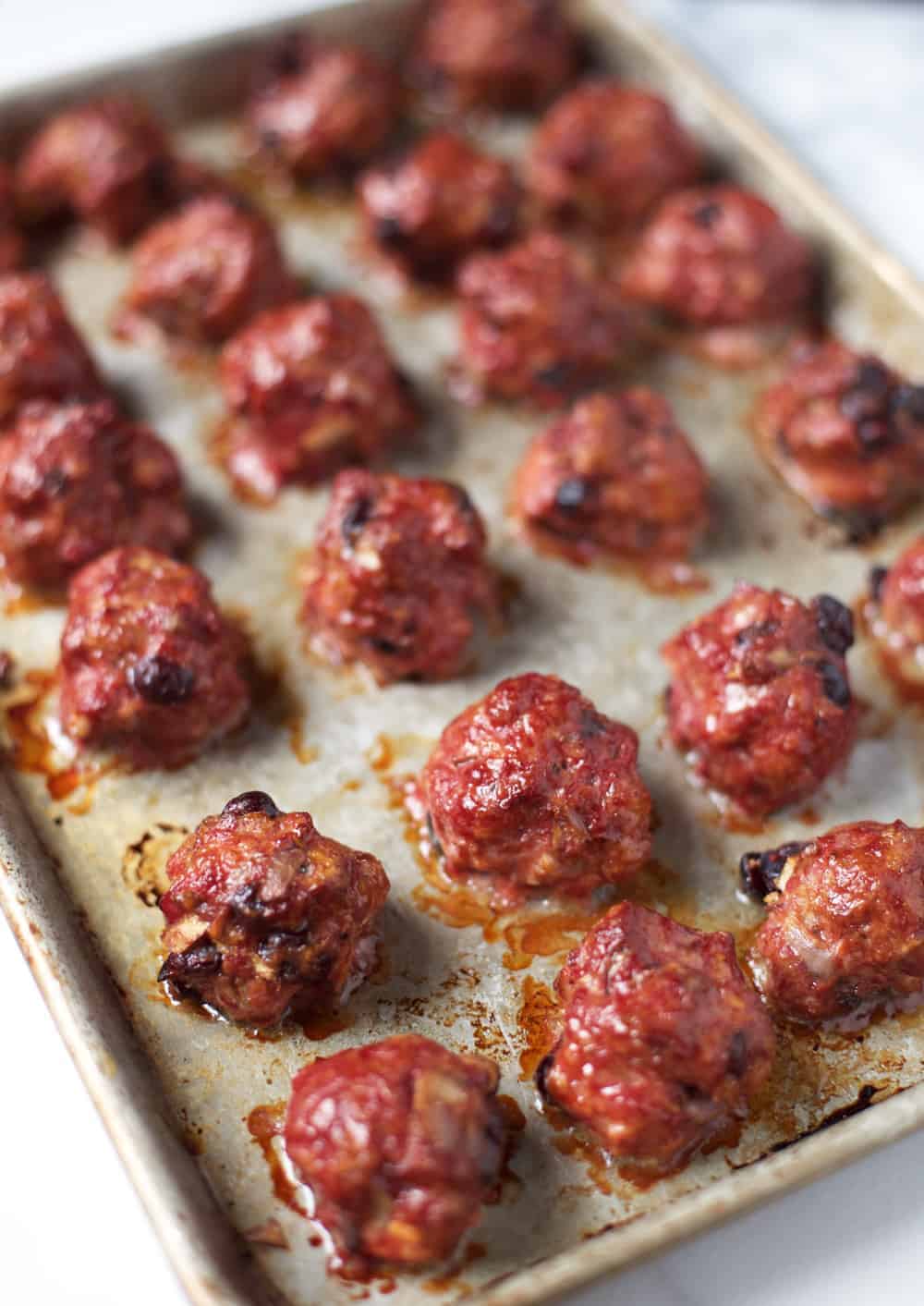 If you want to make the meatballs stuffed with dried cranberries, just add in a ½ cup of cranberries before you form the meatballs. The meatballs in this recipe are less sweet and more savory (though with the same delicious sauce). You can also make them with turkey meatballs too. Whatever you fancy.
Impress your friends this holiday season, and try these festive meatballs.
If you're traveling to a party or event and want to keep them warm, just transfer them into a slow cooker. Easy peasy (and oh-so-delicious).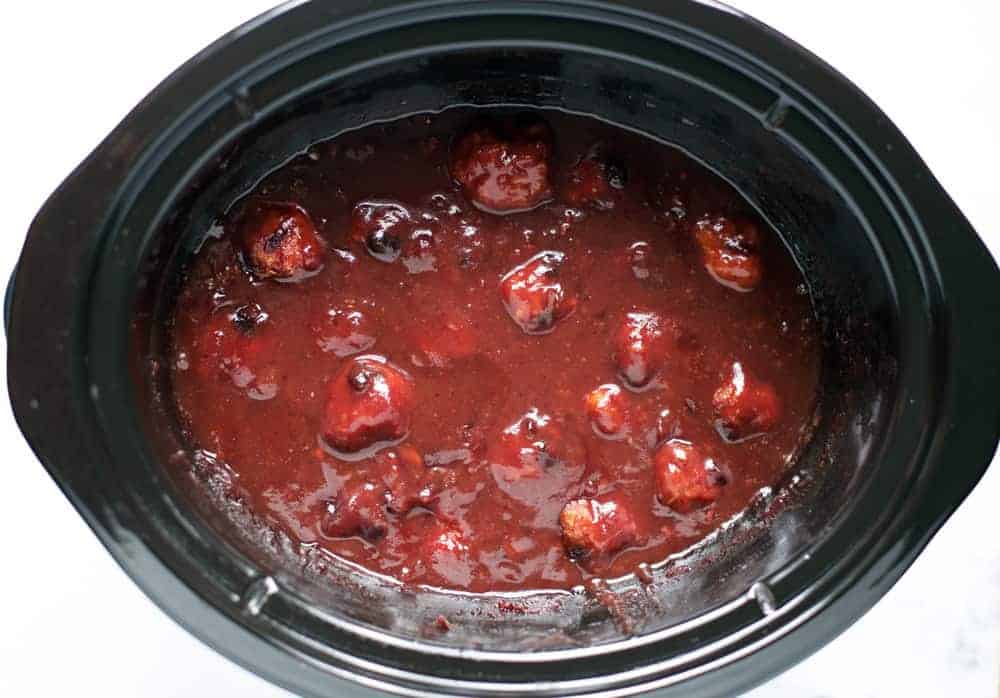 There's a reason they're (almost) famous. Believe me!
Smoked Cranberry Meatballs Recipe
Wine Pairing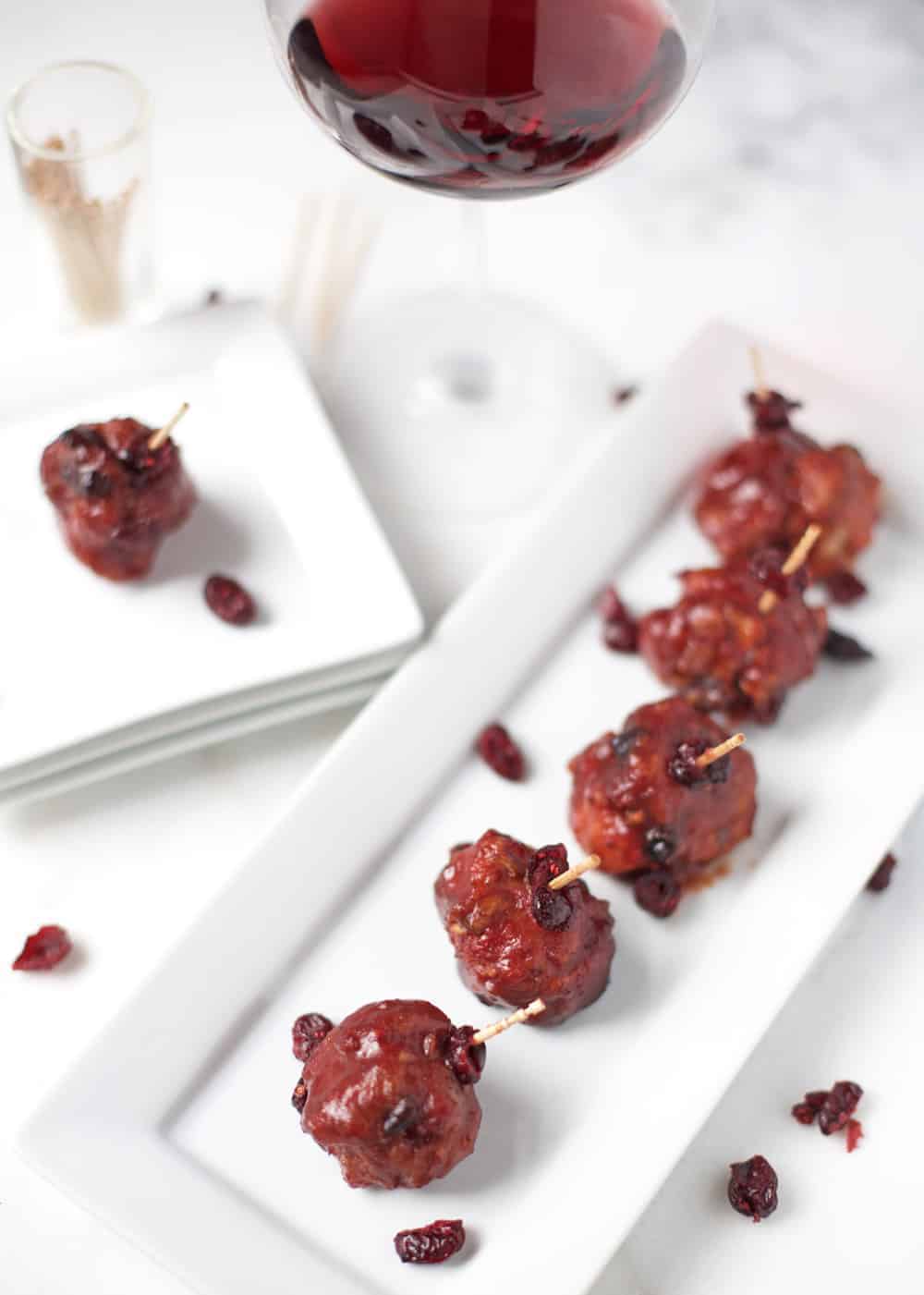 These meatballs may seem too sweet to pair with wine. But there's a delicate and intentional balance of smokey, sweet, and savory flavors, along with that acidic bite from the Dijon mustard, that make them rock solid with wine. I promise you these aren't sugary sweet meatballs.
Since the inspiration for this was in the Willamette Valley wine country we always default to Pinot Noir (ideally a bigger style or one from a warmer vintage). But you can use any fruity wine that is low in tannins. Zinfandel is another one that works well with this dish. It's also a crowd pleaser if you're serving these at a party.
At the end of the day, this is meant to be an appetizer, likely at a holiday party, where loads of flavors are going to be competing for one another. So no need to really overthink it. Whatever you used in the sauce is likely a good match for the dish! Shop our favorite wines to pair with this dish at the Vindulge Wine Shop.
The Video
If you like this recipe we'd truly appreciate it if you would give this recipe a star review! And if you share any of your pics on Instagram use the hashtag #vindulge. We LOVE to see it when you cook our recipes.
---