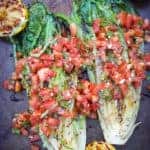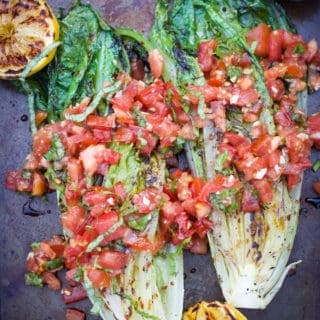 Print
Grilled Romaine Lettuce with Tomatoes and Basil
How to grill romaine lettuce, along with an easy tomato basil and balsamic topping.
For the topping:
2

large beefsteak tomatoes,

Roma tomatoes work well too, but use 4-5 if using Roma, diced

2

cloves

garlic,

finely diced

3

tablespoons

basil,

sliced thinly

1

tablespoon

extra virgin olive oil

½

tablespoon

aged balsamic

¼

teaspoon

salt

A pinch of fresh ground pepper

less than ¼ teaspoon
For the Grilled Romaine:
Rinse and dry the romaine (it is important for the lettuce to be fully dry before you grill otherwise it may steam).

Brush both sides of romaine with olive oil, and sprinkle with salt and pepper.

Set grill to direct heat.

Grill the romaine hearts on each side until lightly browned on both sides (about 2 minutes each side).

While the romaine is grilling place the lemon halves on the grill about 4 minutes (until you see grill marks).

Remove from heat, and top with the tomato basil mixture and a squeeze of fresh grilled lemon and a drizzle of aged balsamic.
For the Tomato Basil Salad:
Place together tomatoes, garlic, basil, olive oil, balsamic, salt and pepper, into a bowl and toss together.