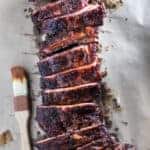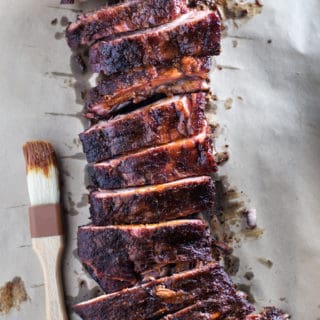 Print
Smoked Ribs with Spicy Mango BBQ Sauce (low sugar)
Smoked Pork Ribs with a low sugar Spicy Mango BBQ Sauce. Learn how to create a spicy and naturally sweet BBQ sauce without ketchup or excess sugar.
For the Ribs
2

racks of baby back or St. Louis cut spare ribs

4

tablespoons

dijon mustard

1/2

cup

of your favorite rub

equal parts kosher salt and coarse ground pepper is a good starting point

For the spritz: add one cup apple cider vinegar and one cup water to a food safe spray bottle
For the Spicy Mango (low sugar) BBQ Sauce
1

tablespoon

butter

1

tablespoon

olive oil

1

small to medium yellow onion

chopped

3

cloves

of garlic

minced

1

jalapeno

diced (optional: remove stems and seeds before chopping to avoid too much heat)

1

cup

apple cider vinegar

2

tablespoons

molasses

optional

3

oz

tomato paste

¼

cup

turbanado sugar

optional

½

teaspoon

cayenne pepper

½

tablespoon

smoked paprika

½

tablespoon

dry mustard

½

teaspoon

kosher salt

½

teaspoon

ground black pepper

1

tablespoon

Worcestershire sauce

½

teaspoon

fresh lime juice

1

cup

mango cubes

I use frozen
For the Ribs:
Preheat your smoker to 225 degrees, we used cherry wood to add color and a sweet flavor. Add a water pan.

Prepare your ribs (can be done the night before) by removing any silver skin on the bone side of the ribs. Apply your mustard and coat ribs and then apply your rub liberally.

Place ribs on the smoker bone side down for approximately 90 minutes allowing bark to set on ribs. Then for the next 90 minutes, spray your spritz every 15 minutes. Once bones start to show, it's time to wrap.

Remove ribs from the smoker and place in foil. Add a generous amount of your sauce by coating the ribs and then wrap meat side facing down. When wrapping, wrap tightly. Place back on smoker for 2 hours.

After hour 2, remove ribs and carefully open the foil. Gently coat both sides of the ribs with your sauce and place back on smoker with bone side facing down. This will tack up the sauce. Remove after 30 minutes to 1 hour or until the sauce looks like it has set.

Slice and enjoy.
For the BBQ Sauce
In a large pot set to medium heat melt 1 tablespoon butter and 1 tablespoon olive oil and add the onions. Stir occasionally until the onions are soft (golden/starting to brown), and sweet to the taste (roughly 20 minutes). * you may need to adjust the heat and turn it down if they are browning too fast.

Next add the garlic and jalapeno and stir together for 2 minute.

Add the apple cider vinegar, molasses, tomato paste, and mix.

Add your dry seasonings, Worcestershire and lime juice, and the mango cubes and bring to a simmer. Cook for 10 minutes, or until the mango cubes have softened.

Using a hand immersion blender, or countertop blender, blend your sauce until smooth and there are no chunks.

Taste and adjust seasonings to your preference.