Smoked Pork Ribs with Low Sugar BBQ Sauce. Find out how to create a spicy and naturally sweet BBQ sauce without using ketchup or loads of added sugar.
For this recipe we're using baby back ribs, smoking them in the 3-2-1 method, and finishing them with a low sugar spicy mango BBQ sauce. The sweetness of the sauce comes from the mango fruit.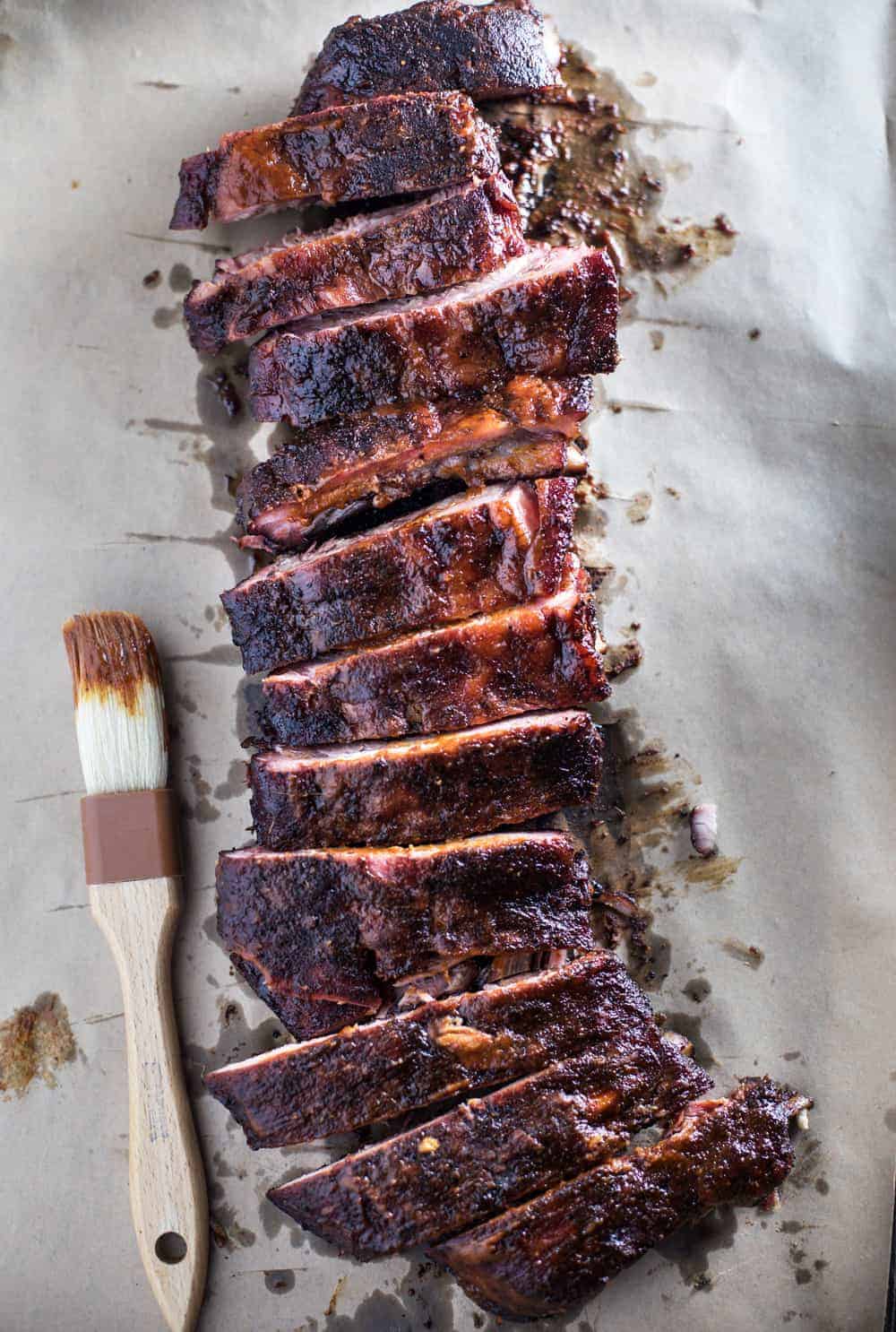 Every January my family endures a 10-day sugar detox. The first year it was hard, especially for my husband. He's accustomed to eating lots of deli sandwiches, which were off limits (since most sandwich breads have added sugar, not to mention sugar added into the brines of deli turkey meat).
One of the other challenges comes in the form of things like dry rubs and BBQ sauces for the foods we like to cook. This means zero brown sugar in any dry rubs (gasp!). And most BBQ sauces were also off limits because they are full of sugar. Don't even get me started on store bought sauces.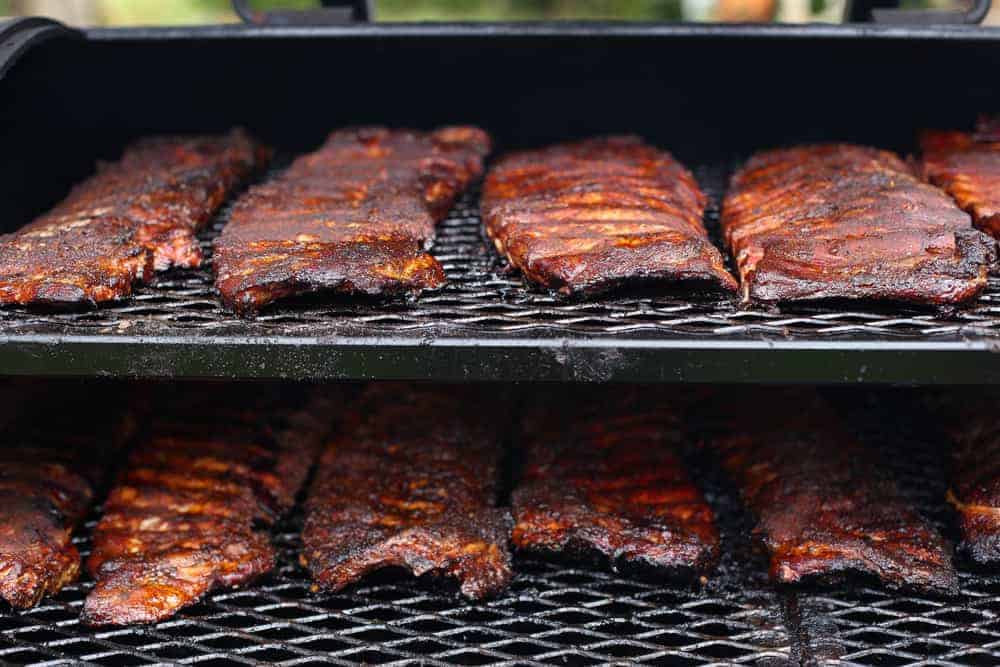 The challenge with ribs, for example, is that dry rubs and BBQ sauces are usually full of added sugar, which provides caramelization and flavor.
So we've come up with some great ways to add natural sweetness without processed sugar in many BBQ sauces and rubs, that don't sacrifice flavor.
Which Sugars Were Allowed?
In our sugar cleanses we use no sugar (no artificial or real). We also avoid maple syrup, agave, honey, you name it. All sweet flavors had to be natural. Fruit was fine, so long as it was fresh or frozen (with no added sweeteners).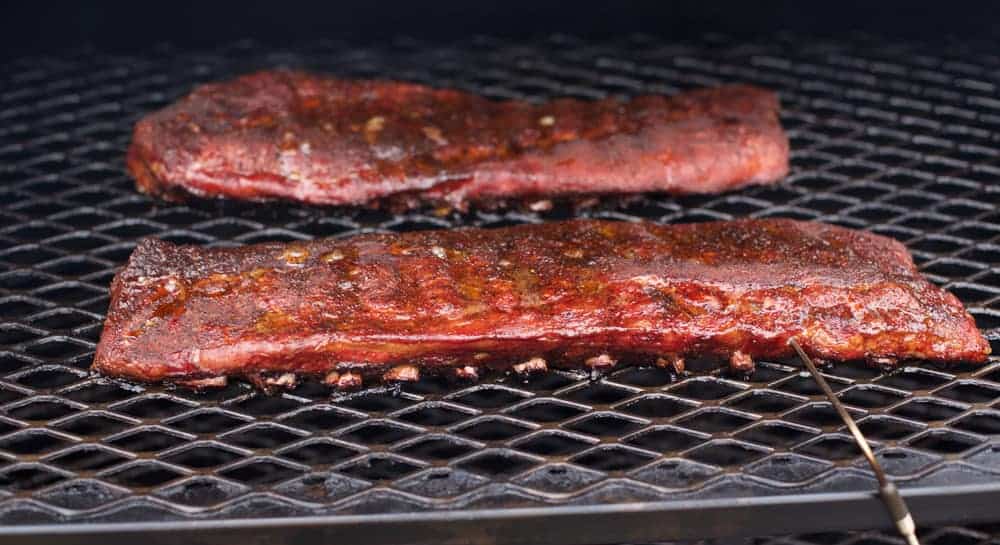 How to Make a Low Sugar BBQ Sauce
How do we get the sweetness if we are trying to minimize added sugar?
Start by caramelizing some onions for the sauce, which really brings out the natural sweetness in the onions. Caramelized onions are insanely delicious and they add richness and sweetness to the sauce.
Instead of ketchup (which usually has lots of added sugar) use tomato sauce and tomato paste to get richness and consistency (just make sure the tomato sauce contains no added sugar).
Add seasonings for heat and flavor (chili flakes, cayenne, paprika).
Add fruit: add a cup of frozen mango cubes to achieve that natural sweetness I was looking for. One cup of mango provides a great balance of sweetness. But if you prefer more sweetness feel free to add more mango cubes (I suggest adding it by ¼ cup increments at a time so you don't overdo it).
Now that you have your sauce, next up smoke your ribs.
The Cut — Baby Back Ribs
We used baby backs for these ribs. Awesome flavor. Remove any silver skin that is on the bone side of the ribs, and trim off any excess fat.
No Sugar Dry Rub

We coat our ribs with a slather of mustard so the dry rub will stick (we use Dijon, sticking to our no added sugar commitment), then apply your favorite dry rub. Wanting to keep the sugar to a minimum? Try equal parts kosher salt and coarse ground pepper and liberally apply. You are adding a sauce slather at the end of the cook, which will add additional flavor.
For our rub, we go heavy savory flavors like onion powder, dry mustard and paprika to offset the typical mix of sugar.
Temperature to Smoke Ribs
I like to keep the temperature hovering at 225 degrees. It means it will take up for five hours for a rack. Also – have a water bath in the smoker keeping the interior humid.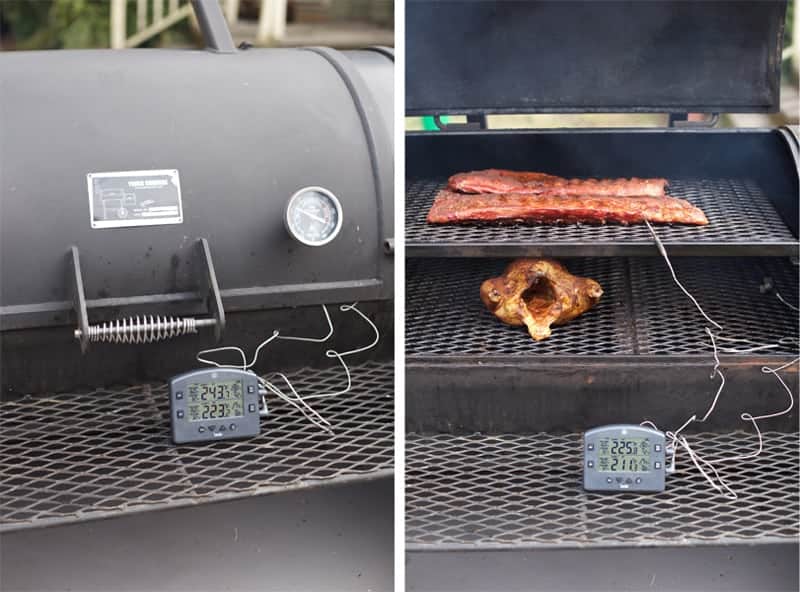 We used Smoke thermometer by ThermoWorks for these ribs.
The Technique — 3-2-1
We used a variation of the 3-2-1 method this time. If you're not familiar with that process see this post. Simply put, you smoke for 3 hours, then wrap for 2 hours, then uncover and sauce for up to an hour letting the sauce tack up.
During the first 3 hours, you'll want to spritz your meat occasionally to keep it moist. We use apple cider vinegar. It adds a touch of sweet due to the apple, so a nice way to offset a savory rub.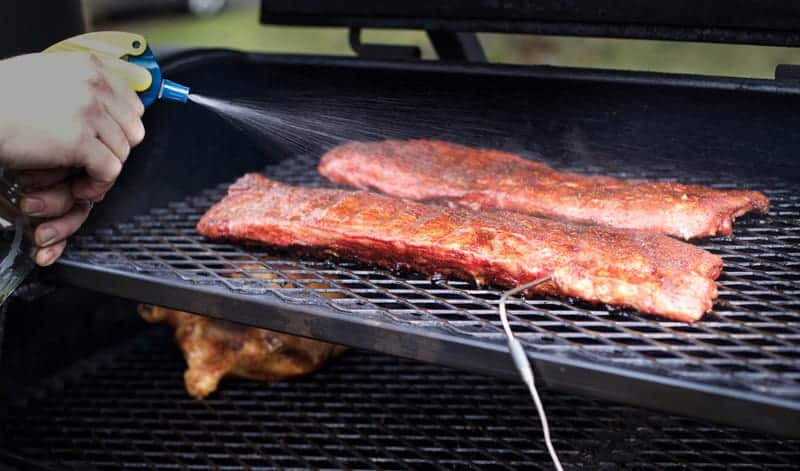 Wrap: When comes time to wrap the ribs, place your meat on some foil or butcher paper, generously apply your BBQ sauce, then wrap completely.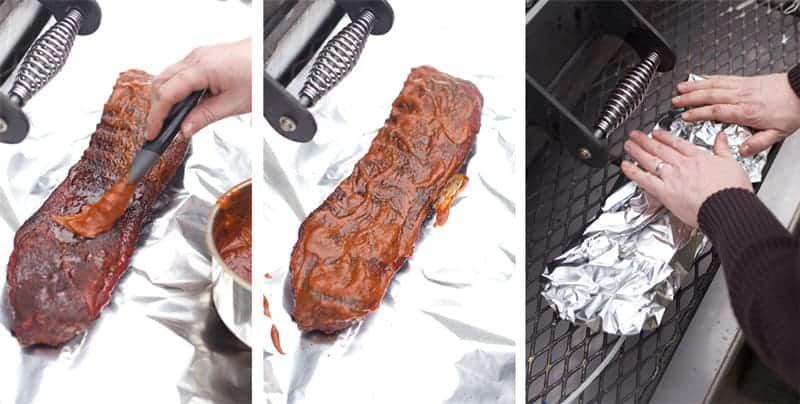 The final hour: remove ribs and carefully open the foil. Gently coat both sides of the ribs with your low sugar BBQ sauce and place back on smoker with bone side facing down. This will tack up the sauce. Remove after 30 minutes to 1 hour or until the sauce looks like it has set.
Variations and Adaptations
After testing this recipe with no sugar added several times, we took the same sauce recipe and added some molasses and ¼ cup of turbanado sugar for comparison. There is definitely some depth of flavor and smokiness that the molasses and sugar adds to the sauce. But contrast that with tomato paste which has concentrated flavor and the mango with the natural sugars, and we definitely didn't miss it that much.
(If you are sugar-free right now then just cut out the molasses and sugar. It's a very small amount to begin with. The tomato paste and sauce combined with the caramelized onions and mango add plenty of natural sweetness and richness. )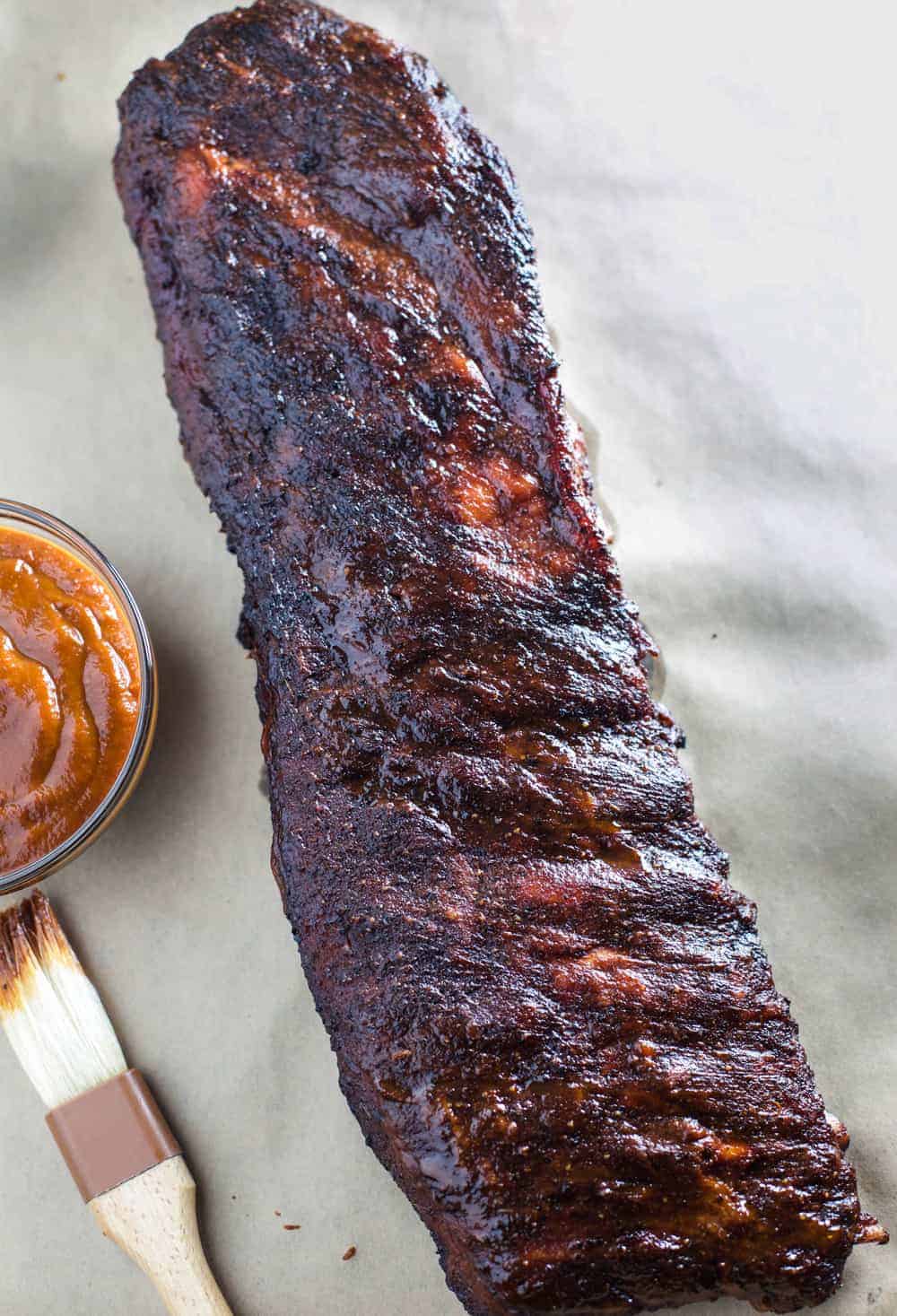 If you're sugar free (or low sugar right now) this recipe will definitely please your guests for a backyard party if you're looking to get that sweet and smoky BBQ sauce flavor without the sugar.
Smoked Ribs with Low Sugar BBQ Sauce Recipe
More Low to No Sugar BBQ Recipes
---
If you like this recipe we'd truly appreciate it if you would give this recipe a star review! And if you share any of your pics on Instagram use the hashtag #vindulge. We LOVE to see it when you cook our recipes.
---
*This post contains an affiliate link for the ThermoWorks Smoke digital read thermometer. We only recommend products we use and love! And you can't smoke meat to the perfect temperature without a good thermometer, and this one is awesome.