Print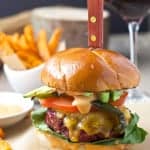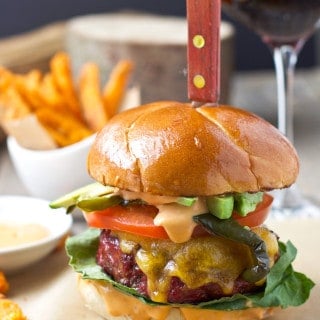 Smoked Mexican Burgers with Chorizo and Smoked Poblanos
How to smoke burgers with incredible smoky flavor and moisture with the perfect char on the outside. Plus a recipe for Smoked Mexican Burgers with Chorizo and Smoked Poblanos.
Cook Time
1
hour
30
minutes
Total Time
1
hour
40
minutes
Optional Condiments:
Tomato slices

avocado, onions, lettuce
For the Burgers:
Prep your smoker to 200 - 225 degrees with pecan or other fruit wood.

Combine your beef, ground chorizo, and seasonings. Form into 4 equal size patties (they should come out to approximately 1/3 to 1/2 lb each). Aim for around 1-inch thick patties.

Place on smoker for 45-60 minutes until the burgers reach approx 130 degrees (actual cooking time may vary based on environmental conditions. Always use a thermometer to check for proper temp).

While the burger are on the smoker fire up your grill.

Transfer the burgers to the grill and cook over direct heat until they reach an internal temperature of 160. (Add cheese and let melt around the 150 mark).

Remove from heat and add poblano peppers, aioli, and other toppings, to assemble your burgers.
For the poblano peppers:
Place poblano peppers on smoker while the burgers are cooking. Smoke for 45 min - 1 hour.
For the Chipotle Aioli:
Mix all aioli ingredients together. Adjust flavors to your preference. If you don't want it too spicy, go light on the chipotle.
For the aioli use just the juice from the jar, unless you like some heat from the actual peppers. If you do, feel free to cut about ½ a chipoltle pepper, finely chop it up, and add slowly to the mixture.
For the burgers. If you want to skip the step of finishing them on the grill, leave on the smoker until they reach 160 degrees. If you want to add cheese add it about 5-10 minutes before you're done cooking to allow it to slowly melt. It will melt slower on the smoker than on the hot grill.