Mexican Burgers with Smoked Poblanos is packed full of flavor. Our secret is mixing chorizo and ground beef, smoking them for incredible smoky flavor, and finishing over high heat for the perfect char.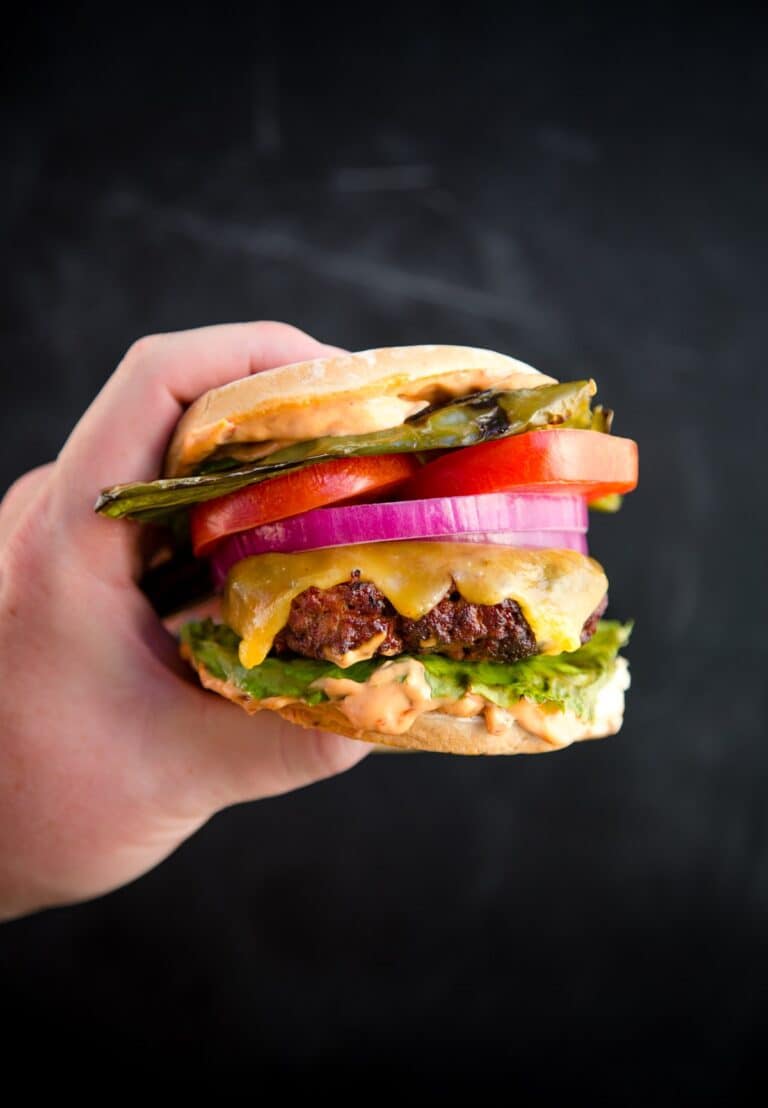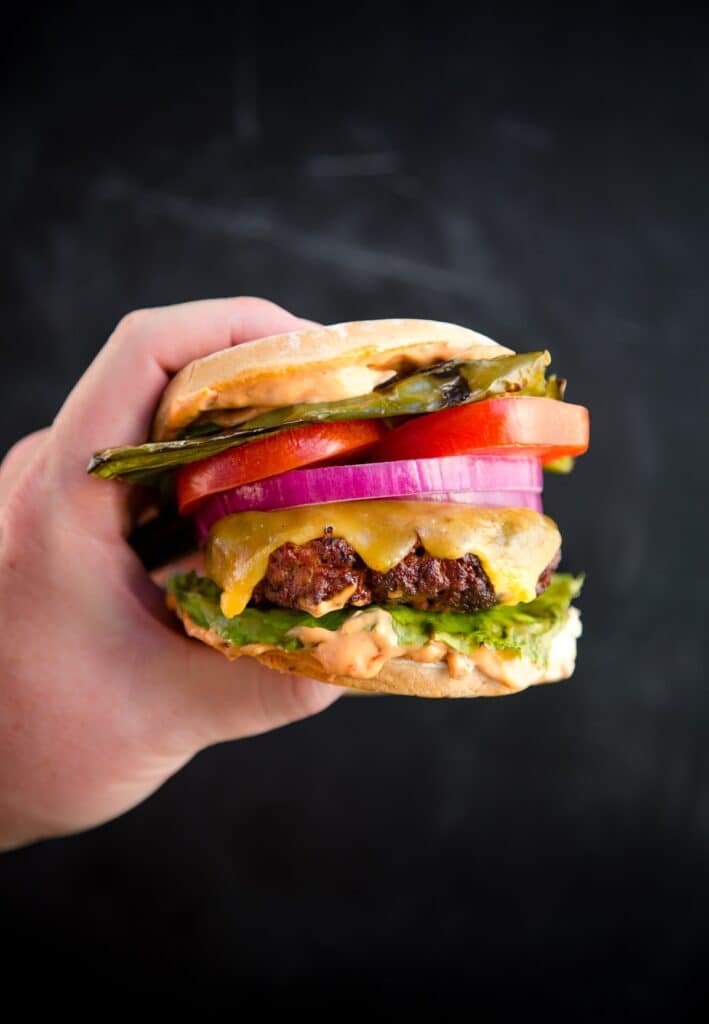 Mexican Burgers. Oh burgers.
I'll be honest, I wasn't always a huge homemade-burger-at-home kind of gal. I used to reserve those for restaurants that are known for really amazing juicy burgers. When we would do them at home I would usually do my best to try to be "healthy" about it (by using ground turkey instead of beef). If you remember, we do have an amazing trick to add incredible flavor to turkey (spoiler alert, it's bacon paste).
But for mexican burgers, they had to be amazing for me to dive in and commit to making them at home. Adding a mix of beef and chorizo was the finishing touch for one influenced by spices from Mexico.
What is Chorizo?
Chorizo is simply defined as pork sausage mixed with spices. The spices can range from simple and not spicy, to very complex and spicy. Chorizo is also not specifically Mexican, instead can be influenced by various European styles. You can see more highlights about Chorizo from Epicurious.
For this Mexican Burger we are combining elements of Mexican Chorizo with Poblano Peppers in a style that I grew up with. You can buy the chorizo in bulk in some grocery stores, but most commonly it will come pre-rolled into sausage. Simply cut the casing for this recipe and use ¼ pound of the chorizo meat.
Which brings me back to these chorizo burgers.
A good burger is many things, but one of the most essential things is that it should be juicy!!! I'm talking like 4 napkins for wiping your mouth and hands kind of juicy. Juicy burgers come from two things — having a good ratio of lean meat to fat, and not overcooking your meat. Fat gives you that juice we're looking for, as well as flavor!
Meat Ratio for Mexican Burgers
For any beef burger we like to use at least 80% lean and 20% fat (i.e. 80/20). If you want an even juicier burger (who doesn't?!), then 70/30 (30% fat to lean) is an even better bet, but it isn't a common ratio. Local markets tend to carry a lot of 85/15, which is fine too, but 80/20 seems to be the sweet spot for us.
We use 1-½ total pounds of meat. 1-¼ of it is the beef, and then we add ¼ pound of the chorizo sausage. It's the right balance of that spice flavor for us. You can adjust the ratio to your preference. The more chorizo sausage, the spicier it will become. If you can't find chorizo, then hot Italian sausage works as a nice alternative.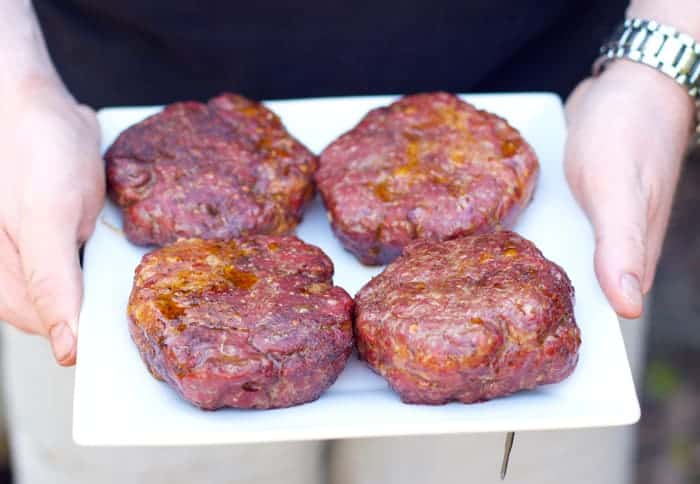 When it comes to filling, we use high quality ground beef like Snake River Farms Ground Beef. It needs very little, if any binding agent. We simply add some dried spices to the ground meat to enhance the flavor. This way the focus is on the meat flavor and natural moisture that will come from the meat. If you only have lean meat, then add 1 egg to help with the binding.
When smoking your meat, make the patties fairly thick (about 1-inch), so that they can stay on the smoker long enough to soak up some of that delicious smoky flavor without cooking all the way through.
Cooking the Mexican Burger
We smoke and then we sear them. Or reverse sear. We're using our MAK Two-Star General Pellet Grill because it can handle the range of smoke temperatures, up to a high sear. (We've clocked it up to 610 degrees F). It also is easy to remove plates from the deflector for direct versus indirect grilling.
Start with smoking the meat and peppers at a low temperature. Targeting 200 – 225 degrees Fahrenheit.
Smoke them for about 45 – 60 minutes or until the internal temperature is around 130 – 135 degrees F.
When the burgers reach 130 degrees, pull them off the smoker, increase the heat to at least 400 degrees F over direct heat and add the burgers back to finish.
Once the internal temperature of the burgers reaches 150 slap on your cheese, if you're into that, and let it melt during those last few moments. Once you hit 160 you're in the safety zone for ground beef, so pull those bad boys off!!!
Chef's Note: While the burgers are smoking, add the poblano peppers to the smoker so they soften at the same time. Alternatively you can use Anaheim chili as well.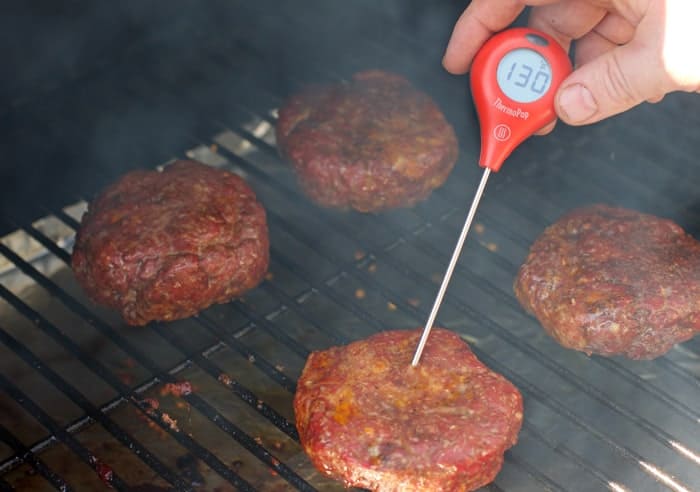 You don't have to finish them on the grill. You can totally keep them on the smoker until they reach the recommended temp of 160, but if you want that sear, and I think you do, then I highly recommend taking that extra step and finish them over fire. Or you can finish over a medium heat in a cast iron pan on the stove top.
Use a Good Thermometer
Once you transfer them to the grill they will finish cooking very quickly, so this is where you need your thermometer to keep monitoring. Don't let them get over 160, because that's where you'll start to loose all that moisture and flavor! This can happen quickly!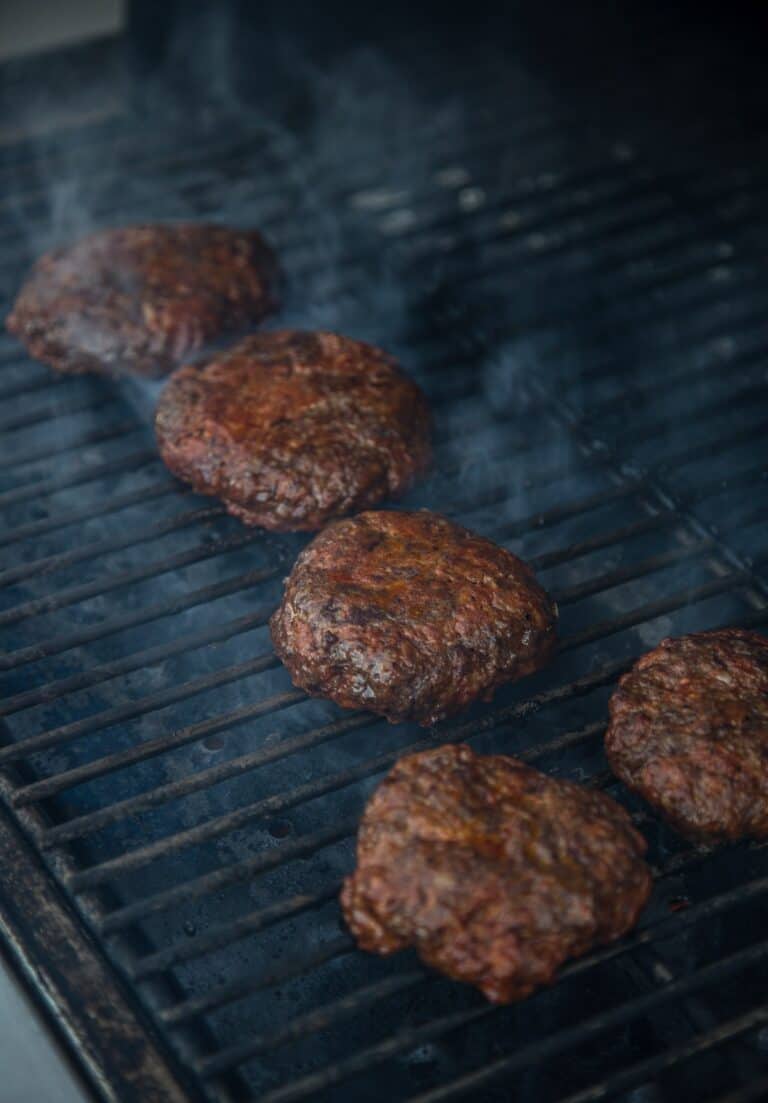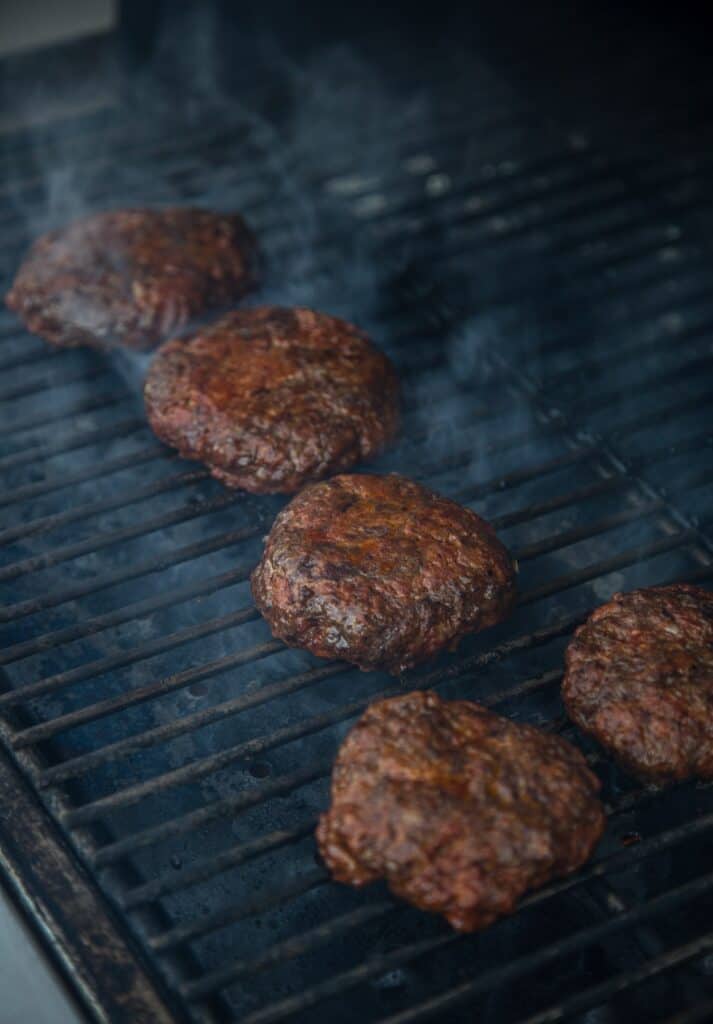 Chipotle Mayo
A spicy mayo is a great condiment to add to the flavor. Take mayo and add adobo sauce juice (from a chipotle can) and any of your favorite flavors. Double the batch for a great fry sauce.
This, my friends, is the ultimate smoked burger.
Don't have a Smoker?
This is just as good grilled. Simply follow the directions for making the burger. Then when grilling, use a two zone method and grill the burgers for 6 minutes per side over direct heat, and then move to indirect heat until the internal temperature reaches 160 degrees F.
When grilling the peppers, just roast them over direct heat until you get a nice char and they are soft. It is easy to remove the skin.
Wine Pairing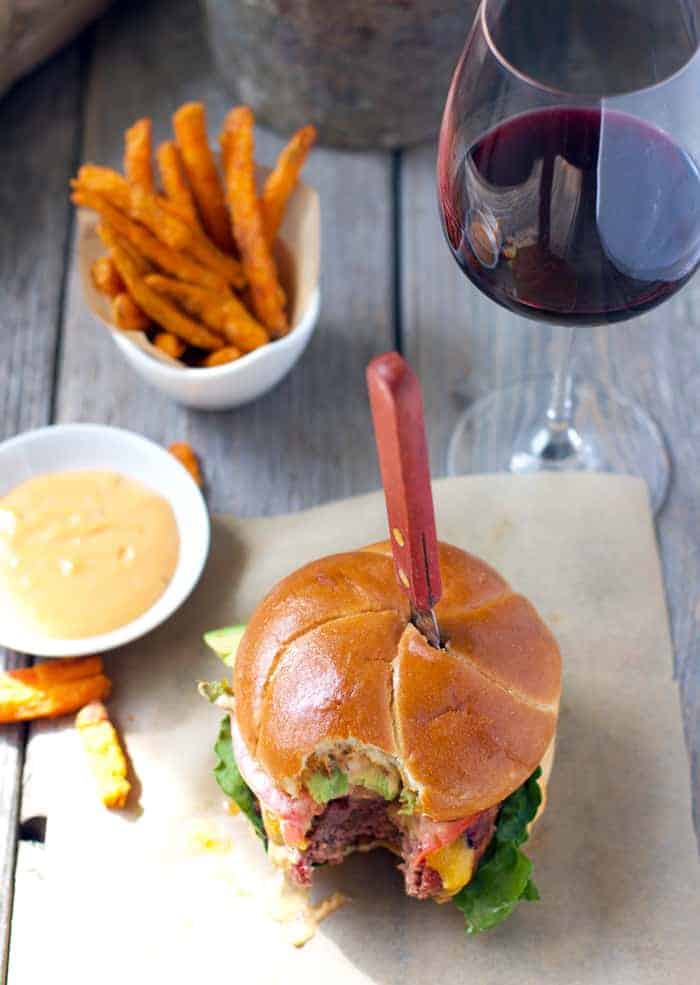 These chorizo burgers are bold and full of smoky flavors, juicy meat, and a bit of spice. I'm looking for a wine that can stand up to those smoky and spicy flavors from the meat and chipotle aioli, yet not overpower the gorgeous smoke flavors from the tender meat. For something with great flavor, but not too overpowering, I like bolder red wines that aren't too high in tannin, like Syrah or Malbec. But I wouldn't argue with a bold flavored fruity rosé to pair with this too, especially in the warm summer sun. The fruity flavors and colder temperature will refresh your palate between bites of these spicy burgers. Yum!
Other Great Burger Ideas
This post was first published in April of 2016, and updated in July of 2020 with edited content and recipe steps details.
Mexican Burger Recipe
---
This post may contain affiliate links. This means if you click on the link, we may receive a small commission if you purchase through the link. We partner with brands we know and love and use and it helps keep the blog going!
---
If you like this recipe we'd truly appreciate it if you would give this recipe a star review! And if you share any of your pics on Instagram use the hashtag #vindulge. We LOVE to see it when you cook our recipes.