Print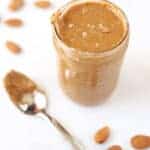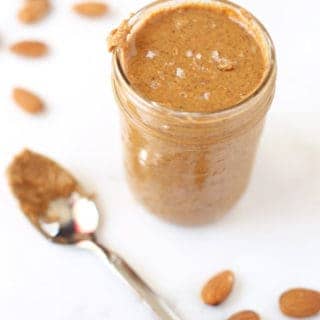 Smoked Almond Butter
How to smoke almonds and make a simple smoked almond butter. So easy and delicious.
Cook Time
1
hour
30
minutes
Total Time
1
hour
45
minutes
Servings
1
cup almond butter
2

cups

raw unsalted almonds

1-2

tablespoons

oil

canola, vegetable, peanut, or melted coconut

1/4

teaspoon

salt

optional
For the Smoked Almonds:
Preheat smoker to 225 degrees using fruit wood. We like apple or cherry.

Place the almonds on foil, or a baking sheet, and place on the smoker for 60-90 minutes, or until the nuts have turned a few shades darker in color (but not burnt!), and are crunchy to the bite.

Remove from the smoker and let cool.
For the Smoked Almond Butter:
Place the almonds in a powerful blender or food processor and pulse for 20-30 second increments, until the almonds turn into a smooth, creamy, paste. If they aren't coming out smooth add 1 tablespoon of oil at a time, then keep pulsing until your desired creamy texture appears. Brush down the sides and then keep processing in 20-30 second increments until desired texture.
This is for a simple smoked almond butter. I you want to add more flavor experiment with small amounts of cinnamon (for sweetness), or for a more smoky/spicy butter add some chili powder or smoked paprika.
Salt is totally to your preference. I you want your almond butter completely unsalted just leave out the salt. I like to add just a touch to bring out the natural flavors in the almonds and the mild smoke infusion.