How to roast almonds on your smoker and use them to make a delicious and unique homemade Smoked Almond Butter. So good! Homemade almond butter is super easy to make, and also absolutely delicious!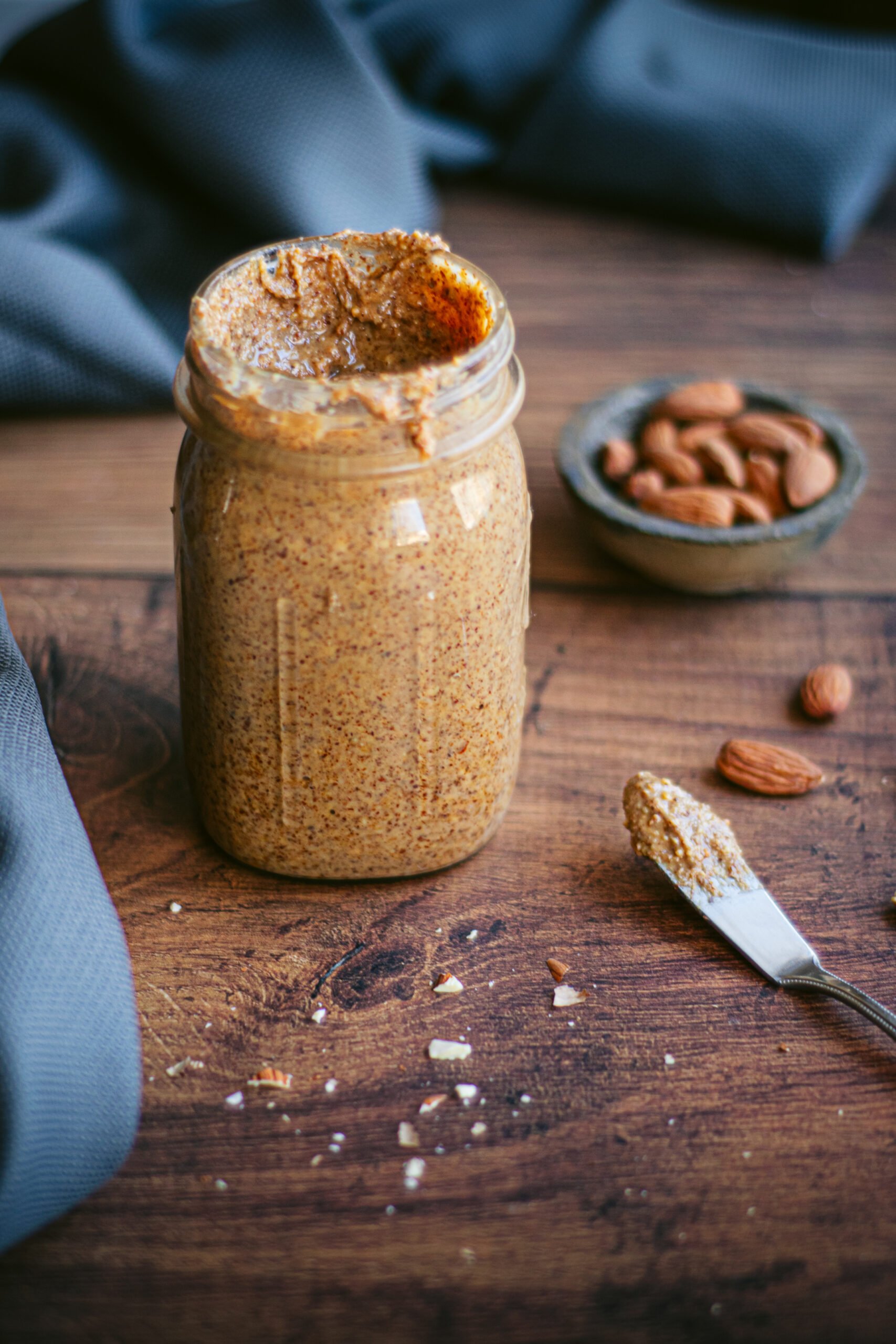 One of the very first things we ever experimented with cooking on the smoker was almonds. I love crunchy oven roasted almonds so I was curious how they would come out slow smoked. The answer? Awesome! Now, whenever we have any extra real estate on the smoker (i.e. a few extra inches of space) I add a handful of almonds for good measure. Gotta fill up that space, right?
Check out our recipe for Smoked Almonds.
They make for a great healthy midday snack in-between meals instead of snacking on chips or other junk.
After you've smoke-roasted your almonds, it takes just seconds to make smoked almond butter.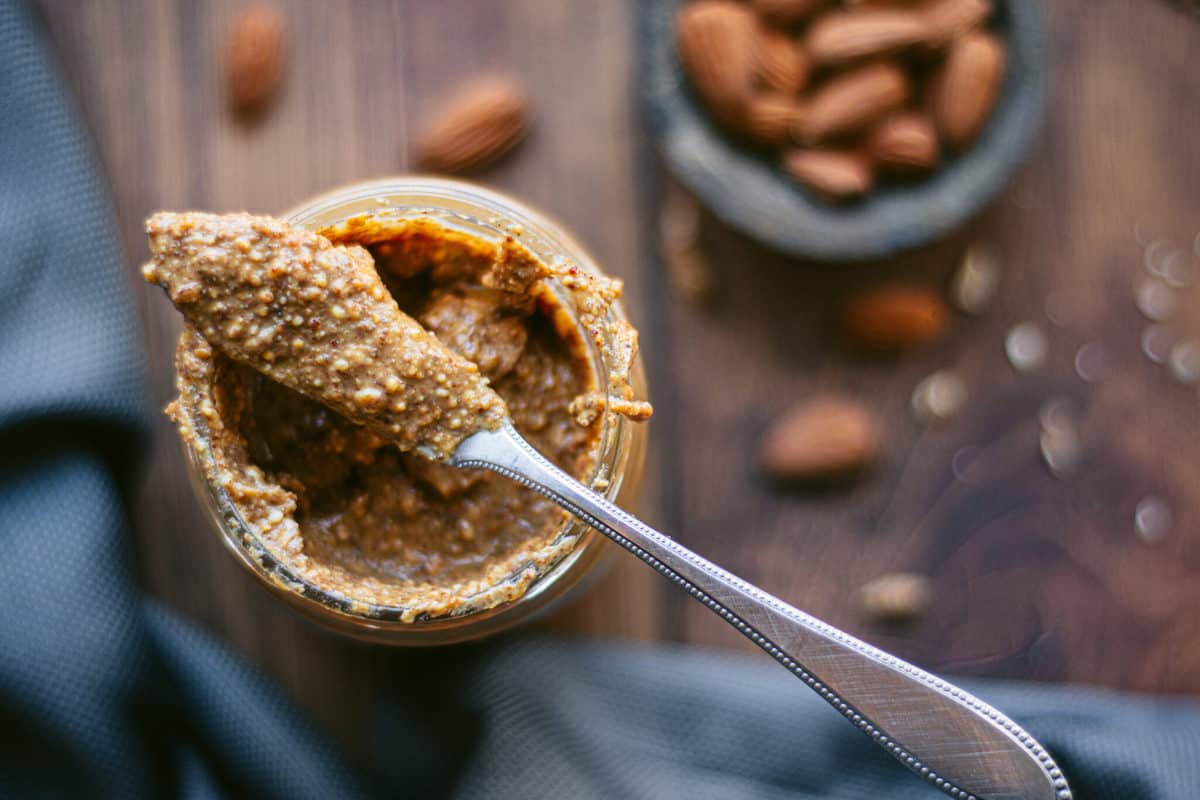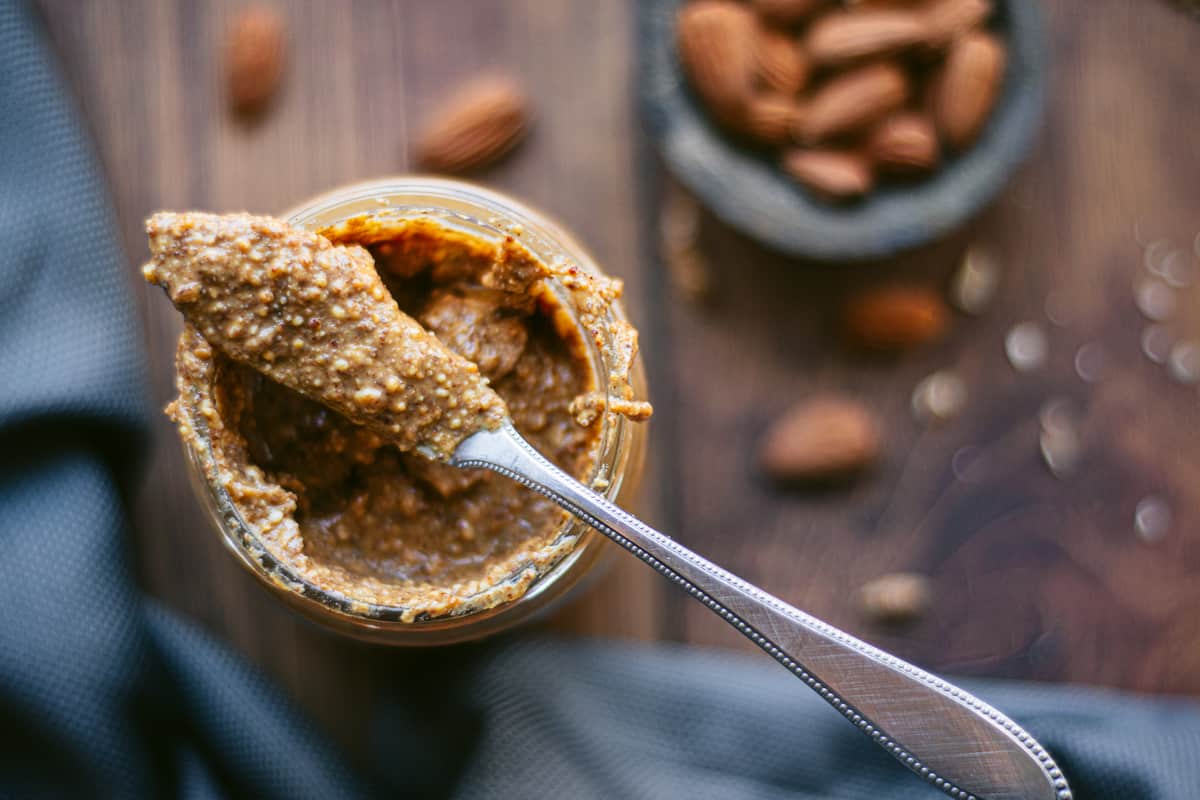 Jump to:
My kids are almond butter fiends. They eat almond butter sandwiches for lunch most days. So why not make my own and save the $ and trips to the store?
Besides, most storebought almond butter is pretty bland if you ask me.
Making your own homemade smoked almond butter is easy, and so much cheaper than buying store-bought. I buy the ginormous 3-lb bag of whole almonds from Costco and smoke them in quantities of about 2 cups at a time, then process them to make my own smoked almond butter.
It's so easy, and you get this unique mild smokiness from the almonds.
How to Smoke Almonds (for Almond Butter)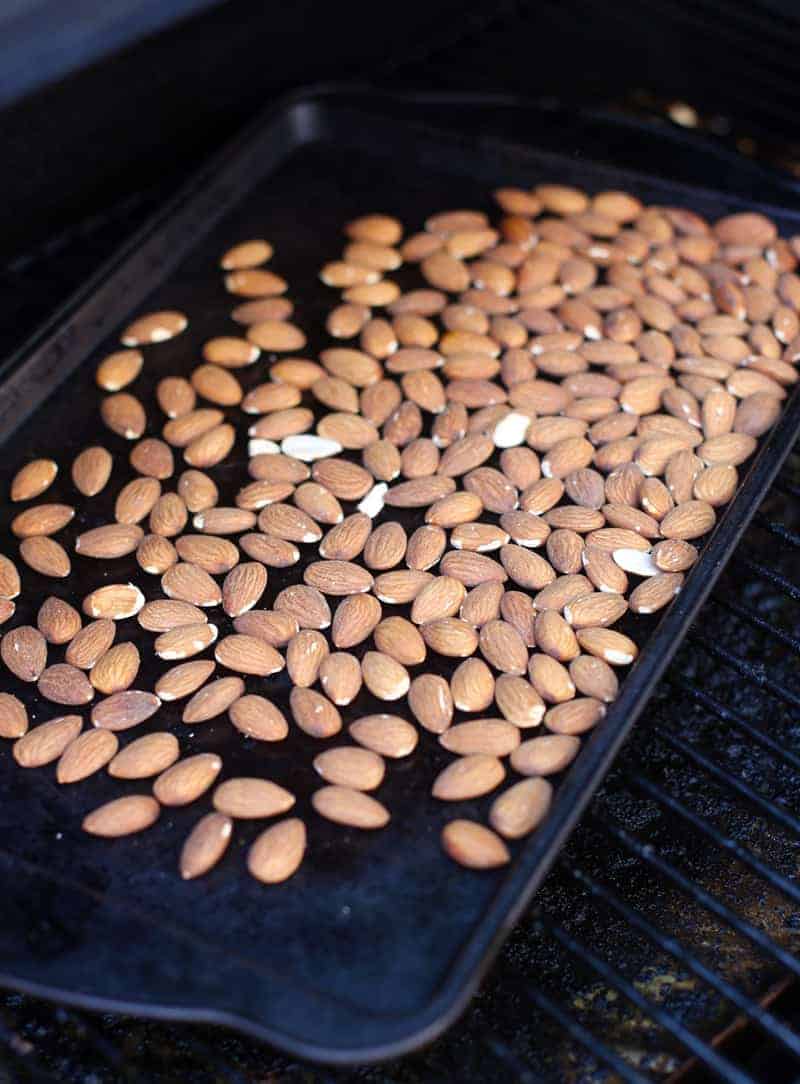 Preheat Smoker: to around 225 degrees F, using a mild fruitwood like apple.
Smoke Almonds: Place almonds on a baking sheet, or glass baking dish, in the smoker for around 90 minutes to 2 hours. I like to test one at around the one-hour mark to see if it's crunchy enough. Just pull one off and let it cool a few minutes and test it. If you like the crunch then pull them all off, but quite often we will keep them on closer to 2 hours. Just check on them from time to time to make sure they don't overcook and roast (you will know by the color, they will look burnt… no bueno).
Toss with Salt and Olive Oil: Once you pull them off you can toss them in a bit of olive oil and some finishing salt (like Maldon). You can also add some extra touches too (cayenne for heat, smoked paprika for color and more smoked flavor, chili powder, you name it). We like to keep it simple with just the olive oil and salt to bring out the natural smokiness you get.
How to make Homemade Almond Butter with Smoked Almonds
Prepare Blender: Place the smoked almonds straight into the blender or food processor once they have cooled. If you have a good blender (we have a Blendtec) then you can make the almond butter right in there.
Add some oil: Since we smoked the almonds (heated them up) and got them crunchy, they don't have as much natural oils as if you just put them in raw (un-roasted), so it's likely you might need to add just a bit of oil to the blender to help them process into a butter. I add about 1-2 tablespoons of oil (like avocado, peanut, coconut etc.). Just note the coconut will add some coconut flavor, which I like, but if you want to keep it mild stick to a more mild oil).
Blend: Process the almonds in the blender until they turn to the smooth buttery texture you want, adding just a little oil at a time until you get to your desired texture. This will take at least 1 min (most likely more, depending on how efficient your blender or food processor is). I usually process for 20-30 second increments, then scrape down the sides, then keep going for 20-30 more seconds, until the texture is smooth. After you reach your final texture, add any additional flavorings, like kosher salt, and mix them together.
Store: Place almond butter in a container or mason jar and store in the refrigerator.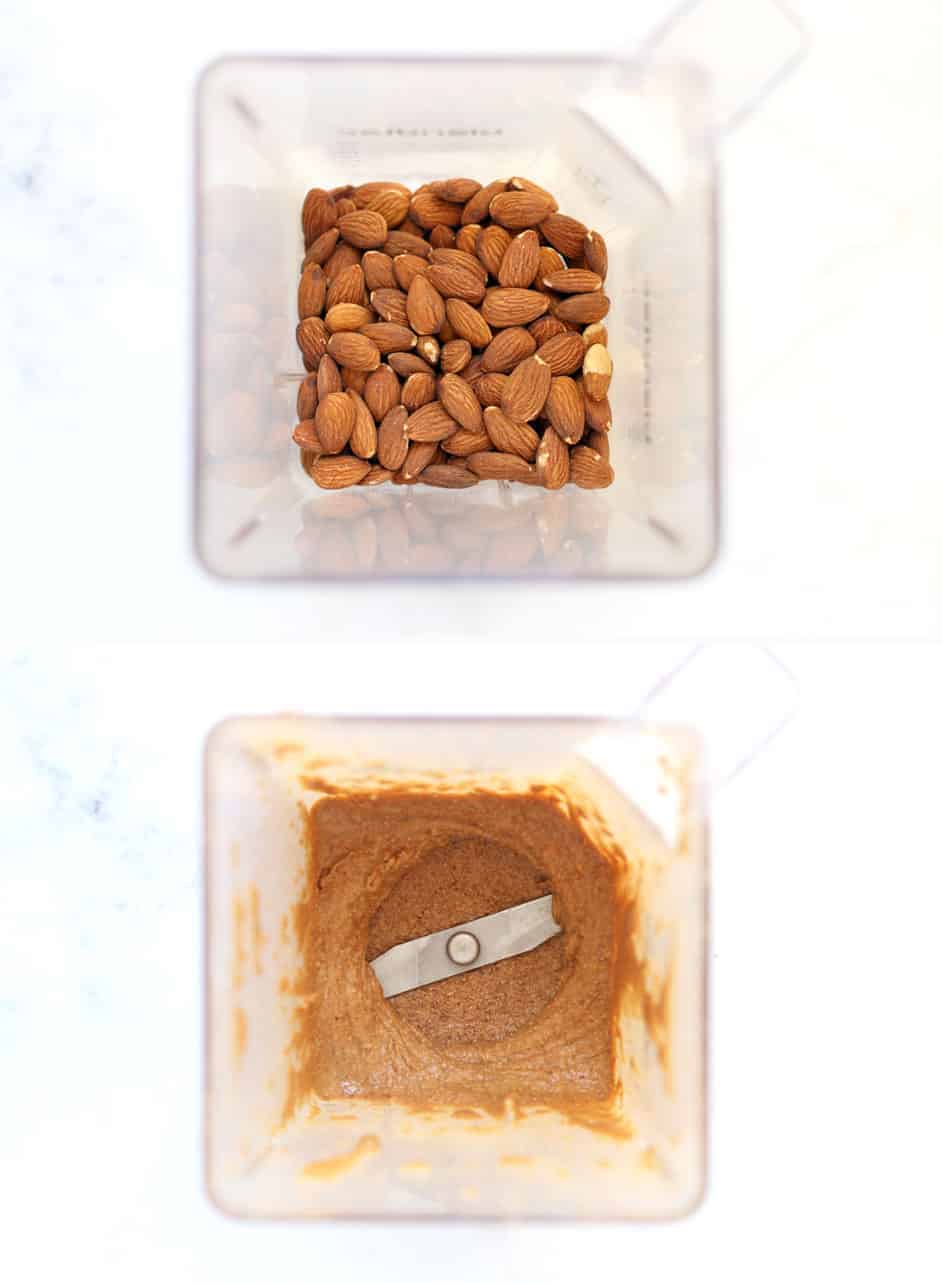 Boom.
Use for a healthy midday snack spread on bread and topped with sliced banana and chia seeds and drizzle of honey (the kids love this one), or just eat by the spoonful (guilty pleasure!). You can even go wild and add some smoked honey (a recipe for another post perhaps?).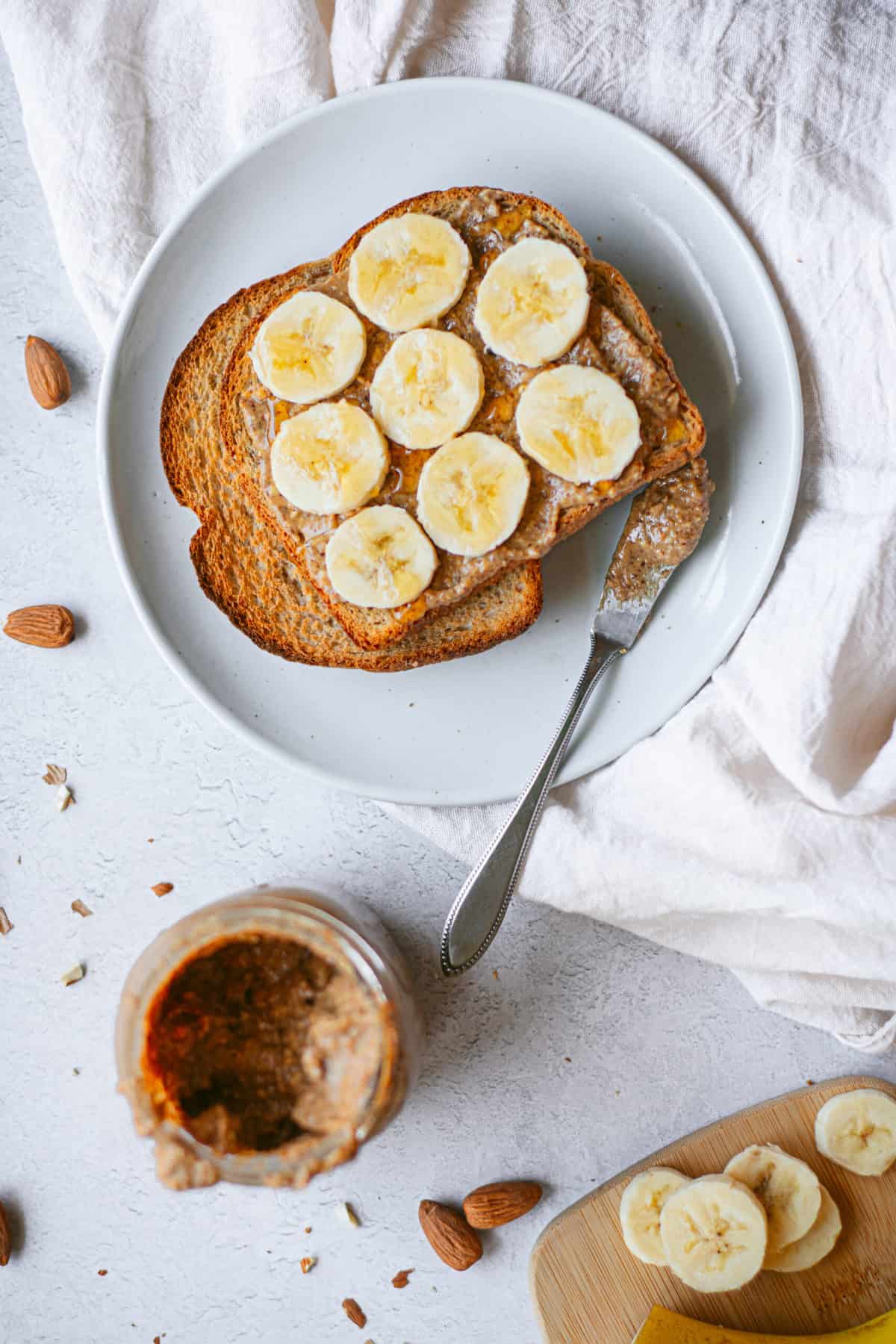 Related Recipes
Mary (a certified sommelier and recipe developer) and Sean (backyard pitmaster) are co-authors of the critically acclaimed cookbook, Fire + Wine, and have been creating content for the IACP nominated website Vindulge since 2009. They live in Oregon on a farm just outside Portland.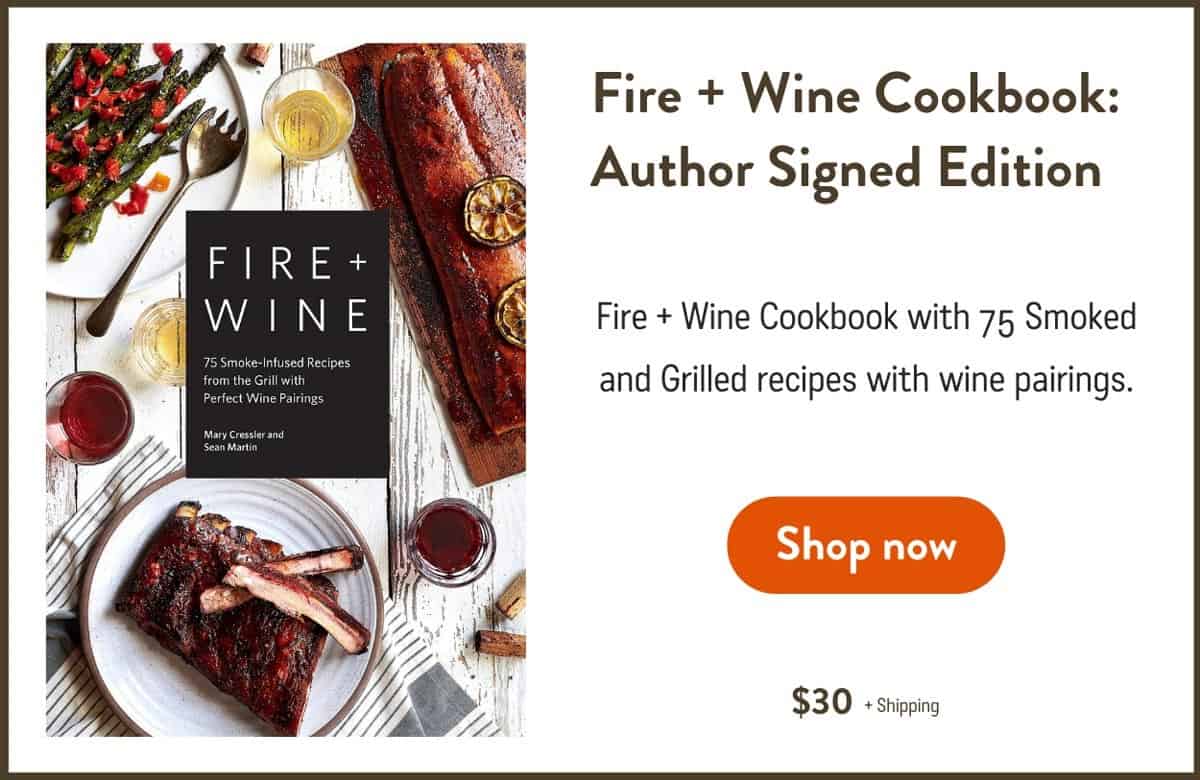 If you like this recipe we'd truly appreciate it if you would give this recipe a star review! And if you share any of your pics on Instagram use the hashtag #vindulge. We LOVE to see it when you cook our recipes.
This post was originally published in June, 2016 and was updated in February, 2022 with new pictures and some textual edits for added clarity. The recipe remains the same.
---