Print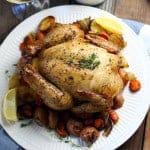 Traeger Roasted Chicken
Roasting a chicken on a Traeger smoker (or other pellet smoker) is a great way to infuse some mild smoke flavor into a traditional roasted chicken, without taking hours to cook.
Preheat smoker to 375 degrees.

Remove giblets from chicken, rinse with cold water and pat dry with paper towels.

Coat bird with olive oil, salt(s), pepper and also include seasoning inside the cavity.

Stuff the thyme, onion, garlic, and lemon into the cavity.

Optional: I tie down the legs and wings to keep them close to breast and avoid drying out.

Place on smoker at 375 until internal temperature reads 165 degrees (this could take anywhere from 45 minutes to an hour).

Remove from smoker and let stand losely covered in foil for 20 minutes allowing juices to redistribute.

Slice and serve.
The time it takes to roast your chicken will depend on the size of your bird and your smoker. It's important to not focus on exact cooking time, but rather cooking until the temperature of the bird has come to a safe 165 degrees.