This chicken seasoning is great for grilling or roasting any poultry dish. This seasoning is also sugar free, making it a great high heat rub that won't burn when placed over direct heat for perfect grilled chicken.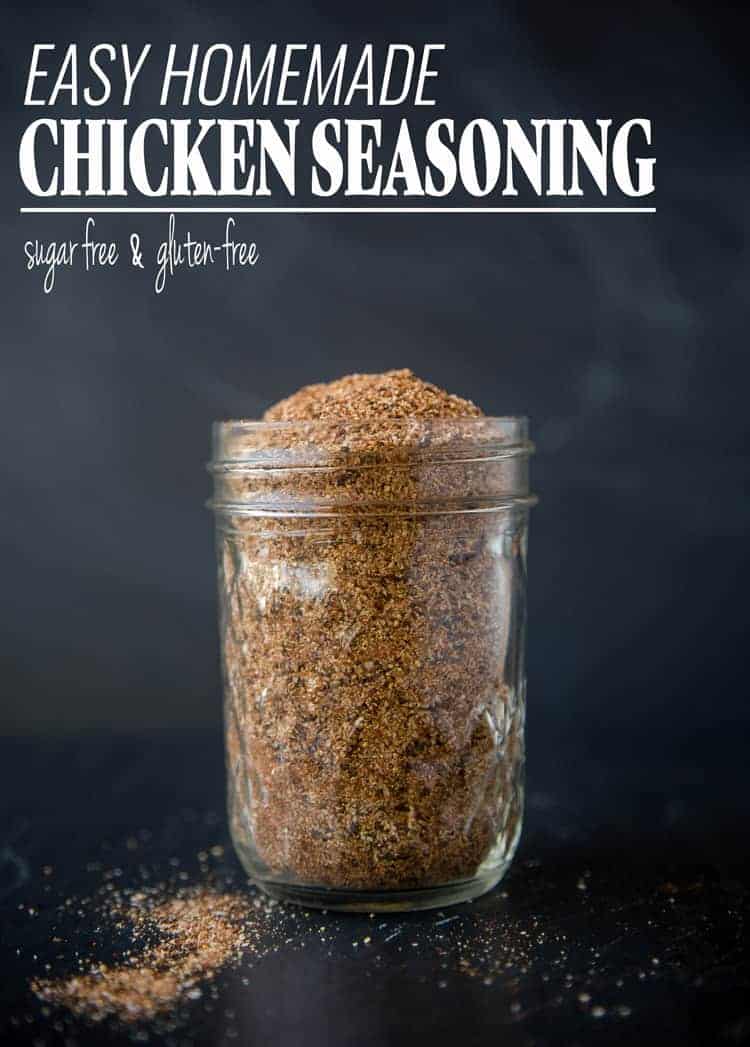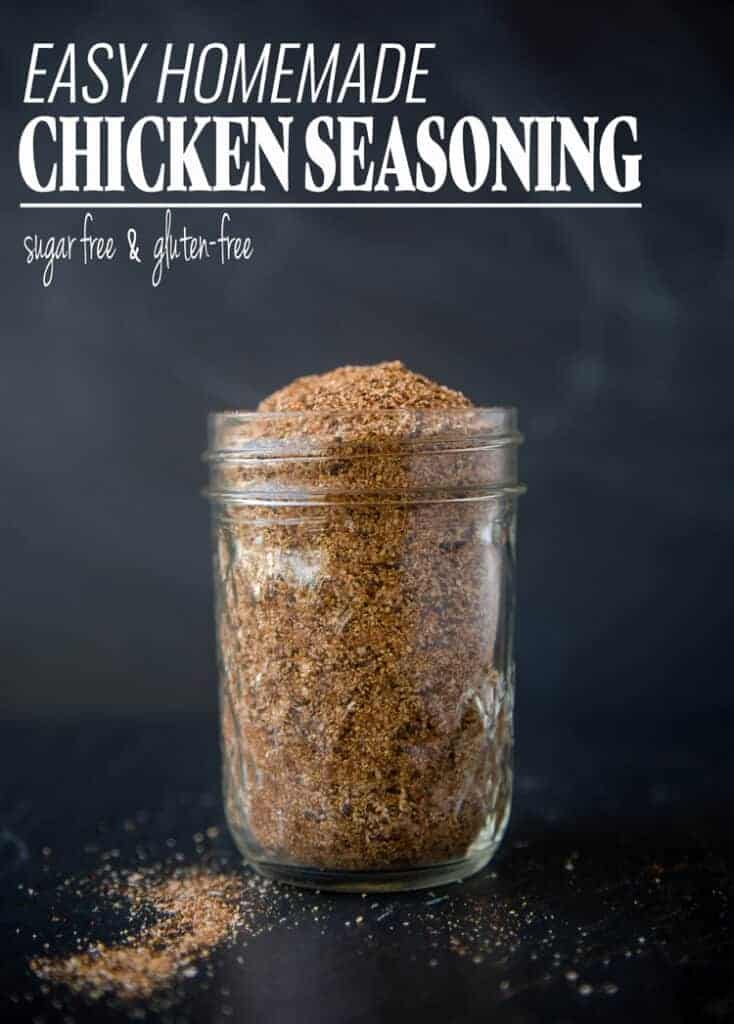 But first things first…
Is there a difference between a Seasoning and Dry Rub?
Seasoning is simply a reference to, just that, seasoning a dish. This is generally as simple as adding salt and pepper to "season" a final dish. Often times this can refer to adding a light dusting of other herbs and spices to enhance the flavors of any given protein or vegetable.
In this case we're using a combination of different dry seasonings (salt and pepper included) to create a blend specifically for chicken or other poultry dishes.
What is a Dry Rub?
A dry rub is a combination of dry spices, herbs, salt, and pepper combined with your preferred flavor profile. The term "Dry Rub and "Seasoning" are often used synonymously. Look on any store bought rub or seasoning and you'll see similar ingredients. If we're not using simply salt and pepper, we're referring to this mix as a Dry Rub.
This is a combination of herbs and spices that we generally apply liberally to our protein of choice. Making a home made rub or seasoning is easy and we follow some basic principles in creating the right rub for your chicken, beef, or pork.
This particular one is fantastic for chicken or other poultry for the purpose of grilling or smoking!
Ingredients
Chicken is like a blank canvass, which is why we find the biggest enhancement to seasoning chicken is salt. Add additional dry spices, and the chicken flavor really pops.
We start with kosher salt for our base. Salt is a very subjective element to the dry rub. If you are sensitive to salt, feel free to cut in half and adjust based upon your preference. As our meat cooks, salt flavor that may seem pronounced when seasoning, ends up tasting just right as the meat sweats while cooking. We then build layers with savory spices such as garlic, sage, and thyme, and then add smoked paprika for a pop of color and smoky flavor.
This is a simple combination that you can build on to add any additional flavors and spices to your liking. Like it spicy? Add some cayenne. Like it bright and citrusy? Add some grated citrus rind. Want more savory? Add chopped rosemary.
Want to know the anatomy of a great dry rub? Check out our Ultimate Dry Rub Recipe.
Instructions
Combine ingredients in a large bowl and stir to combine. That easy, then add to a storage container and enjoy on your favorite dishes.

How and When to Season Chicken
We like to season our meat the night before we grill or smoke, whether it is chicken, pork, or beef. Adding the dry rub gives time for the salt and other flavors to incorporate into the meat. But you can also add seasoning just before you are cooking, it just won't have the time to have slowly penetrate into the meat as a dry brine.
Frequently Asked Questions
Is this Chicken Seasoning Sugar Free?
Yes, it sure it! When grilling, or cooking hot and fast, sugar in a dry rub can cause the meat to caramelize and burn quickly before the meat is done cooking. Since chicken can take a bit longer to cook on high heat, we eliminate the potential for burning by keeping the rub sugar free.
Is this Chicken Seasoning Gluten Free?
Yes! Gluten can be hidden in ingredients in store bought dry rubs. That's why it's always safest to make your own from scratch. That way you control the ingredients and can insure it fits within your dietary needs. Individual herbs and spices are generally gluten free to begin with. But when you get those store-bought combinations they can be hidden in the form of an anti-caking agent. These can also contain wheat based ingredients. So if you're sensitive to gluten, your safest bet is to make your own seasonings and dry rubs from scratch.
What is this Dry Rub best on?
Grilled Chicken – This is great on a gas grill over propane, or over direct charcoal, for hot and fast grilling. Once sugar is added to a dry rub it can cause the flames to scorch or burn during this style of grilling. Use sugar when going low and slow, like this all purpose rub.
Roasted Chicken – Great in the oven for similar reasons as above.
Ground Poultry – If doing grilled chicken or turkey burgers, this is a great way to add flavor. Simply add the seasoning to the ground meat before you form into patties.
Roasted Turkey – Also a great seasoning to add to turkey whether smoked, grilled, or in the oven.
Storing
Dry rubs are best consumed in six months or less in a large mason jar or airtight container. Store in a dark and cool location to prevent any moisture from trying to evaporate which can cause clumping.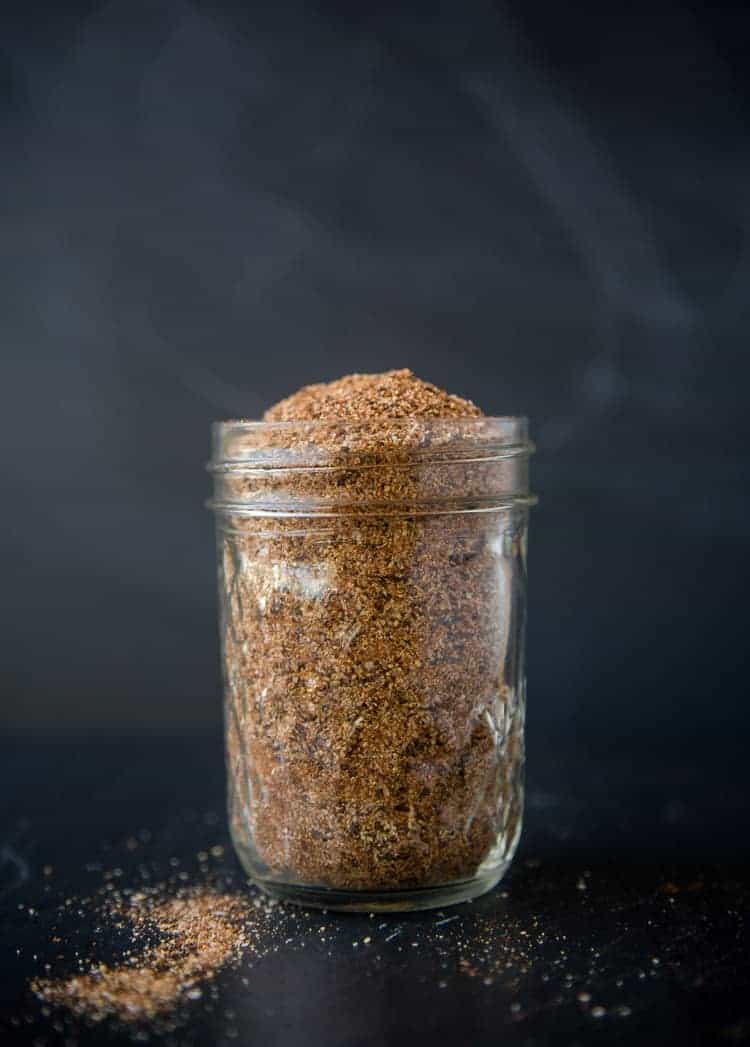 Other Recipe Inspirations with Rub
Feeling inspired? You can check out all our chicken and poultry recipes, or browse some of our highlights.
More Seasonings for Chicken
---
If you like this recipe we'd truly appreciate it if you would give this recipe a star review! And if you share any of your pics on Instagram use the hashtag #vindulge. We LOVE to see it when you cook our recipes.
---