Chicken is one of the most popular cuts of meat for live-fire cooking and this recipe will show you how to roast a whole chicken right in your pellet grill. This pellet grill whole chicken is easy to prepare, full of flavor, and a great one to use as meal prep for the rest of the week.
Want to modify this recipe? Consider spatchcocked chicken versus the whole roast where you remove the backbone and flatten the bird.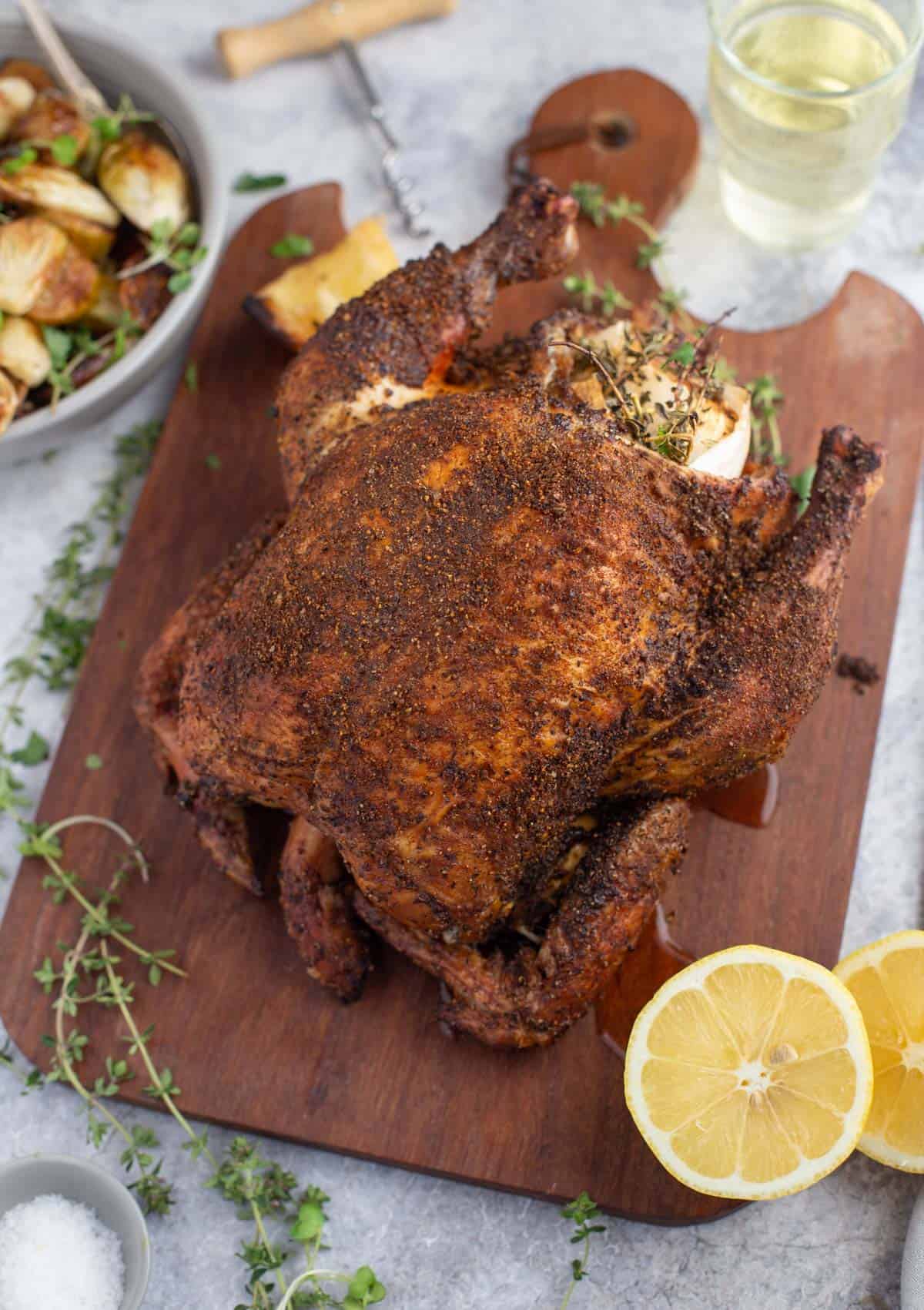 Pellet Grill recipes are made for convenience while still achieving authentic smoke flavor using wood. And roasting chicken is no exception. This recipe works because it's so easy to prepare a roasted chicken for your pellet grill.
Jump to:
Buying Chicken
Not all chicken is created equally. The flavor and tenderness starts with finding a locally sourced chicken that is around 4 – 5 pounds in weight. Smaller chicken (under 4 pounds) won't cook as well and have very little yield.
Consider sourcing from farmers that balance free range with good feed. Another great option are purveyors like D'Artagnan foods who focus on consistent high quality chef-to-table meats that are delivered fresh right to your home.
Preparation
Remove any giblets from the chicken cavity. Pat the chicken dry with a paper towel and then season. For seasoning we use ¼ cup of our Poultry Seasoning with savory herbal flavors and salt. Be sure to season the inside of the cavity also.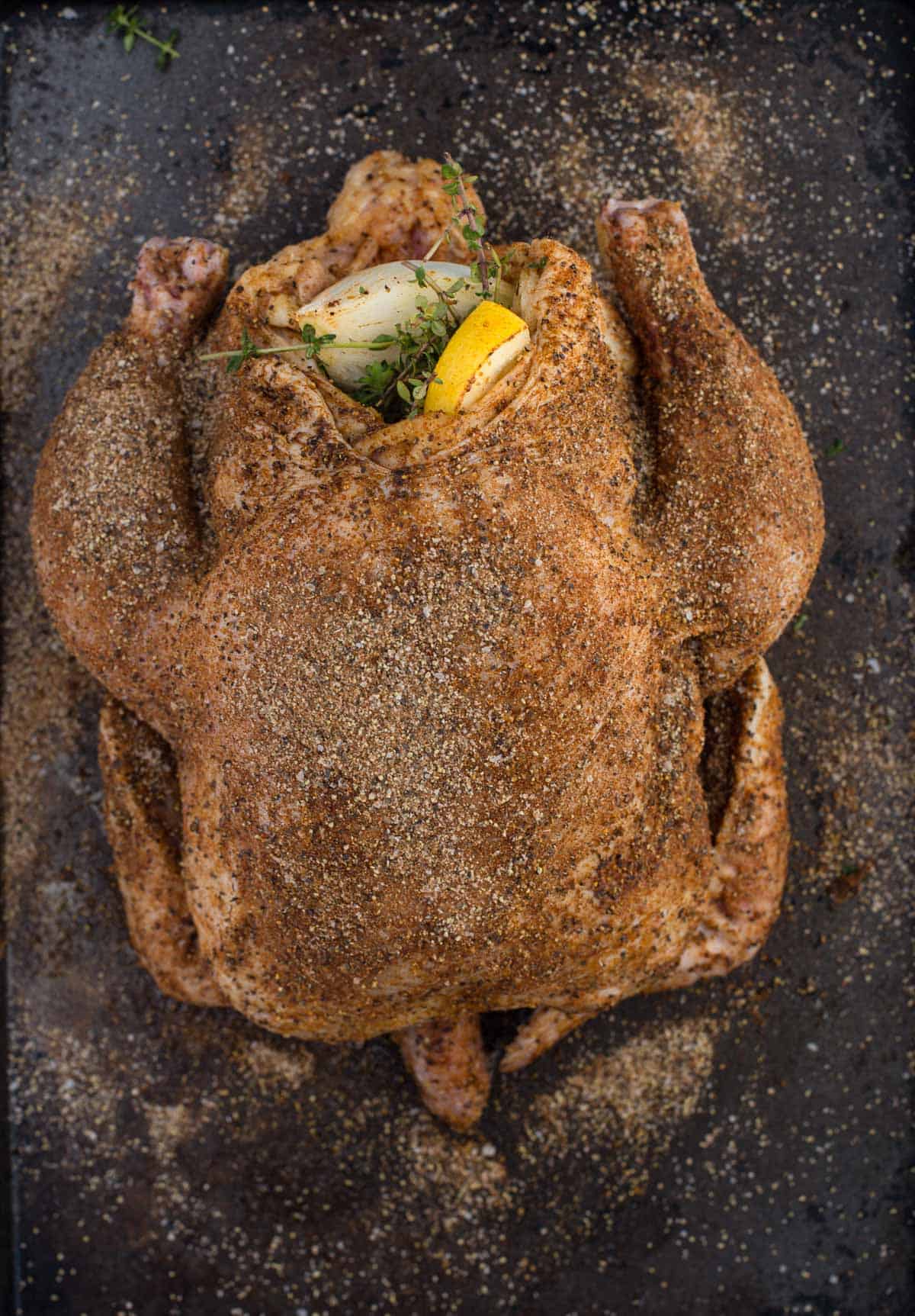 The final step is to add the aromatic flavors from onion, garlic, thyme, and lemon into the cavity. The flavor elements of the stuffing adds to the flavor and moisture of the chicken in a small way. If the wings are sticking out, simply tuck them under the body as you place it on the grill.
Grilling a Whole Chicken in a Pellet Grill
The key for achieving crispy skin on pellet grill whole chicken is to balance the heat and time. We have found 375 degrees is the minimum temperature to set the grill at to both render the fat in the skin and avoid a dried out chicken. Another option is adding corn starch to your dry rub to enhance the crispy texture.

We are cooking our whole roasted grilled chicken on our MAK Two-Star General Grill.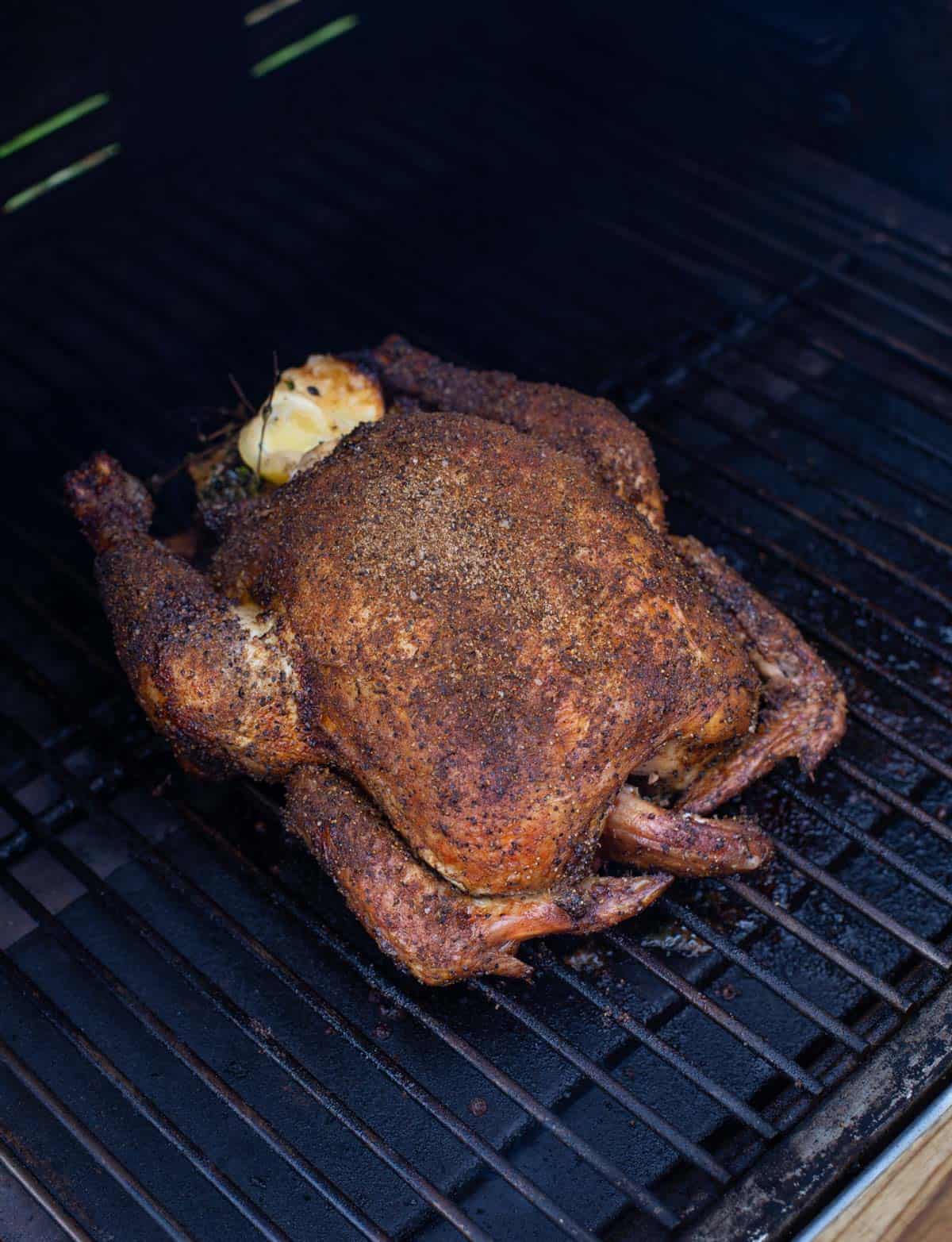 Preheat grill to 375 degrees using a fruit wood like cherry or apple. Oak is another good flavor for chicken.
Place seasoned and stuffed chicken on the grill and insert a wireless blue tooth thermometer into the thickest part of the breast. Continue to grill until the internal temperature of the chicken at it's thickest part is 160 degrees F. This should take around 90 minutes.
Remove from smoker and let stand loosely covered in foil for 15 minutes allowing juices to redistribute. Slice and serve.
While the USDA recommends chicken cooked to 165 degrees F at the thickest part, the answer is a little more complicated when you consider holding temperature and time. Check out one of the best discussions on when chicken is done from Thermoworks.
If you don't have a smoker you can just roast your chicken in the oven at the same temperature.
Pellets
We use fruit wood pellets for chicken like Cherry or Apple. Oak is another alternative with a more distinct smoke flavor.
Other Pellet Grill Recipes
We have a an entire collection of pellet grill recipes, from low and slow to hot and fast. Here are a few of our favorites:
Leftover Chicken Recipes
If you happen to double or triple this recipe and end up with leftover smoked chicken, here are a couple recipes that are fantastic:
Wine Pairing for Pellet Grill Whole Chicken
Whole roasted chicken on the grill is tender, slightly charred and has a deep rich flavor. A great white wine is Chardonnay, specifically a California or Oregon with some oak. For red wine consider a Pinot Noir or Gamay Noir. Their rich fruit and mineral flavors stand up well to the savory seasoning.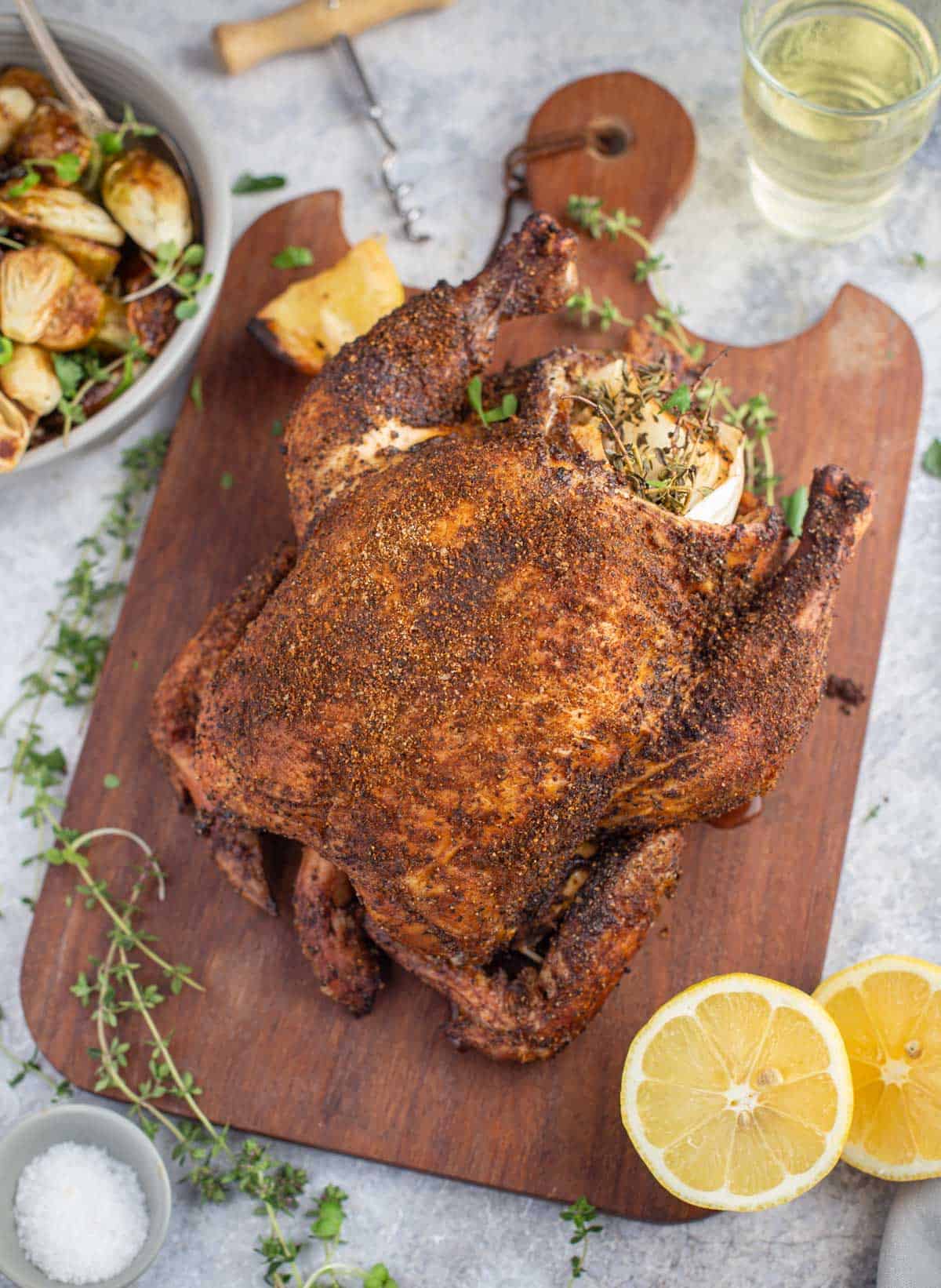 ---
This post may contain affiliate links. This means if you click on the link, we may receive a small commission if you purchase through the link. We partner with brands we know and love and use and it helps keep the blog going!
This recipe was originally published in May 2015, and updated in June 2021 with new photos and more detailed instructions. The recipe remains the same.
If you like this recipe we'd truly appreciate it if you would give this recipe a star review! And if you share any of your pics on Instagram use the hashtag #vindulge. We LOVE to see it when you cook our recipes.
---