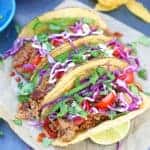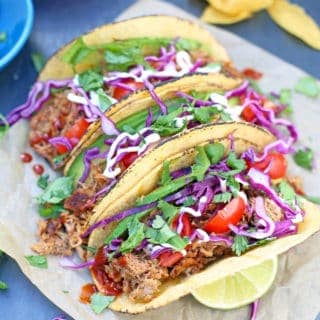 Print
Smoked Pulled Pork Tacos
A simple, quick, and delicious use for leftover smoked pulled pork. Smoked pulled pork tacos.
Suggested toppings:
Red cabbage

or red onions, very thinly sliced

Diced tomatoes

or halved cherry tomatoes

Sliced avocado

BBQ sauce

Crème fraîche or sour cream

Cilantro

Cheese: Shredded Mexican cheese blend or Cotija
Warm up your leftover pulled pork in a skillet. If dry add some bbq sauce or apple cider vinegar to help re-hydrate (about 1 tablespoon at a time).

Heat up your tortillas.

Load the tortilla with as much re-heated leftover pulled pork and other toppings as you can possibly fit into it. Squeeze some fresh lime over the top. Enjoy!