A complete guide to making incredible Smoked Pork Shoulder (Pork Butt) and crowd-loving Pulled Pork. Learn the tips and steps for tender pulled pork on your smoker. Plus a full video tutorial on how to smoke pork shoulder.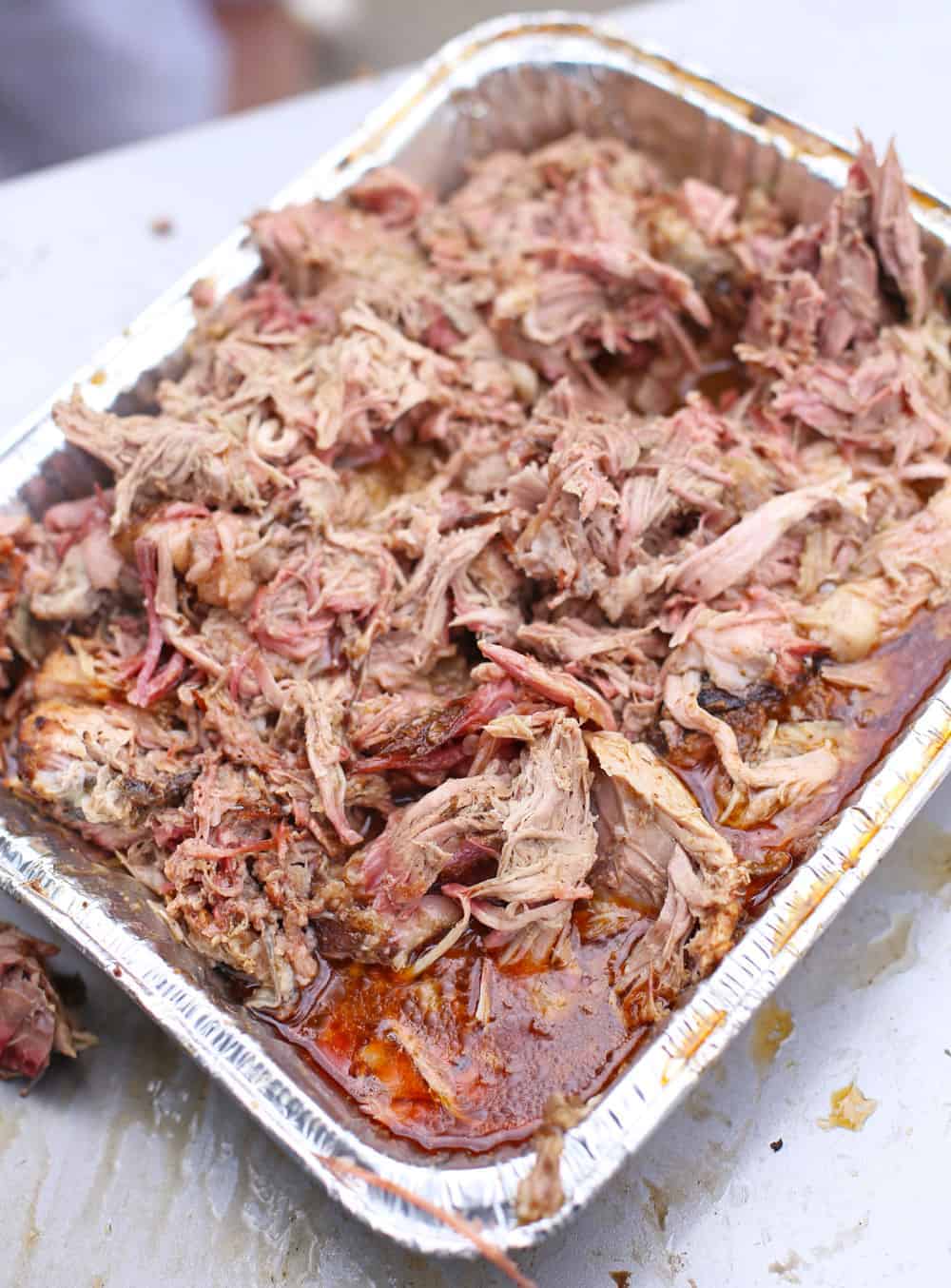 We've cooked A LOT of pork shoulders, hundreds for our own personal consumption, as well as through our catering company, Ember and Vine.
So today we thought we'd share some of the biggest lessons we've learned throughout the years. Our key was experimentation, and that is what we want to encourage here for the perfect smoked pulled pork.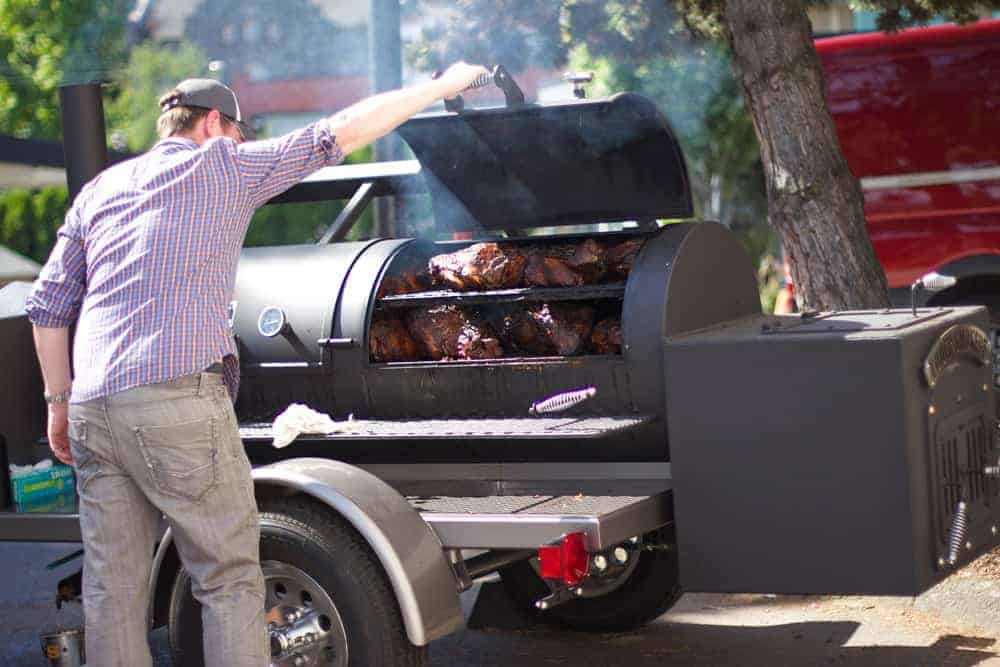 What is Pork Shoulder
Pork Shoulder is a dense muscle from the shoulder of the pig. The characteristics of the shoulder include pockets of intramuscular fat that are elongated and stringy in nature. Tucked inside the shoulder is another important muscle called the pork collar, or money muscle in competition barbecue.
The shoulder may be called a number of things depending on how they are cut and can come bone-less or bone-in. We prefer bone-in for smoking because it gives a more uniform shape.
Whole Pork Shoulder – This is typically a 12 – 14 pound pork shoulder that includes the actual shoulder just off the spine, as well as the upper portion of the leg, or picnic.
Picnic – The lower portion of the shoulder and the bone in upper portion of the leg. This is easy to spot because it tapers down toward the leg with a triangular shape. These average 6 – 8 pounds.
Boston Butt/Pork Butt – This is the shoulder that has been separated from the picnic. This cut is typically 6 – 8 pounds. The butt is still the shoulder and not to be confused with the ham which is the rear of the pig.
Partial Cuts – At times grocery stores will pre-slice pork shoulders into 3 – 4 pound cuts. We do not recommend using these for smoking.
Boneless – Any of these cuts can be boneless. The butcher simply removes the bone and may tie the pork shoulder with butcher string.
Butchers Tip – When buying pork shoulder, if you see the word "Roast" be sure it is not Pork Loin. Pork Loin is a separate cooking process. Also if the cuts are small (3 – 4 pounds) ask the butcher if they have untrimmed whole shoulder or Boston Butt. Often they have them and you can trim them yourself.
The best way to cook pork shoulder is to braise or smoke low and slow to slowly render the pockets of fat.
Selecting Pork Shoulder
With beef, it is generally accepted that marbling is a key to flavor. So you have USDA cuts like choice or prime leading you to a "higher quality" beef. With pork, it's not that easy. You have to go out of your way to get to the story behind the cut.
What to look for? Marbling, just like beef.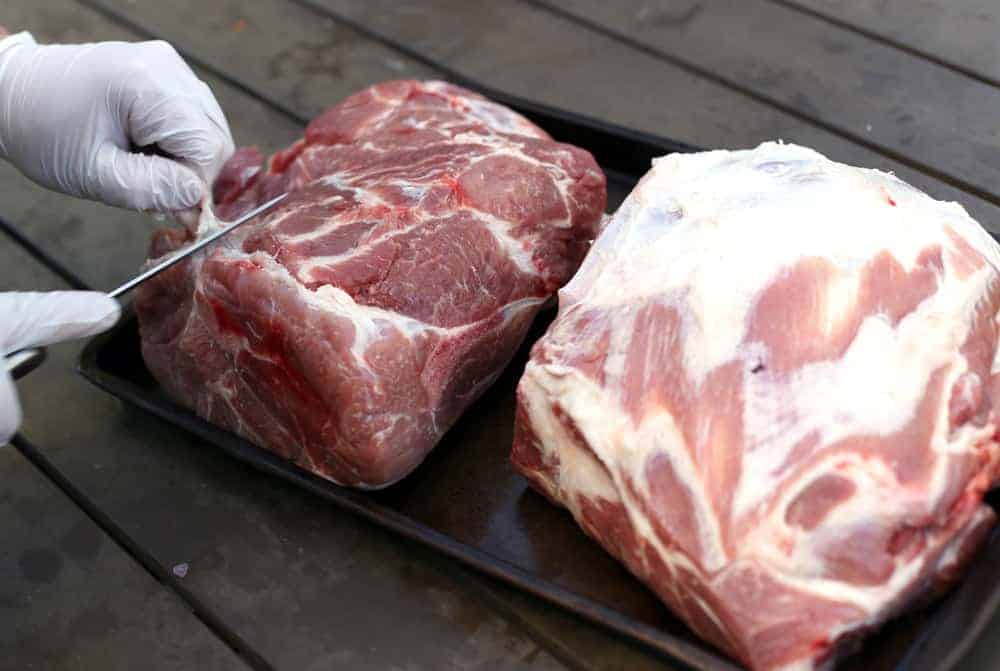 With pork shoulder or butt, the marbling is important to a long cook where you essentially are rendering all the fat out throughout the cook, in order to get moisture into the meat.
Look for fresh pink color with no odor. The fat cap and the meat should be firm. Our favorite purveyor of pork is Snake River Farms. Their Kurobuta Pork Shoulder is incredibly marbled and is the entire pork shoulder including the picnic.
Buy bone-in shoulder. The bone helps keep the uniform squared shape for a shoulder and allows for more even cooking. The bone also acts as a temperature gauge for when the pork is done when it can easily slide out from the shoulder.
How to Trim a Pork Shoulder
When looking at a shoulder there will be one side with the fat cap. That is the side that had the skin on it toward the upper portion of the pig. The remaining sides will have a few areas that should be cleaned up prior to smoking.
Many will say to leave a hefty fat cap on the top of the shoulder and make sure it's bone-in. I have found that a super thick fat cap does not render out, resulting in a fairly large mass of fat when you've cooked it for 10+ hours and the loss of some potential surface area for bark (or that exterior flavor crust created by the smoke).
So my recommendation is to cut that fat cap to barely a ¼ inch on the topside. I actually prefer to shave it down to a razor thin layer. The fat inside the meat is what is more important.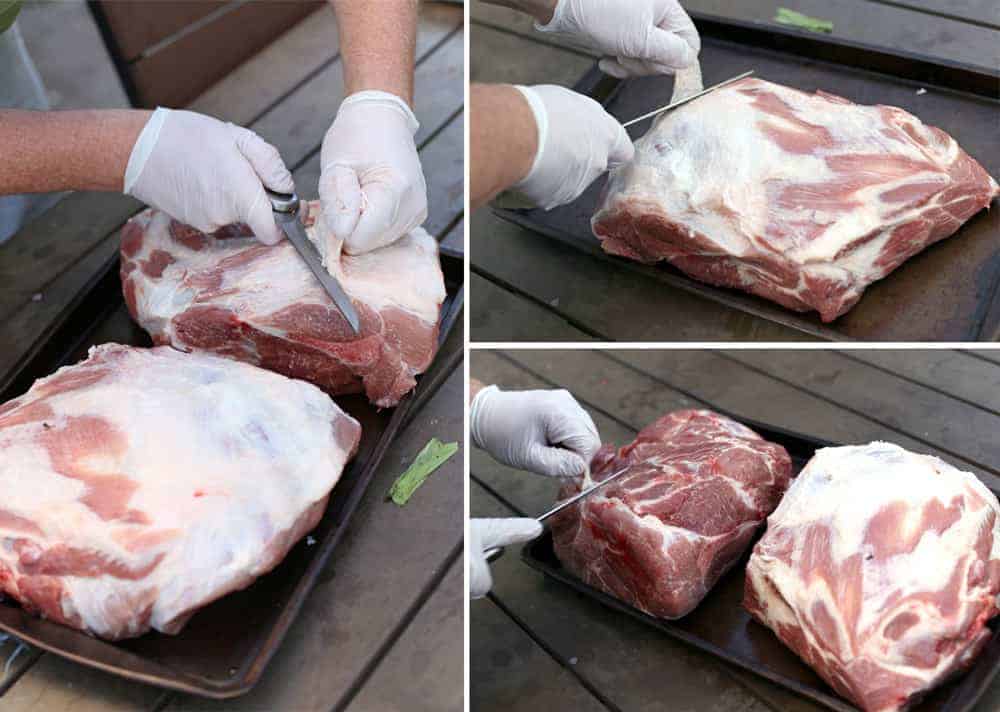 The remaining fat will still melt, and you will get more flavor all around the meat. So don't leave too much fat. Not to mention you still have fat inside the meat that is also rendering for flavor and moisture.
Trim the remaining sides of any excess fat. Sometimes you may see some glands on the non fat cap edges. They will be purple or red, those should come off too as the texture is not pleasant if you leave them on.
Should I Inject Pork Shoulder?
Yes. We prefer to inject (using a product like this). We use equal parts apple cider vinegar and apple juice or water to get moisture and flavor into the interior of the meat.
You can brine instead. But any way you look at it, adding an injection or brine adds superior moisture and allows you to infuse specific flavor.
You like heat? Add some hot sauce to the injection. But in the end it's adding moisture into the meat, that when warmed up will try to escape the meat and add that flavor all throughout the interior of the meat versus just the rub on the exterior.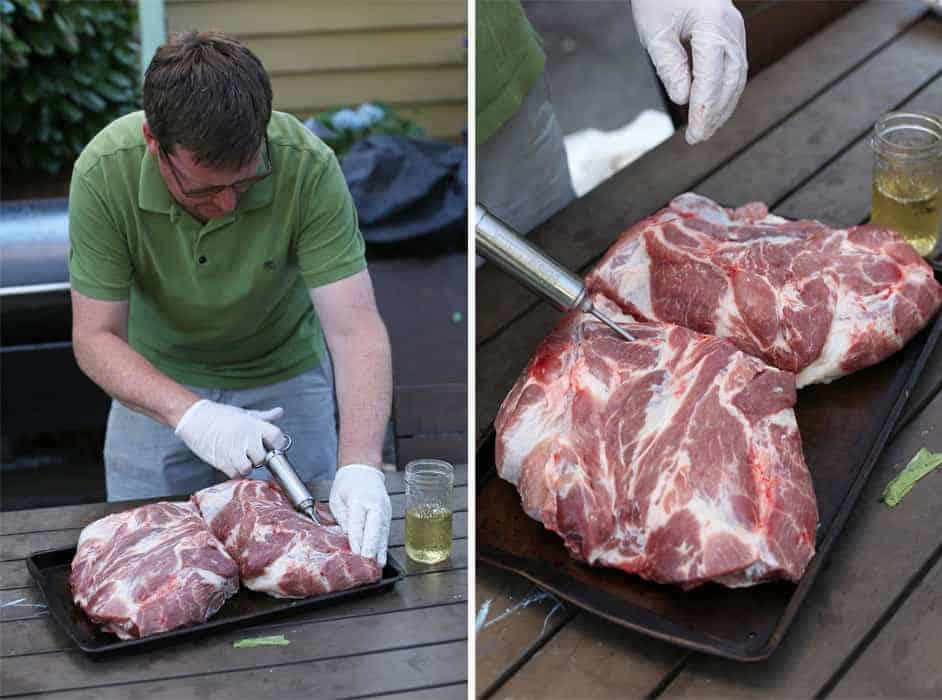 You don't have to inject, but we found that adding more of that moisture allows the meat to sweat a bit as it cooks, adding more smoke, and keeps the interior of the meat moist and flavorful.
When injecting use a food injector and inject the liquid into 1-inch virtual cubes of space, you'll see the pork expand or bulge. This is fine. Remember, you are going to be cooking this for several hours (10-14 hours depending on size), so that liquid will help keep the meat moist over that long duration of the cook.
Smoked Pork Shoulder Rub
Acidity matters for pork. So we start with a Dijon mustard slather to allow the rub to stick. You can use extra virgin olive oil, beef stock, or any liquid you like. We prefer mustard.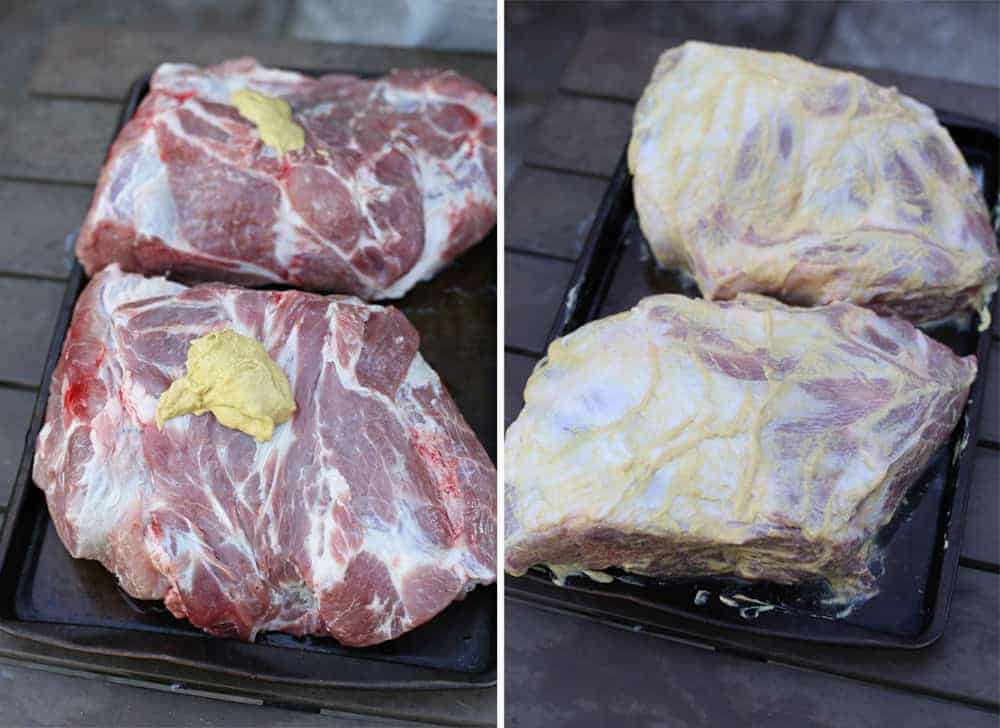 The dry rub will adhere to the slather. A good rub for pork shoulder will contain sugar and be slightly savory. Sugar helps with creating bark or the dark caramelization that happens when smoking the shoulder. Want more savory? Lessen the sugar and add more salt, garlic or onion powder. Just add all the ingredients into a bowl and mix.
Our Smoked Pork Shoulder Dry Rub contains some of the following:
Brown Sugar (you can use dark or light)
Kosher Salt
Coarse Black Pepper
Cumin
Paprika
Dry Mustard
Cayenne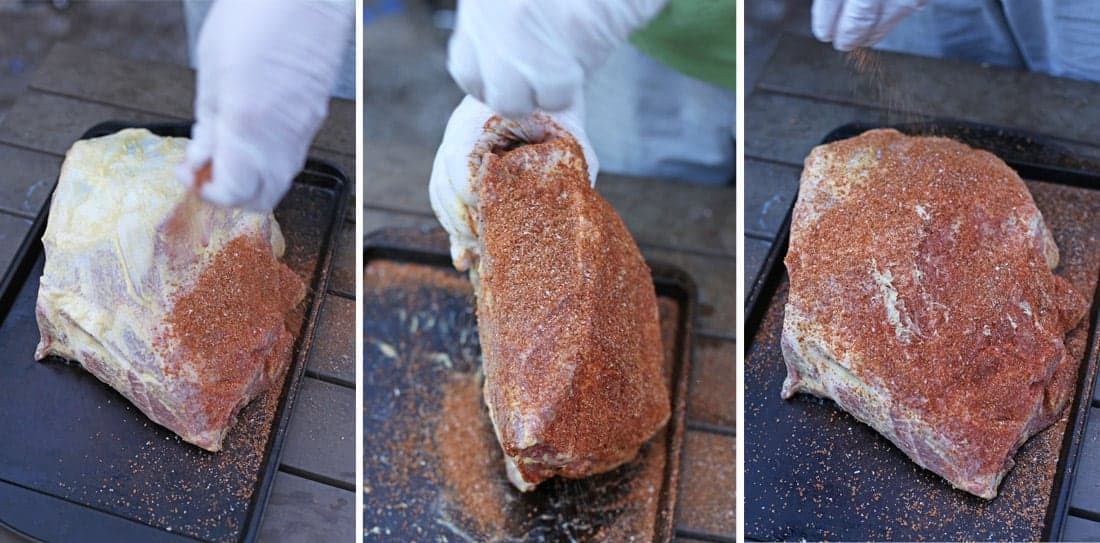 Inject the meat after trimming, and then add the mustard slather. Then add your dry rub generously (we love this one, or see the dry rub from the video below in the full recipe).
You can season the day of, or the day before. If you have time, do it the day before and then wrap the shoulder in foil or plastic wrap and keep in the refrigerator until ready to smoke.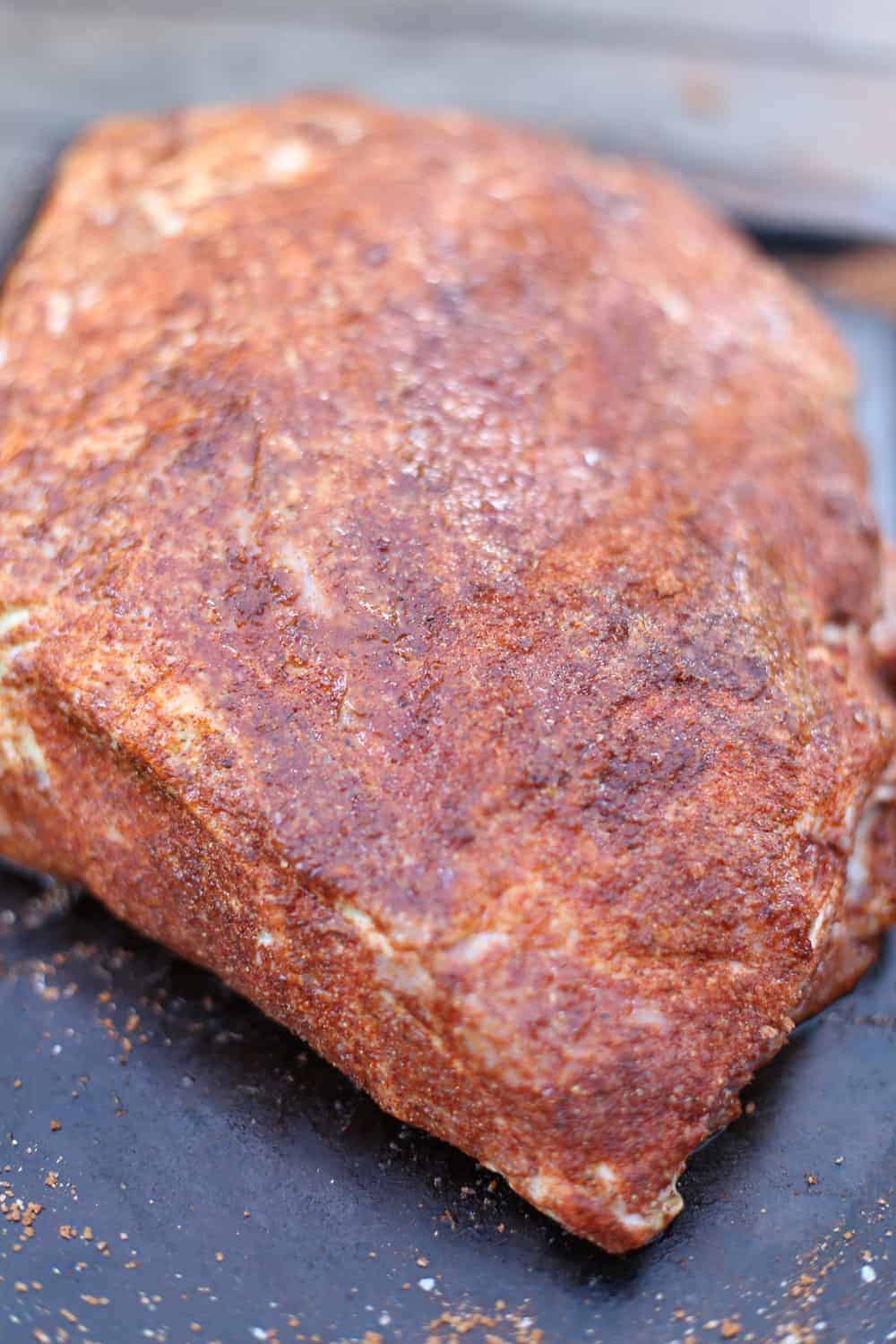 How to Smoke a Pork Shoulder
There are phases to smoking a pork shoulder after it has been trimmed and seasoned. And generally we plan 1 hour and 15 minutes a pound for total cook time including the rest period. Better to be done early. The cooler will keep the shoulder warm for hours.
Smoke – Target 250 degrees Fahrenheit for the first 3 – 4 hours.
Spritz – After 3 – 4 hours of smoke, use a spray bottle to lightly spray the shoulder every 30 minutes until the internal temperature of the pork butt is 165 degrees F.
Wrap – After the internal temperature of the pulled pork hits 165 degrees, wrap the shoulder in foil or butcher paper and reinsert your remote probe meat thermometer.
Smoke Again – Place back into smoker at 250 degrees and continue cooking until the pork shoulder reaches a range of 190 – 205 degrees F. In this range you will insert an instant read thermometer and check the temperature. When the probe goes into the shoulder it should enter like it's room temperature butter with no tension. If it is still a little tough, keep cooking. Another test for doneness is pulling on the bone, if it slides right out, it's done. This process can take an additional 5 – 7 hours depending on the pork shoulder size. They key is cooking to temperature, not time.
Rest – After the pork reaches the finished temperature, remove from smoker wrapped and store in a cooler (with NO ice) for an hour, covered. This will allow the shoulder to slowly cool and redistribute all that amazing flavor and moisture.
Pull – Use your favorite tool and pull the pork into strings, that is when it becomes pulled pork. There will still be some cartilage and stringy fat. Be sure to discard those as you pull.
What is the Best Wood for Smoked Pulled Pork
Any fruit wood like apple, cherry, or peach is a great wood for pulled pork. Fruit woods burn sweeter with less of a campfire flavor.
Spritz for Pulled Pork
Make sure you have a food safe spray bottle. Fill it with equal parts apple cider vinegar and apple juice (or just apple cider vinegar and water, which is our preference to cut down on excess sweet. Or just get creative with your mixture).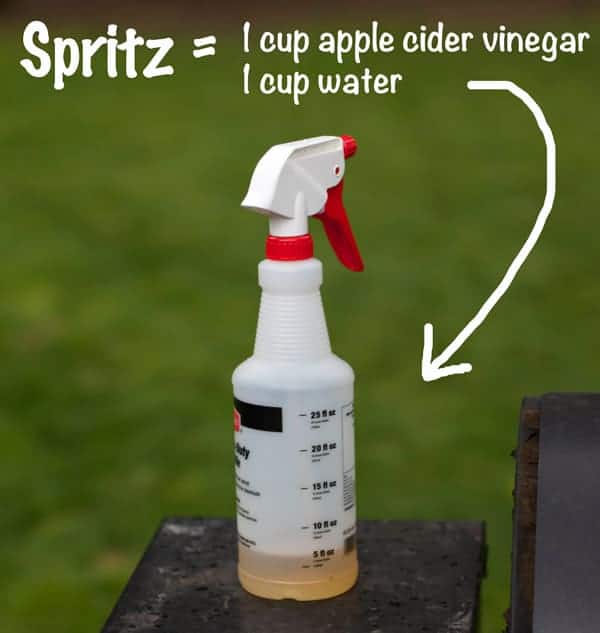 After three to four hours of smoke, you spray with this spritz every 30 minutes until you wrap. This cleanses off any ash that may have developed, but also coats the pork with a small liquid layer.
As smoke travels through the cooking chamber it is attracted to moisture. So this adds a lot of smoke flavor as the smoke connects with the spritz. We will spritz until the wrap. It takes only seconds to spritz, so you won't be loosing much heat when you open up your cooker.
Wrapping Pork Shoulder
Some choose not to wrap, which is fine, it just takes longer to smoke. I elect to wrap, and make sure I do so after the stall, which is when the shoulder internal temperature reaches 165 degrees F. Place shoulder in a large aluminum baking pan, or cookie sheet, or even a glass dish. Add a couple tablespoons of the spritz liquid into the pan and then wrap to top in foil. Insert the remote thermometer probe again through the wrap and then return to the smoker. Be sure the probe is not touching the bone.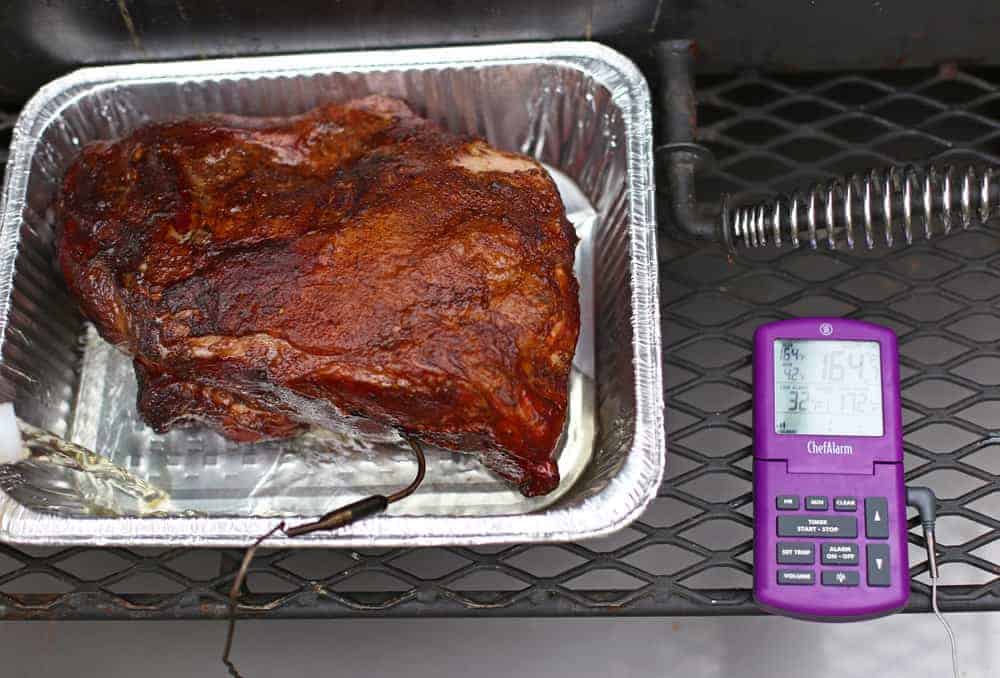 This is the thermometer we used (Thermoworks Chef Alarm) as seen in this picture. Another option is the Thermoworks Smoke Unit which is a two zone remote thermometer. One for the meat, one for the cooking temperature.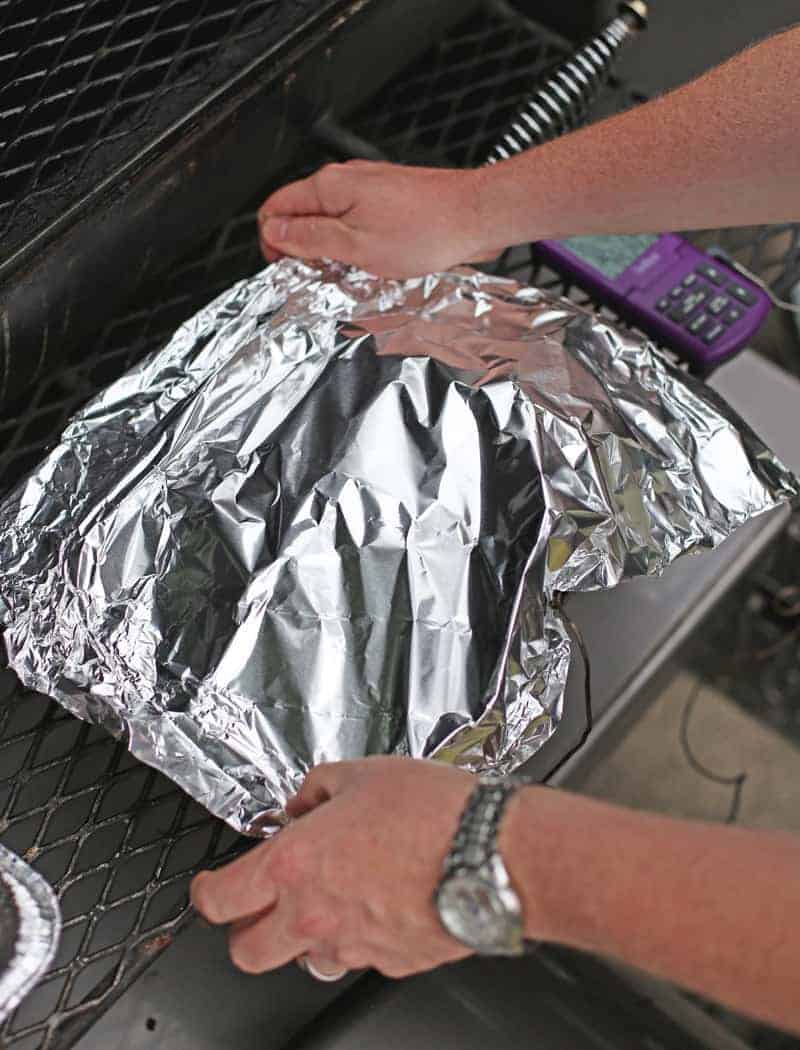 What is the Stall?
The stall is when the meat sweats liquid while cooking. As the meat sweats from the cells, it cools the meat down again. The stall is represented when you see very little movement in the internal temperature of the pork shoulder. It may be hours and only moves 5 – 6 degrees.
You have to make sure to not overreact to the stall when cooking, instead embrace it and cook through it. As the moisture cooks out, which is all that intramuscular fat rendering out, the internal temperature of the pork shoulder will start to rise again at a faster pace. When the pork shoulder internal temperature reaches around 165 – 170 degrees F it is likely out of the stall.
Continue Smoking
Now that it's wrapped, it's now about getting it to the final cooking temperature. I cook the pork shoulder to 203 degrees Fahrenheit. Really when you insert your instant read thermometer like a Thermoworks Thermapen MK4, it should feel like it's going into room temperature butter. This is where marbling comes in. Marbling is rendering out while cooking and becoming liquid awesome flavor. So if the probe goes into the meat smoothly, then you know all that fat flavor has melded into the meat. Another test is pulling the bone, if it slides right out, that is another good test the shoulder is done.
Let it Rest!
Pull the pork butt at 203 (or when probe inserts like butter) still wrapped. Place the smoked pork shoulder in a cooler, with no ice. This allows the pork to slowly come down in temperature.
This cool down period is so key! Letting the pork cool allows all the cells you just expanded while smoking due to the heat to contract and pull that delicious fat and moisture back into the cells for awesome BBQ flavor. Let it rest for about an hour. In a cooler it can last warm for four hours, in case you are done early. Just give it at least one hour to cool.
How to Pull a Smoked Pork Shoulder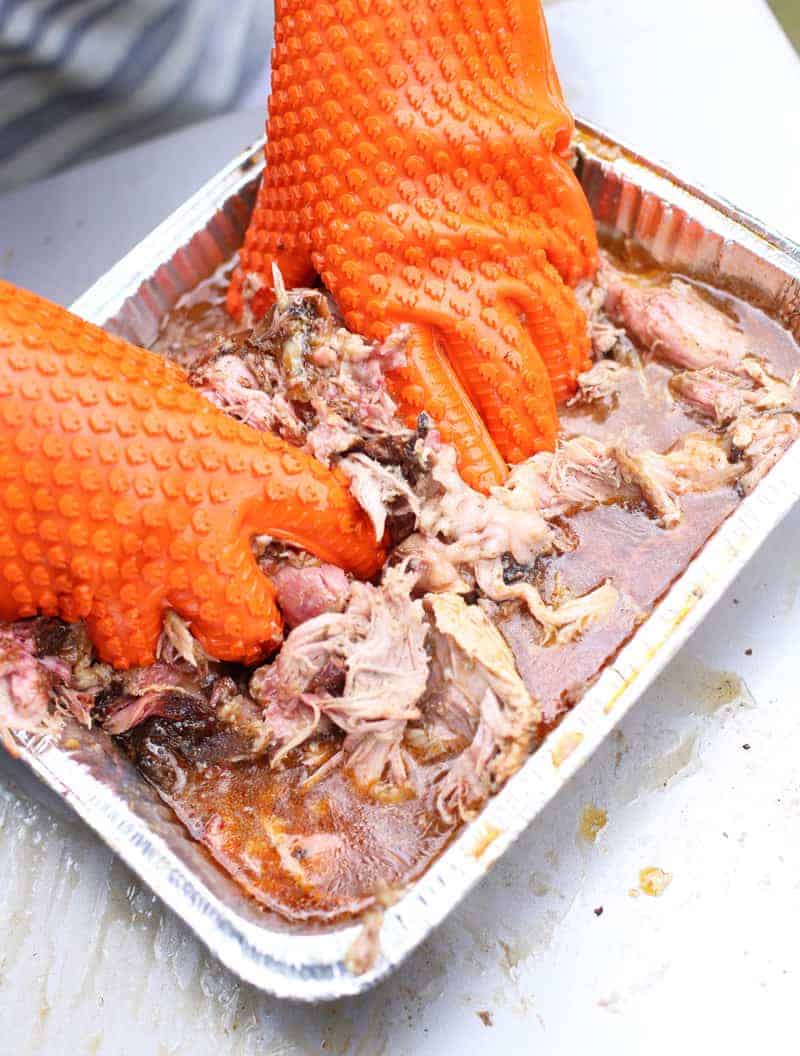 If you have given your meat enough time to properly cool to temperature, you can pull with your hands to make the smoked pulled pork. When we're cooking at an event and have several to pull, we use this tool that attaches to a drill (it's awesome). It makes it SOOO easy to finish the job.
But when we're cooking just one at home, we love these gloves. They make it very easy to pull, and the gloves are dishwasher safe.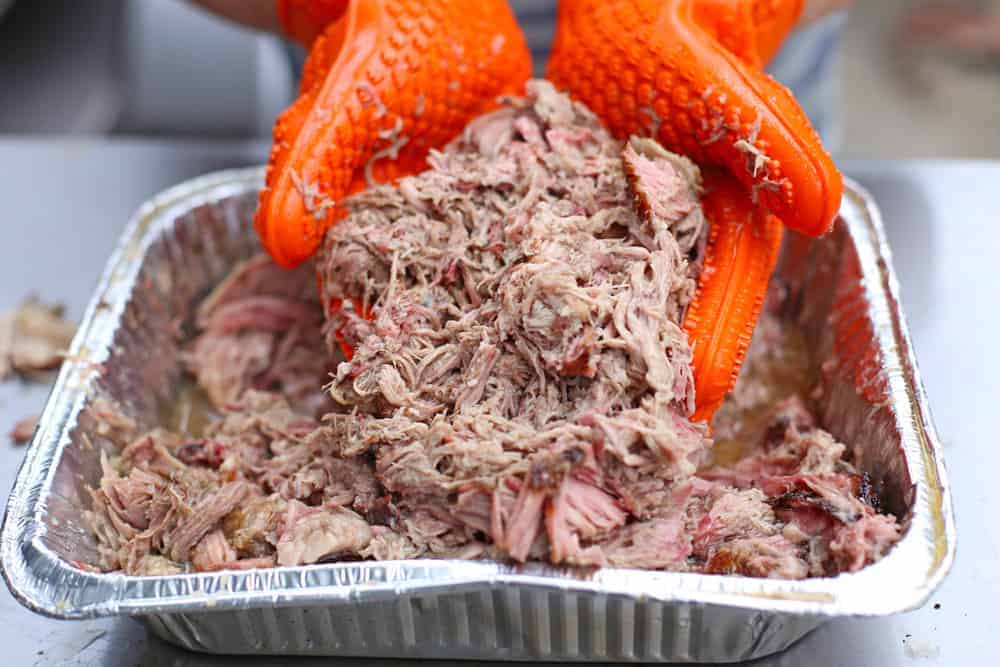 Remove the pork from the cooler and foil wrap. Take out the bone and start slowly shredding the meat with your fingers. As you pull you may find some minor pieces of fat or cartilage that you want to discard. Get it pulled to your desired consistency and then cover again until ready to serve.
Want a little extra flavor? Add some apple cider vinegar after it's pulled. Or add your favorite BBQ sauce if you want. The key is to enjoy that pork shoulder and flavor and not over-smoke it.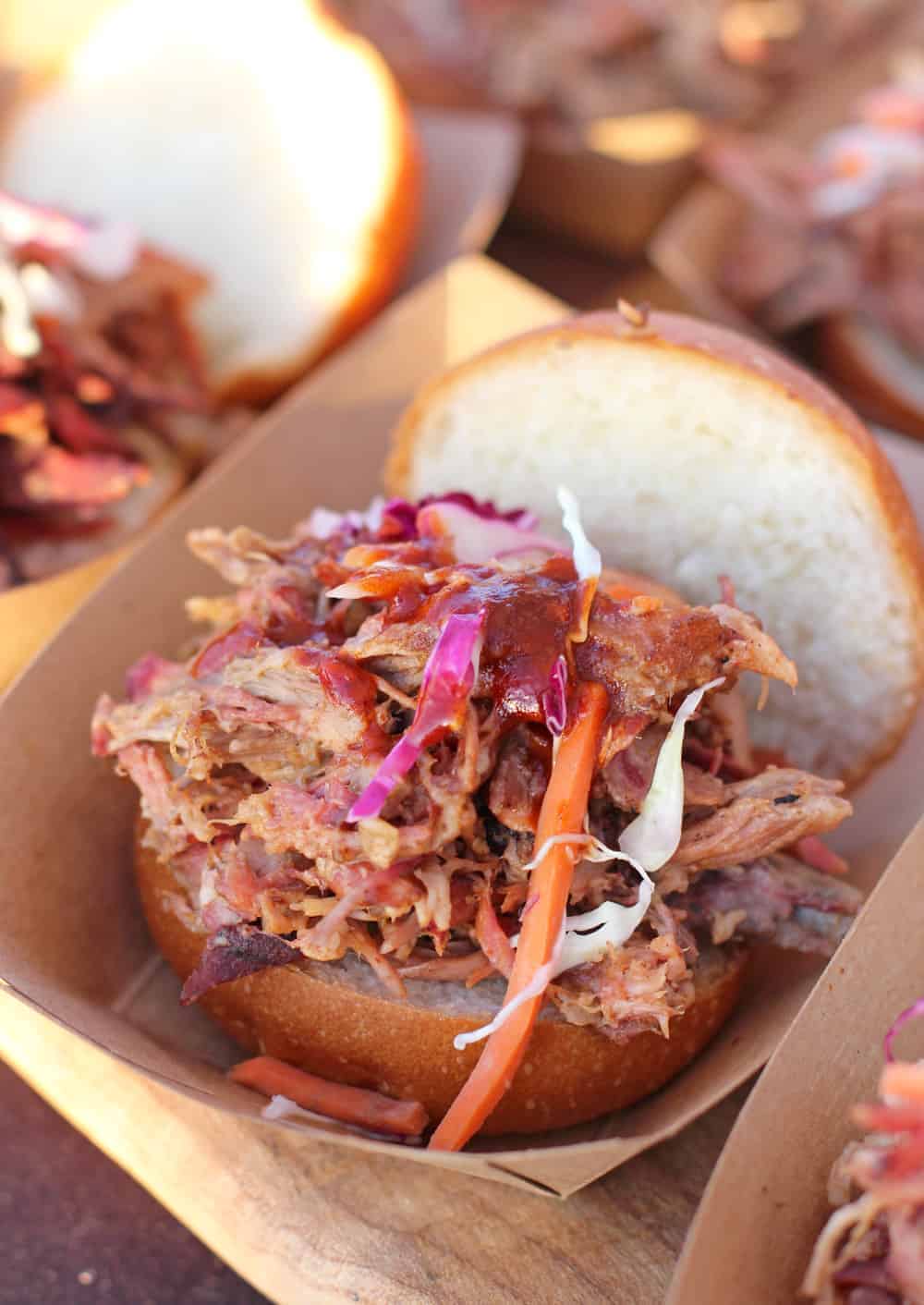 ***Pork butts come in a variety of sizes and weights. They can get BIG! The "Boston Butt" is typically what we use, the nice rectangular shoulder meat. The "picnic" looks like a ham, it's the upper part of the leg, with less meat. Usually if cooked, it's cooked separately.
Smoked Pork Shoulder Recipe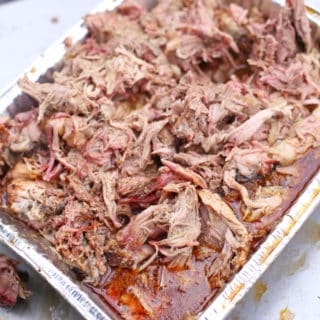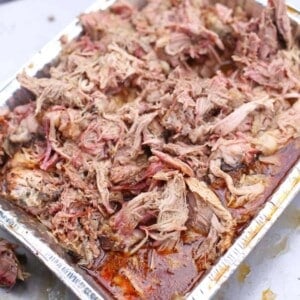 Smoked Pulled Pork (Pork Shoulder, Pork Butt)
How to smoke pork butt (pork shoulder), and a recipe for incredible smoked pulled pork. 
Print
Pin
Rate
Ingredients
2

tablespoons

Dijon mustard
For Rub:
¼

cup

brown sugar

¼

cup

salt

1

tablespoon

chili powder

1

tablespoon

smoked paprika

½

tablespoon

dry mustard

½

tablespoon

cumin

½

teaspoon

cayenne

2

teaspoons

garlic powder

1

teaspoon

onion powder
For Injection:
1

cup

of apple cider vinegar

1

cup

apple juice
For Spritz:
1

cup

apple cider vinegar

1

cup

water
Instructions
For the Pork Dry Rub
Combine all ingredients in a bowl and mix. Use about ¼ cup of the rub and store the remainder in a mason jar for up to six months.
For the Spritz
Combine the apple cider vinegar and water in a food safe spray bottle.
How to Smoke Pork Shoulder
The night before cooking, prepare pork. Remove excess fat cap, and any glands. Pat dry with paper towel and then place onto a baking sheet, and inject the meat. Discard any liquid that pools in the pan and then pat dry the pork again.

Apply mustard and then dry rub thoroughly. If you don't have time to do the night before try to apply at least an hour before cooking. You'll see the rub begin to liquefy as the moisture connects with the meat.

Preheat smoker to 250 degrees Fahrenheit. We use apple or cherry wood. Insert a thermometer if you have a remote probe, and leave in place.

Place the pork fat cap side up (if you left the cap on) and smoke for about three hours. You'll see a bark begin to develop, if it hasn't continue smoking one more hour. After you see a mahogany color and bark, spritz (or spray) every 30 minutes. After about five hours total, check the temperature. When the pork hits on or around 165 degrees Fahrenheit, it's likely coming out of the stall and ready to wrap. This will change from meat to meat, you will see the temperature hover and only go up in a few degrees per hour. It pushes through the stall when you start to see the temperature increase in a much faster pace (between 165 to 175).

As you complete the stall, (remove the thermometer at this point if you have one) place the pork shoulder into a pan, add a small amount (two tablespoons) of your spritz into the pan and wrap in foil tightly. Put the thermometer back in place.

Continue cooking wrapped until the internal temperature is between 200 and 203. Use an instant read thermometer. It should slide right in as if it is room temperature butter.

Remove from smoker (leave wrapped). Place into a cooler (with NO ice) and let it rest for an hour. It will act as a warmer and keep the pork warm for hours, so if you are planning an event, better to be done early and let it sit.

After one hour, remove from cooler and begin pulling. Remove the bone (it will just slide right out clean), and then pull with your favorite tool or with your hands. It is likely there will be some cartilage or other fatty pieces, be sure to pull those out (it's not a good texture).

You may also opt to add a few tablespoons of BBQ sauce to mix in as well, or just top your pulled pork sandwiches with it. See BBQ sauce in notes, and also a link below the video.
Notes
*Serving Tip: Pull meat as close to service as possible, once you pull, it starts to cool down fast. If you need to reheat, put back into smoker or oven covered with a little apple cider vinegar.
*Time – This time is for a 7 – 8 pound shoulder. Every shoulder will cook differently, so adjust your cooking time up if a larger shoulder. Typically we plan 1 hour and 15 minutes for every pound including the rest time for total cook time.
*Please see extended instructions above for full description.
*For our favorite dry rub for pulled pork, see this post and video for variations.
*For the Vinegar Based BBQ Sauce. 
Find the perfect wine pairing at the Vindulge Wine Shop
Nutrition
Calories:
273
kcal
|
Carbohydrates:
13
g
|
Protein:
28
g
|
Fat:
11
g
|
Saturated Fat:
3
g
|
Polyunsaturated Fat:
1
g
|
Monounsaturated Fat:
5
g
|
Cholesterol:
93
mg
|
Sodium:
3710
mg
|
Potassium:
625
mg
|
Fiber:
1
g
|
Sugar:
10
g
|
Vitamin A:
796
IU
|
Vitamin C:
2
mg
|
Calcium:
49
mg
|
Iron:
3
mg
How to Reheat Smoked Pulled Pork
Preheat oven to 300 degrees. Place pulled pork in an oven safe dish. Add ¼ cup of apple cider vinegar or your favorite barbecue sauce and then cover with foil. Place into the oven for 20 minutes. The liquid from vinegar will steam to re-hydrate the smoked pulled pork and the fat will re-liquefy.
The Video for How to Smoke a Pork Butt
If you have trouble viewing the video here, CLICK HERE to view it on Facebook.
Additional Recipes From the Video:
---
Our Favorite Tools for Smoking Pork Butt
The following are some of our favorite tools to help us make killer pulled pork! Most are pictured above.
These Silicone Gloves by Ekogrips: (as pictured above) these are fantastic when working with hot meat. The best part of them is that they are dishwasher safe, so you are assured you are working with clean and safe gloves. There are several silicone gloves out there, but these are the ones we use.
This Pork Puller: When we're cooking several pork butts for a crowd we use this pork puller for speed and ease. You just attach it, just like a drill bit, to your drill and pull away. So easy and so awesome to make smoked pulled pork!
A Good Digital Probe Thermometer: Temperature is key when cooking a large piece of meat like a pork butt. Every transition we make is determined by a specific temperature, so it's vital to have a good thermometer.
For injecting our meat, we use an injector, like this one.
---
Uses for Leftover Smoked Pulled Pork
When you're experimenting with pulled pork, like we tend to do, you may find yourself with some leftovers. Here are a few favorite uses for leftover pulled pork:
Smoked Pulled Pork Hash The ultimate brunch!
And so much more! Try it on pizza, pulled pork sloppy joes, pulled pork mac and cheese. The options are endless!
---
*This post contains affiliate links for some of our favorite products. We've used and abused everything mentioned, and they're still going strong! We only recommend products we think are totally worthy of your love and investment!
---
If you like this recipe we'd truly appreciate it if you would give this recipe a star review! And if you share any of your pics on Instagram use the hashtag #vindulge. We LOVE to see it when you cook our recipes.
---
This post was originally created in 2016 and has been updated March 2020 with more Q and A and reader questions answered.