A rundown of the major styles of BBQ sauce.
And a recipe for a basic Vinegar Based BBQ Sauce.
I love being asked what my style of BBQ is, for a couple reasons. I find it an opportunity to gauge how much that person really understands styles, and why it matters (or doesn't).
To be candid, if I had to pick a style that most matched my cooking, it is likely Carolina. First I love the pig. Second, I like vinegar in my sauces. So between the two, it naturally lands me in the style of "Carolina BBQ." That said, I think it's important to express local in any style. Local meat, local flavor and local wood.

MY LATEST VIDEOS
Living in the Pacific Northwest, there really isn't a regional style as rooted as say Texas, Memphis or the Carolina's (just Google it and you'll see a lot of random hits). However, using the approach of local, I do love a few aspects of being in the PAC NW that makes me think there really is an emerging style, if not as mature as other parts of the country. But maybe first a little background, to give you a base to understand each regional style. And because I love geeking out on this stuff.
Carolina Style(s) BBQ Sauce
Rooted in pork, the Carolina BBQ is all about ribs, pork butts and whole hog. What I love about the Carolina style is how much regional variation there is. From clear vinegar based sauces, to the mustard sauce, it shows that even with a general style, there is so much that is fiercely local. Because I feel vinegar complements the flavor of pork and acts as a great acid for slow cooking, I've been drawn to this style since I started. The wood I see most often is some kind of fruit wood, making a nice sweet and balanced smoke flavor (versus campfire).
Texas Style
If you think Texas how can you not think of cattle? So clearly beef is the protein king and of course beef brisket. Brisket is a crazy piece of meat that I both love and hate. More on that in future posts but safe to say, great brisket is amazing, anything less than great is not very good at all. I find that most Texas style joints focus on mesquite wood and a tomato based sauce. And it comes as no surprise with the proximity to the border of Mexico, arid climate and the influences that play into the dry rubs (like various chili powders).
Memphis Style BBQ
When I think Memphis I think ribs. And when I think ribs I think of dry ribs and wet ribs. Dry ribs are just that, dry rub and oil on the rib and the flavor and tenderness cooked into the meat. The wet rib is doused in sauce before, during, and after the cooking process.  Sauces, from what I have seen, are driven by flavor of molasses and tomato paste being reduced (with other ingredients) giving a rich dark texture.
Kansas City Style BBQ
Kansas City style for me starts with the sauce (remember this is my own opinion). Think ketchup meets brown sugar plus flavor and then reduced. A much thicker and tomato base than the others IMO. Plus I find the meats to be more balanced between pork and the other animals. From burnt ends (Brisket) to chicken and ribs, I see a lot of variety but the sauces keep me grounded in the KC style of BBQ.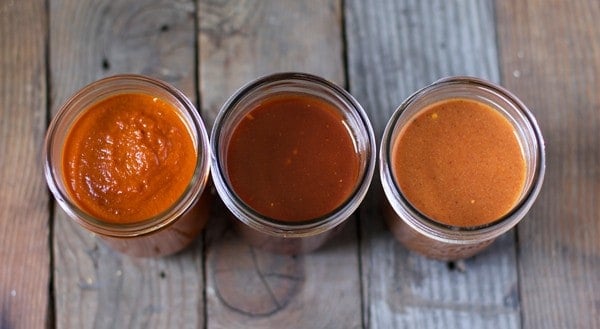 Pacific Northwest Style BBQ
(According to yours truly)
So like I said, there is not a whole lot of consensus on Pacific Northwest, but this is why I love being creative. Respecting the regions where BBQ originated and combining that with the local favors of the Pacific Northwest. So first, the wood here is plentiful and it is typically cherry or apple. Throw in a little grape vine on top of that and you see a sweeter style smoke from fruit woods.
Next, we have a lot of lamb, pork, salmon and trout, and coincidentally I love cooking all of those above all else. Finally, for sauces I like to follow the seasons. So in the later spring and early summer we have berry's everywhere. I love to take a Carolina style vinegar sauce and meld it with a berry jam for either my sauce or glaze. Later in the year you get apples and pears, so reducing those down is such a great compliment for pork especially. So in the end, I love the variety and creativity that comes from living here and building upon such great styles of BBQ from other regions in the US. And is doesn't stop in the US, internationally there are also other styles to keep an eye out for too.
So without delving in too much deeper, let me share a basic vinegar sauce recipe and it's cousin the mustard sauce for consideration. I love these two sauces for various reasons. We've also added one of our favorite sauces with a twist. All three offer different things to your proteins.
You'll see I also love to experiment with flavor, and as the photo here shows, should encourage you to swap in or out flavors that you like too especially if you're a bigger fan of heat, sweet or richness.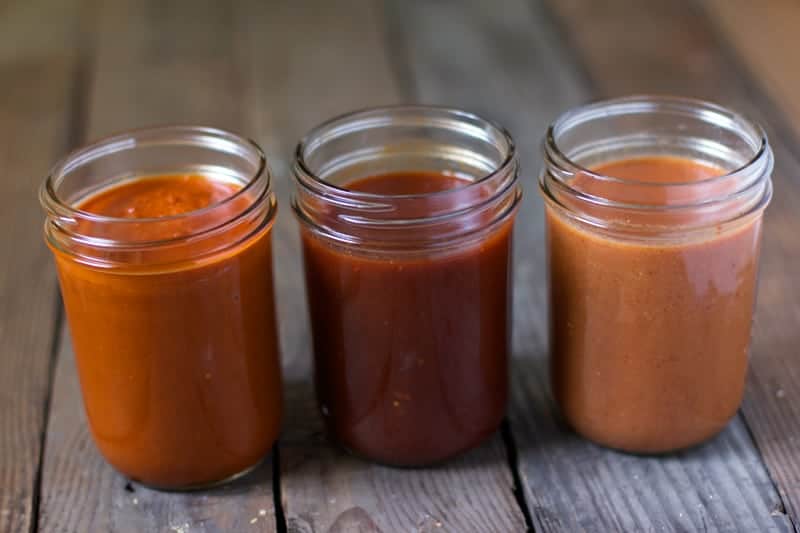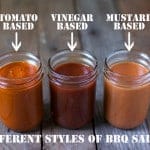 Vinegar Based BBQ Sauce
Easy and basic vinegar based BBQ sauce.
Keyword:
BBQ sauce, homemade BBQ sauce, homemade BBQ sauce
Ingredients
2

cups

apple cider vinegar

1

cup

ketchup,

be careful of sugar content, I love using organic to avoid unnecessary added sweetness

1/2

cup

brown sugar,

I like the brown with the touch of molasses and color it gives

1/4

cup

hot sauce,

again use a style that complements your palate, as I find hot sauces to be either savory or sweet and I err toward savory hot sauces

2

tablespoons

chili powder

1

tablespoon

red chili pepper flakes

1

teaspoon

dry mustard,

like Coleman's

1 1/2

tablespoons

salt

2

tablespoons

whole peppercorn
Instructions
Combine all ingredients in a sauce pan over medium heat. Stir until sugar and spices all dissolve. Bring to a simmer and then turn off the heat. Strain the sauce to remove the chili pepper flakes and peppercorns (and discard those) into a bowl. Then when cool, place into your jar with a tight sealing lid.
Recipe Notes
For more heat, add more chili pepper flakes and let it sit unstrained for a period of time.

Mustard Based BBQ Sauce (Recipe)
Ingredients:
2 Cups Vinegar Based Sauce (from above)
1 Tablespoon honey
¼ cup Dijon mustard (I find yellow mustard a touch acidic)
Instructions:
Combine all ingredients in a saucepan and heat up, whisk to incorporate the honey and mustard until a simmer, then turn off heat. If you like it a sweeter style, just add more honey.
*****
Pinot Noir BBQ Sauce (Recipe)
For something fun and different, check out our Pinot Noir BBQ Sauce.
So, what's your style?
---
If you like this recipe we'd truly appreciate it if you would give this recipe a star review! And if you share any of your pics on Instagram use the hashtag #vindulge. We LOVE to see it when you cook our recipes. 
12