The Carlton Inn Bed and Breakfast, in Carlton, Oregon, is a fantastic place to stay when in Oregon's wine country.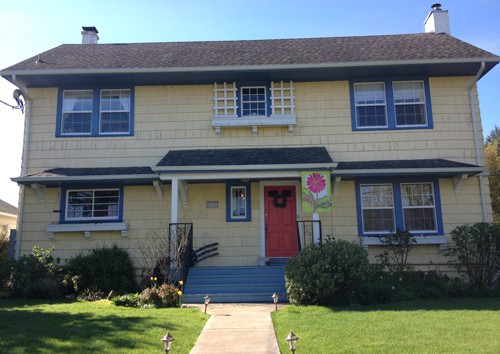 Following our wedding, my husband and I spent a quiet week near Lake Placid in upstate NY, at a bed and breakfast called the Porcupine Inn. We immediately fell smitten by the B&B bug. Upon returning to CA (where we lived at the time) we declared to all our friends that we wanted to own and operate our own B&B someday. That was, of course, before we had any clue what it actually takes to run a B&B.
Ask either of us now and we both will kindly respond "hell no!" to the question. It does give me a deep appreciation, however, for anyone who takes on that same calling, those who have that extra something special. A good B&B requires a level of hospitality that is built to exceed our expectations and make us feel at home. This was something we wanted to be able to recreate for others, but instead realized how much work it really takes to do it well.
This is something that Karen Choules also felt the first time she stayed at a B&B when she was in her twenties. That's where her dream of one day owning a B&B began. The memory of the experience stood with her for nearly two decades and the desire to own her own B&B never dwindled. In 2012 Choules made her dream a reality when she purchased The Carlton Inn Bed and Breakfast in the heart of Oregon's Willamette Valley Wine Country.
The Carlton In Bed and Breakfast
The Carlton Inn is a small, owner-occupied, independently owned and operated Bed & Breakfast with 4 guest rooms and includes a full gourmet breakfast made with local produce and eggs (from the Inn's own garden and chickens).
I've had the chance to stay at The Carlton Inn twice now, and both experiences were an absolute pleasure. Choules understands that what makes a B&B experience positive for her guests isn't just about providing a comfortable place to sleep (though she certainly does this), but also offering genuine warm hospitality, as well as high quality breakfasts.
My breakfast at my most recent stay began with homemade yogurt and granola, a plate of fresh fruit with basil infused lemon syrup, and a puffed pancake with pears (OMG!!), with a side of bacon from Carlton Farms. It was all fresh, flavorful, and comforting. The perfect way to start your morning before a day of wine tasting.
The home is nearly 100 years old, with lots of character, and decorated with antiques. Each room is cozy and provides enough room to feel comfortable and at home. Choules has spent the last year and a half making updates to the property, including; insulating the outer walls, freshening up the paint, and redoing the windows, among other projects.
I didn't take too many pictures of the rooms. I arrived in the evening, after the sun had set, and the lighting was poor for photos. But if you swing over to the website you can see quite a few examples.
The location is fantastic, less than a 5-minute walk from the heart of downtown Carlton.  During the day you can explore the many tasting rooms and shops located right downtown, and dine at a local restaurant by night. 
Carlton is a fantastic town to stay in during your wine country getaway, and The Carlton Inn offers the level of comfort, charm, and hospitality that should be expected at a great bed and breakfast.
This experience isn't for those looking for a swanky modern vibe in a location with sweeping views of wine country. Rather, The Carlton Inn is better suited for those who want a charming, cozy, wine country experience equipped with warm hospitality located in the middle of a great little wine country town.
I may no longer have the desire to own my own B&B, but it's comforting to know people like Karen are doing a great job keeping the dream alive for herself and others. It's also nice to know that this little gem is located within an hour of Portland…. Perfect for locals, like me, looking for an easy weekend getaway.
Don't just take my word for it, check out other guest reviews on TripAdvisor.