These Smoked Beef Short Rib are cooked low and slow until rich and incredibly tender. This is the ultimate comfort food.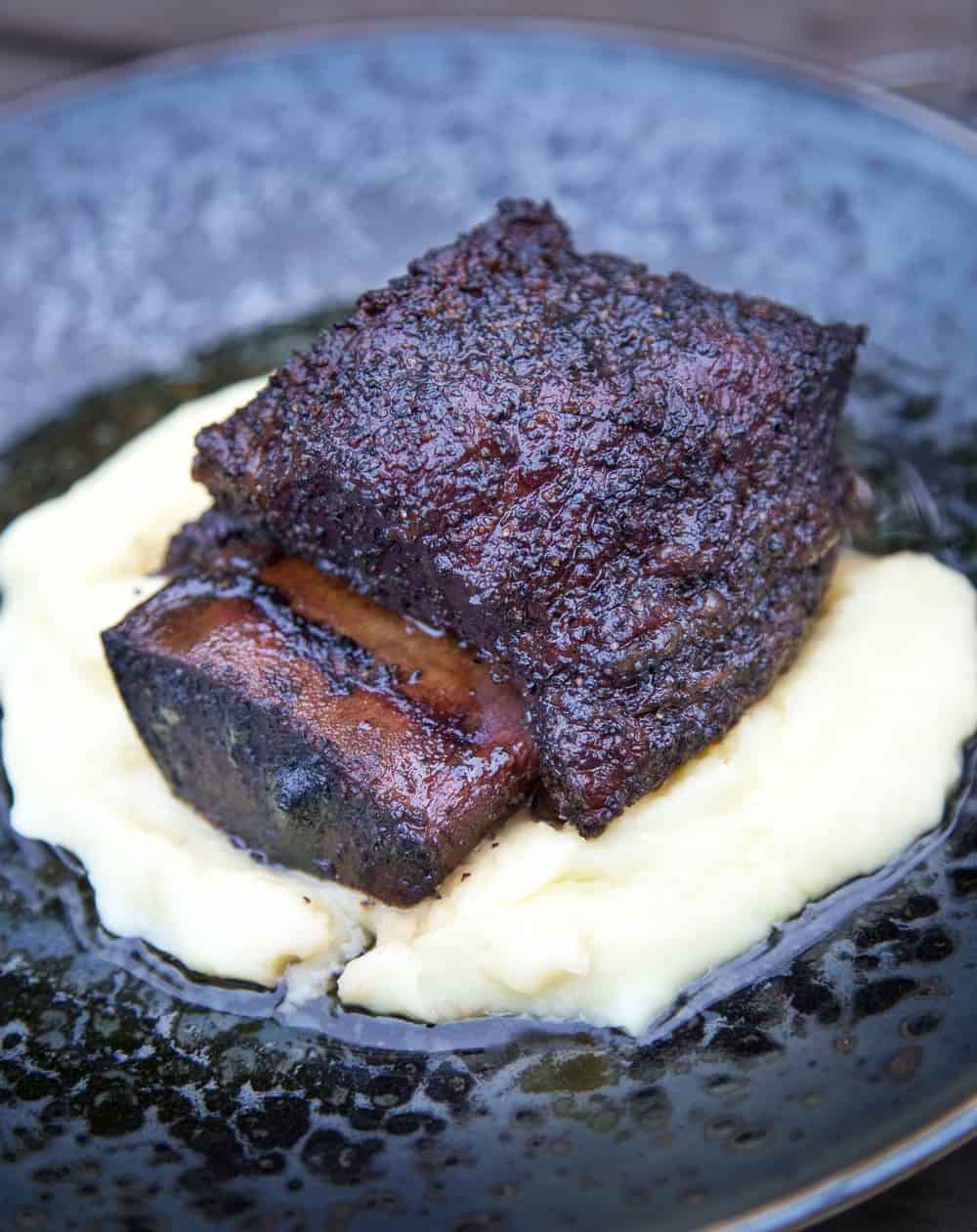 Today we have a recipe I'm super excited about! Smoked beef short ribs, slowly smoked until tender and rich and incredibly delicious.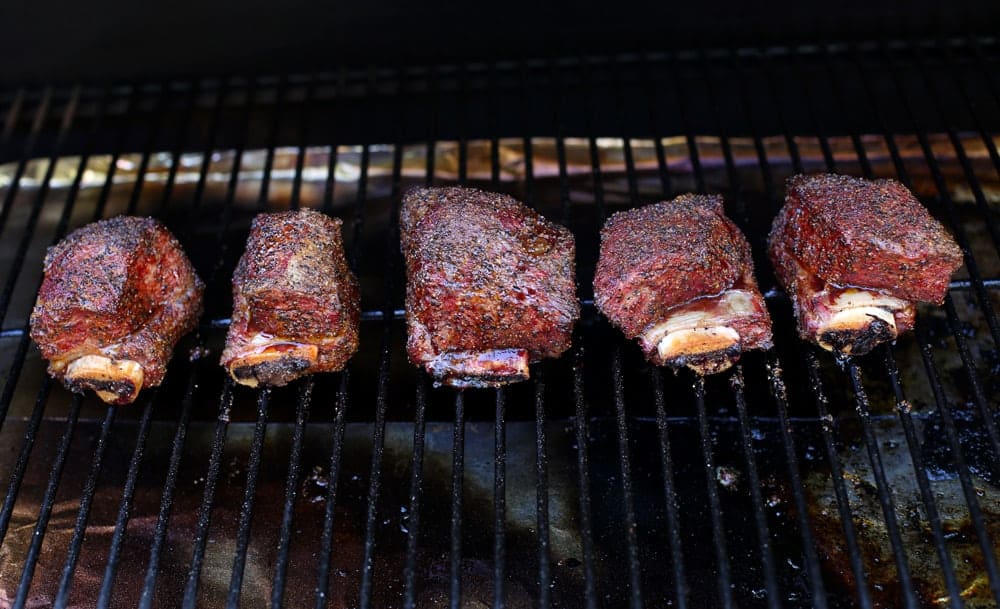 This is what I request every year for Mother's Day because it's my favorite meal in the world.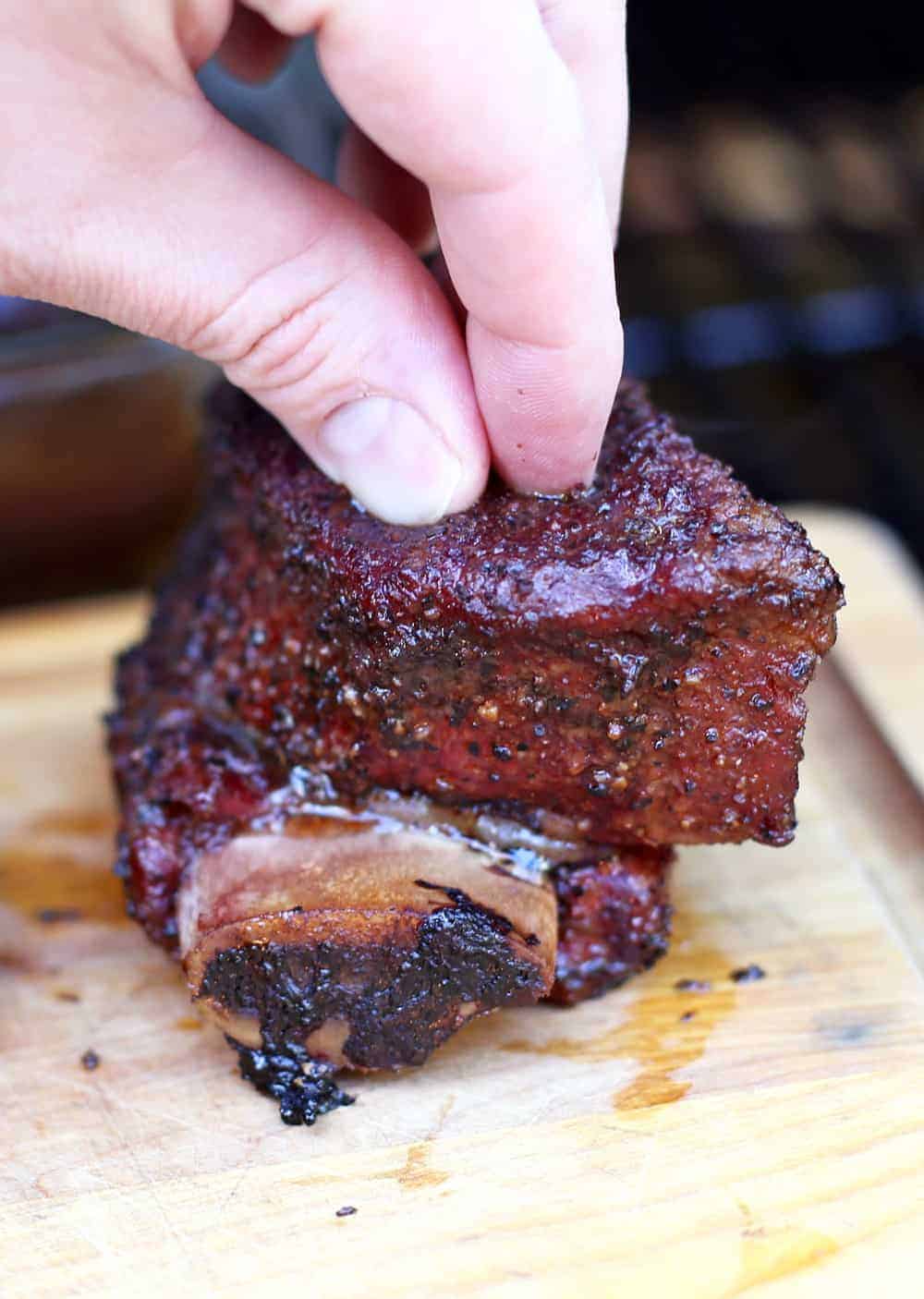 Once upon a time I told you about that ten-year period of my life when I was a pseudo-vegetarian. It wasn't until we bought our first smoker that I came around to the meat side. Shortly after that I had my meat epiphany at a restaurant in Honolulu called Chef Mavro (I LOOOOOVE this place!). It was a single cut of meat that did it for me — braised beef short ribs. The meat was so tender it melted in my mouth like butter. I promised if we could learn to cook meat like that I'd convert back to the dark side!
I've been a convert ever since, and this cut of meat is why.
Smoked Beef Short Ribs – The Cut
The beef short ribs we are cooking here are typically smaller cuts (around 3 inches of bone) and meaty; and that's likely how you will see them in the butcher case. Buying Prime, Choice, or even Wagyu cuts for marbling is key so that you get that flavor that makes them magical. We love using Snake River Farms and Double R Ranch for our beef short ribs. It is worth getting them online or through local retailers.
Types of Beef Ribs
You will see two types of beef ribs.
Back Ribs – These are among the 13 ribs that run direct from the spine and have the meat between the bones.
Short or Plate Ribs – These are similar to pork spare ribs, flat and have the meat on top of the plate. The run toward the lower part of the ribs.
You can see our plate rib recipe and how to smoke here.
How to Prep Beef Short Ribs
I like to trim excess fat off of the top of the short ribs. You'll see a thin membrane that, when removed, will expose that gorgeous beef that will pull that smoke in. Unlike pork ribs, you don't need to take the membrane off the bone side. Leave it there so it can hold that beef on the ribs. Coat the ribs in olive oil and salt and pepper, or feel free to use your favorite beef rub.
How to Cook Short Ribs (what temperature and time)
I've found that a lower temperature, like 225 or 250 degrees and using a fruit wood or oak is key. That way you complement the beef flavor and not over power it. It'll also take hours to cook, like five hours or more depending on how thick the meat is.
While the beef ribs are cooking I like to spray with an apple cider vinegar and apple juice spritz. The acidic flavor really complements the beef. After the first hour of cooking I spritz every 30 minutes or so. So be prepared for spending time around your cooker and being sure you have good beer to pass the time; or the wine you may use for the bath. 😉
The Finish
I wrap when I see the color I am looking for (a rich, red, mahogany sheen), then letting the meat baste in its own juices and getting that collagen to cook out. This will usually happen at around the 3 hour mark. You can also add the meat into a beef broth/wine bath for moisture and flavor as well. I like a combination of broth and wine for flavor.

It's really about what flavor you want. But in the end, what you want to do is get the beef time on smoke for a few hours, and then finish the cook by getting the internal temperature of the beef ribs to over 200 degrees (between 200-205 is the sweet spot). This is when that fat and collagen all melt away, and the texture of the short ribs is soft like butter and melts in your mouth. It'll be super tender, but not spongy.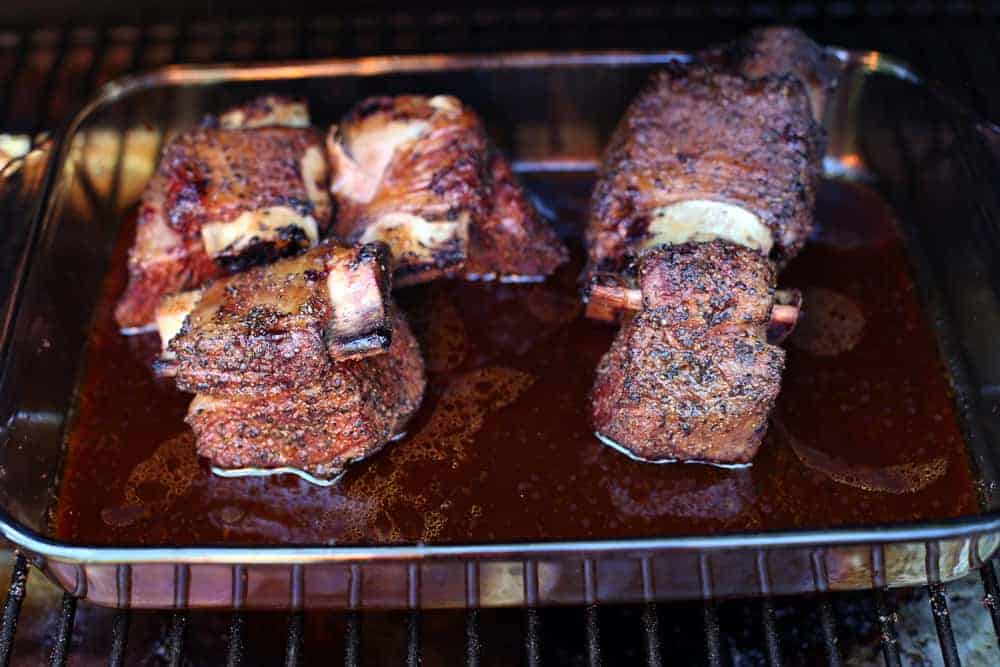 So very very good!
Smoked Beef Short Rib Recipe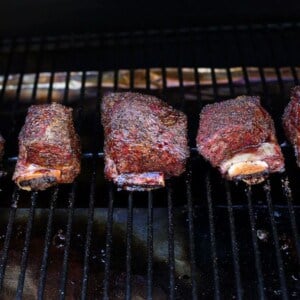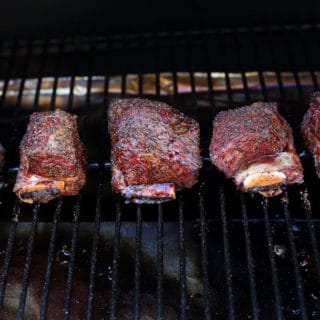 Smoked Beef Short Ribs
Recipe for smoked beef short ribs and tips and tricks for getting that melt-in-your-mouth tender meat.
Print
Rate
Ingredients
2 ½

pounds

(or six large) beef short ribs

4

tablespoons

extra virgin olive oil

4

tablespoon

beef rub,

(or equal parts salt and fresh ground pepper)
For the Spritz
1

cup

apple cider vinegar

1

cup

apple juice

Combine in a food safe spray bottle
For the Bath (Optional)
1

cup

red wine,

like Cabernet Sauvignon or Malbec, something you would drink

1

cup

beef broth

2

tablespoons

butter

2

tablespoons

dry rub,

or simple salt and pepper

2

tablespoons

Worcestershire sauce
Instructions
Preheat smoker to 225 degrees Fahrenheit (we used cherry wood)

Trim excess fat and membrane off of the ribs, coat in olive oil and your rub. Be sure to get all sides of the beef.

Place beef on the smoker for about 3 hours, until the color is mahogany and a nice crust has set. After the first hour during the smoke period, start spraying the meat every 30 minutes with your spritz until you wrap.

At about the 3 hour mark, Wrap (optional) – you can either wrap in foil or place in a baking dish along with your bath ingredients and then cover with foil for about two hours (like pictured above). If you don't wrap, make sure to keep smoking and spritzing. You are looking for an internal temperature of 200 degrees.

Serve when the beef is tender and almost falling off the bone. If they appear rubbery or spongy, they are not quite cooked yet, so keep going until it reaches 200 – 205 degrees.
Notes
Cooking time will vary based on size of your short ribs. Plan on 5-7 hours of cook time.
Wine Pairing for Beef Short Ribs
You've got an incredibly tender texture from the meat, and a lovely smoky infusion. Much of the fat has rendered out, but what you are left with is juicy, melt-in-your-mouth meat. We also let the meat braise in a shallow bath of wine for awhile, picking up some of those concentrated fruity flavors, but not as long as a traditional oven roasted wine braise. For this I'm looking for a red wine that a somewhat rich and velvety texture, with medium to low tannins and deep fruity flavors (not ripe or overly sweet). I want something full-bodied, but not overly intense, and I want some acid to refresh the palate.
We've made this several times, with several preparations (including transferring the meat to a richer braise with vegetables and wine, and serving over polenta with blue cheese), and also what we have here, which is simply prepared over some grilled greens. Both were spot on with Cabernet Sauvignon. But I would avoid an overly tannic wine, like, say, a young Napa Cabernet. Turn to other regions like Sonoma, Chile, or those from Washington State.
Other Options: Sangiovese can also work nicely with its stewy, herbal, and smoky notes. Rhone reds will also offer some lovely savory notes to match the meat. I'm also curious to try it with a moderately rich Syrah.
---
---
If you like this recipe we'd truly appreciate it if you would give this recipe a star review! And if you share any of your pics on Instagram use the hashtag #vindulge. We LOVE to see it when you cook our recipes.