Pork Belly Burnt Ends are super tender, full of flavor, and so easy to make. This pork belly recipe is a delicious twist on classic brisket burnt ends. These morsels of goodness have developed the nickname meat candy for good reason.
Within 48 hours of publishing this viral recipe in 2017 we had over 2 million views, and today is one of the original and most popular pork belly burnt ends recipes on the web with over 24 million views.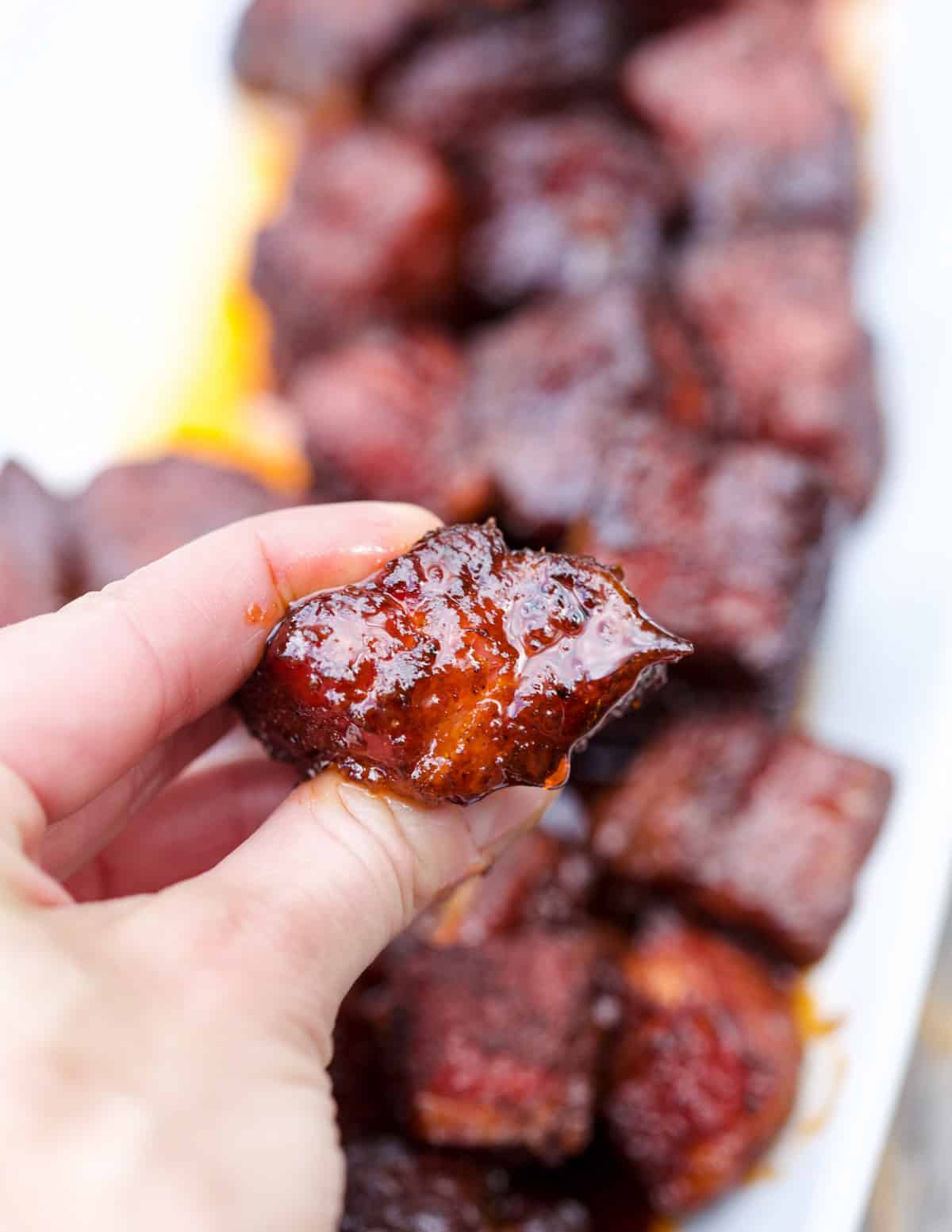 Vindulge Recipe Highlights
Cubed Pork Belly is slowly smoked, then braised in barbecue sauce.
As it finishes the pork belly is rendered into sticky pork cubes that melt in your mouth.
It doesn't matter what type of smoker you use, this pork recipe will work on all of them.
This recipe is a great idea for for a party or large event as it's always a crowd favorite and scales up or down easily. 
Jump to:
What Are Pork Belly Burnt Ends
Pork Belly Burnt Ends are cubed pieces of pork belly that are slowly smoked, sauced, and then finished in the same way beef brisket burnt ends are made. Pork Belly is the best cut for this style of cooking with the perfect meat-to-fat ratio. This recipe is inspired by the 3-2-1 method of smoking pork ribs.
We started experimenting with this recipe early in our professional Catering Days back in 2014. Originally we cut them in long slices, and then realized by making them in cubes we get more surface area for smoke and flavor.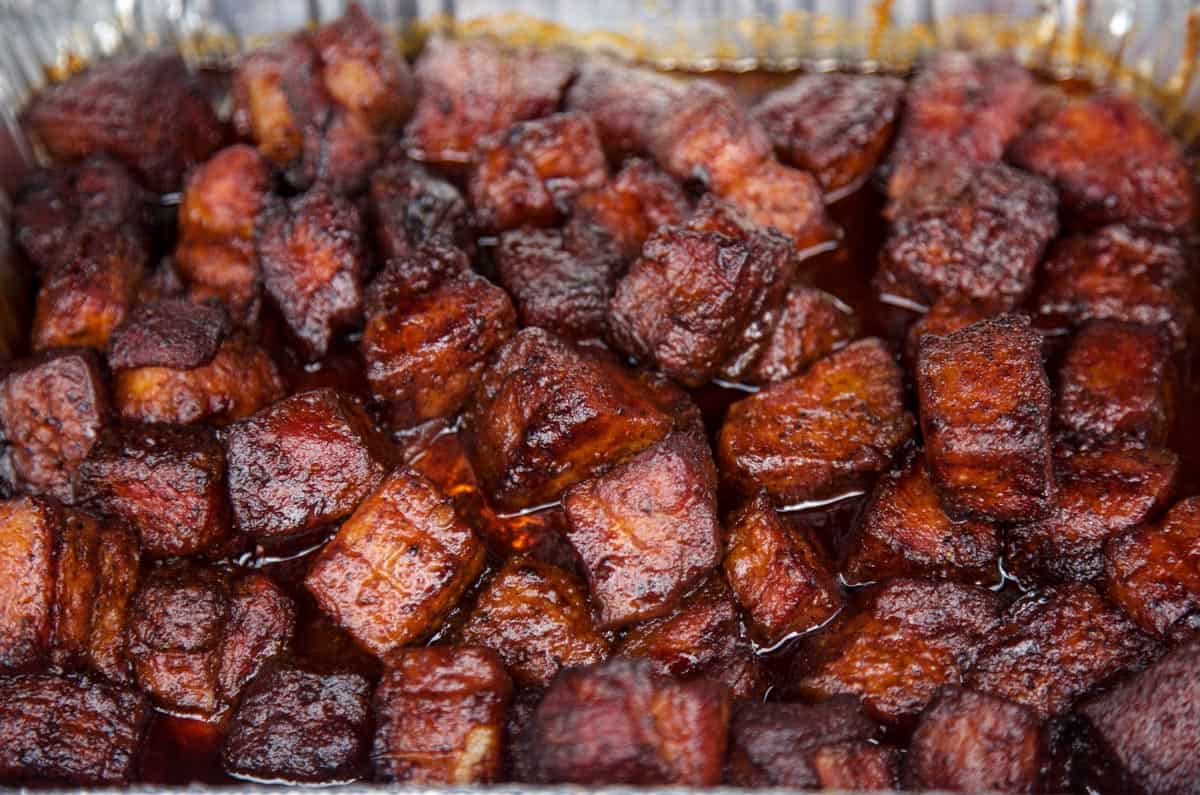 The transformation of pork belly into something that resembled the classic perfection of beef burnt ends was a pretty magical experience.
And in fact, shortly after I released this video for our recipe, it had over 2 million views in less than 2 days. People loved this recipe! The video now has over 24 million views and counting, and is also featured in our critically acclaimed cookbook, Fire + Wine.
Cooking low and slow provides more time to dissolve the fat and allow the pork belly bites to absorb the incredible smoky flavor. If you want crispy skin, you can also check out our recipe for crispy pork belly.
What is Pork Belly
Pork belly is a cut of meat that comes from the belly of the pig and is attached to parts of the loin and ribs. This incredibly marbled and tender cut is the base for bacon or Porchetta and has a lot of intramuscular connective tissue. The best way to cook pork belly is to smoke or render out that fat using indirect heat.
Alternatively you can use pork shoulder (or pork butt), but be sure you buy boneless pork shoulder and add one additional hour of cooking time on average.
Buying Guide
This cut will come in many sizes at the grocery store, from small strips to a full slab (10+ pounds). Make sure to ask the butcher for skinless pork belly (saves some weight when you have to pay by the pound). If the slab with skin is the only option, then look to be sure it isn't overly fatty and remove the skin before you make this pork belly recipe.
When buying a smaller belly, be sure it's the center cut of the slab. One side of the belly is thin and not very meaty. Another end tends to be mostly fat, which is difficult to fully render. So the center cut is ideal as it has a ratio of 50% meat and 50% fat.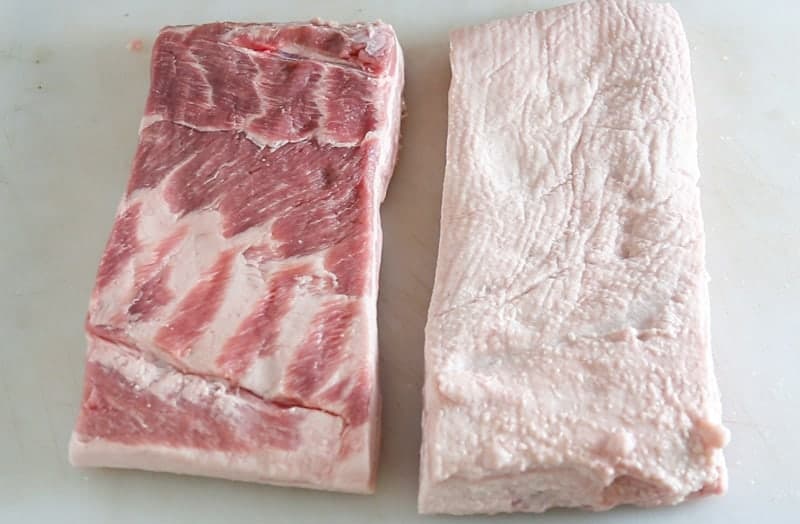 How Much Pork Belly Per Person?
Be sure you get enough to feed a crowd because they will be coming back for seconds, and thirds. I like to get at least 3 pounds of pork belly as it gives me enough to get good size piece of pork belly. When we cater events we think 5-ounces of meat per person for a serving, so you roughly get three servings per pound.
Pro Tip – If you see cubes that are all fat, those won't render. Discard them. If you are buying the pork belly, look to make sure you have a cut that is a balance of fat and meat. Ask the butcher for the center cut of the belly for the best fat-to-meat ratio. We mention this again based on a lot of experience and reader feedback.
You can find quality pork belly from online retailers, like Snake River Farms Kurobuta Pork, shipped right to your door, or you can source from a local butcher or Big Box store.
Preparation for Pork Belly Burnt Ends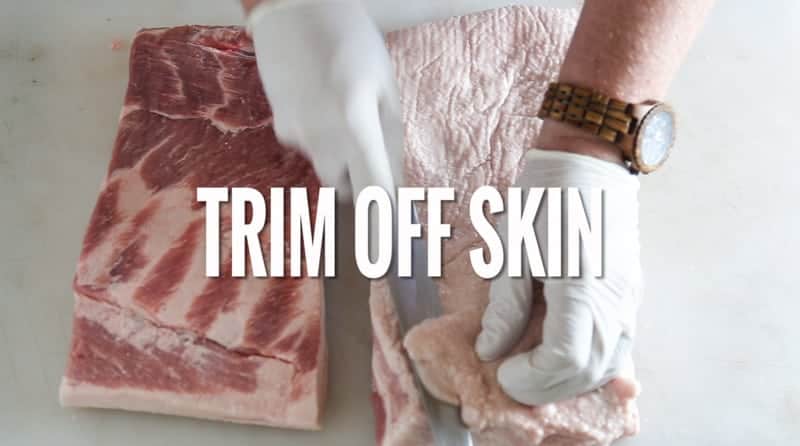 If you still see the skin on the pork belly, or there is a little extra fat, trim that off. Then cut the meat into 1 ½ to 2-inch cubes. Don't be afraid if at first the cubes seem a bit large. After cooking, your pork belly burnt ends will shrink down to the perfect bite sized piece.
Seasoning
Apply olive oil (enough to coat the meat) and our pork seasoning on the cubes. Be generous (we use about 1 cup of dry rub for 5 pounds of meat). Feel free to adjust the amount based off your portion size. Because there is so much fat in the belly, don't bother with a brine in advance.
Using a wire cooling rack, rather than a pan, is more ideal for smoking pork belly bites since it allows for better smoke circulation. Also, it will take much less effort to get the meat cubes on and off the grill.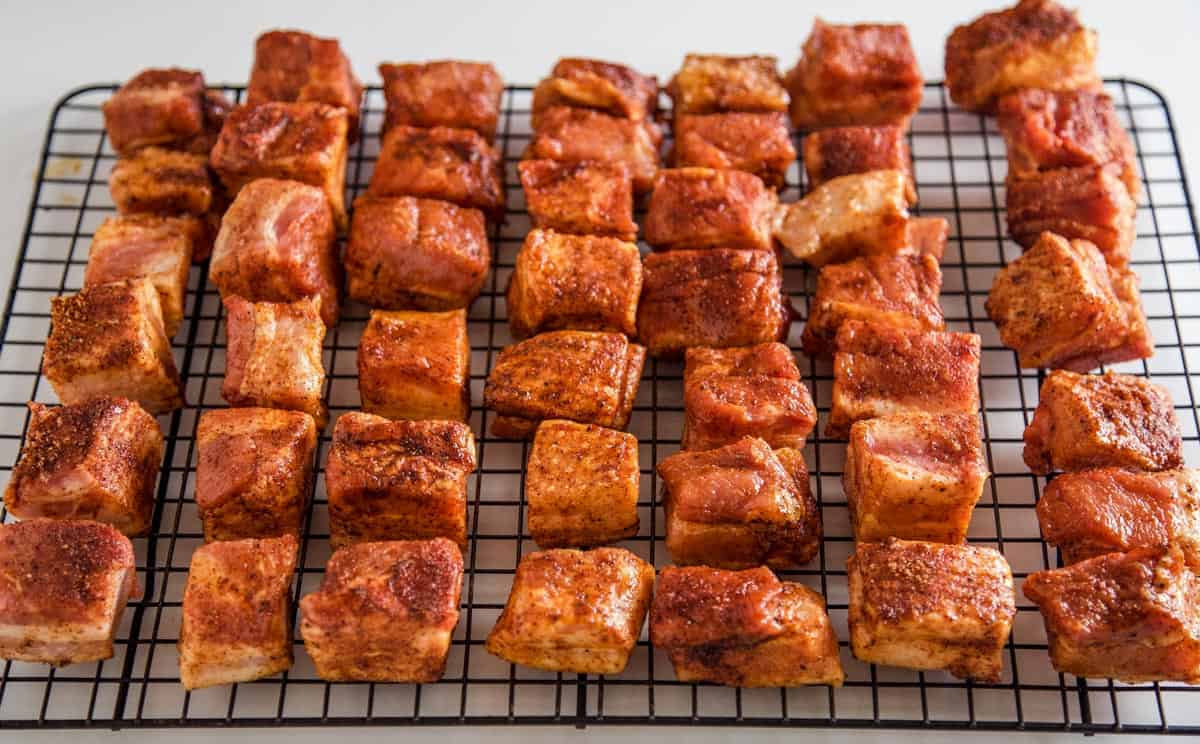 How to Smoke Pork Belly Burnt Ends
The easy steps for perfect pork belly burnt ends is to smoke for flavor, then cover in sauce to baste and rendering out the fat, and then finish uncovered to let the sauce firm up.
Smoke for three hours at 250 degrees Fahrenheit (F), or until you like the color of the meat. A nice bark will form starting around the three-hour mark. This can take longer based on so many factors, like wind and how much bark you like. The key is, once you put it into the braising liquid, your bark is done forming.
Next, add the pork belly cubes to a pan (we like a disposable aluminum pan or pyrex dish). Then, into the disposable pan, add the braising liquid. We use our rich Pinot Noir BBQ Sauce to really add that extra flavor (about 1 cup), 3-4 tablespoons of butter, which adds richness and acts as a fatty binding agent for bringing the sauce and honey together, and then 2 tablespoons of honey (or agave) to bring a stickiness and sweet characteristic. Then mix them all together.
Then cover and braise in the smoker for another 60 – 90 minutes. You will find that the liquid braises at or near a boil and that the fat renders down in the pork belly burnt ends keeping the pan moist. Again, you have added additional fat in the butter, the honey as a binder, and the sauce for the flavor to really render out the fat that is in the pork belly. Braise until the internal temperature of the bites are 200-205 degrees F. We always recommend using a good digital thermometer to check your temp.
Finally, remove the foil cover and cook for another 15 minutes (uncovered) to let the heat tack up that sauce, as you would with ribs or other sauced meats. Remove and enjoy some well-made pork belly burnt ends. It's that simple. And that delicious!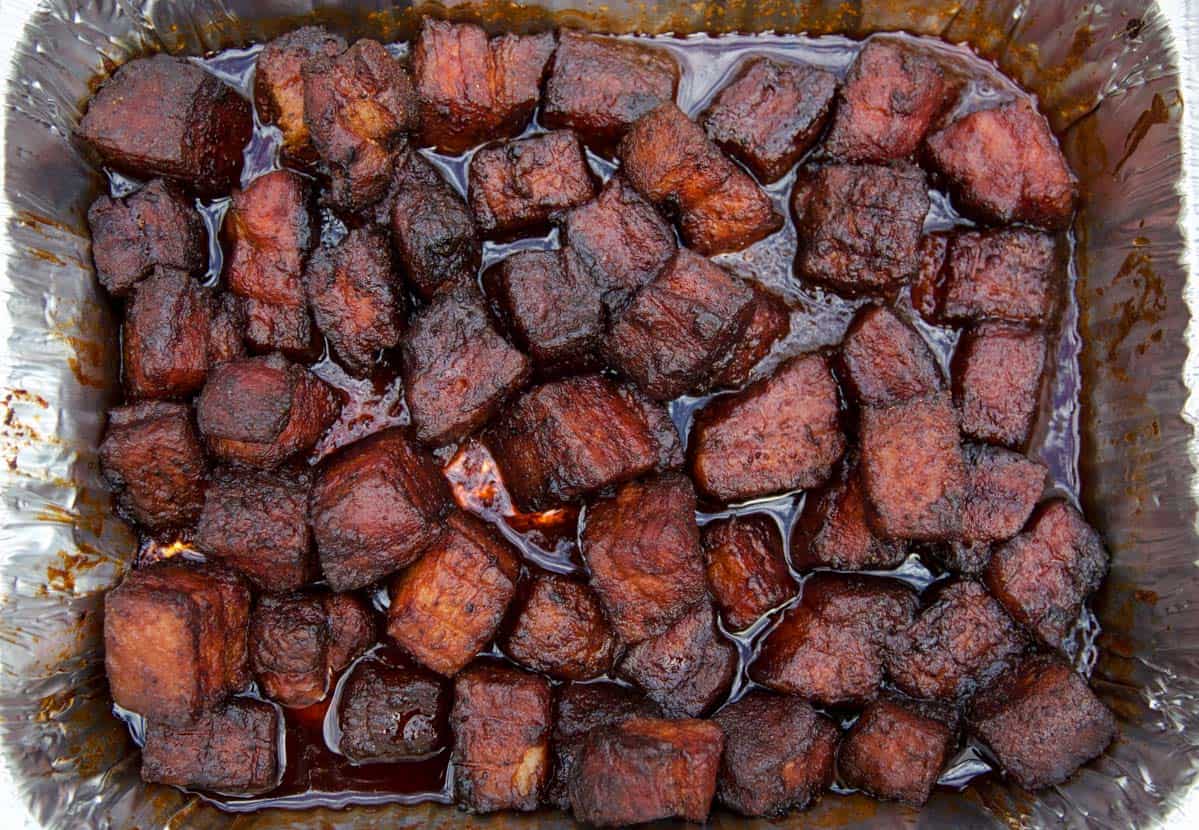 Frequently Asked Questions
Are pork belly burnt ends fatty?
If you cook them all the way through, then the fat will render out and you'll be left with a delicate and tasty burnt ends that don't have noticeable fat.
What is the best cut of meat for pork belly burnt ends?
It's best to use pork belly. If you can't find belly use boneless pork shoulder.
Do you take the skin off pork belly burnt ends?
Yes. Remove the skin as it won't render during the cooking process and will be chewy when eating. A more effective way is to buy the pork belly with skin off so you aren't paying for the extra weight.
Can you overcook pork belly burnt ends?
Yes. It is possible that over smoking them will make them dry out. Also cutting the cubes too small will cause them to dry out.
How do you reheat pork belly burnt ends?
If you have leftovers, be sure to save the sauce and juices it is sitting in and store in the refrigerator. The sauce will harden up.

To reheat, pre-heat an oven or the smoker to 300 degrees Fahrenheit. Place the pork belly, and all the juices it's in, into an oven safe dish and cover in foil. Reheat until warm and the sauce has liquefied (about 20 minutes).
Can you make pork belly burnt ends in the oven?
Yes. To modify for the oven follow the same directions of slowly cooking in the oven at 250 degrees Fahrenheit, then covering with sauce, and finishing as the recipe suggests.
How long to smoke pork belly burnt ends?
It will take 5 hours to cook and 15 minutes to finish uncovered to let the sauce harden up.
Wine Pairing for Pork Belly Burnt Ends
While I highly recommend a glass of rosé while cooking this delicious recipe (since, well, it takes upwards of 4 hours for the magical meal to come to fruition). But come burnt end time, we're going big, with Syrah!
The flavors here are big and bold. You've got the smoke, some richness, sweetness, possibly spiciness (if your BBQ sauce has some spiciness). You need something that can handle that weight. There are several options, but I love a bold Syrah.
Syrah from Washington State is my go-to. It has some richness, bold fruit, and some herbal notes. Big and balanced flavors, just like the burnt ends! Malbec and Zinfandel are also good pairings.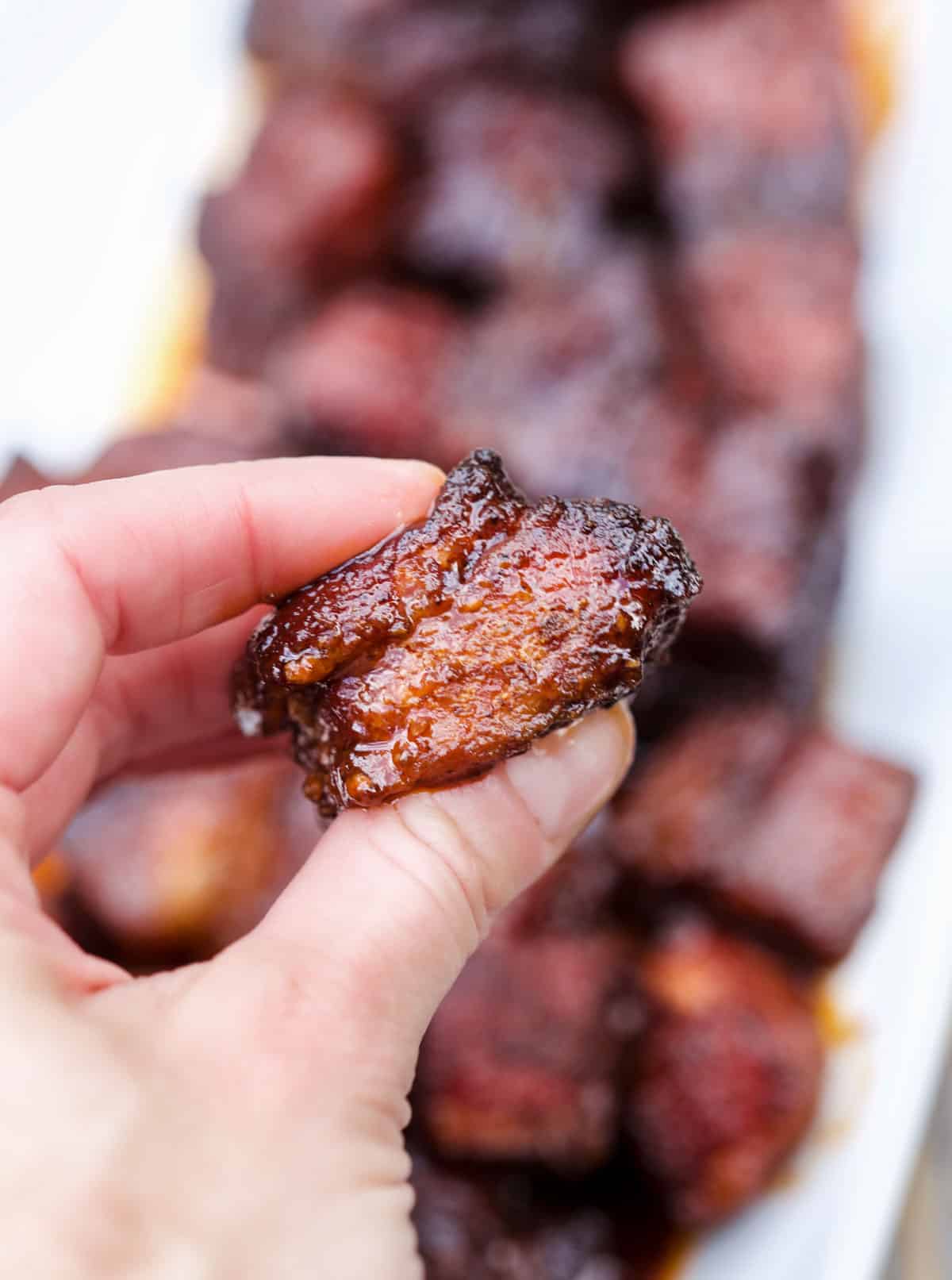 Other Great BBQ Recipe Ideas
Recommended Products
Food and Cooking Safety Considerations
Pork belly has considerable amount of fat that will render. This means you need to be sure that you have a CLEAN smoker and a clear path for the fat to drain AWAY from the fire. The grease from the rendering will ignite if it comes into contact with a flame source. If you are cooking a large amount on a small cooking surface be sure that you are changing out the grease tray during the cook.
For consideration, be sure to follow safe food handling practices. You are cooking the pork belly well over the USDA recommended temperature of 145 degrees F so the finished product is safe to eat.
Do not use the same utensils on cooked food, that previously touched raw meat.
Wash hands after touching raw meat and consider using gloves when prepping.
Don't leave food sitting out at room temperature for extended periods.
---
Mary (a certified sommelier and recipe developer) and Sean (backyard pitmaster) are co-authors of the critically acclaimed cookbook, Fire + Wine, and have been creating content for the IACP nominated website Vindulge since 2009. They live in Oregon on a farm just outside Portland.
This post may contain affiliate links. This means if you click on the link, we may receive a small commission if you purchase through the link. We partner with brands we know and love and use and it helps keep the blog going!
---
---