You've heard of brisket burnt ends — you know, those magical morsels of beef amazingness. But have you tried them with pork belly? These Pork Belly Burnt Ends are super tender, full of flavor and so easy to make.
We've got the full recipe AND a video tutorial for these incredible smoked pork belly burnt ends for you!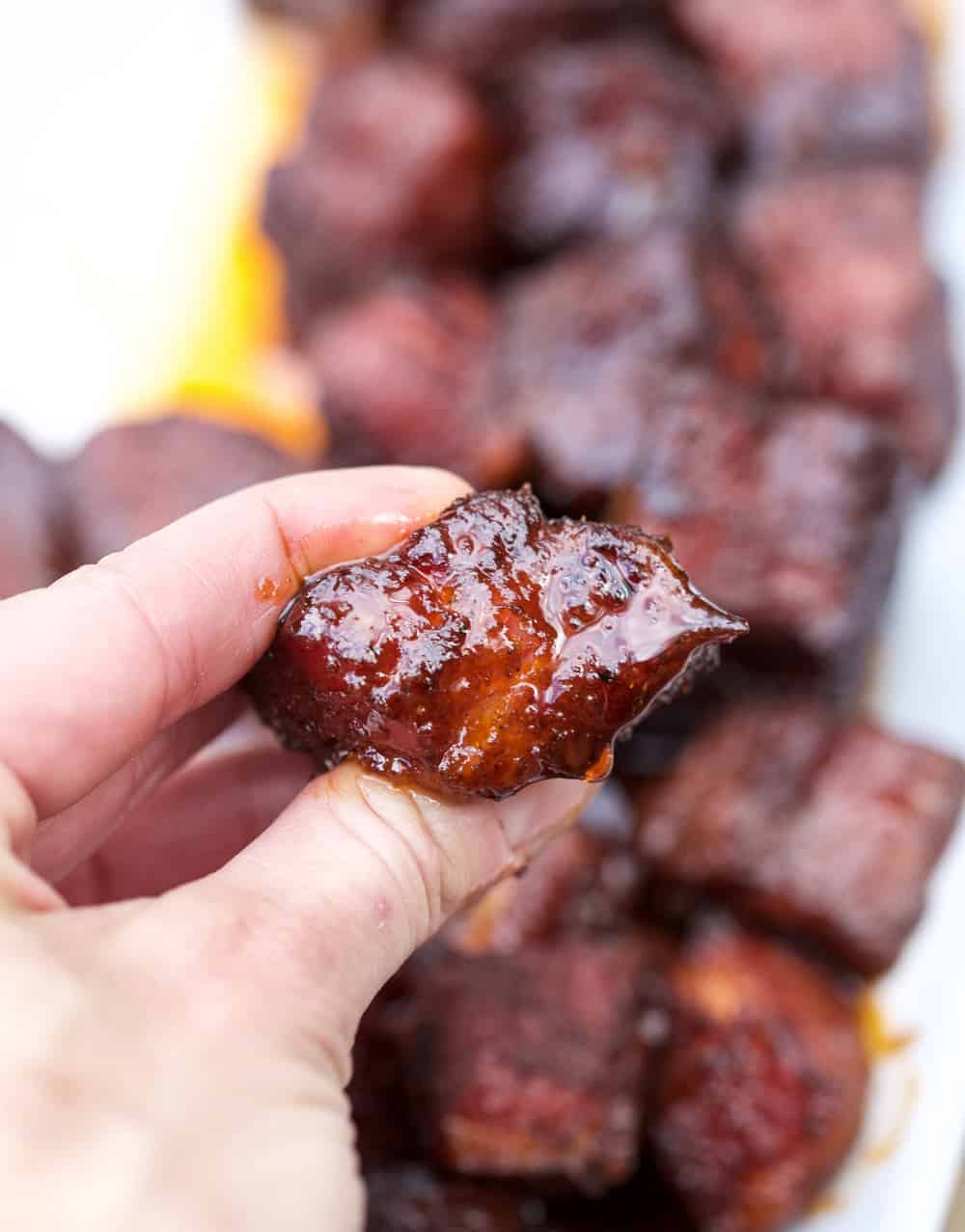 We've been on a pork belly kick lately (a long kick), starting last year when we kicked off a version of this with Troon Winery in Carlton, Oregon at Porklandia. We wanted to try new and different recipes with pork belly. So as a good partner often does, I indulged him when he convinced me we should do pork belly burnt ends.
He had me at "burnt ends".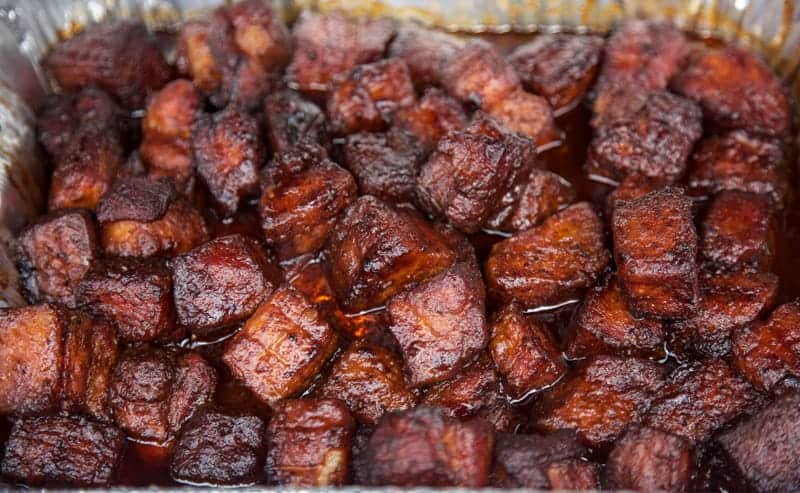 I have a serious weakness for brisket burnt ends, so when he convinced me he could transform pork belly into something that resembled the magical perfection of beef burnt ends, I was in.
At first bite he won me over.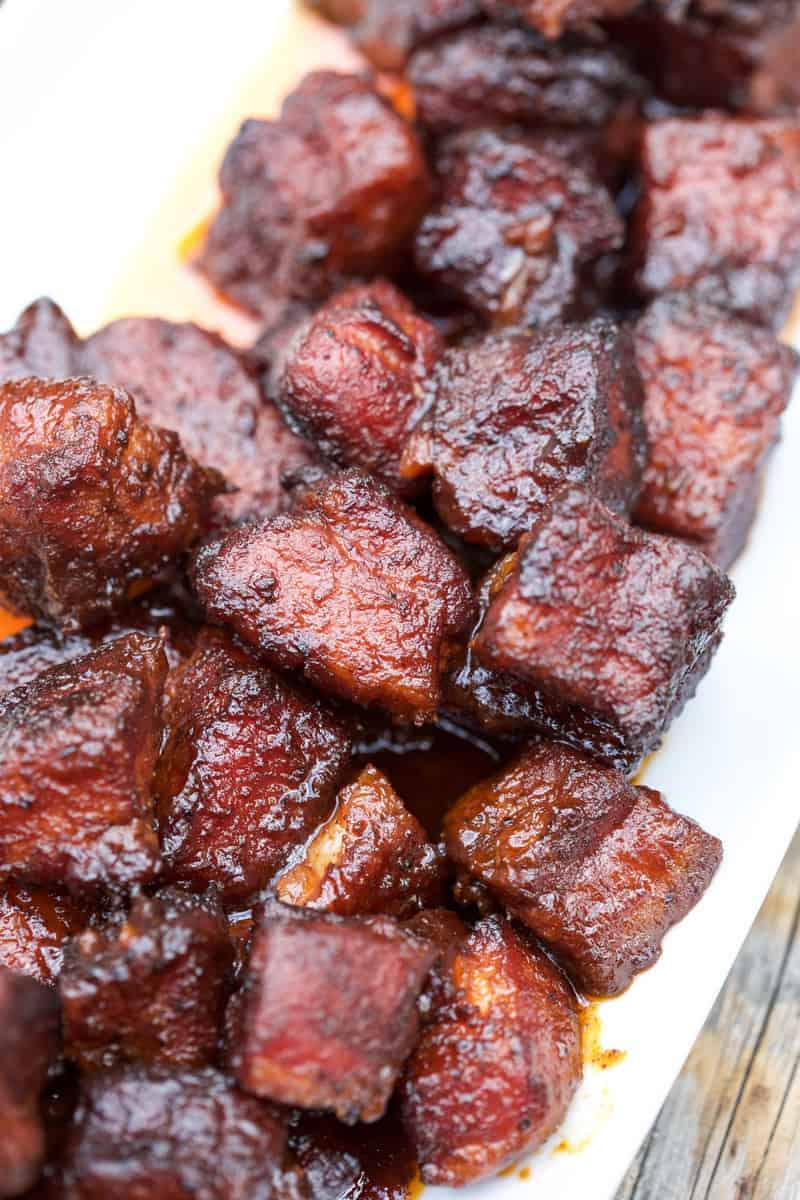 Call it trendy, but it has the perfect balance of fat and meat making for the ideal option when making something like the pork version of burnt ends.
Smoked Pork Belly Burnt Ends
What is Pork Belly — The Cut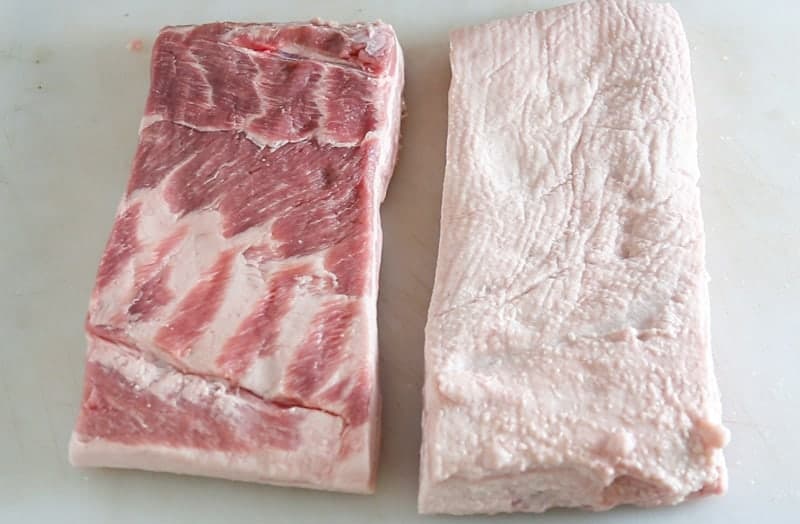 This cut will come in many sizes, from small strips to a full slab (10+ lbs). Make sure when you buy it, you ask the butcher for the skin to be trimmed off (saves some weight when you have to pay by the pound!). And be sure you get enough to feed a crowd, because they will be coming back for seconds, and thirds. I like to get at least 3 lbs as it gives me enough to get good size bites. When we cater events we think 5 ounces of meat per person for a serving, so you roughly get three servings per pound. What we have here in this picture is 5 lbs.
How to Prepare Pork Belly Burnt Ends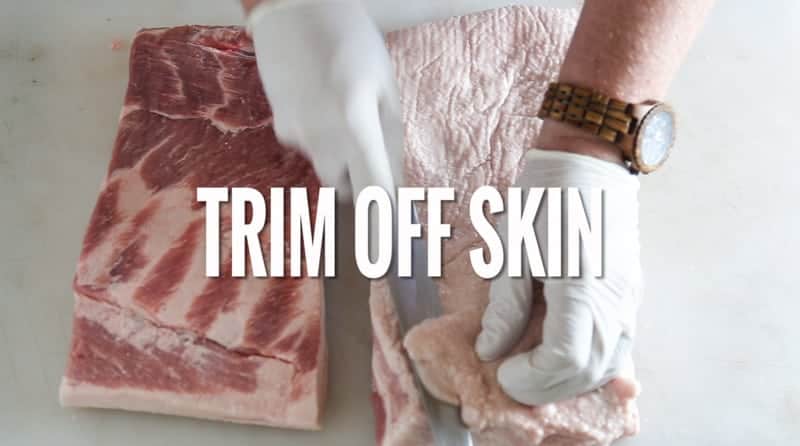 If you still see skin on the belly, or there is a little extra fat, trim that off. Then cut the meat into 1 1/2 to 2 inch cubes. You will get some shrinkage from the cooking process, so don't be afraid if at first the cubes seem a bit large. After cooking they will shrink down to the perfect sized bite.
Pro Tip – If you see cubes that are all fat, those won't render. Discard them. If you are buying the pork belly, look to make sure you have a cut that is a balance of fat and meat.
Next apply EVOO (enough to coat the meat) and your favorite dry rub on the cubes (we use this dry rub). Be generous (we use about 1 cup of dry rub for 5 lbs of meat. Feel free to adjust the amount based off your portion size). Because there is so much fat in the belly, I don't bother with a brine in advance.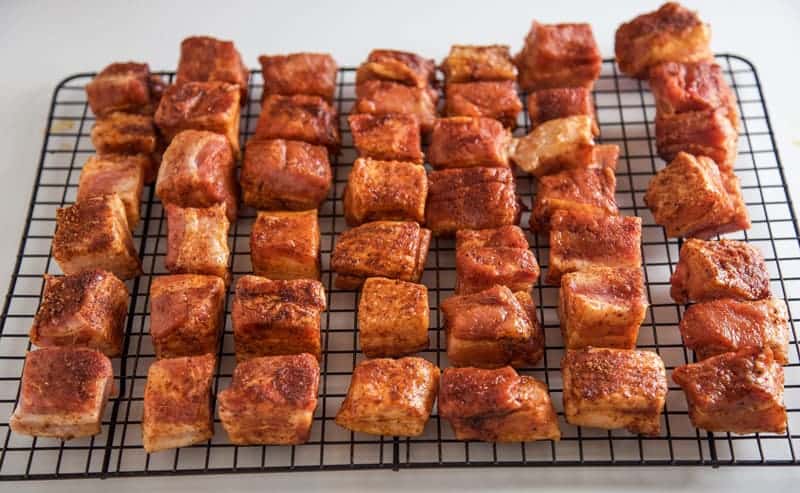 How to Cook Pork Belly Burnt Ends
Really we want to smoke first for that flavor and bark, and then we want to braise it in some sauce to get even more flavor and moisture into the meat. To accomplish this, we will cook on a rack of some kind, as it is easier to lift off larger numbers of those cubes. If you don't have a rack that's fine, it just makes it easier to transport.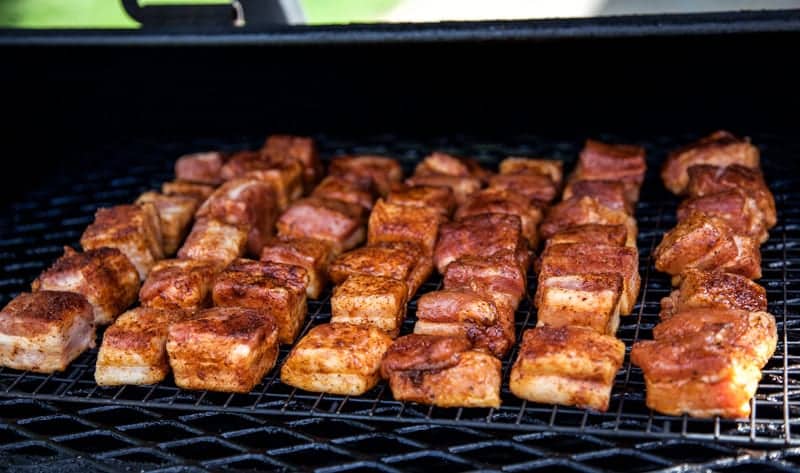 Smoke for three hours at 225-250 degrees or until you like the color of the meat. A nice bark will form starting around the three hour mark. This can take longer based on so many factors like wind and how much bark you like. The key is, once you put into the braising liquid, your bark is done forming.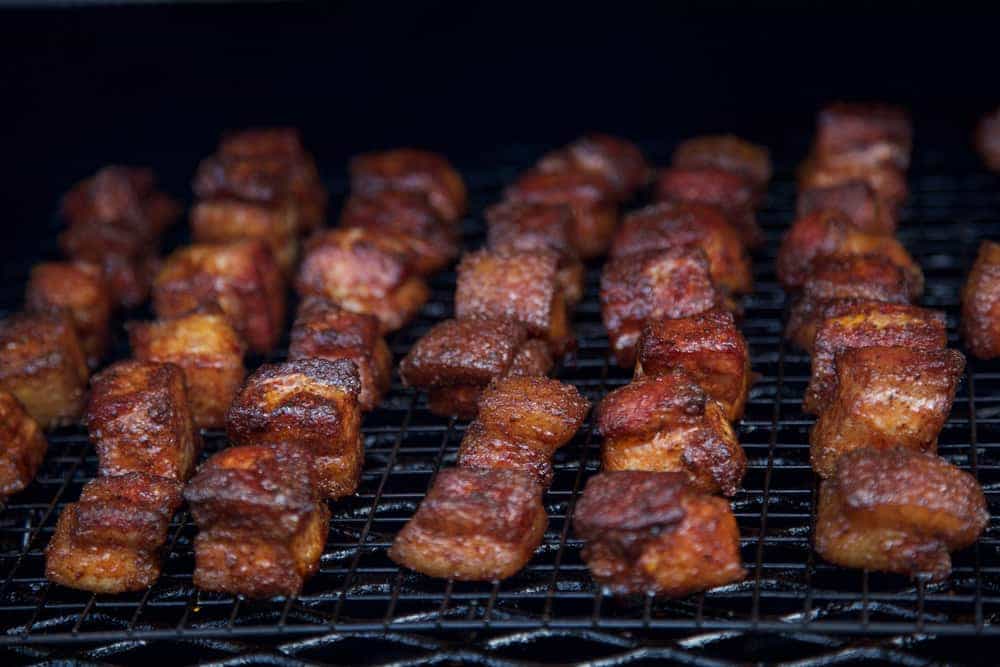 Next, add the cubes to a pan (we like a heat-proof disposable pan). Into the pan add the braising liquid. We use BBQ sauce to really add that extra flavor (about 1 cup), 3-4 tablespoons of butter, which adds richness and acts as a fatty binding agent for bringing the sauce and honey together, and then 2 tablespoons of honey (or agave) to bring a stickiness and sweet characteristic. Then mix them all together.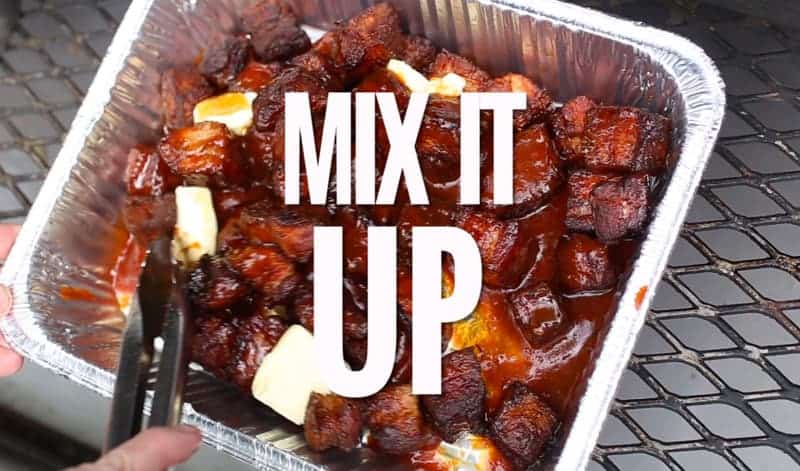 Then cover and braise in smoker for another 60 – 90 minutes. You will find that the liquid braises at or near a boil and that the fat renders down in the burnt ends keeping the pan moist. Again, you have added additional fat in the butter, the honey as a binder and the sauce for flavor to really render out the fat that is in the pork belly.

You want it to get to around 200-205 degrees at this point. We always recommend using a good digital thermometer to check your temp.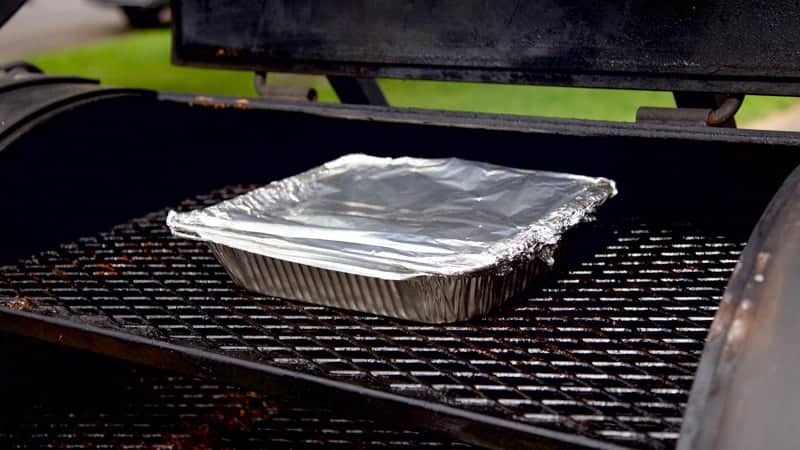 Finally, remove the foil pan cover and cook for another 15 minutes to let the heat tack up that sauce, as you would with ribs or other sauced meats. Remove and eat. It's that simple. And that delicious!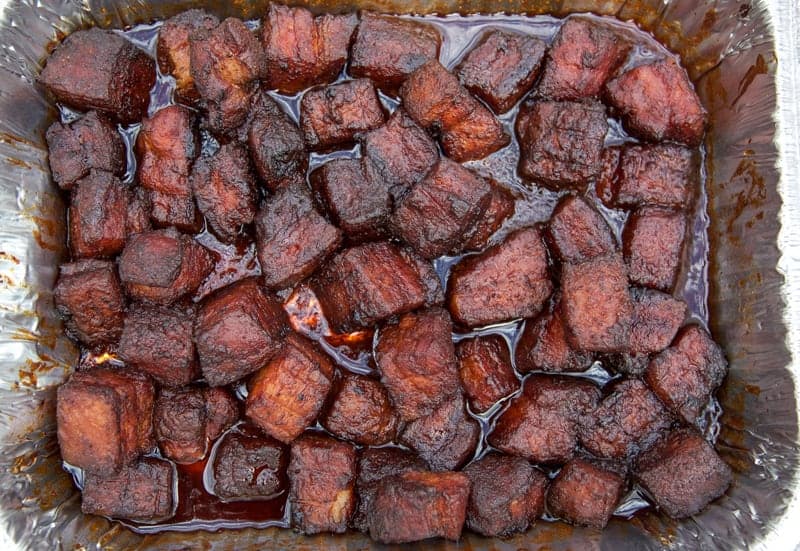 I should warn you that these aren't really recommended by your doctor. So I suggest starting your day with a green smoothie, then indulge in these for lunch. It's called a balanced diet 😉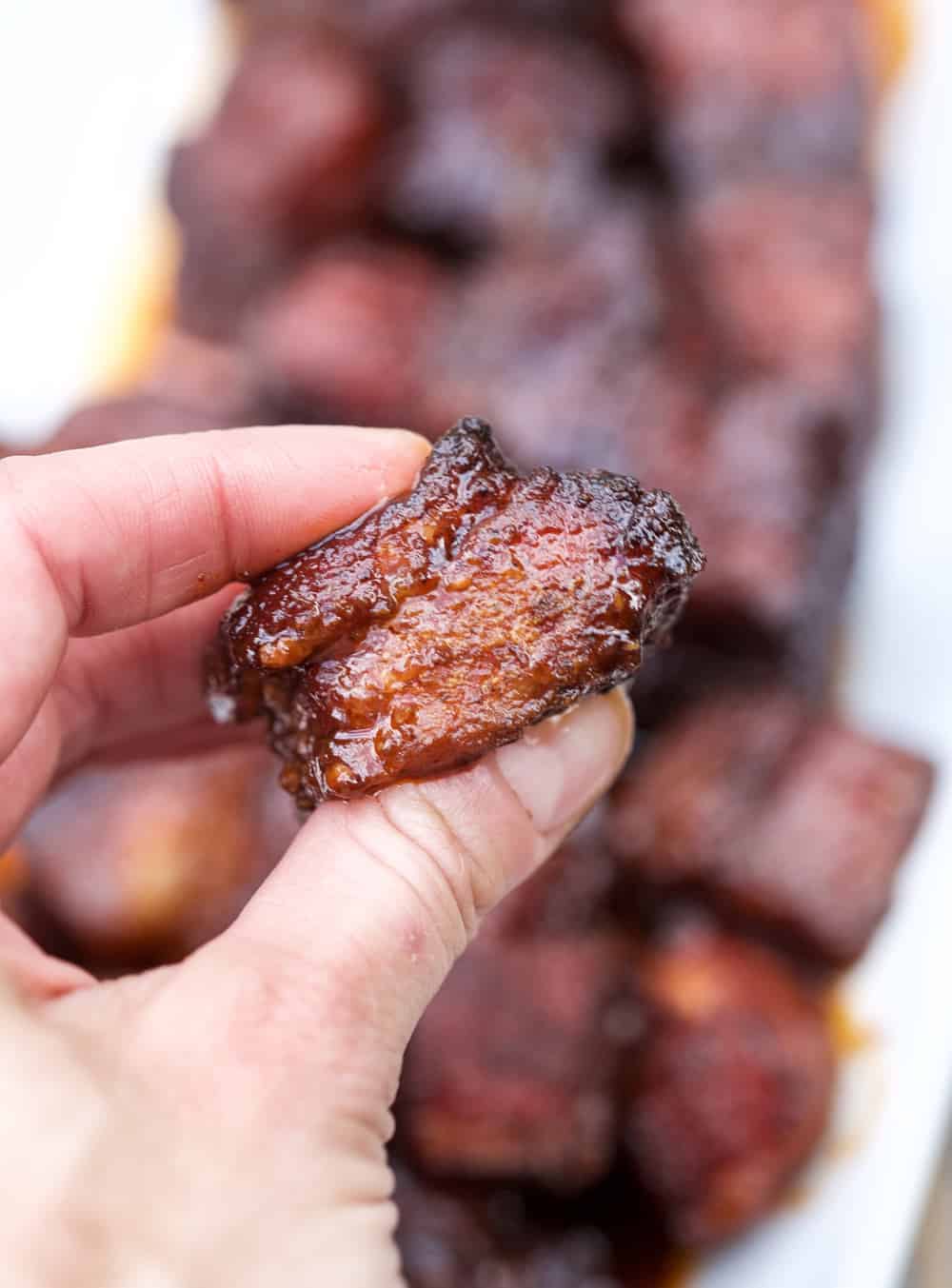 Pork Belly Burnt Ends Recipe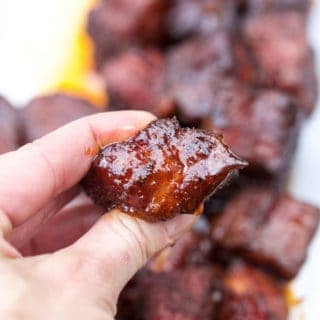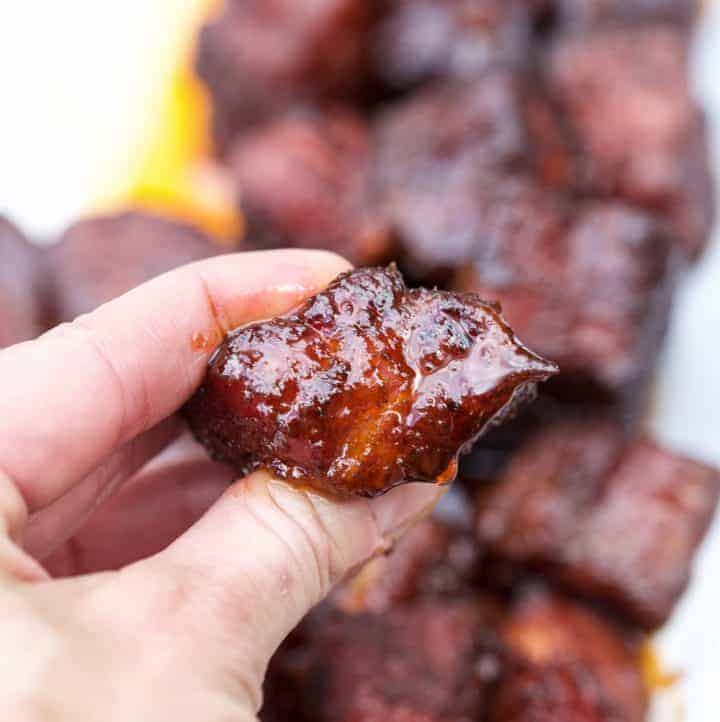 Smoked Pork Belly Burnt Ends
A pork version of burnt ends. Inspired by the magical and delish beef burnt end, this pork version is super tender, full of flavor and so easy to make.
Print
Rate
Total Time:
5
hours
15
minutes
Ingredients
For the Pork Belly Burnt Ends:
5

lbs

pork belly,

sliced into cubes

3

tbsp

extra virgin olive oil

1

cup

dry rub,

see notes for our favorite
For the Sauce:
1

cup

favorite BBQ sauce,

we used Pinot Noir BBQ Sauce, see notes

3

tblsp unsalted butter

2

tblsp honey
Instructions
Preheat smoker to 225 – 250 degrees using fruit wood (we used cherry for color and sweeter flavor)

Trim excess skin and fat off the pork belly and slice into 2 inch cubes and place into a large bowl.

Add olive oil and dry rub liberally and then place cubes onto a wire rack or directly on the smoker.

Smoke uncovered for three hours. Look for a darker red color and a modest bark develop.

Remove the pork belly cubes from the smoker and place into a foil pan and then add your BBQ sauce, butter, and honey, and stir. Next cover the pan with aluminum foil and place back on the smoker.

Cook for an additional 90 minutes or until the internal temperature (IT) is roughly 200 – 203 degrees Fahrenheit.

Remove the foil, close the lid to the smoker, and smoke for another 15 minutes to let the sauce thicken up.

Remove from smoker and serve.
Wine Pairing for Pork Belly Burnt Ends
While I highly recommend a glass of rosé while cooking (since, well, it takes upwards of 4 hours for the magical meal to come to fruition). But come burnt end time, we're going big.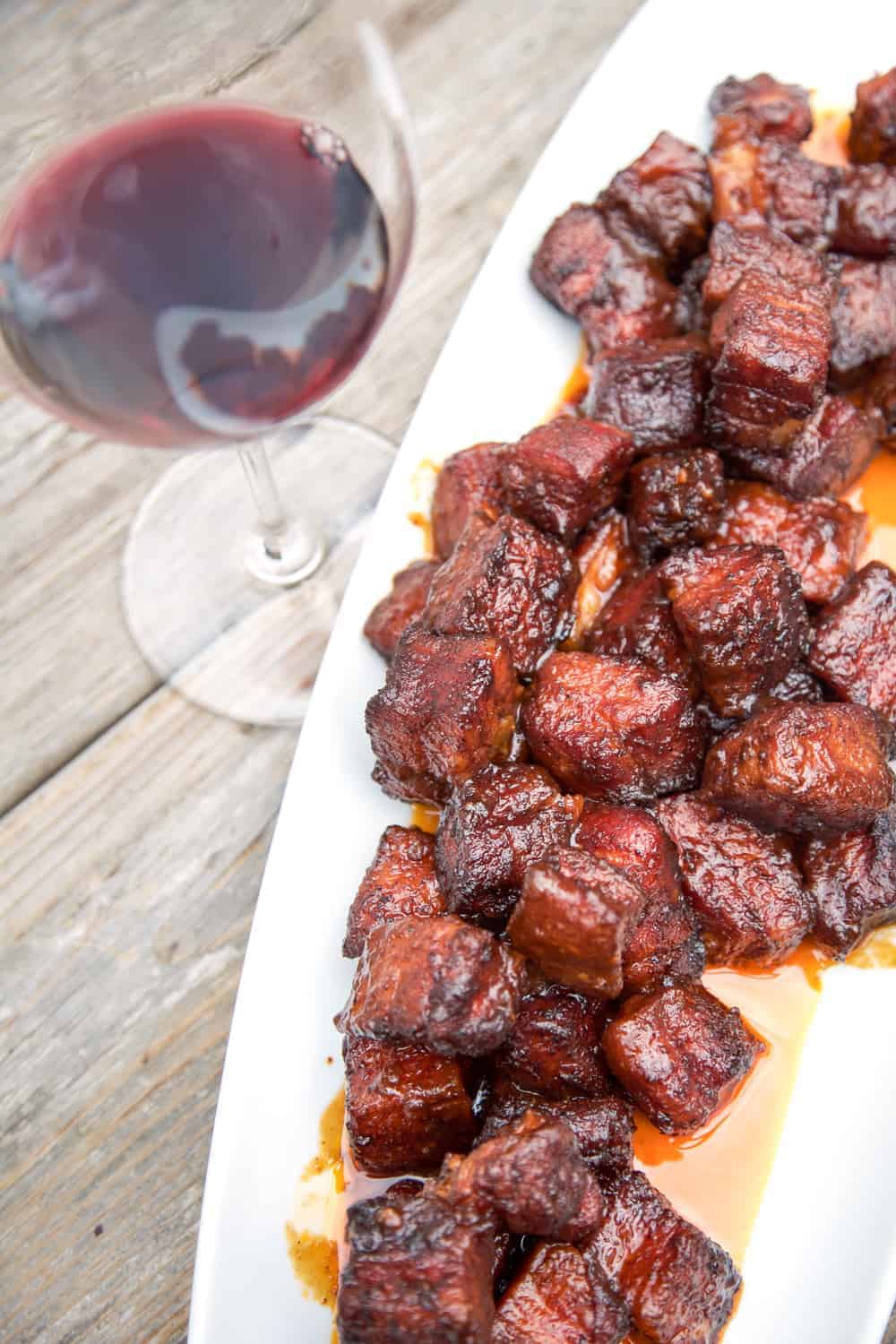 Syrah!
The flavors here are big and bold. You've got the smoke, some richness, sweetness, possibly spiciness (if your BBQ sauce has some spiciness). You need something that can handle that weight. There are several options, but when I saw this 2015 Boom Boom! Syrah, by Charles Smith I had a hunch it would work.
And it did.
It's a big bold Washington Syrah that had the richness, the fruit, and some herbal notes I was looking for. Big and balanced flavors, just like the burnt ends! Plus, with a name like "Boom Boom" you know it's just made for an epic BBQ meal like Pork Belly Burnt Ends.
These guys agree.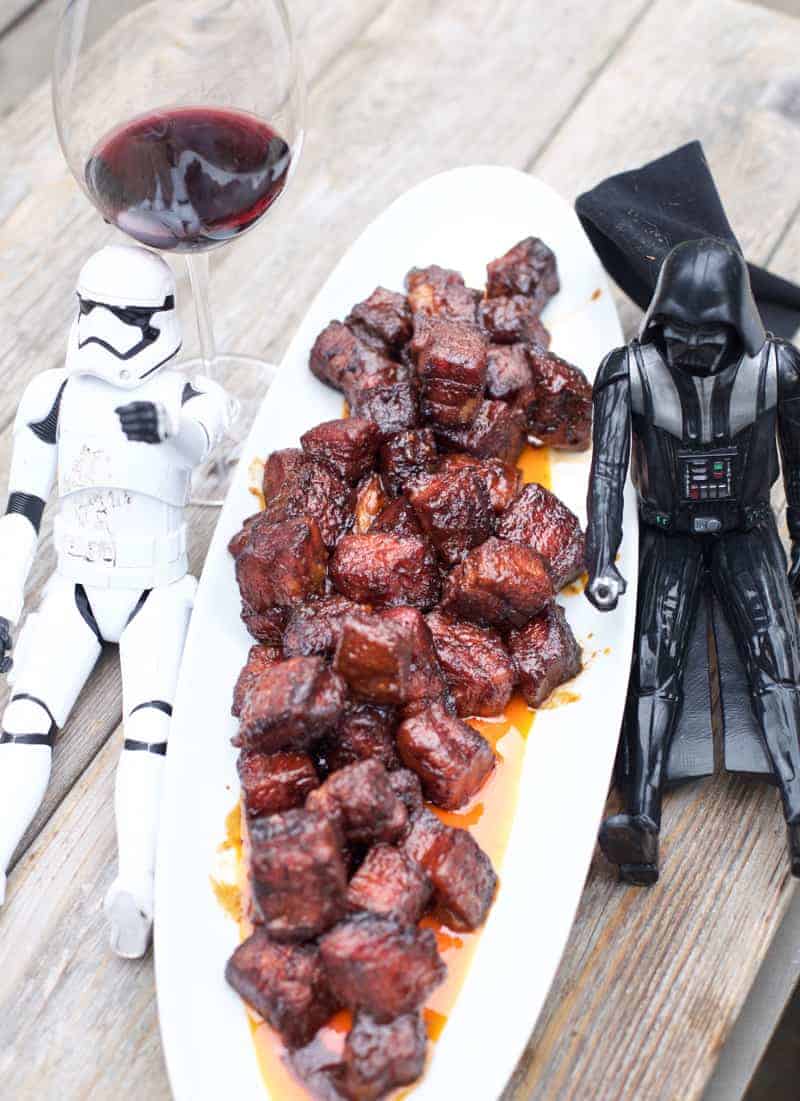 Ready for the video? 
Here's the step by step video on how to make Pork Belly Burnt Ends, seen by over 20 million viewers and counting!
If you have trouble viewing it here you can check it out on our Facebook page.
---
Recommended Products:
---
*This post contains affiliate links for the ThermoWorks Mk4 Digital Thermometer. We only recommend products we use and love!
---