This Smoked Turkey is packed with incredible flavor, from a bourbon citrus brine, to an herbed butter tucked under skin, to the best turkey seasoning. Your Thanksgiving turkey is going to be the star this year. If you are looking for truly best smoked turkey recipe, with hundreds of success stories, that will have your guests going back for seconds, this is it.
Looking for another creative way to smoke your turkey? Check out our recipe for Cajun Spatchcocked Smoked Turkey.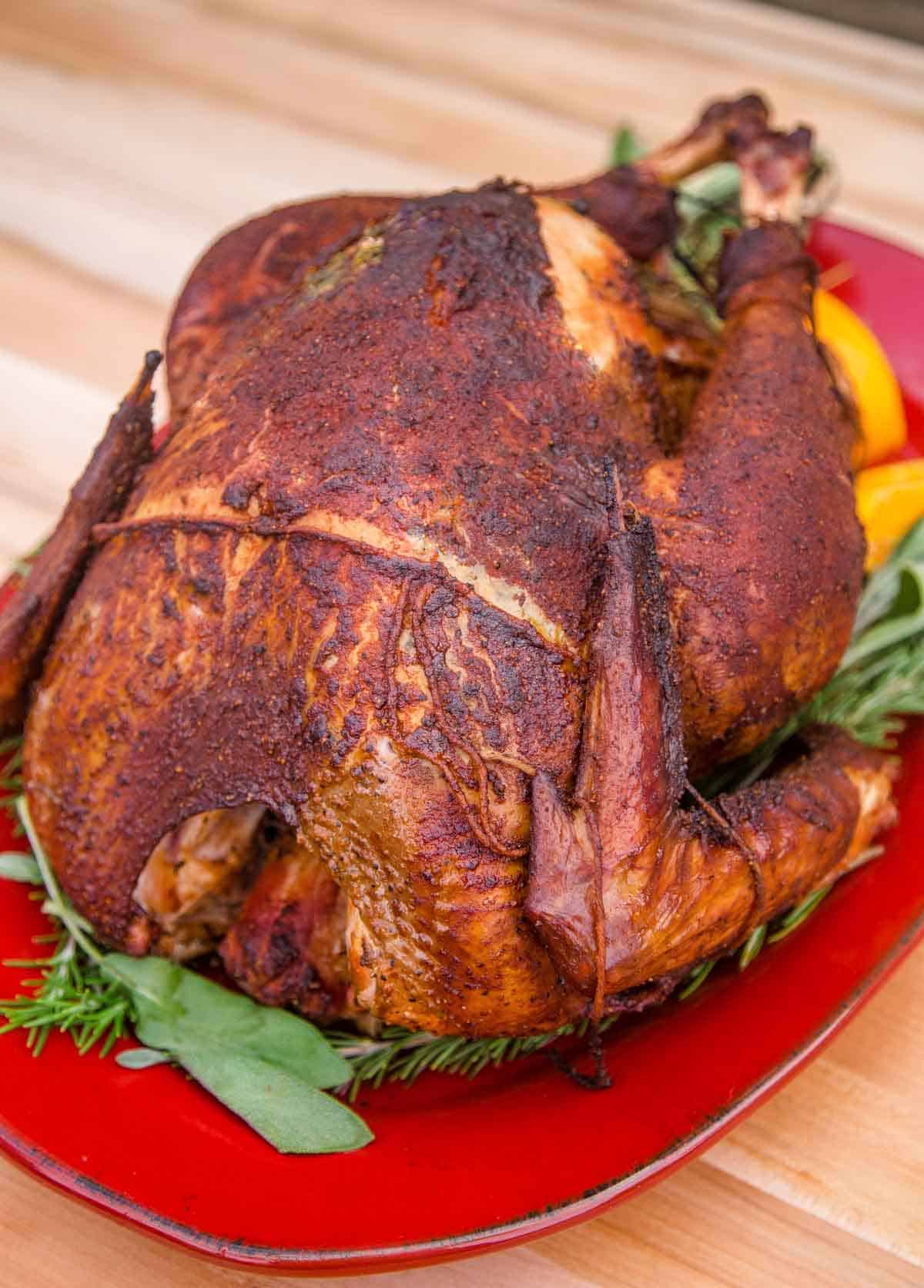 Vindulge Recipe Highlights
If this is your first time smoking a turkey check out our tips on smoked turkey from the pros.
Smoked turkey needs a brine in order to maintain moisture and tenderness during the smoking process.
Season the turkey both inside the cavity and on the skin using a compound butter and turkey seasoning.
Smoke at the proper temperature for good skin texture.
Carve and serve and enjoy an amazing Thanksgiving dinner with your family and friends.
Jump to:
The Best Smoked Turkey
As the owners of a critically acclaimed catering company, we've cooked turkey pretty much every way you can. From brining, to not brining, whole turkey to spatchcock, to smoked turkey breast. Cooking on everything from pellet smokers, offsets, gas grills, and our Weber kettle, to even a tiny portable grill. We've experimented and cooked with it all, and this is our favorite smoked turkey recipe of all time. Follow these steps for truly the best smoked turkey recipe that you and your family will enjoy for years to come!
Ingredients for Smoked Turkey
TURKEY: It is important to purchase store-bought turkeys that have not been previously brined in a saltwater solution. Over brined turkey will lead to a very salty flavor in the smoked turkey. Look for a whole bird without a label that says "previously brined", or "brined in a 4% saltwater solution" (or another percentage). Another consideration is to avoid buying a large turkey. A larger bird can overcook easier because the turkey cooks from the outer edge to the inner parts of the bird. Instead of one large turkey, we prefer two 12 – 14 pound turkeys. This will also allow you to smoke them faster. It also provides more of the legs and thighs that people tend to love. So avoid a turkey over 20 pounds.
BRINE: This is a salt and water mixture used to add moisture and flavor to meat. We highly recommending buying a turkey that is not already brined, and brining it yourself the day before you smoke your turkey.
TURKEY SEASONING: When smoking it's nice to have both sugar, salt, and savory flavors. The sugar helps with some caramelization, the salt and savory herbs add flavor. We use our Ultimate Dry Rub for smoked turkey. It's very versatile with sugar and spices. You can also use our Turkey Seasoning, developed just for turkey. It has less sugar, and more herbs, and is equally good on turkey.
HERBED BUTTER: This is a mix of room temperature butter and fresh herbs that we place under the skin for great moisture and flavor into the breast meat.
CAVITY STUFFING: We use a mix of citrus, onions, and garlic to stuff the cavity for maximum moisture and flavor.
How Much Turkey Per Person
When catering the general rule of thumb we use is to plan on 1.25 pounds of turkey per person. When planning on portions, it's important to consider the bones adding weight to the turkey as well as leftovers (because, let's be honest, we all love the leftovers).
This is the estimate we use and trust.
A 10 pound turkey will serve 8 hungry people on average.
A 12 pound turkey will serve 10 people
A 14 pound turkey will serve 12 people
Holiday season means a bountiful table of other foods too, and there is always planning for leftovers. As you approach needing more than 14 pounds of turkey, consider two birds as mentioned.
Thawing Turkey
For frozen turkey, remove from freezer 3 days prior to brining the turkey in order to let it defrost safely and with enough time to brine. The general rule is that it takes 24 hours for every 5 pounds of turkey to thaw in a refrigerator. We have an entire article on safe ways to thaw turkey.
Rapid thawing is possible using water and ice. The important safety measures are to keep the turkey and water cold to prevent bacterial growth. Plan 30 minutes per pound to thaw using the water and ice technique. Thermoworks, one of our favorite brands for instant read thermometers, has a great step by step guide on using water to rapidly thaw a turkey. We've used this method in a pinch.
Fresh turkey can last up to 3 days in the fridge prior to cooking.
Smoked Turkey Brine
What is a brine? Simply put a turkey brine is a salt and water mixture used to add moisture and flavor to meat. Smoking slowly take a toll on moisture and this offsets that.
How? The salt follows its way into the meat through the process of osmosis, which is why adding more flavor in addition to your salt mixture allows for the flavor to get into the meat.
You can go with a dry brine (salt based rub) or wet brine. We prefer the wet brine with bourbon for that added flavor. You can check out our article for more information on a basic turkey brine recipe.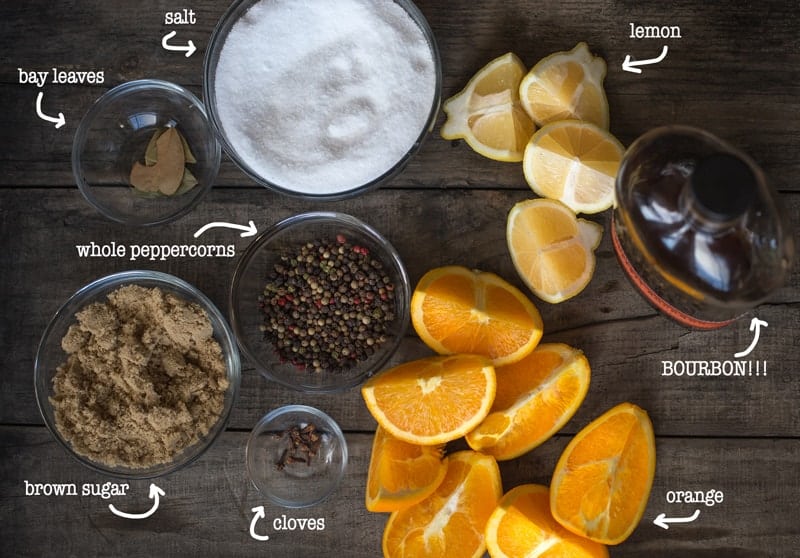 In a large stockpot add cold water and your brine ingredients (see recipe card). Place the turkey into the brine and cover. (If you have more than one turkey, consider food-safe brining bags or a cooler that will hold the liquid and the turkey.)
Place the turkey in the refrigerator for 24 hours. If using brine bags carefully seal them and store in a cooler with ice (this saves room in the fridge with all the other food you will likely be preparing for the holiday meal).
If your turkey tends to float to the top then flip the turkey over half way through the brine.
Important: Avoid brining more than 24 hours as the texture of the turkey may start to get gummy as it cures versus brines.
Preparation For Smoked Turkey
Once you've thawed and brined the turkey you need to prepare for smoking.
RINSE TURKEY: Rinse off the brine and pat the exterior of the turkey dry with paper towels. Both the turkey cavity and exterior need to be DRY.
SEASON TURKEY AND DEHYDRATE: Season the turkey using our turkey seasoning liberally, including the cavity of the turkey. Leave the dried and salted/seasoned bird uncovered in the refrigerator for four hours. This will flavor the turkey and help minimize rubbery skin when smoking.
STUFF CAVITY: Remove from the fridge and stuff the cavity with some fresh citrus (a combination of lemons and oranges), onions, garlic, and fresh herbs. This is going to help the cavity of the bird stay juicy and tender. As the stuffing heats up, the aromatics and liquid are forced out and into the bird from the inside out.
ADD COMPOUND BUTTER: Slightly lift the skin and add an herbed compound butter. See recipe card for the butter ingredients.
TIE WINGS AND LEGS: Tie the legs and wings close to the body of the turkey with kitchen twine so it cooks evenly. If they are flapping around, they will overcook. You can also tuck the wings under the breast
If some of the seasoning has come off you can dust a little more to the top before placing the turkey inside the smoker.
If you have a gas grill you can follow our guide on how to smoke on a gas grill using wood chips and a smoker box.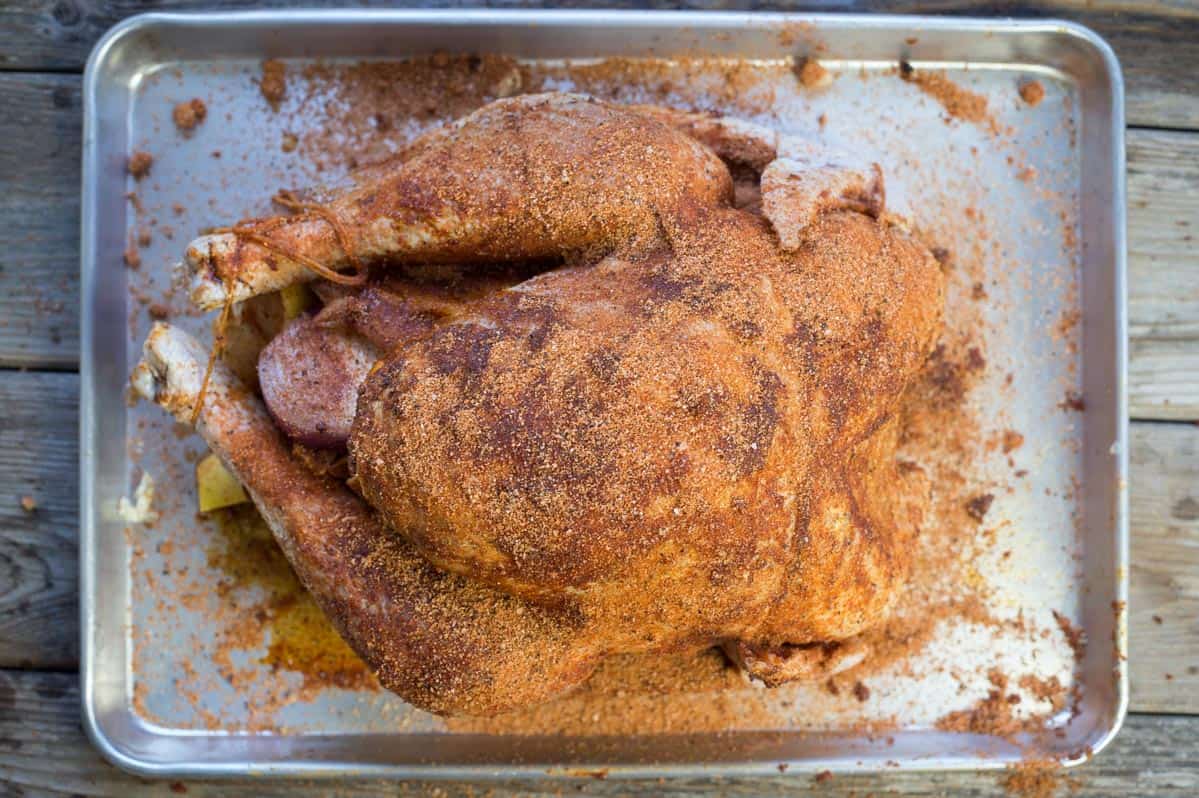 How to Smoke a Turkey
PREHEAT SMOKER: Prepare smoker to 275 degrees. After experimenting with different cooking temps we've landed at 275 as our sweet spot for a whole turkey to minimize rubbery skin. We like fruit wood for poultry, cherry or apple wood is our choice when smoking turkey.
SMOKE TURKEY: Place the turkey directly on the smoker (you do not need a roasting pan or aluminum pan). We recommend to insert a digital blue tooth probe thermometer, like the Thermoworks Signals. Signals, like the Smoke unit, will monitor the ambient cooking chamber temperature, as well as up to three zones. So in this case, we put one probe in the breast meat, and one into the dark meat. The blue tooth capabilities makes it easy to monitor temperatures on your phone, so you don't have to keep lifting the lid on your smoker letting any heat out.
MONITOR TEMPERATURE: Remove the turkey when the internal temperature of the breast is 165 degrees (F). The thigh and legs may be higher, that is fine as they can take a higher heat and still stay tender.
REST: Remove from heat and tent in foil, and then let it rest 20 minutes. If you are done early, wrap it and leave in a cooler (with no ice) to keep warm for up to four hours. Resting allows the cells to cool down and retain that moisture.
SLICE AND SERVE: Carve with a sharp high quality carving knife and enjoy.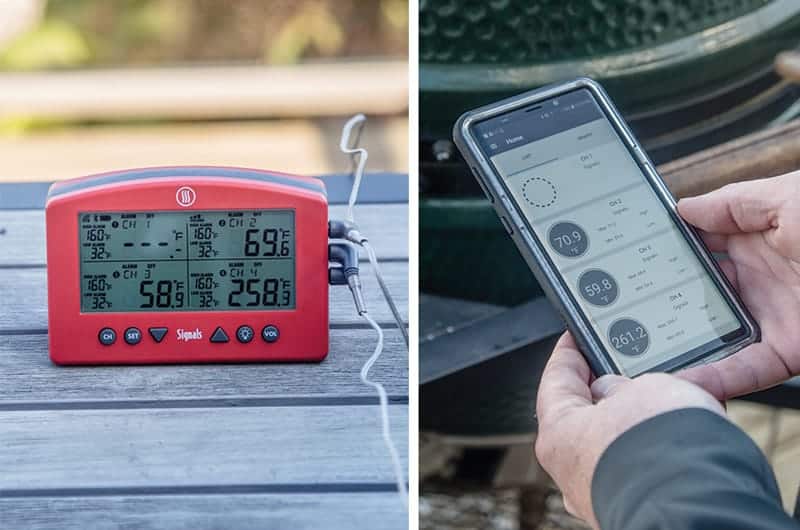 If you have a gas grill you can follow our guide on how to smoke on a gas grill using wood chips and a smoker box.
Common Smoked Turkey Q&A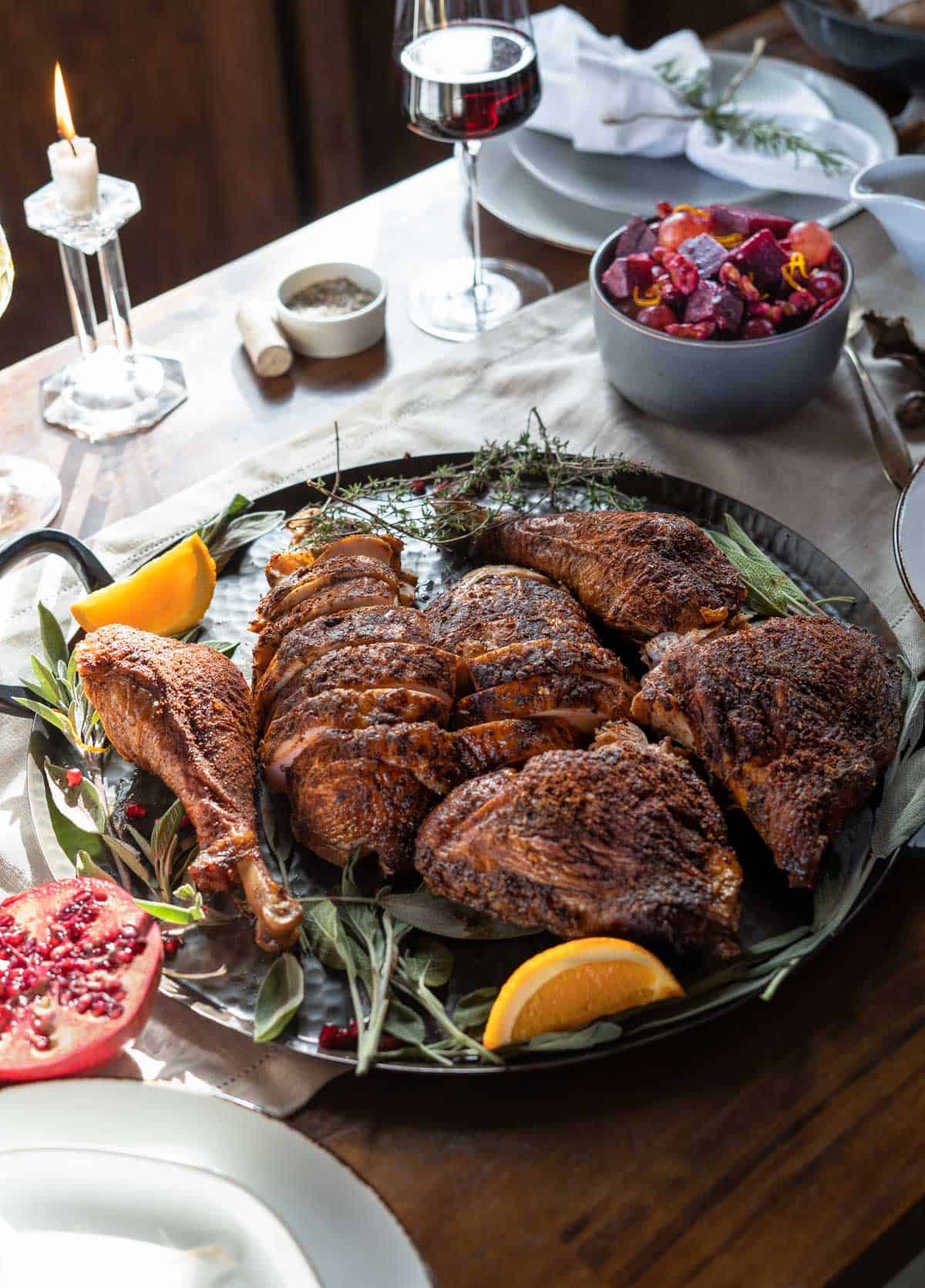 Best Wines for Thanksgiving Dinner
We've got you covered in our Thanksgiving Wine Guide. We discuss everything you need for selecting the best wines in all budgets for your holiday dinner.
More Grilled and Smoked Turkey Recipes
Thanksgiving Side Dish Ideas on a Smoker
You can explore our Thanksgiving Recipes for the Grill and Smoker or some of our favorites below.
---
*This recipe was originally published in November of 2018 and updated in September 2022 with more recipe details.
*This post contains affiliate links. We only recommend and promote products we use and love and contribute to great barbecued and grilled foods, like a good digital thermometer!
If you like these recipes we'd truly appreciate it if you would give this recipe a star review! And if you share any of your pics on Instagram use the hashtag #vindulge. We LOVE to see it when you cook our recipes.
---