The best method for Smoked Chicken Wings (Buffalo Style) with crispy skin is to dehydrate the wings in the fridge, smoke, then sear.
Learn the expert tips and tricks for getting crispy skin when cooking smoked chicken wings low and slow. Check out some of our other favorite Buffalo flavor inspirations like this smoked chicken dip or these stuffed chicken breasts.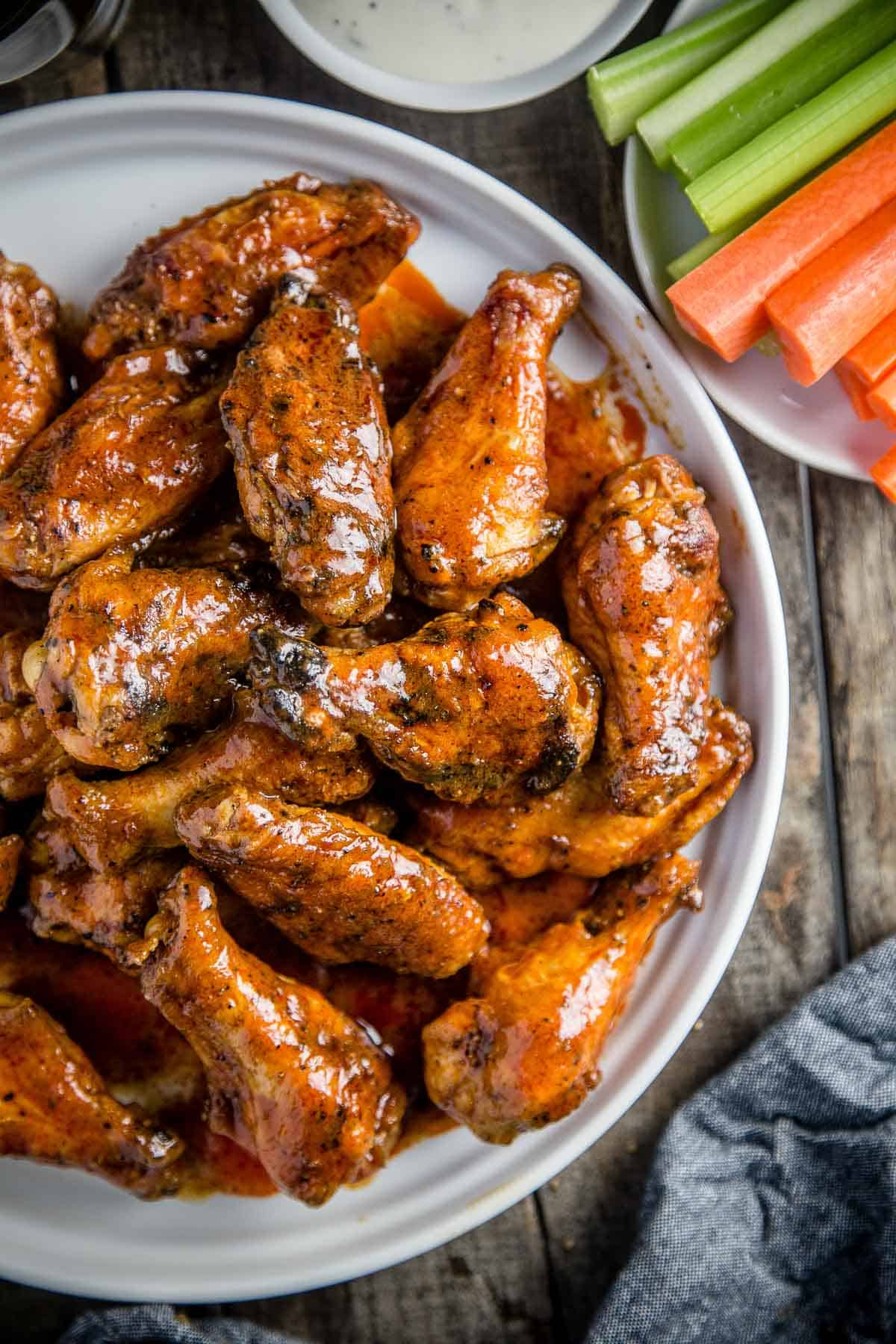 Crispy Chicken Wings Highlights
Dehydrating wings is a great and natural way to dry out the skin, so that you can achieve a crispy texture without using any baking powder or corn starch (we have a method that uses those in a pinch, you can see that recipe here), and also without deep frying.
This tried and true recipe for truly the best chicken wings ever works on any type of smoker or grill, from a charcoal grill to a pellet smoker.
Smoking adds an incredible smoky flavor to the crispy wings.
Jump to:
The Best Smoked Chicken Wings, Buffalo Style
My husband is from Rochester, NY, and I'm pretty sure that means it is required by upstate NY law a baby's first food must be Buffalo Chicken Wings.
Buffalo Chicken Wings are an upstate NY original and an American pub staple. And by "Buffalo" I'm not referring to the animal, but instead Buffalo, NY, the city where these indulgent treats originated at Anchor Bar.
Fun fact, Anchor Bar was the first place we ate after getting married. True Story.
We've been making Buffalo style hot wings for years, and found the very best way to emulate the same signature style, while maintaining crispy skin, and while cooking on the smoker.
Crispy skin is challenging to achieve while cooking low and slow. You need heat to get that crispness, otherwise you end up with rubbery skin. Well we have the answer and the secrets to getting smoked chicken wings with crispy skin while cooking low and slow. These are truly the best wings for smoked food lovers!
Ingredients for Crispy Smoked Chicken Wings
2 pounds chicken wings. You'll also see them labeled as "Party Wings". If you go by number, look for around 24 wings for these ratios, which you'll find about 20-24 wings in 2 pounds of wings. 
extra virgin olive oil
coarse ground pepper
Frank's RedHot Hot Sauce
unsalted butter
See recipe card for specific portions 
How to Smoke Chicken Wings
Follow these steps for the most incredible smoked chicken wings WITH crispy skin.
Dehydrate: First dehydrate the wings in the refrigerator. This allows for the skin to be fairly dry before you even start the smoking process. Pat dry your wings with some paper towels, then place them on a baking sheet and place in the refrigerator for up to 3 hours. This is crucial to the end texture of the chicken. This process will prevent the wings steaming when you cook it, which creates a rubbery texture. We're going for crispy here, trying to emulate the texture of fried wings.
Season Wings: Toss them with olive oil then salt and pepper. You're welcome to use your favorite dry rub as well. But we love the simplicity of salt and pepper tossed with the hot sauce. 
Smoke: Smoke your wings for one hour at a low temperature (225 degrees F) to get that delicious smoke infusion.
Increase Heat: Right towards the end, increase the heat to at least 375 degrees F (or higher) for 30 minutes to finish them off at that higher temperature.
Alternatively (and not mentioned in the recipe or video) you can transfer them to a hot grill to finish them off, or place them under the broiler for a couple of minutes.
How long to Smoke Chicken Wings?
It takes roughly 90 minutes for smoked chicken wings with crispy skin on the smoker. Smoke the wings at 225 degrees for one hour. Then increase the temperature to 350 for an additional 30 minutes. Conditions will affect the exact time. The key is to not pull the wings until you feel that crispy skin on the exterior. You can tell by touch! If you're looking for temperature, in addition to touch, we like to pull smoked chicken wings at around 175-180 F degrees internal temperature of the wings, using a good digital instant-read thermometer.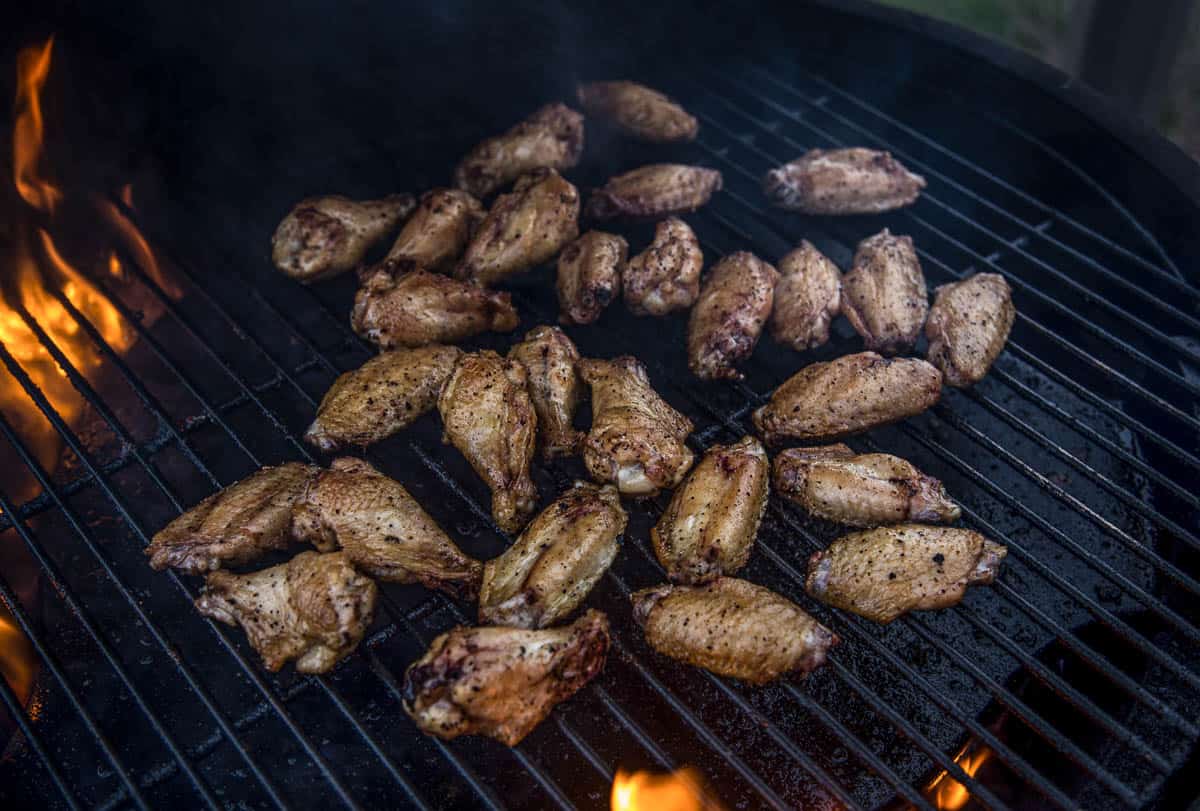 The Best Buffalo Sauce
We're going classic for this sauce, and that means a Buffalo Style Wing Sauce, like they used at the classic Anchor Bar. For us that's the one and only Frank's RedHot Hot Sauce and some butter. It is hands down my favorite sauce, and the most classic tasting. Our ratio is 2 tablespoons of butter for ever 1 cup of Frank's. If you're looking for a BBQ sauce flavor, then I recommend our grilled BBQ chicken wings, you can adapt the recipe using BBQ sauce in place of the hot sauce.
Slowly simmer the butter and hot sauce together, but DON'T melt at a high heat. If you melt the butter at too high a heat, and then add the Frank's, the result is oily and the hot sauce does not integrate with the sauce. Instead the hot sauce separates from the butter. It's a sad oily mess. You just want to melt them together. Then place it in a large bowl, and toss the cooked wings in the bowl while they're still hot.
For best results serve immediately, in the classic style with carrot sticks, celery, and blue cheese dressing (or ranch, based on your personal preference).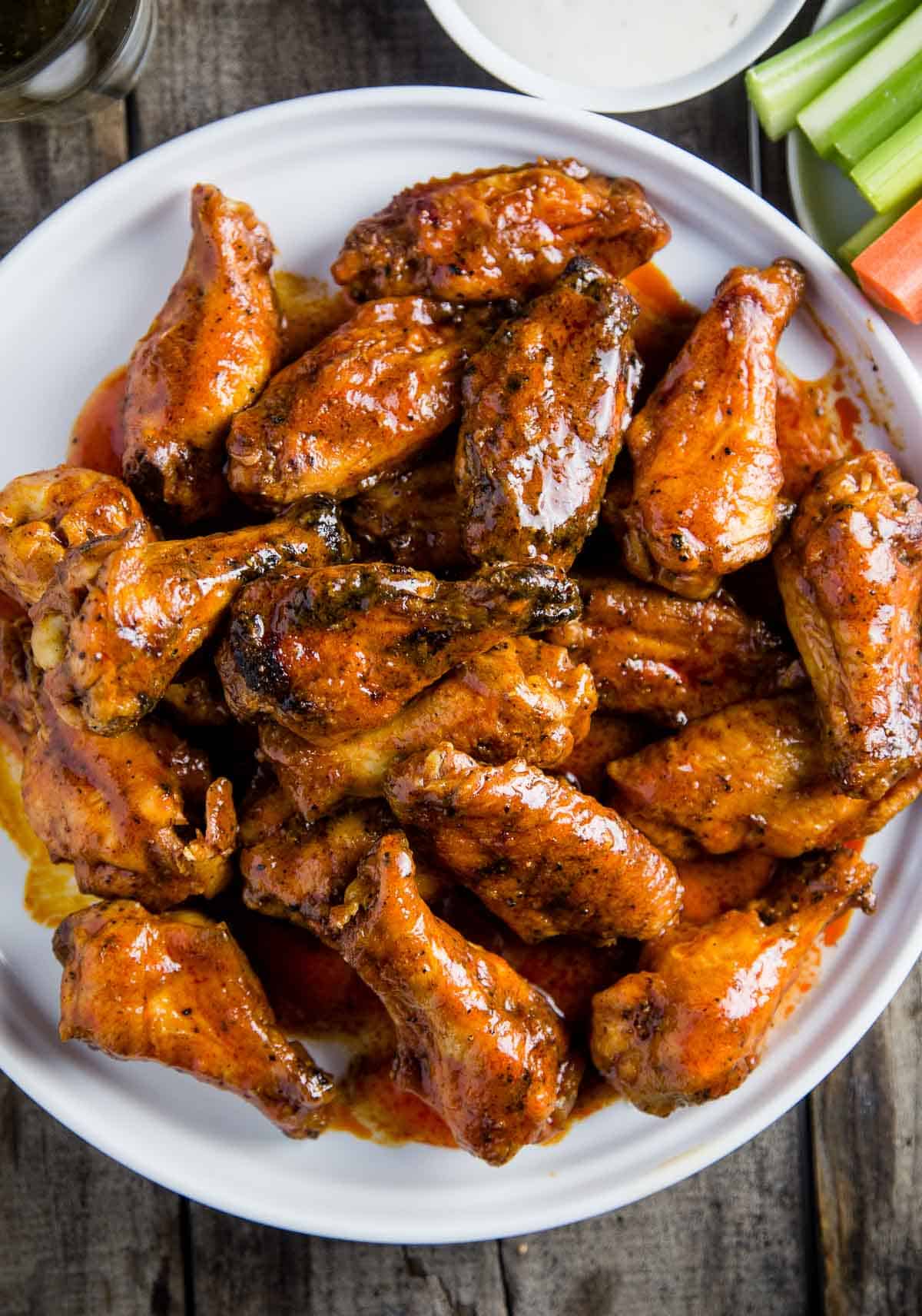 Wine Pairing for Buffalo Chicken Wings
In the wine and food pairing world, they say "what grows together goes together." Well my two favorite things from Upstate New York (besides my husband!) are the chicken wings, and the wine. And yes, they actually do go quite well together. Look for semi-dry Rieslings from the Finger Lakes Region of New York State for smoked chicken wings. They have lovely crisp juicy apple, peach, and apricot aromas, lively acidity, and a cooling sweetness that will refresh and cool your palate from these wings.
Why is this so? Because these wines have a small amount of residual sugar in them, leaving a slightly sweet and refreshing feeling that cools the palate. When your mouth is hot from spicy food, what do you want? Something to cool it. It's the same thing that happens when you take a sip of an ice-cold beer after a bite of something spicy, which is why beer is the typical drink of choice for most wing enthusiasts.
Alternatively, these wings work fantastic with a fruity rosé!
Frequently Asked Questions
What is the Best Wood for Smoked Wings
Fruit wood, and specifically apple or cherry wood is ideal for smoked chicken wings. The wood burns sweet and give a touch of smoke flavor. Mesquite or oak will have more intense smoke flavor if you want to really go big.
How Long to Smoke Chicken Wings for Crispy Skin 
Plan 90 minutes of total time for crispy skin. One hour for smoke time and 30 minutes at 375 degrees at a higher temp to finish off. 
Should you spray wings when smoking?
There is no need to spray the wings. Simply start with an air dry in the fridge, then season with olive oil and your favorite seasoning then smoke. we don't want to add any additional moisture, in order to avoid rubbery skin.
More Grilled and Smoked Chicken Wings Recipes
Buffalo-Inspired Recipes
---
*This recipe was originally published in October, 2013, and updated in May, 2023, with new photos. The original recipe remains the same.
If you like this recipe we'd truly appreciate it if you would give this recipe a star review! And if you share any of your pics on Instagram use the hashtag #vindulge. We LOVE to see it when you cook our recipes.
---