This Grilled Chicken is seasoned and then grilled to perfection, and finished with a delicious sweet and spicy (and super simple) Cherry Chipotle BBQ Sauce glaze at the end.
Cherry Season has never been so delicious with this cherry chipotle bbq sauce.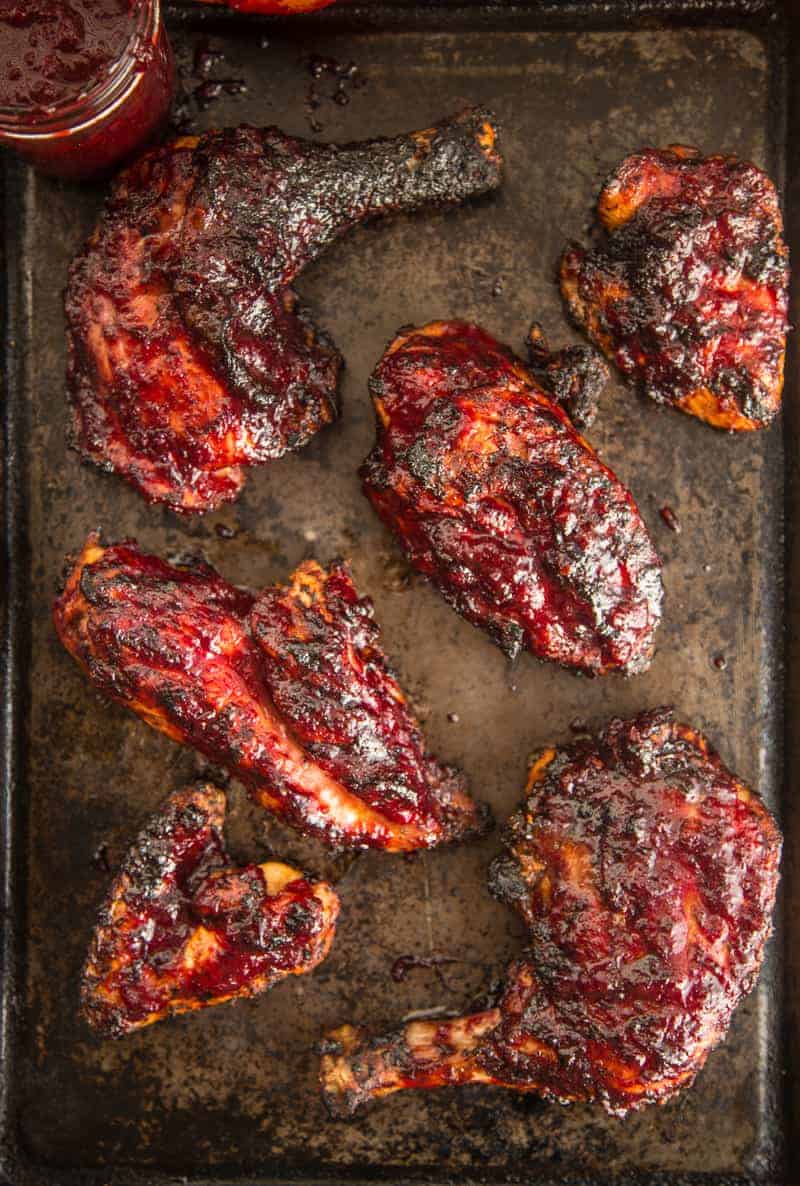 Cherry Season is in full swing here in Oregon, and they're everywhere! We simply can't get enough of this sweet fruit.
And I mean that literally. We are overloaded!
If you're not into jams or pies (or have an overload of those too) one great way to use any excess cherries is to use them in sauces and glazes. Not only do they provide great natural sweetness, but they also provide a vibrant bright color to the sauce (and whatever protein you apply them to).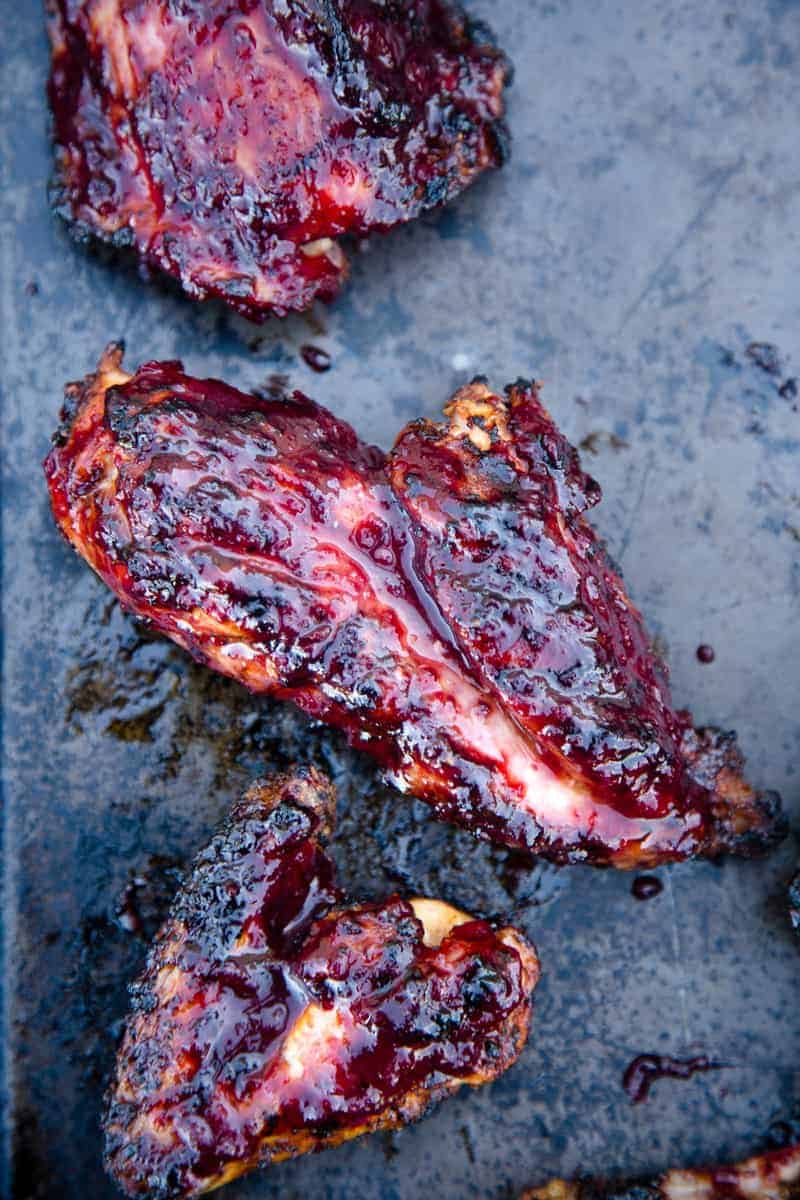 Grilled Chicken with a Cherry Chipotle Sauce
For this recipe we're grilling up some chicken, then making a cherry chipotle BBQ sauce to glaze the chicken with at the end. For the sauce we simmer down fresh pitted cherries and cook them in a saucepan with some spicy chipotle, a little bourbon, and a few other gems. But we're keeping it simple. This isn't a traditional or thick BBQ sauce. Instead it's meant to really showcase the cherry flavors and just glaze the meat at the end for flavor and shine.
The Cut — Which chicken works best for the grill?
To grill the chicken we like to start with a whole chicken, cut into quarters. If this isn't available at your store then ask the butcher to cut up a whole chicken for you. It never hurts to ask (they always say yes when I ask them to do the butchering). It's much easier than doing it yourself.
Just make sure to get bone-in chicken, for best flavor.
Why bone-in? Because I find the bone, especially in the breast, provides a heat shield that allows you to grill the chicken but not overcook it like you could do with boneless.
Boneless skinless breast will work too if that's what you prefer, but we love the added flavor of the bone-in with skin on.
Clean and pat dry your chicken then add your dry rub. We love this dry rub. It's a great all purpose dry rub for chicken.
Prepare the Grill for Indirect Cooking
We are using an indirect method set up so we have high heat on one side, and indirect heat for finishing. In this example we're using our Big Green Egg. But the same concept applies if you have a kettle grill. See this post for using a kettle grill.
How to Cook Chicken over Indirect Heat
Start your chicken over the direct heat side to get a nice crust on each side (just a couple minutes per side). Then move to the indirect side to slowly bring the meat up to temperature.

(On the left: chicken cooking over direct heat. On the right: chicken cooking over indirect heat)
Cover the grill, and slowly cook until the internal temperature of the meat is 150 F. That is when you will start your first glaze. This gives it time to meld into the chicken while it approaches the finishing temperature.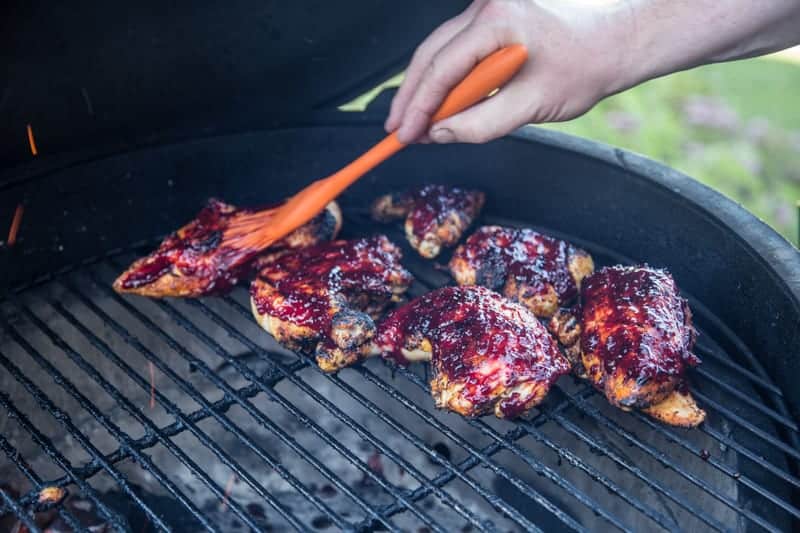 Cover the grill again and continue cooking until the internal temperature of the meat reaches 165 degrees F. We like to use a digital thermometer (like the one below from ThermoWorks) for this for best results. This is also why we like to grill chicken cut into pieces. The smaller pieces will cook much faster than the thighs or breast meat.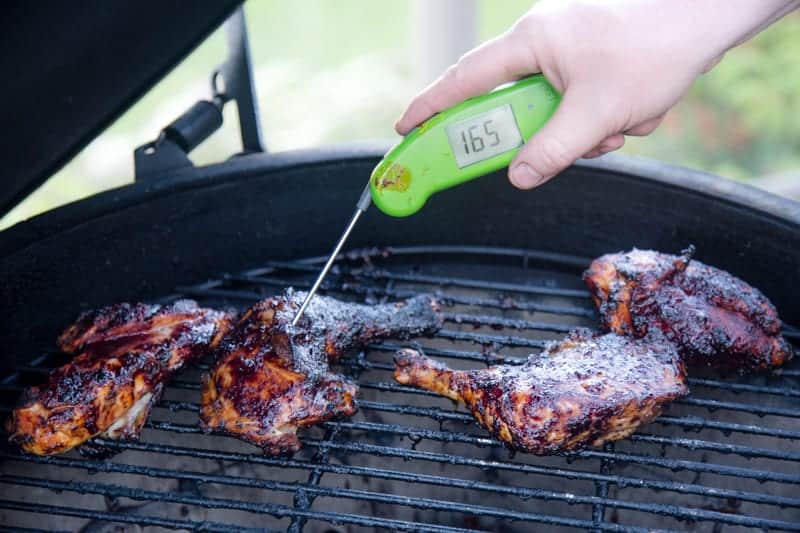 Then once it's finished, give it one more glaze and remove from the grill.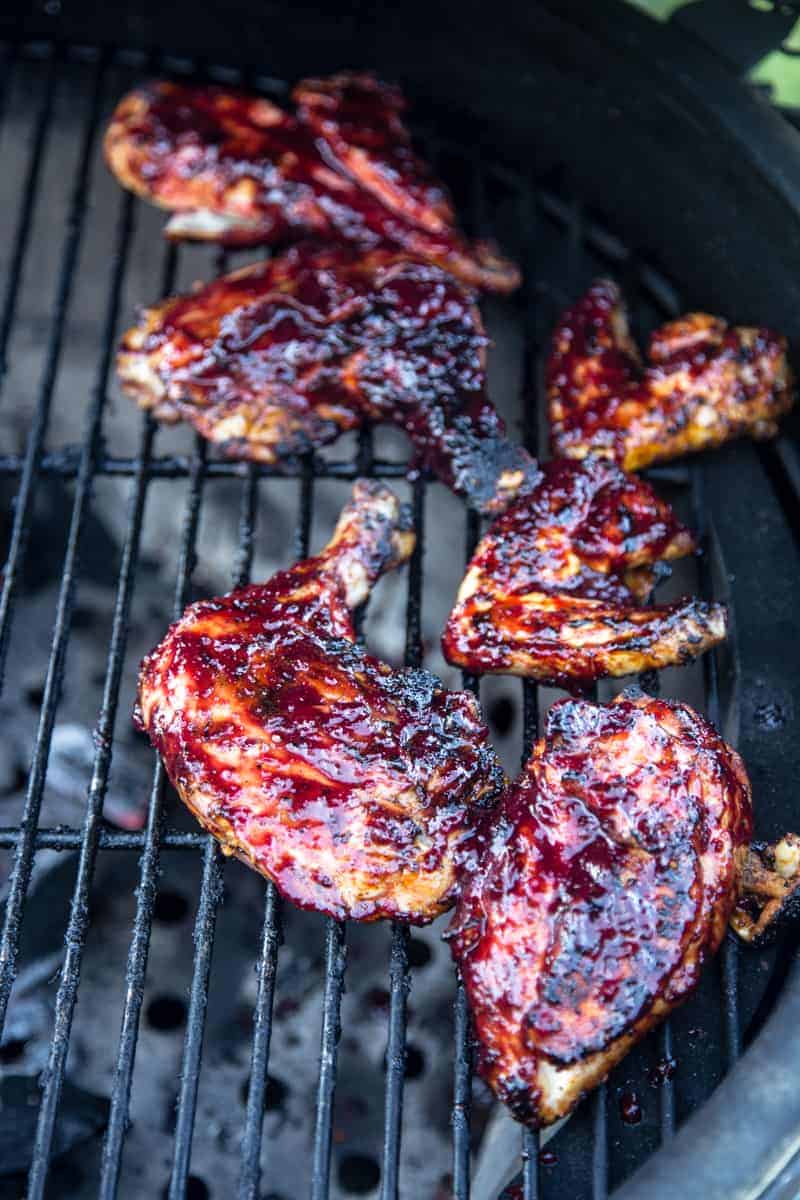 Glaze vs BBQ Sauce?
The best way to think about this glaze, vs. a traditional BBQ sauce, is that a glaze is basically a sweetened sauce that we're "glazing" onto the meat towards the end of the cook. A BBQ sauce would be thicker (think ketchup based) and used as a condiment. This glaze will add shine and color, and seep into the meat. We add honey and more sweet characteristics so that it thickens more, especially as you apply to the meat and let the heat tack up the glaze for flavor. A sauce as mentioned, is more of a condiment we add after we are done cooking.
How to Make the Cherry Chipotle BBQ Glaze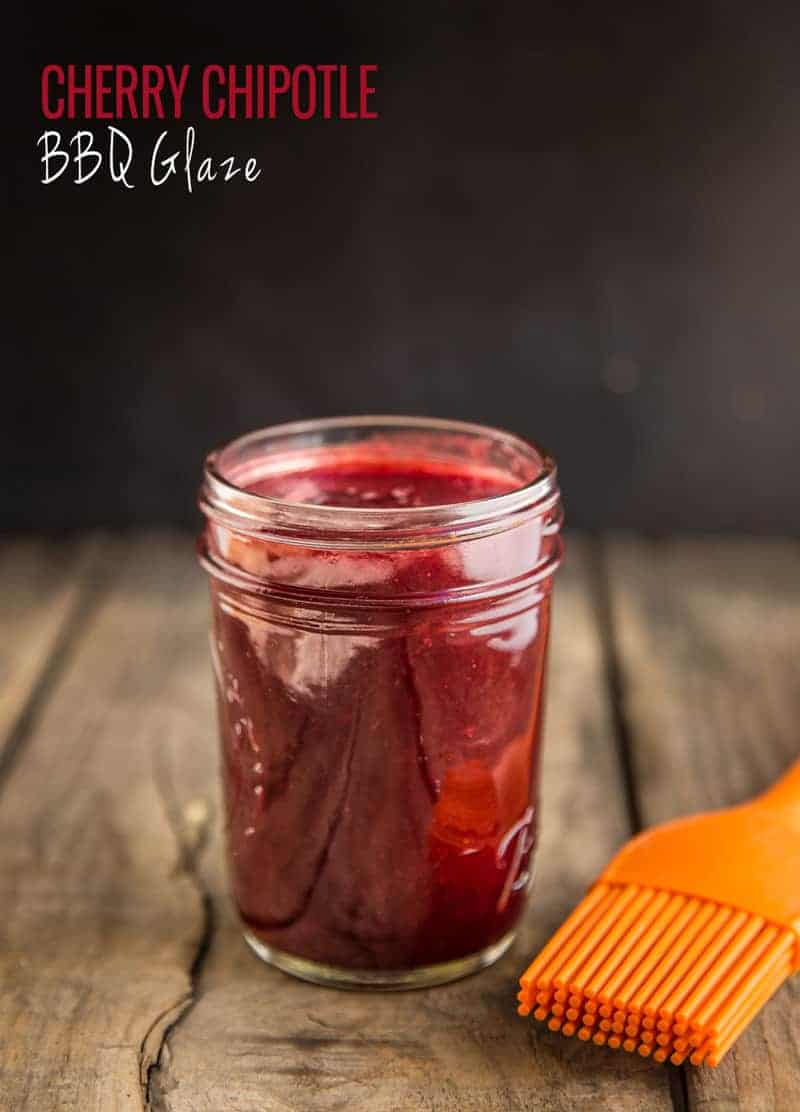 You start by pitting your cherries then adding them to a small sauce pan. Next add the remainder of the ingredients and simmer about 15 minutes. Next you'll want to transfer to a blender or food processor to get out the chunks. Then return to the saucepan, add 1 tablespoon of honey (this is going to add gorgeous shine) and cook down some more to reduce.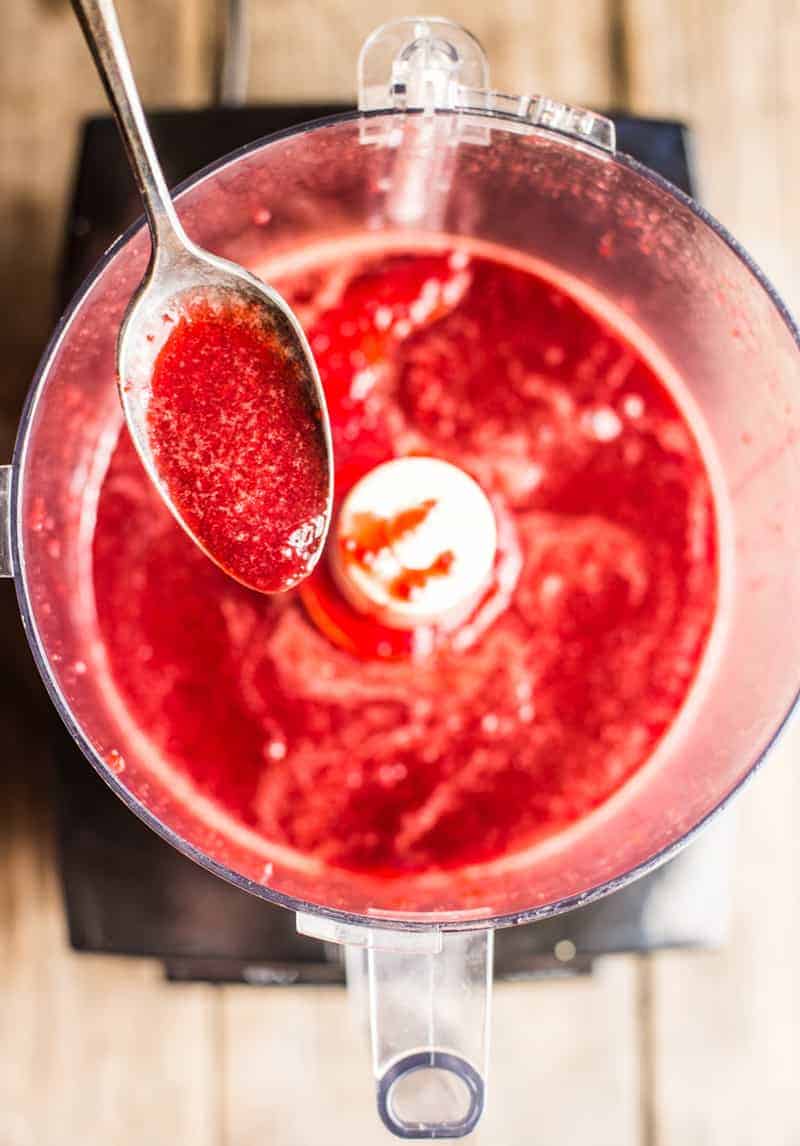 More Grilled Chicken Recipes
If you like this recipe we'd truly appreciate it if you would give this recipe a star review! And if you share any of your pics on Instagram use the hashtag #vindulge. We LOVE to see it when you cook our recipes.
*Disclaimer: This post contains affiliate links. We only recommend and use products we love!
---