Got leftover brisket? Make this Smoked Brisket Chili! Recipe and video tutorial for our favorite chili recipe of all time.
We're also answering all of your controversial questions and concerns regarding this Smoked Brisket Chili! Check it out.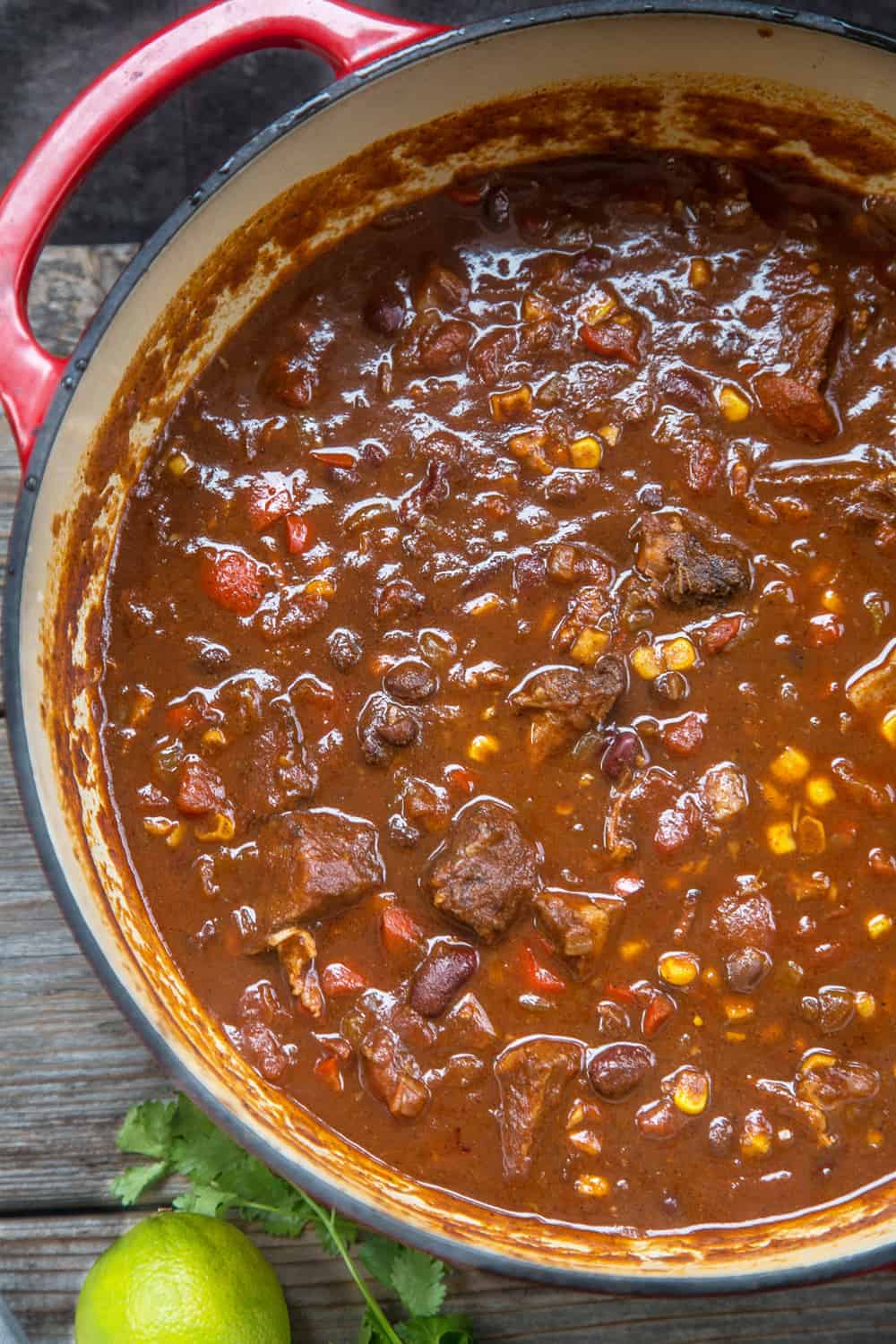 Go ahead and insert your jokes about "who the heck has leftover brisket" 😉
I've heard them all. The thing is, after tasting this brisket you may start smoking a brisket JUST to make this chili. It's happens. True story.
In fact we hear from readers all the time who smoke briskets just so they can enter this exact recipe in chili competitions, and guess what? They've all won!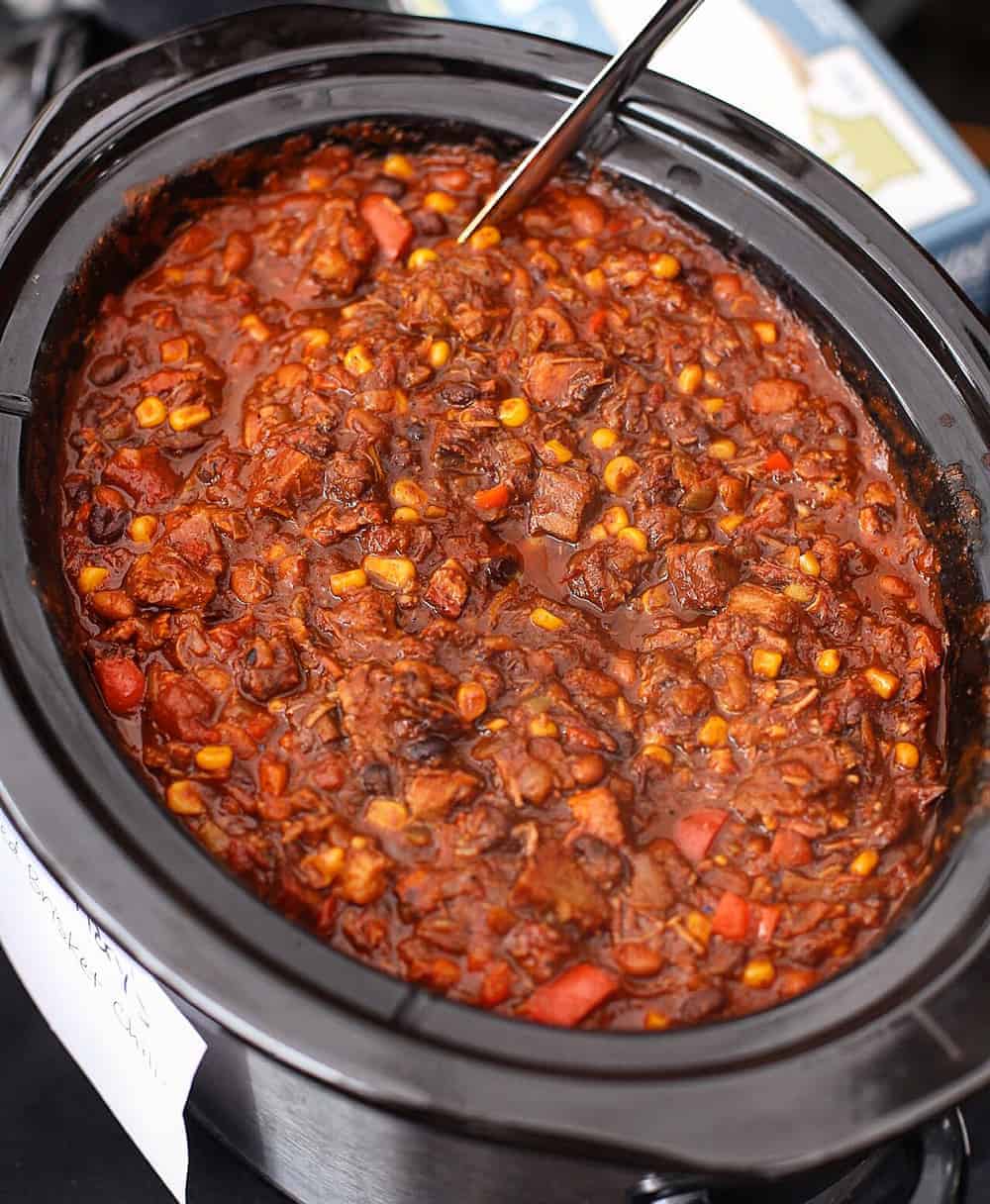 We've been making this recipe for years. In fact, it was one of the top recipes on my site until those Pork Belly Burnt Ends took the lead on top hits. Pretty rough competition if you ask me! They're both friggin' amazing.
We've taken that recipe and given it a makeover.
Leftover Brisket
Now, every time I post the video the comments are already rolling in….
"Leftover brisket? What is that?"
"There's no such thing as leftover brisket."
"Who has leftover brisket?" they ask.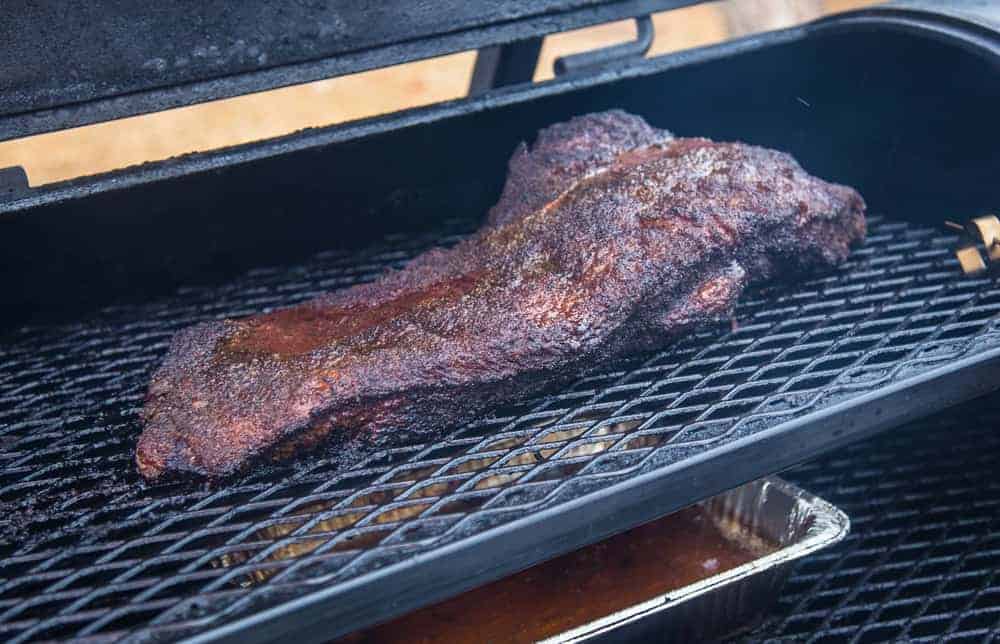 Well I'll tell you who!
WE DO!
And also …
People who want to try their hands at their very first brisket and maybe it didn't come out perfect. (been there!)
People who have a an undying mission to constantly perfect their brisket game. (we totally understand!)
People who wanted to smoke a brisket for the 4th of July… and also a pork butt, and 4 racks of ribs, and 5 lbs of chicken, and a whole salmon… for 10 people. (been there too)
A family of 4 who are having mad cravings for brisket but don't feel like inviting company over. (I'm just over here raising my hand, again!)
People who started a crazy catering and BBQ competition company and practiced and practiced so they could teach folks what they learned. (been there!)
A wife who challenged her husband to a brisket cook-off just to see who could do it better. (it happens, and I won)
All I'm saying is, leftover brisket happens. It's a real thing! And it's okay if you have leftover brisket. It's nothing to be ashamed of. Don't let the BBQ police bring you down.
And if this should happen to you, make yourself some chili!!!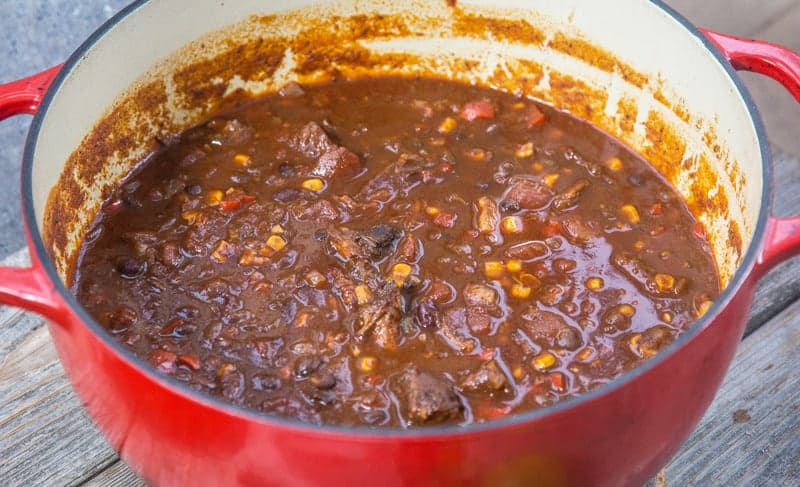 Now let me tell you a few more things about this chili that may piss you off.
There are beans in it! (Sorry, Texas. Recognize we don't call it a Texas chili. We live in Oregon, and here we like to live dangerously. 😉 )
There is also corn in it!!!!!! (The horror!!)
And guess what. You can choose what you want and don't want in it! That's the great thing about it. YOU get to pick and choose.
Let me explain.
What to add to Smoked Brisket Chili with Leftover Brisket
Leftover brisket (start with this recipe!): jokes aside, it's a major flavor component of this chili, and we use at least 3 cups. We've also made it with other smoked beef leftovers (like Tri Tip), or even leftover pulled pork, and it turns out fantastic.
Beans: I like a mix of beans and I happen to have a bunch of beans in my house at all times. I like a mix, usually black and kidney. You can go all black, all kidney, or none at all. If you're not into beans, by all means leave them out! But I'm feeding a family here and like to sneak in all proteins where I can.
Corn: Unlike many other chili recipes there is no added sugar in this recipe. The corn adds some natural sweetness without adding sugar. Also my kids, who used to love all things corn, will now only eat it two ways (grilled on the cob, or in this chili). So I'm doing the good mom thing by getting them their veggies while enjoying a darn good bowl of chili.
How long to cook Brisket Chili
The timing: I recommend you simmer as long as you have the patience for. Minimum is 3o minutes. It's totally okay if you only have 30 minutes for this chili. The brisket is already cooked, so it's really allowing everything to come together.
BUT, if you have time, let the chili simmah…… and simmah…. 2 hours is a good spot. Or transfer it to your crock pot and let it cook on low for a few hours. The meat will break down and get more and more tender and the flavors will get better and better and slowly, very slowly, reduce and concentrate the flavors.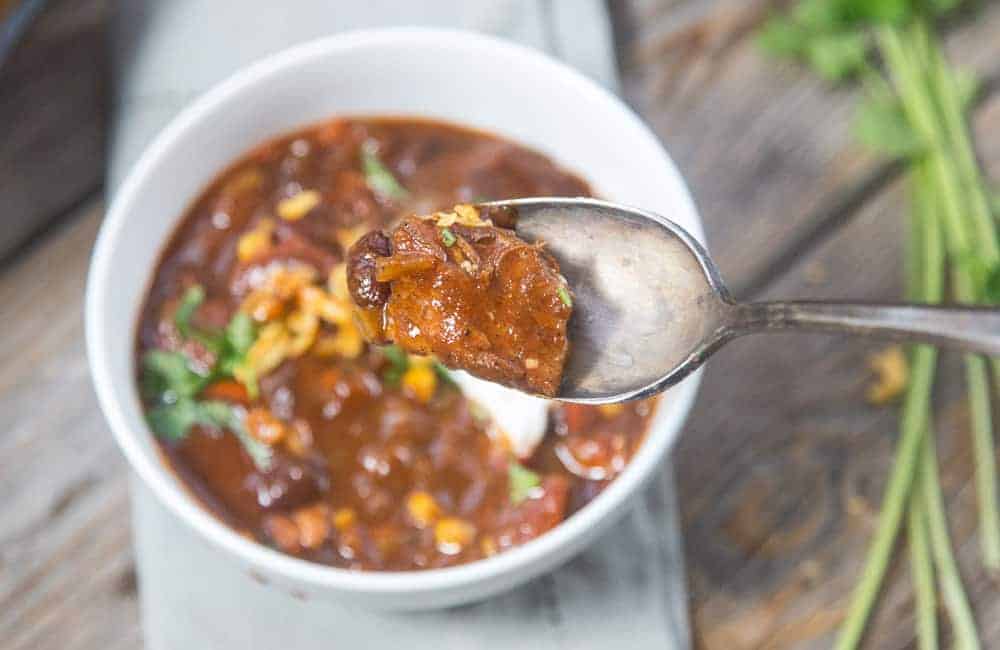 That's it.
About Chili Spices and Chili Seasoning
Our recipe is specific to our palate. Spices like chili powder will vary in flavor and potency. Some will be dark, some light, some spicy, some smoky. It comes down to feeling comfortable in adjusting the recipe for your flavor. We use bulk chili powder, which is a combination of dried chili's like ancho,jalapeño, serrano, and others and we buy it at our local restaurant supply store.
Cumin is another ingredient that people may love or hate or love to hate. Cumin adds an earthy character, if you are not a fan feel free to not add or to cut the portion in half.
I hope you enjoy our favorite chili as much as we do (oh, and all of the people who voted for it and made it an award-winning chili!).
Want More Leftover Brisket Recipes?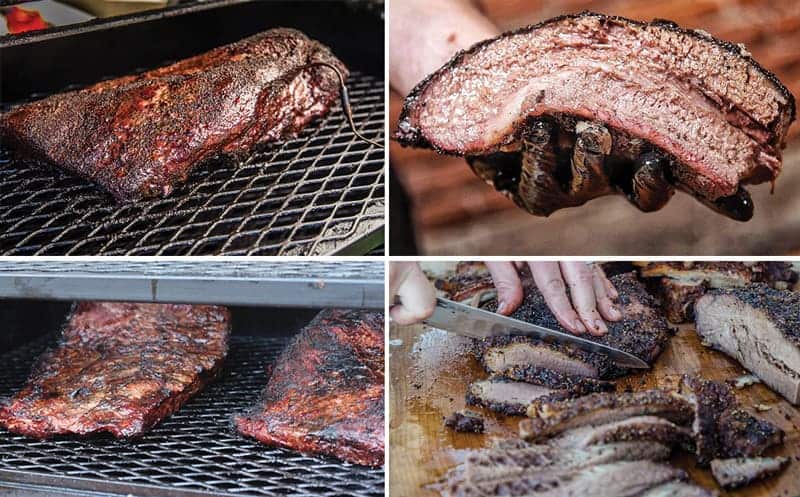 If you like this recipe we'd truly appreciate it if you would give this recipe a star review! And if you share any of your pics on Instagram use the hashtag #vindulge. We LOVE to see it when you cook our recipes.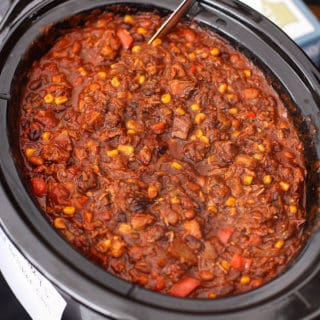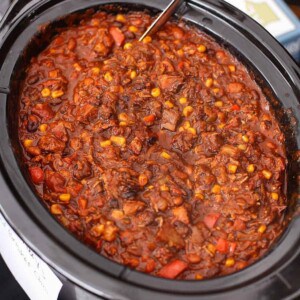 Smoked Brisket Chili (recipe and video)
Award-Winning Smoked Beef Brisket Chili. The perfect use for leftover brisket. You're going to love this!
Print
Pin
Rate
Ingredients
3

slices

of bacon

diced

1

large onion

about 2 cups, chopped

1

red bell pepper,

chopped

3

cloves

garlic,

finely diced

3

cups

leftover smoked beef brisket,

cut up into 1-inch cubes

3

tablespoons

chili powder*

1

tablespoon

cumin

½

tablespoon

canned chipotle in adobo sauce**

(or the equivalent in dry chipotle seasoning, adjust amount to your heat preference. A little goes a long way)

½

tablespoon

smoked paprika

1

12 oz bottle beer

¼

cup

coffee,

cold leftover coffee from your morning pot

1

15 oz can diced tomatoes

1

15 oz can tomato sauce

½

can black beans, drained and rinsed (used a standard 15 oz can)

½

can kidney beans, drained and rinsed (used a standard 15 oz can)

½

can corn, drained and rinsed (used a standard 15 oz can)

(may also use 1 cup of grilled corn)

1

4 oz can diced green chili
Instructions
In a large pot over medium heat, sauté bacon until crispy. Remove with a slotted spoon and reserve for later. If there is excess bacon grease remove it, otherwise cook the onions in it.

Add onions and cook until soft (about 5 minutes). Add bell pepper and garlic; cook 1 additional minute to soften.

Add the leftover cubed brisket and all dry seasonings. Let cook 1 minute stirring often. Get those seasonings integrated!

Add beer and allow it to deglaze the pan and cook off the alcohol (about 1-2 minutes). Then add chipotle, coffee, tomatoes, beans, corn, green chili, and the reserved bacon.

Bring to a low simmer, cover, and cook for a minimum of 30 minutes. The longer it cooks the more integrated and concentrated the flavors get. My recommendation is at least an hour (or better yet two) for a nice rich chili. If the stew starts to get too thick, you can add water ½ cup at a time to thin it out.
Notes
Note on the spicy seasonings: I've received some feedback that this can turn out a bit spicy! Not all dry spices are created equal. The fresher the dry spices the more potent they tend to be. So if your dry chili or chipotle seasonings are rather fresh or new, then they will be more potent. My tablespoon of dry seasoning may be different than your tablespoon of the same spice.
So if you're sensitive to spice go easy on the spicy spices at first. You can always add more later! I find that chipotle and cayenne tend to add the most heat. So go easy on them and add slowly.
Find the perfect wine pairing at the Vindulge Wine Shop
Nutrition
Calories:
275
kcal
|
Carbohydrates:
9
g
|
Protein:
28
g
|
Fat:
14
g
|
Saturated Fat:
5
g
|
Trans Fat:
1
g
|
Cholesterol:
81
mg
|
Sodium:
351
mg
|
Potassium:
731
mg
|
Fiber:
3
g
|
Sugar:
4
g
|
Vitamin A:
2255
IU
|
Vitamin C:
34
mg
|
Calcium:
60
mg
|
Iron:
5
mg
---