The go-to recipe for perfect Smoked Brisket every time, plus tips and tricks on how to smoke beef brisket.
At the end of the day, smoking a perfect brisket is not about a recipe or a step by step tutorial, it's a process you can only learn by practicing. Use this guide to learn what we have about smoking brisket, and mastering such a delicious cut of beef.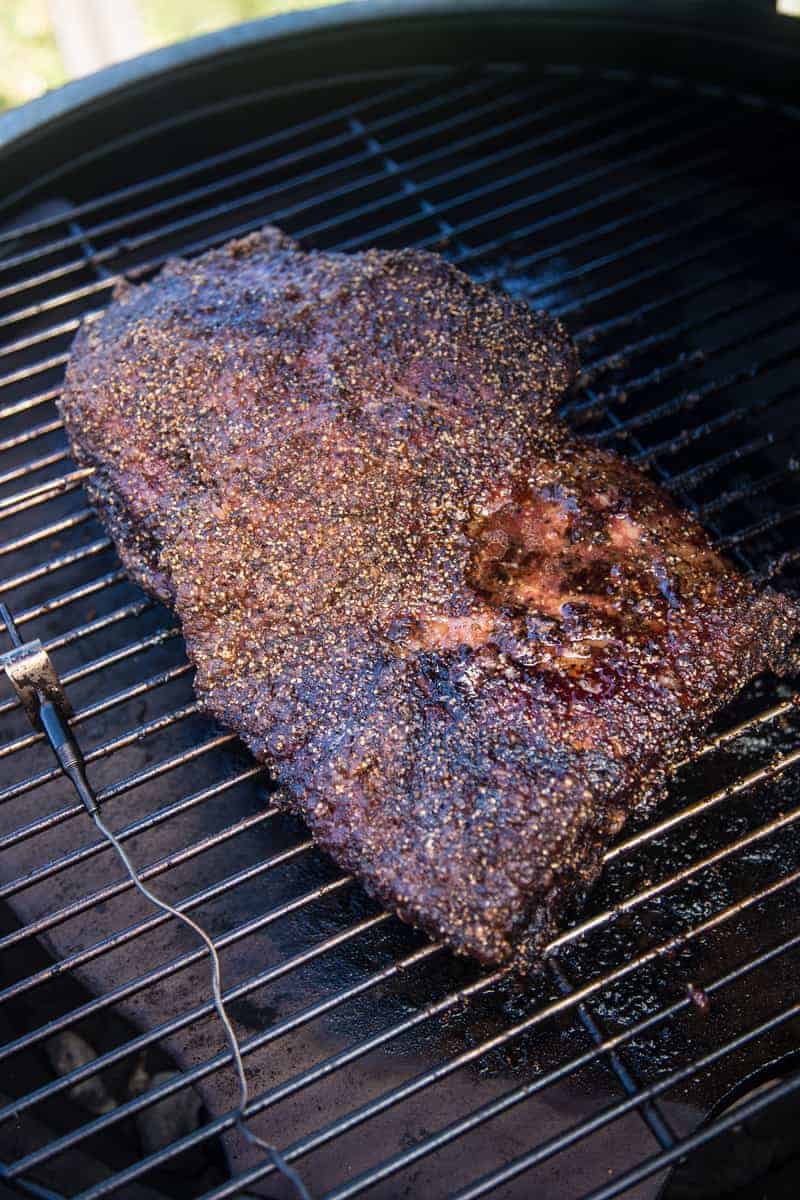 Cooking brisket is complicated. It's like a long-term relationship. Don't take what you think are the rules, and take them for granted (because the rules change with each brisket you cook). Treat each time you smoke a brisket as a new day and a new chance to perfect all the things you learned from the last cook.
If you live by that rule, I hope you cook some amazing brisket. To be honest, you have to work at making great brisket. Even if you are a pro, if you think about all the time and energy you have put into making a delicious tender brisket, you would likely realize how many hours goes into cooking just one. From preparation to slicing.
Instead of focusing on a recipe with exact instructions, I think it better to layout the key components of how attention to detail and the actual cut of brisket will help you navigate how to cook one on your specific smoker. And while we dared to add a recipe below, remember the variables that all go into amazing tender brisket.
So please read this first, before skipping down to the recipe! Want to learn more about burnt ends? Check out this post!
How to Smoke a Beef Brisket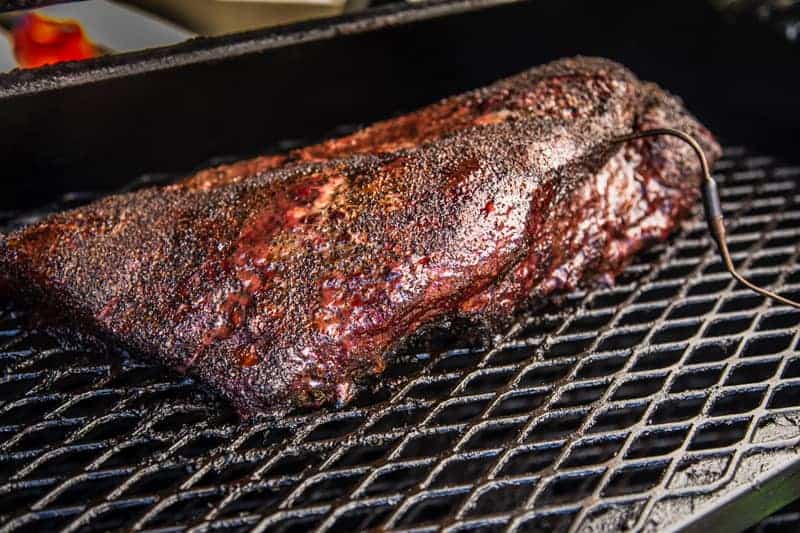 What is Brisket — The Cut
Brisket is from the cow. There are two on a cow, and simply put is made up of two distinct muscles. The point and the flat. Each have different layers of marbling as this is an area of the cow that is used a lot, and so you have to cook low and slow to render out the flavor.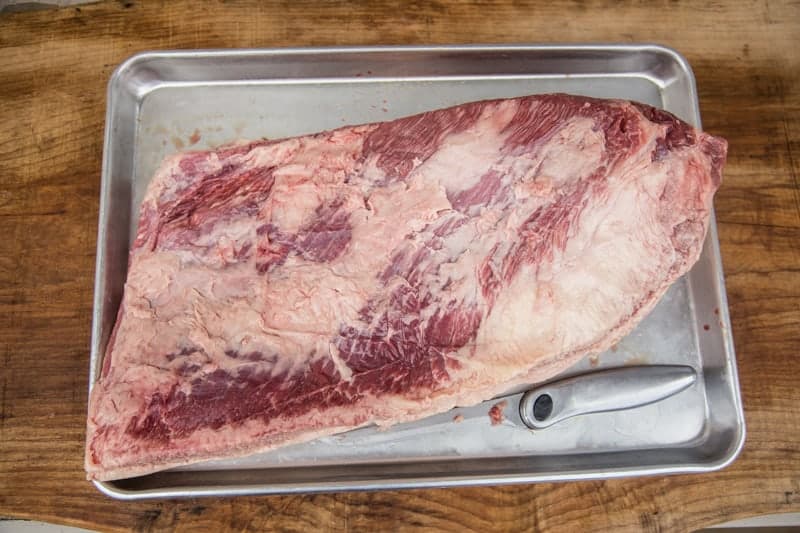 Buying brisket you typically want to buy the entire packer (the point and the flat). When I first started cooking, I was buying what the grocery store had in case, and the reality is it was only the flat. The flat is leaner and is only half the story when cooking a packer brisket. To get that full flavor you need the entire packer (Both cuts of muscle). Go big, because you will trim off a fair amount of fat, so a 12 pound brisket packer is likely to be 10 pounds after being trimmed, and more like 8 pounds after cooking.
Best Beef for Brisket
You really have to understand what makes great smoked brisket, it starts with quality beef and what is in that beef. It's the fat.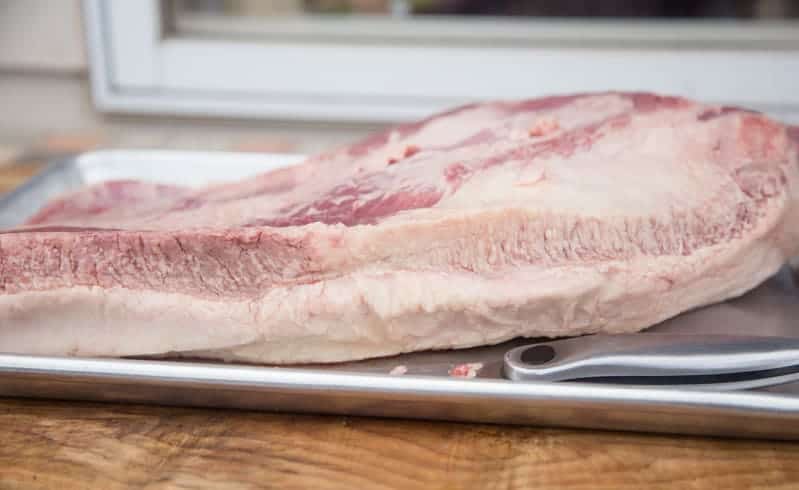 And most importantly the marbling of the entire brisket is going to dictate a large part of the cooking experience. In order to get that rendering for a juicy tender meet morsel, you have to make sure that the brisket you are buying is of the highest quality you can afford with marbling.
Grass Fed – Grass or pasture raised beef are amazing. But when you compare the marbling, you find quickly that the same level of fat is not there. So if you're of the belief of only pasture, then know your cooking process will change and likely shorten. You really need to be mindful of when it's done, compared to a USDA prime brisket. It will just take less time to cook, and the flavor will be a little more earthy.
USDA Rated – Select, Choice, or Prime? Maybe, but remember marbling matters. I stay away from Select. Choice tends to have some good marbling for brisket and prime is even more marbled. USDA rating is specific to meat packing facilities that elect to have a USDA inspector on site rating the marbling quality. There are plenty of great articles about rating. But as your marbling increases, that is what renders out during the cooking process and creates that juicy cut of meat at the end.
American Wagyu or Kobe – The marbling on these briskets is amazing If you can splurge, then go for it. That is what we use. You can learn more here about our favorite producer of American Wagyu beef.
Buying Brisket – Why Does Marbling Matter?
Because as your brisket cooks over many hours, what you are trying to achieve is the art of slowly rendering those fat pockets, causing the melted flavor to lubricate or moisturize the surrounding cells in the brisket. When we are buying brisket at a store, we will physically lift the brisket, and bend it to see if it's tender and pliable. This we find important as that will translate into tenderness as it cooks. When we get ours mail order, we also know that the rancher or producer of the beef has already hand selected the right cut. But when at a grocery store or box store, be sure to inspect and look for more pliable brisket.
How to Trim a Brisket
Each brisket has a fair amount of fat. Some that will render, some that will not. So you have to prepare the brisket by trimming off the fat that won't render and then season. There are a number of great tutorials on you tube and online. The key is to not be afraid to trim.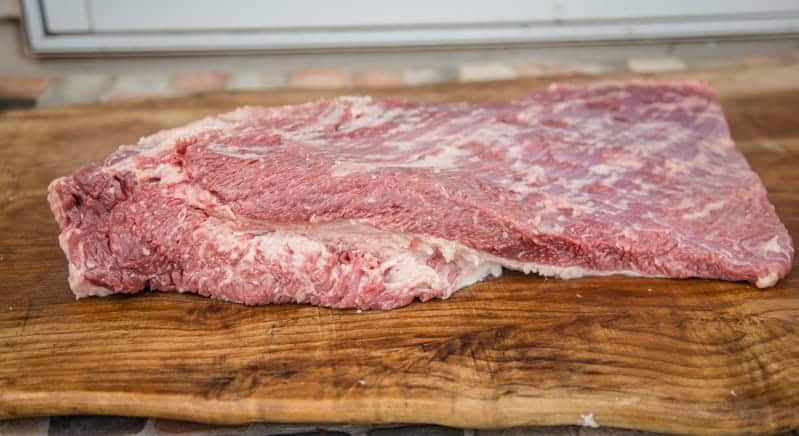 We leave about 1/4 inch of fat on the fat side of the brisket (what you don't see in this picture above, as it's hiding under) that will render down over the cooking. The flat and the point are also separated by a layer of fat. The best briskets are those that are able to render that fat pocket down enough that it is pleasant to eat.
Seasoning a Brisket
After trimming, we coat the brisket with olive oil, then we go coarse pepper, kosher salt, and garlic powder (the coarser version). It is simple and allows the brisket to shine. More inspired by Texas (although many Texans may scoff at the garlic). We don't inject as we aren't competing and we have found that the great cuts you buy don't need it and only run the risk of creating more of a roast flavor due to the moisture essentially steaming out of the meat.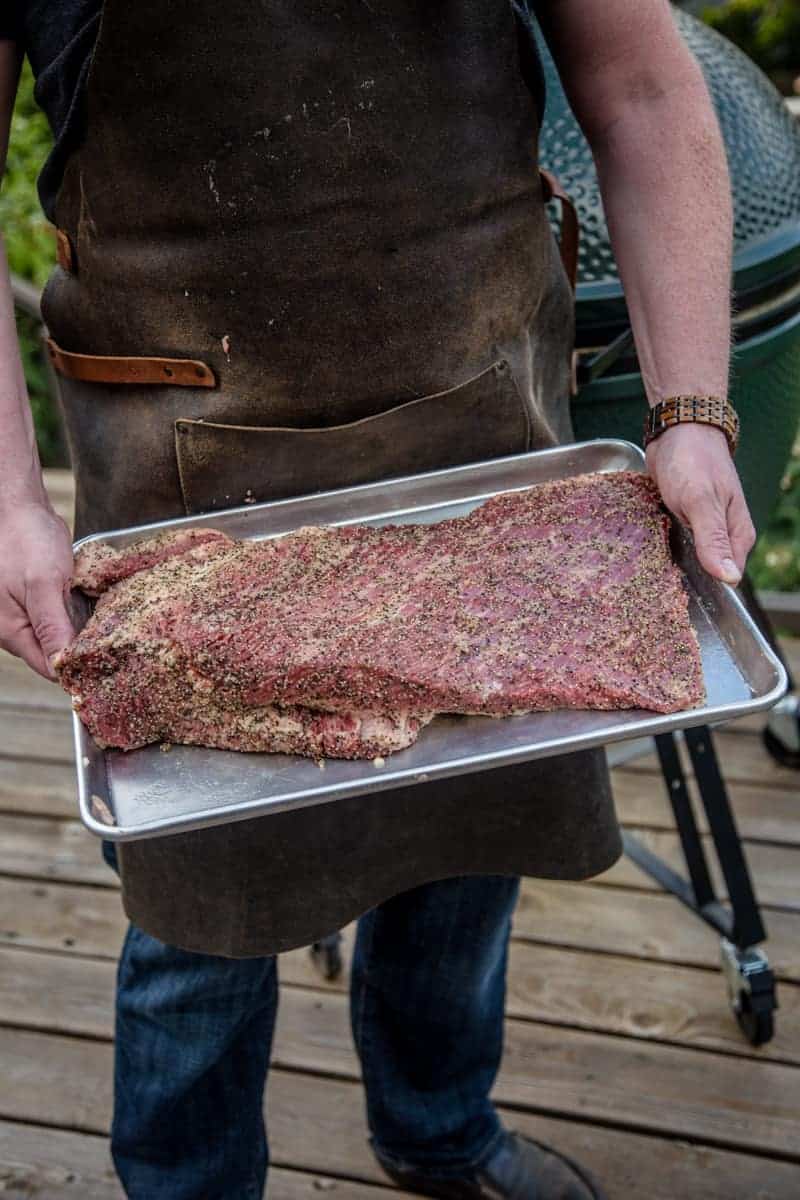 How to Smoke a Beef Brisket — The Cook
We like to follow these steps for smoking brisket.
Smoke – Hours of time in the smoker where the smoke connects with the brisket giving both bark and smoke flavor.
Spritz (Optional) – Spray bottle of liquid that you spray onto meat after the bark forms. We don't do this for our briskets, but can be done for more flavor.
Wrap – Often called the Texas crutch, wrapping allows the internal temperature of the brisket to rise faster. Peach or pink butcher paper is more breatheable than foil, so less likely pot roast flavor. The wrapping period is also important because it is the final stage to allow the intramuscular fat to fully render out.
Rest – Very important, allowing the finished brisket to rest and allow the liquid to reabsorb into the cells.
How Long to Smoke a Brisket
The total cook can be anywhere from 8 hours to 16 depending on the size of the brisket. It varies from brisket to brisket! I like to plan 90 minutes for every pound of brisket including the rest or hold temperature. We are representing the northwest, and so we do it our way. We like to smoke it for several hours, get a nice flavor and bark from the smoke. Then we like to wrap it tightly in pink butcher paper (sometimes called peach) so it braises in its own juices until it is tender like soft butter as you insert the meat thermometer.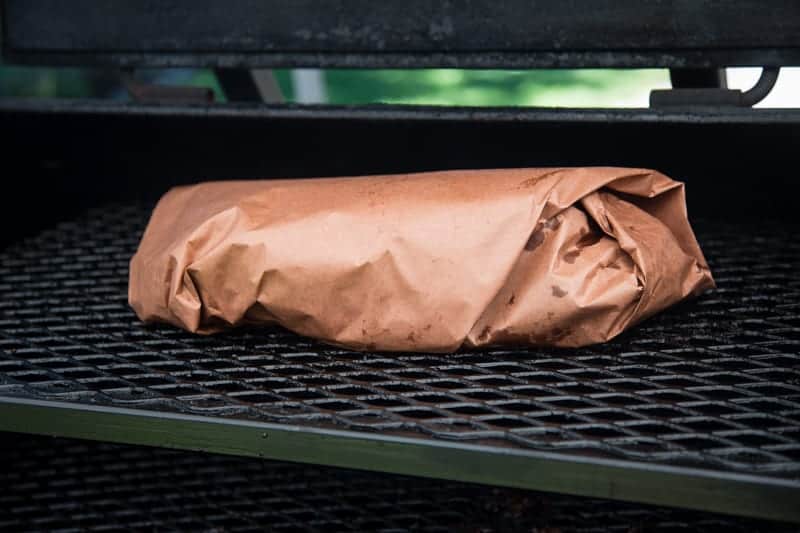 The stall is a period where the temperature may stay or rise slowly as the fat renders, that is normal and is generally sped up due to the wrap. You tend to see a stall anywhere from 150 to 170 degrees.
Let it Rest!!!
Lastly, please make sure you let your brisket rest for at an hour, if you are holding the temperature to slowly let it cool, then two hours is nice. What do you hold it in? A cooler (with NO ice) works well. The brisket will hold its temperature and as it slowly cools, you start to get the cells to pull back in the juices. If you slice the brisket right after removing, you'll see all the juices just pour out on the cutting board versus staying in the meat. The horror!!! All of your hard work, gone, just like that, because you were too impatient to let it rest!
Ideal Temperature to Cook Smoked Beef Brisket at
We like keeping our smoker at 250 degrees using a nice fruit wood that provides sweeter flavor. While smoking, we like to wrap in pink butcher paper around the 165 degree F mark. That is about the time we see the bark, or crust, we are looking for.

We use this unit to monitor the temperature during the cook, it is the Smoke Unit from Thermoworks, and it even has remote unit so you can see the temp from afar! The pink butcher paper is gentler or more porous than foil, and we find that it protects the bark. We remove the brisket when the internal temperature is around 203 degrees and place the meat back into a warmer. The point is more forgiving given the natural fat content and we are taking the temp in both the point and the flat so we get tender in the entire brisket. That is key, when taking the brisket temperature, don't just take the temperature in the point, you have to monitor the flat as well. That is why in addition to the Smoke unit, you should use a Thermapen as well, then you can probe in multiple areas while keeping the Smoke unit in the same location.
Pro Tip – If the thermometer is meeting resistance as you insert it, that means the intramuscular fat hasn't fully rendered out yet. It should feel as if you are inserting the probe into room temperature butter. Another item to avoid, is taking the temperature in the fat pocket between the fat and the point, that will come up in temperature much faster than the surrounding brisket. So be sure to temp in the middle of the flat and the middle of the point.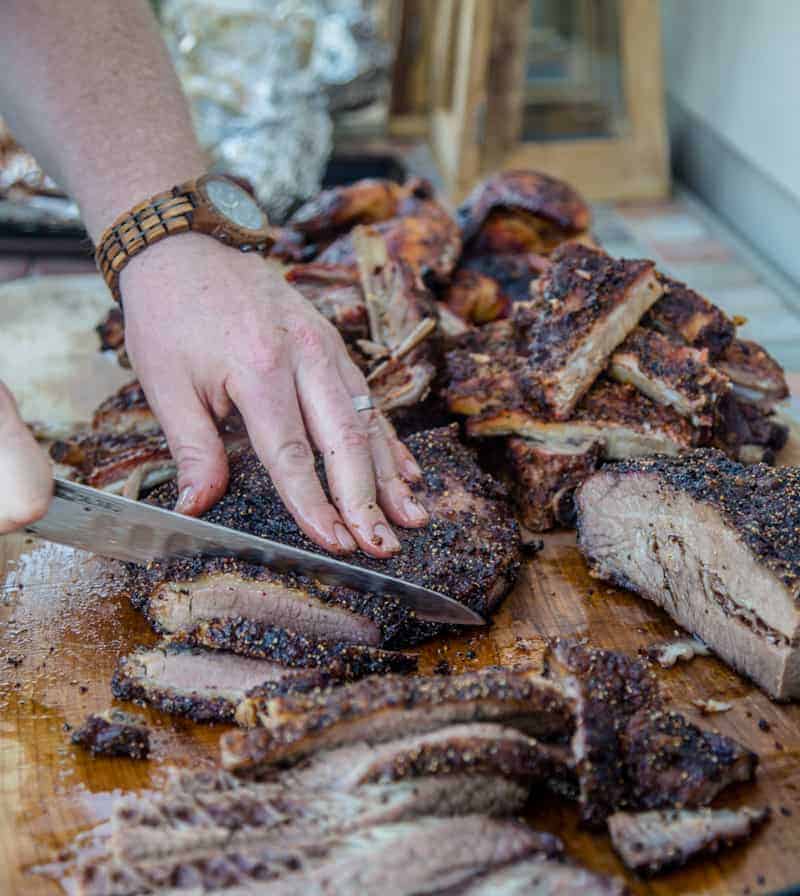 Brisket Tips — and Common Questions
How to Slice a Brisket?
Truly, I would go buy Aaron Franklins book so you read his engaging manifesto on making great BBQ and his love or appreciation of beverages while trying to cook and slice brisket. Cut against the grain, and remember you have two cuts of meat, the flat which will cut one way, and the point which cuts another.
What about Burnt Ends?
Like Kansas City style BBQ? Cut out the point or parts of point from the brisket before the wrap. You then slice it into cubes, re season, place back into smoker to render out. Delish. Check out this post for our Burnt Ends recipe using Mishima Reserve's American Wagyu brisket.
Should I wrap a brisket?
There is no right or wrong answer here, it's about your flavor preference. If you elect not to wrap you get a greater bark. People love that texture. You won't really add more smoke flavor, as that pretty much gets absorbed around the fifth hour of cooking. But we have found wrapping in pink butcher paper is the best of both worlds.
How long to smoke a brisket per pound?
Generally I look at 90 minutes per pound. But know that so many variables go into a brisket, that it will always depend on the quality of meat, the temperature outside (raining? Super hot?), and your cooker temperature. Remember that the key milestones for us are:
1. Wrapping when we like the bark that is set, which is usually around 165 degrees F.
2. Checking for a temperature of around 203 when our meat thermometer easily goes into the brisket as if room temperature butter.
3. Let it rest or hold for at least an hour, we use a cooler to hold. If you rest, keep it wrapped then cut to serve.
Should I inject a brisket?
In the end your flavor preference is what is key and the meat. We generally are not injecting briskets outside of competitions.
Best dry rub for brisket?
SPG rub for us (equal parts Salt, Pepper, Garlic) keeping it simple so we shine the meat flavor and smoke.
Best wood to smoke a brisket with?
Go local. In Texas? Obviously post oak. For us? We are in the Pacific Northwest with an abundance of apple and cherry trees. So we use fruit wood as it burns sweeter and avoids the campfire like flavor you can get from mesquite.
Where to buy the best brisket?
As we said, be sure when at your local butcher you buy a whole packer versus just the flat. Consider at least USDA Choice or higher brisket for the minimum marbling. We use Snake River Farms and Double R Ranch, which can be purchased
here
.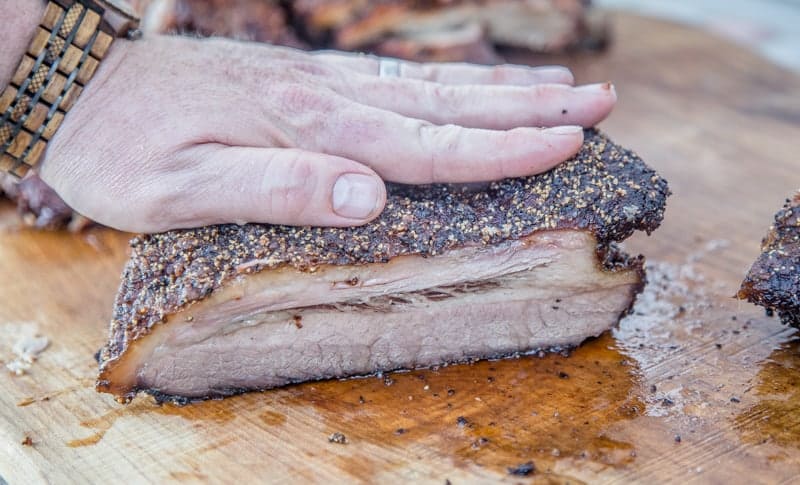 Recipe for Smoked Beef Brisket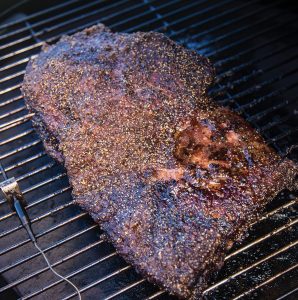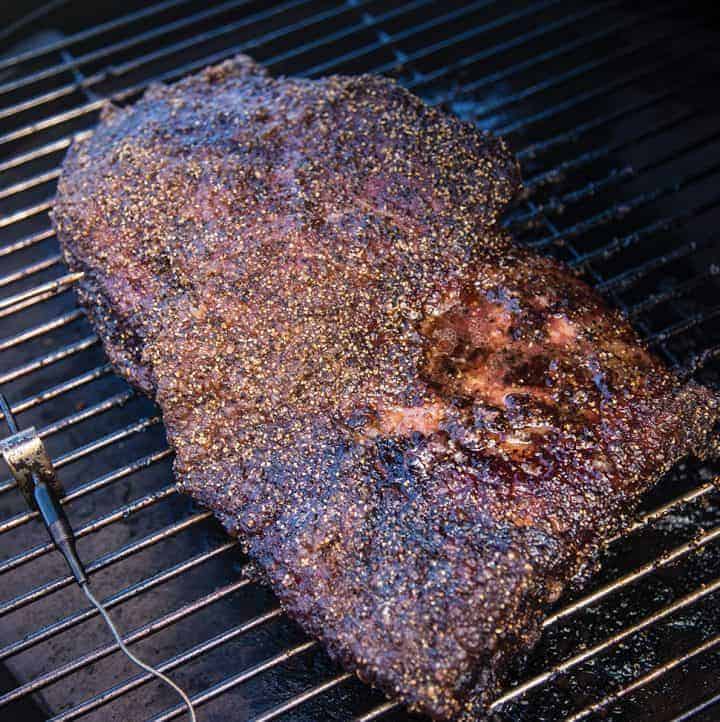 Ingredients
For the Rub
1/3

cup

kosher salt

1/3

cup

coarse ground pepper

1/3

cup

granulated garlic powder
Tools
Peach Butcher Paper

Two zone thermometer

Instant read thermometer

Large tongs
Instructions
The day before cooking, trim the excess fat off the brisket, apply olive oil. In a separate bowl, combine your dry rub ingredients, and liberally apply to the brisket. Leave in fridge overnight prior to cooking.

The day of cooking, preheat your smoker to 250 degrees F, we use fruit wood like apple or cherry.

Place brisket on the smoker (using large tongs) when the temperature is a consistent 250 degrees and insert your two zone meat probes. One for the meat inserted into the flat, and one to monitor the ambient temperature of the cooking chamber.

When the internal temperature of the brisket is 165 degrees you will carefully remove the brisket and place onto two pieces of pink butcher paper to wrap. Remove the meat probe, tightly wrap the brisket, and then add the meat probe back into the same general area. Place back into the smoker.

Continue cooking at 250 degrees for another several hours until the brisket approaches 195 degrees. At that point, you will use your instant read thermometer to insert and probe the flat and the point for that smooth buttery texture as you check for doneness. Anywhere from 195 to 205 it may be done. Then remove, still wrapped and rest for an hour. Or place into a cooler to hold the temperature until ready to serve.

Slice against the grains and service.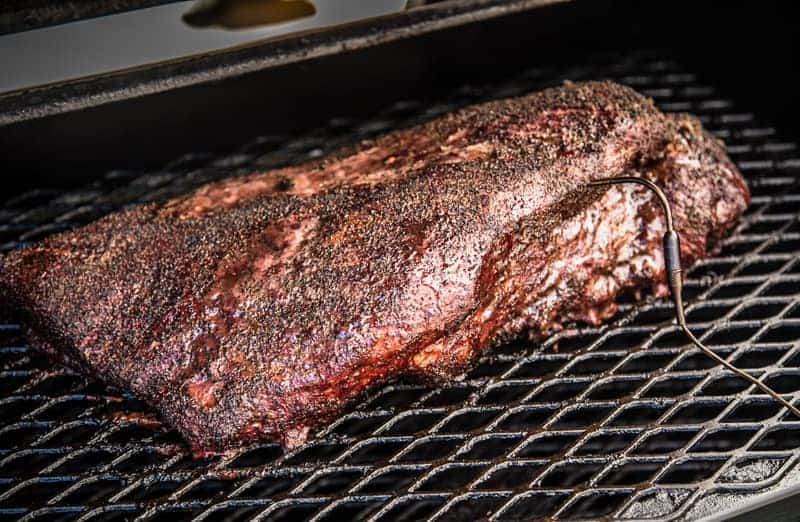 Tools Used for Smoked Beef Brisket
---
Got Leftover Brisket?
We've got you covered.
---
If you like this recipe we'd truly appreciate it if you would give this recipe a star review! And if you share any of your pics on Instagram use the hashtag #vindulge. We LOVE to see it when you cook our recipes.
---