I like to review wines the way most people taste them, with food. Many of the wine reviews you'll see on this site are accompanied by a recipe. When we test recipes we usually open a few different wines of various styles that we think will work, then write about the best pairing.
But often we taste wines — either those sent as samples for review or those we purchase on our own – that are definitely worthy of mention even though they weren't part of a recipe post. These wines below fit that bill.
This summer flew by faster than any in recent memory. On top of Ember & Vine catering events, we uprooted our home and moved to wine country while at the same time my father passed away. More on both of those stories in coming posts. Between all of those events I'm feeling a little cheated that summer came and went without even staying for a glass of wine! But I'm not letting it go so fast. I'm going to hold on as long as I can to the most magical time of the year. All of these wines I enjoyed during this great season and I'd happily drink them over and over to keep that magical warm sun-on-your-face-not-getting-dark-till-10pm feeling all year long. Long live summer!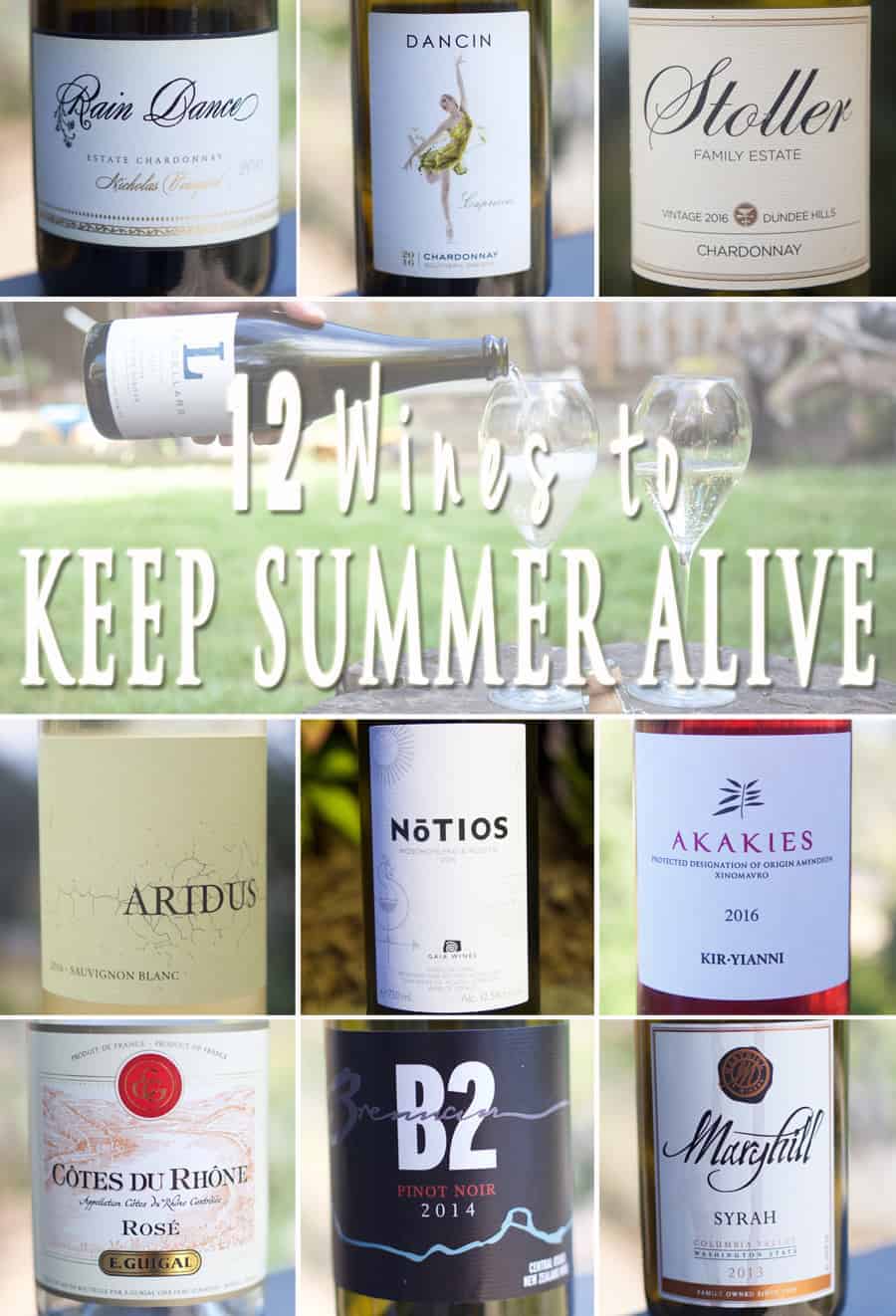 2016 Rain Dance Estate Rosé, Nicholas Vineyard (Chehalem Mountains, Oregon) 
We drank this rosé, made from 100% Pinot Noir grapes, earlier this summer on a hot afternoon. It hit the spot with its bright mix of strawberry, citrus flavors, and lively acidity. Wish I had stocked up for the rest of the summer.
(not pictured) | 13.5% abv | $26
2015 Rain Dance Estate Chardonnay, Nicholas Vineyard (Chehalem Mountains, Oregon)
Add this to the list of more reasons to be excited about Oregon Chardonnay. I really liked the balance of brightness and oak on this. It had good structure, a nice savoriness, fantastic flavors, and lots of personality. After testing out just a few of the wines from this producer it's now one of the wineries I'm most looking forward to visiting in person this fall.
13.5% abv | $30
2016 DANCIN Vineyards "Capriccio" Chardonnay (Southern Oregon)
Speaking of delicious Oregon Chardonnays, here's another. From Southern Oregon this has a mix of apples, pears, fresh lemon, a touch of pineapple, and even a toasty nutty note likely from the 20% new French oak it rested in for six months. It finishes with lovely minerality and balanced acidity. We served this with seared scallops and it was a fantastic match! More from DANCIN coming up in a future post. Stay tuned.
14.% abv | $32
2016 Stoller Family Estate Chardonnay (Dundee Hills, Oregon)
We had to round up these Oregon Chardonnays with one of a very different style. This unoaked version offers a bright and almost steely crispness. You'll find some crisp pear, lemon and lemon peel, and the slightest touch of grapefruit. It's light, fresh, and super tasty without a trace of oak or heaviness!
12.5% abv | $25
2016 Lauren Ashton Cellars "Cuvée Meline" (Columbia Valley, Washington)
A blend of Sauvignon Blanc (45%) Semillon (55%) this white wine is smooth with a nice richness to it with good acidity and savory throughout. It's got a lot going on: minerally, salty notes, spices, lemon, pineapple, brightness, and richness. A pretty interesting wine indeed. I'm thinking a rich fatty seafood dish, like scallops or shrimp scampi would be a great match.
(not pictured) 13.5% abv | $27
2016 Aridus Sauvignon Blanc (American)
The fruit from this wine was sourced from the Mimbres Valley of New Mexico, but made at the winery located in Willcox Arizona. Now I was born and raised in Arizona and have to admit I know little about the wine regions there or New Mexico (other than the fact I love sparkling wines from Gruet made in New Mexico). This was pretty darn impressive for my intro to the wines of Aridus in AZ. It had a very tropical filled nose, with lots of pineapple, passion fruit, citrus and citrus zest. It had just the slightest bit of sweet on the palate. I wish it had just a touch more acidity to balance out the sweetness, but darn if it still wasn't refreshing and pretty cool to start my exploration into the wines of where I'm from.
12.2% abv | $28
2016 Gaia "Notios" White Wine (Peloponnese, Greece)
A blend of 50/50 Moschofilero and Roditis this wine has this awesome balance of both floral and citrus notes with a salty/saline background. It's unoaked, with a mix of brightness and minerality, and is super interesting.
12.5% abv | $17
2016 Kir-Yianni Estate "Akakies" Rosé (Amyndaio, Greece)
This is a rosé from the Xinomavro grape from Greece. It had deep aromas full of ripe berry fruit (think strawberry, raspberry, even cranberry). There was something even a bit tart on the nose, and it was totally intriguing. Clean, dry, finish with nice acidity. This was pretty darn awesome. It was definitely a bigger and bolder style of rosé, but had great acidity to balance out the fruit and richness of it. Another reason to seek out more Greek wines! They're so much fun to drink.
12.5% abv | $15 average
2016 E. Guigal Rosé (Côtes du Rhône)
Since we're on the subject of rosé, this blend of 70% Grenache, 20% Cinsault and 10% Syrah is always a reliable choice. Its darker color makes you think it's gong to be rich and heavy, but don't be deceived. It is berry focused, with lots of cherry and raspberry flavors, but not too ripe or sweet, with a touch of citrus balancing it all out. We drank this one while camping this summer and it was a great choice for the occasion.
13.5% abv | $14
2011 Lieb Cellars 'Reserve Blanc de Blancs' Sparkling Wine (North Fork of Long Island, New York)
This tasty sparkling wine from New York made from 100% Pinot Blanc grapes is crisp and bright, yet had a matureness to it. I found it both clean and fresh but with depth, and a touch savory with fresh lemon, apple, pear, and also that bready yeastiness, likely from spending 48 months aging on its lees. Definitely a good bottle of bubbly if you can find it. It held up well with our traditional pizza Friday meal.
13.2% abv | $30
2014 Brennan Wines "B2" Pinot Noir (Gibbston, New Zealand)
This wine initially reminded me of Oregon with some of its "Oregon-style funk" and also bright cranberry. But as it opens you get more of a mix of black and red berry fruit, some floral tones, dried herbs, and spice, with a silky finish. This wine makes me want to explore more Pinot Noir from New Zealand.
14.3% abv | $25
2013 Maryhill Syrah (Columbia Valley, Washington)

Rich, but not thick, with medium tannins. Some sweet rich dark berry fruit and lots of black cherry and a touch of dry herbs and chocolate. The wine is richly textured and velvety (but not overripe) with a dry finish. It had me craving smoked ribs in a bad way!
14.3% abv | $26
---
*Most of these wines were were media samples for review. See my sample policy here.
---