This Smoked Sockeye Salmon is a rich and delicious way to prepare salmon. Sockeye is known for is deep red color and is lean and easy to overcook. The key to perfect smoked sockeye is cooking at low temperatures when smoking and removing it at the right internal temperature. Find out how to perfectly smoke salmon with our favorite recipe for smoked sockeye.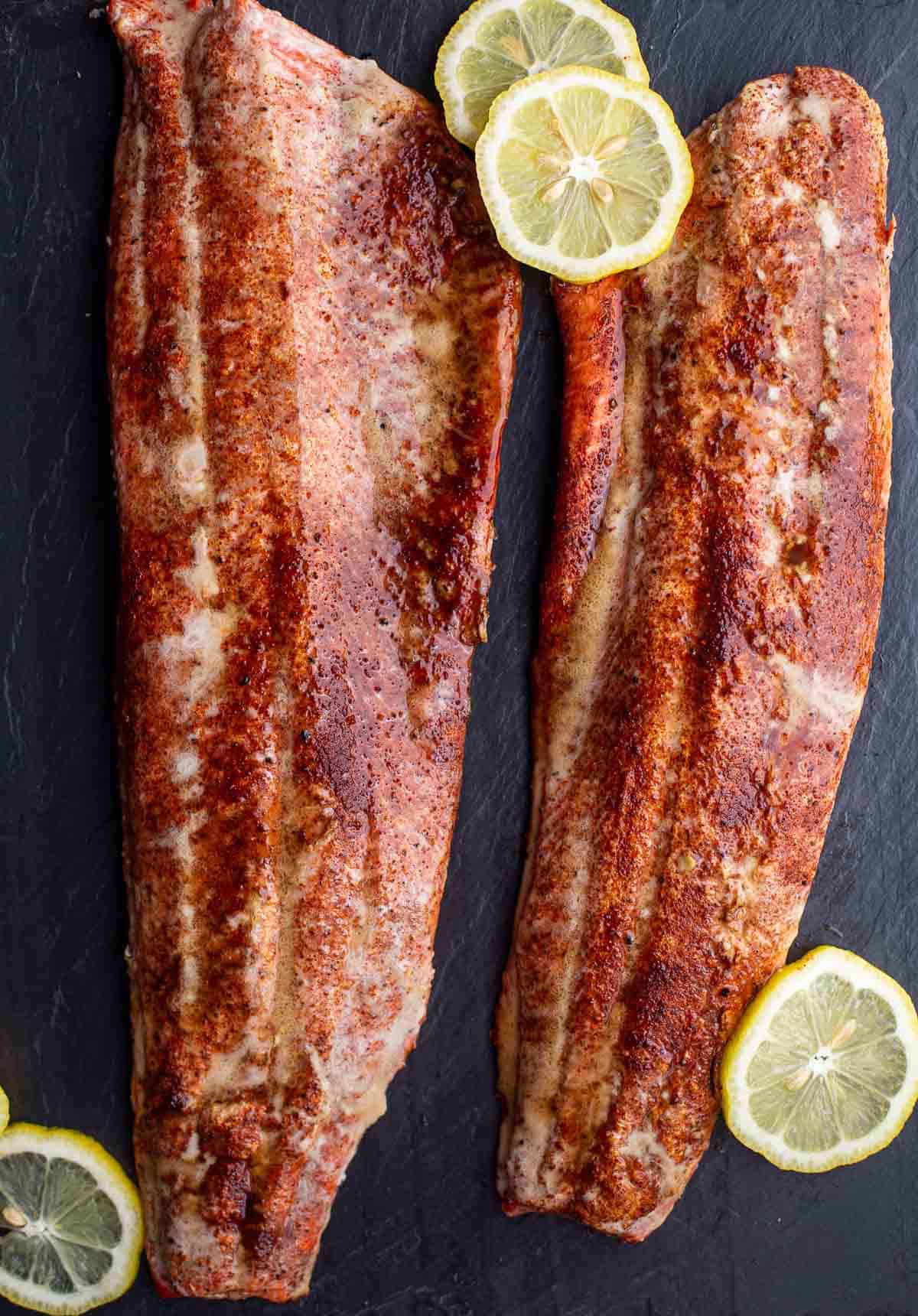 We cater a lot of events and, being located in the Pacific Northwest, naturally one of the most requested proteins is salmon. And there are so many species of salmon we get to cook with. But one thing we have learned is that it's important to recognize that certain species of salmon require different cooking methods and cooking times vs others. For this recipe we're focusing on specifically Sockeye salmon, and how to smoke it to perfection (hot smoking).
Jump to:
Recipe Highlights
This recipe is for whole filets, but you can also use this recipe for smaller cuts as well.
Unlike Chinook (King) salmon, or Atlantic salmon, Sockeye salmon is leaner and cooks faster. So if you are smoking you need to pay attention during the smoking process to how long you are cooking it, so that you don't overcook it.
"Copper River Salmon" comprises of many species, but the most common is Sockeye and this recipe works the same.
Low smoke temperatures are important in order to avoid overcooking the salmon.
Ingredients
Sockeye Salmon – Wild caught is best. One tip is to buy the salmon with the pin bones removed. Ask your fish monger to do this for you. Some box stores like Costco will actually already have the pin bones removed.
Dijon Mustard – This acts as a binder to allow the seasoning to stick to the flesh side of the salmon. You can also use olive oil.
Salmon Seasoning – We use our salmon seasoning, the same one that we use in our famous cedar plank grilled salmon recipe. You can also use your favorite seafood seasoning.
Sockeye Salmon versus Chinook Salmon
Sockeye and Chinook salmon are two popular types of salmon that each have their unique characteristics that can affect how they're used in recipes, especially when it comes to smoking.
Sockeye Salmon
Sockeye salmon, also known as red salmon, is recognized by its vibrant red flesh, which retains its color even after cooking. The flavor is often described as robust and rich, more intense than other salmon species. Sockeye is a leaner salmon variety, so it can easily become dry if overcooked. When smoking Sockeye, it's crucial to keep the temperature low and slow to maintain its moisture. It takes up the smoky flavor well, and its inherent richness can stand up to strong flavorings.
Chinook Salmon
On the other hand, Chinook salmon (or King salmon), is the largest and often regarded as the most delicious species of salmon. It has a high-fat content, which makes it incredibly tender and succulent, providing a buttery texture that melts in your mouth. Chinook salmon also has a milder and more subtle flavor compared to Sockeye, making it more versatile for different flavor profiles. When smoking Chinook salmon, its fat content helps to keep the meat moist even over longer smoking periods, and it absorbs the smoke flavor more gradually, leading to a more refined and nuanced taste.
For Sockeye, a lower temperature and slower smoking time can prevent the fish from drying out. For Chinook, you can afford a slightly higher temperature and longer smoke time because of its higher fat content. We use Chinook for our all purpose Smoked Salmon Recipe.
Preparation
Pin Bones – If the fish monger or your store did not remove the pin bones – do this before you smoke the salmon, using good fish boning tweezers.
Pre-Slicing – If you are serving the entire filet, one catering trick we will do is par-slice the salmon into smaller cuts (but we don't actually cut through the skin entirely). This makes the portions easier to slice and serve after it's smoked because as you smoke the salmon first and then slice it can crumble.
Seasoning – Season right before you will smoke the salmon. There is no need to season to far ahead.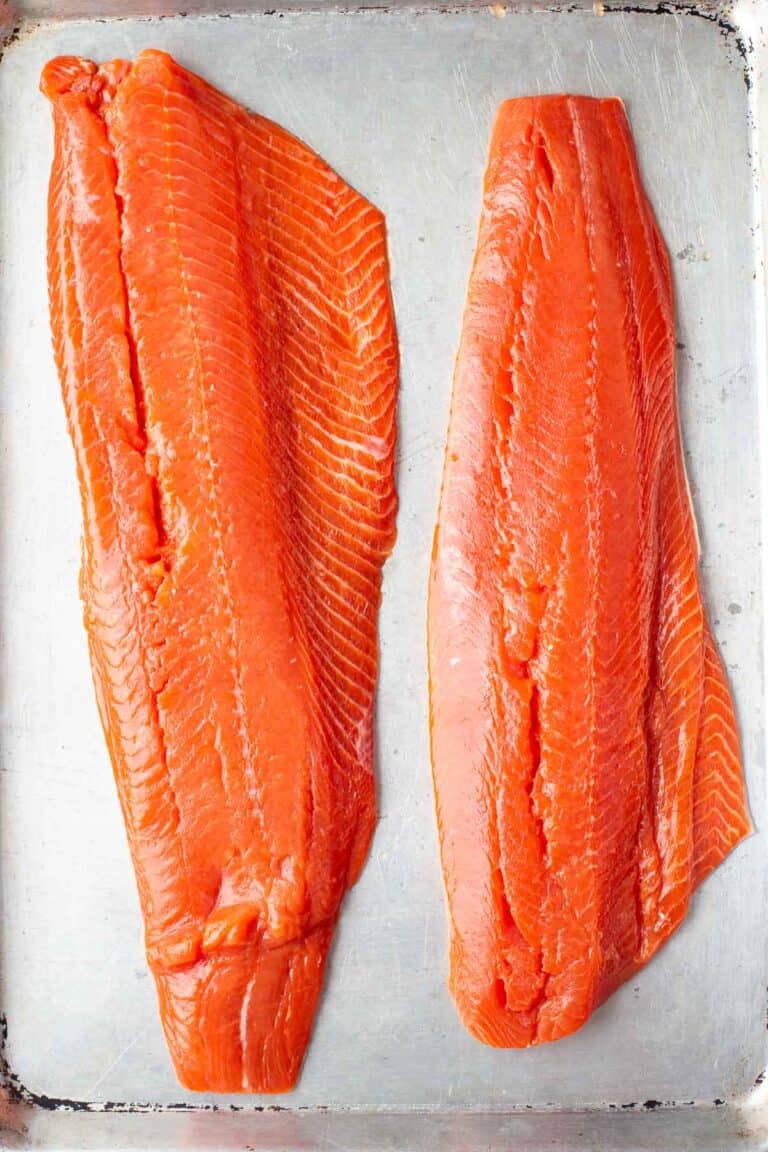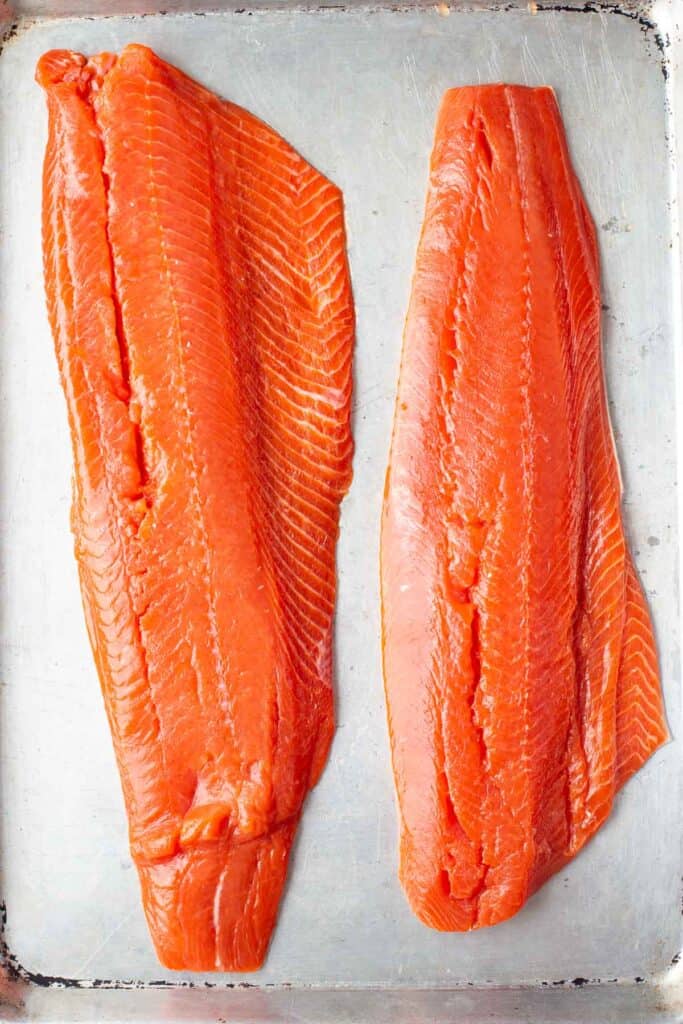 Tools
Instant Read Digital Thermometer – The Thermoworks Thermapen One is the best instant read thermometer on the market and it's what we use.
Pin Bone Tweezers – If you are going to cook a lot of fish, you need a good sturdy tweezer for removing any pin bones.
Large Fish Spatula – Not to be confused with the smaller and leaner fish spatula, you want a wide spatula to remove whole salmon filets.
How to Smoke Sockeye Salmon
If you have small salmon steaks or filets.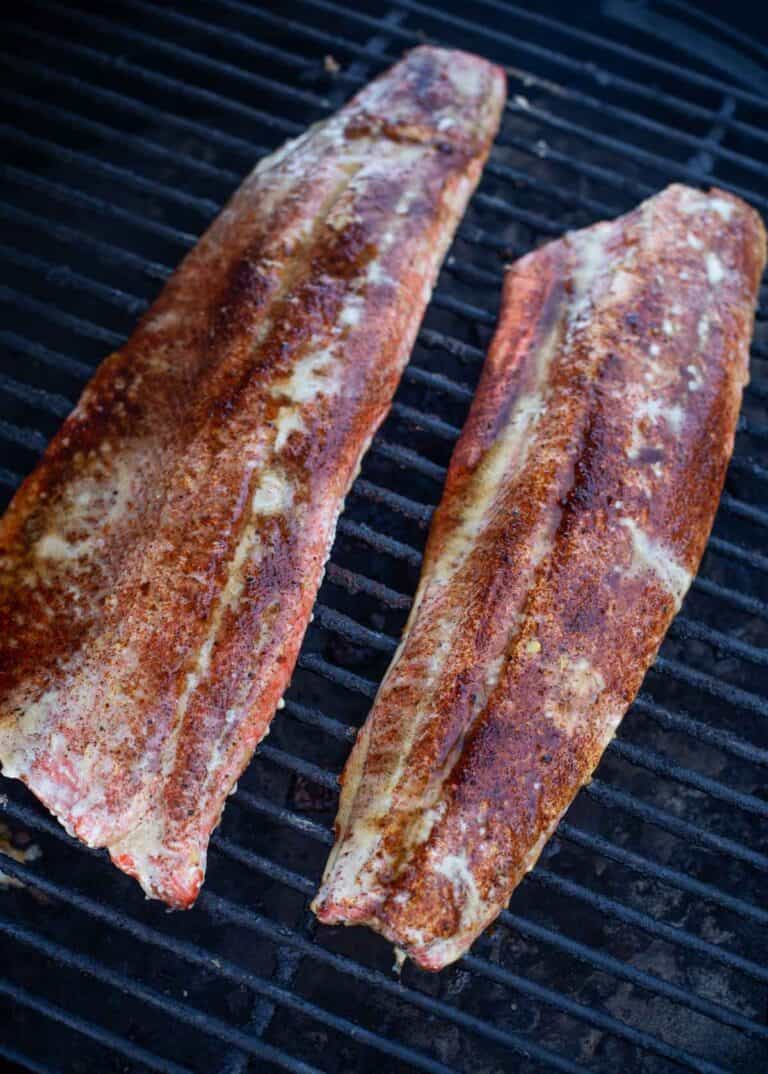 Preparation: Prepare your smoker and target 225 degrees Fahrenheit using a fruit wood or oak.
Season: Coat the flesh side of the salmon with the Dijon mustard and then season with the salmon seasoning.
Smoke: Place salon on the smoker, skin side down, and smoke the salmon until the internal temperature of the Sockeye salmon reaches 135 degrees Fahrenheit. Let rest for 10 minutes and then serve. (Do not flip the salmon while cooking. Leave the skin side down the entire cook)
Serve: Serve warm with your favorite sides.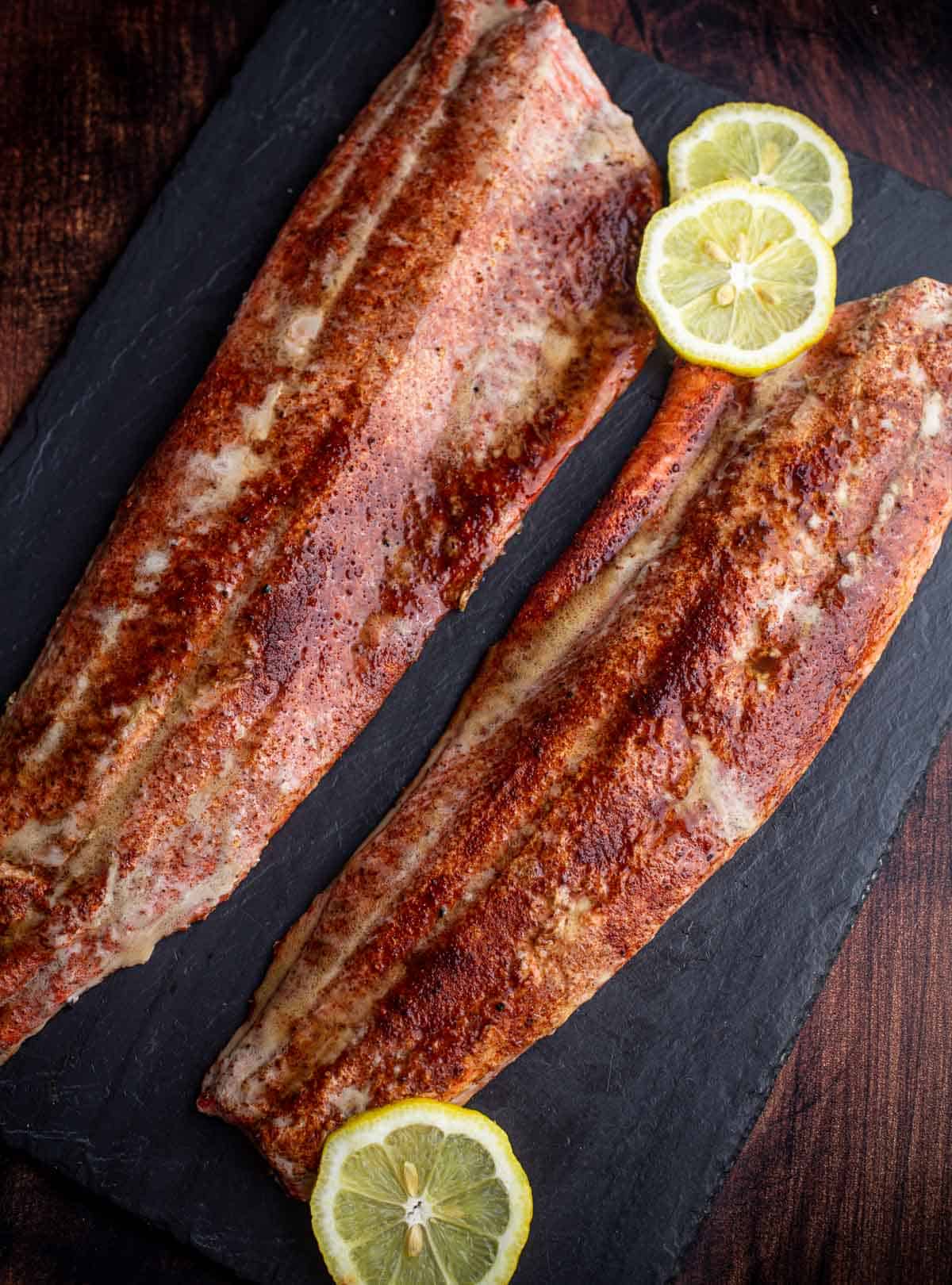 Frequently Asked Questions
What wood should I use for smoked salmon?
Fruit woods are best for salmon, including Sockeye, because it burns sweeter and has a more delicate flavor. Another alternative is oak.
How long does it take to smoke Sockeye salmon?
While you should always cook to temperature, it should take about 30 minutes when smoking at 225 degrees for the internal temperature to reach 135 degrees F for a juicy and tender salmon.
Should I brine sockeye salmon?
You do not need to brine. For this hot smoked salmon recipe, therefore we don't need a brine because we use the Dijon mustard to coat the outside and we don't overcook it. It stays tender and juicy!
Is Sockeye salmon good to smoke?
Yes. But it's important to note that cooking times are going to be much shorter because sockeye salmon is much smaller and thinner than Chinook (King) salmon, or Atlantic varieties.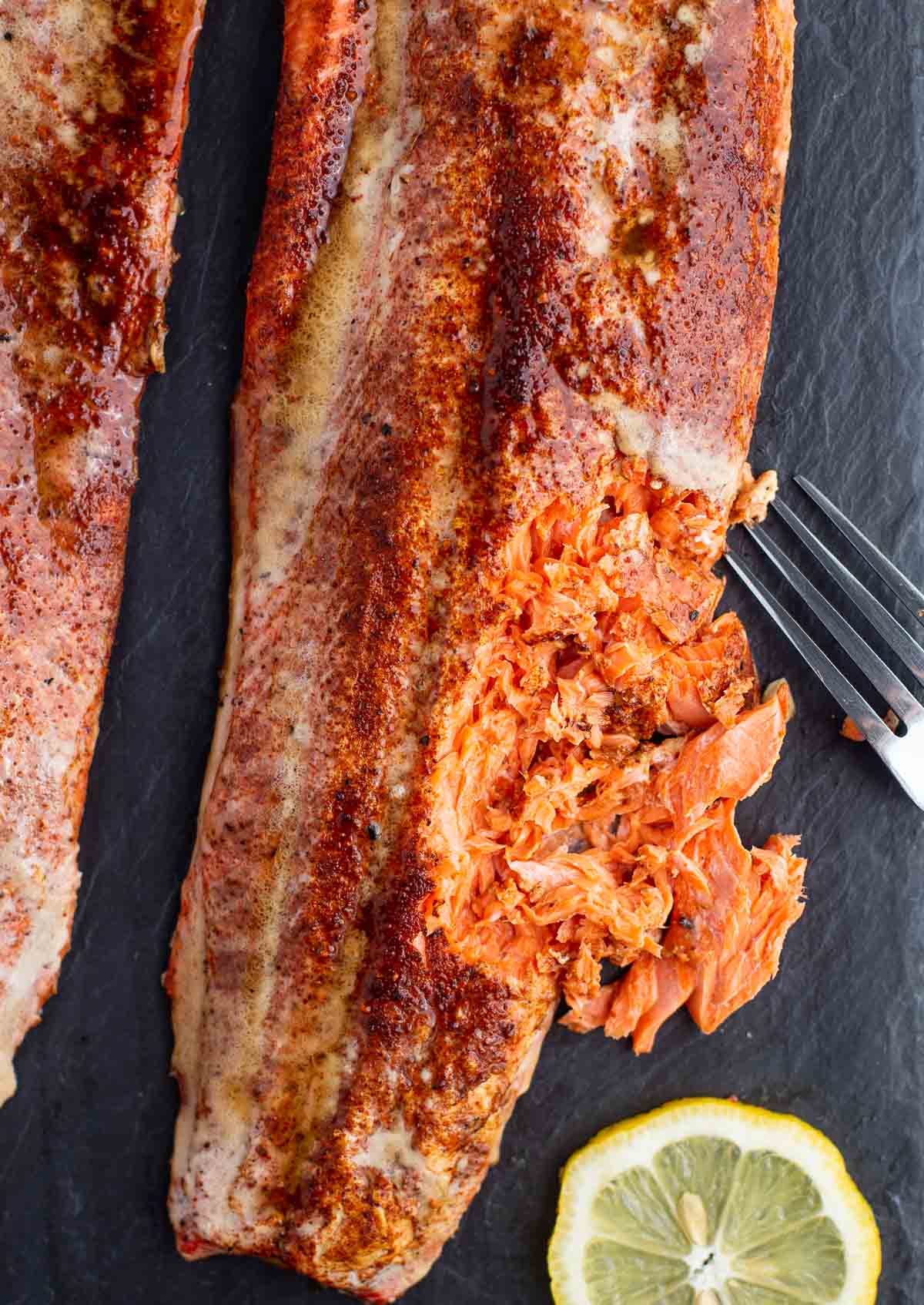 Favorite Side Dishes with Sockeye Salmon
About Vindulge
Mary (a certified sommelier and recipe developer) and Sean (backyard pitmaster) are co-authors of the critically acclaimed cookbook, Fire + Wine, and have been creating content for the IACP nominated website Vindulge since 2009. They live in Oregon on a farm just outside Portland.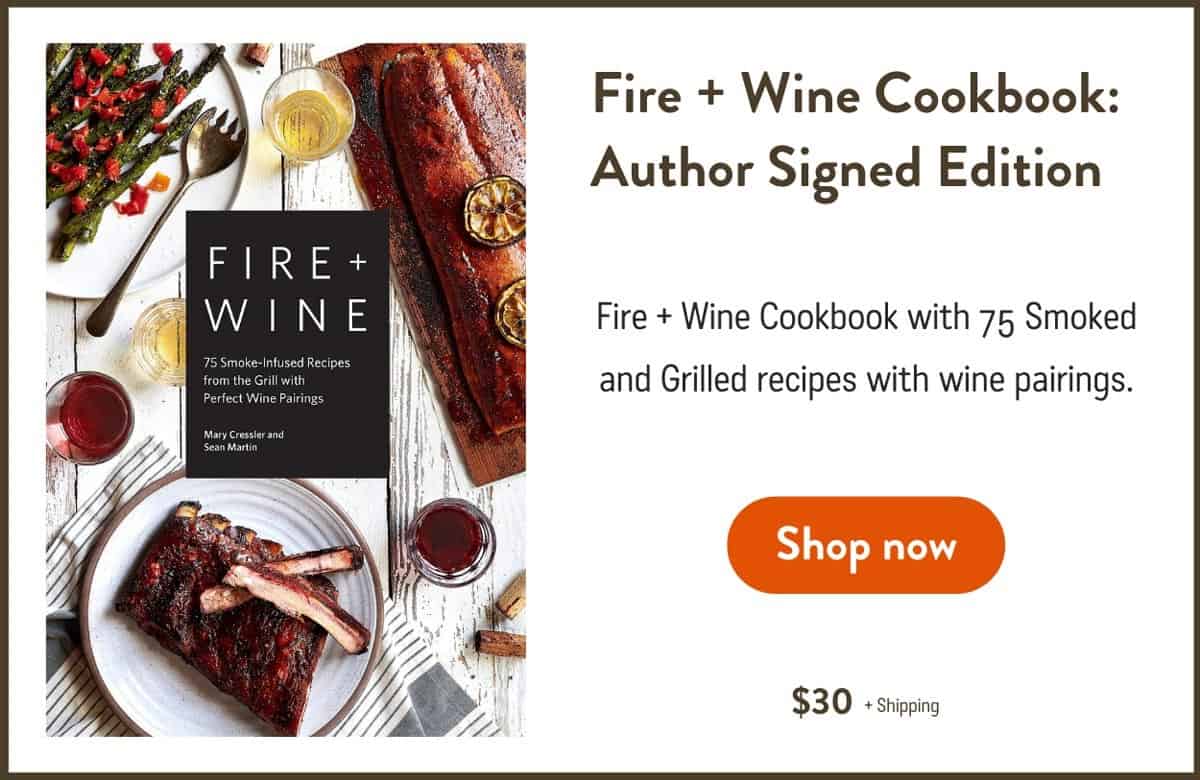 Tried this recipe? Give us a star rating and we would love to see! Mention @vindulge or use the hashtag #vindulge on all the social media handles. And consider subscribing to our newsletter where we drop all our favorite ideas and inspirations every week.
This post may contain affiliate links. This means if you click on the link, we may receive a small commission if you purchase through the link. We partner with brands we know and love and use and it helps keep the blog going!