Beef Tenderloin is incredible cooked on the smoker. We're using the reverse sear method to create an incredible smoky flavor, then finishing it over a hot grill for that perfect sear, and then slicing it into medallions to serve.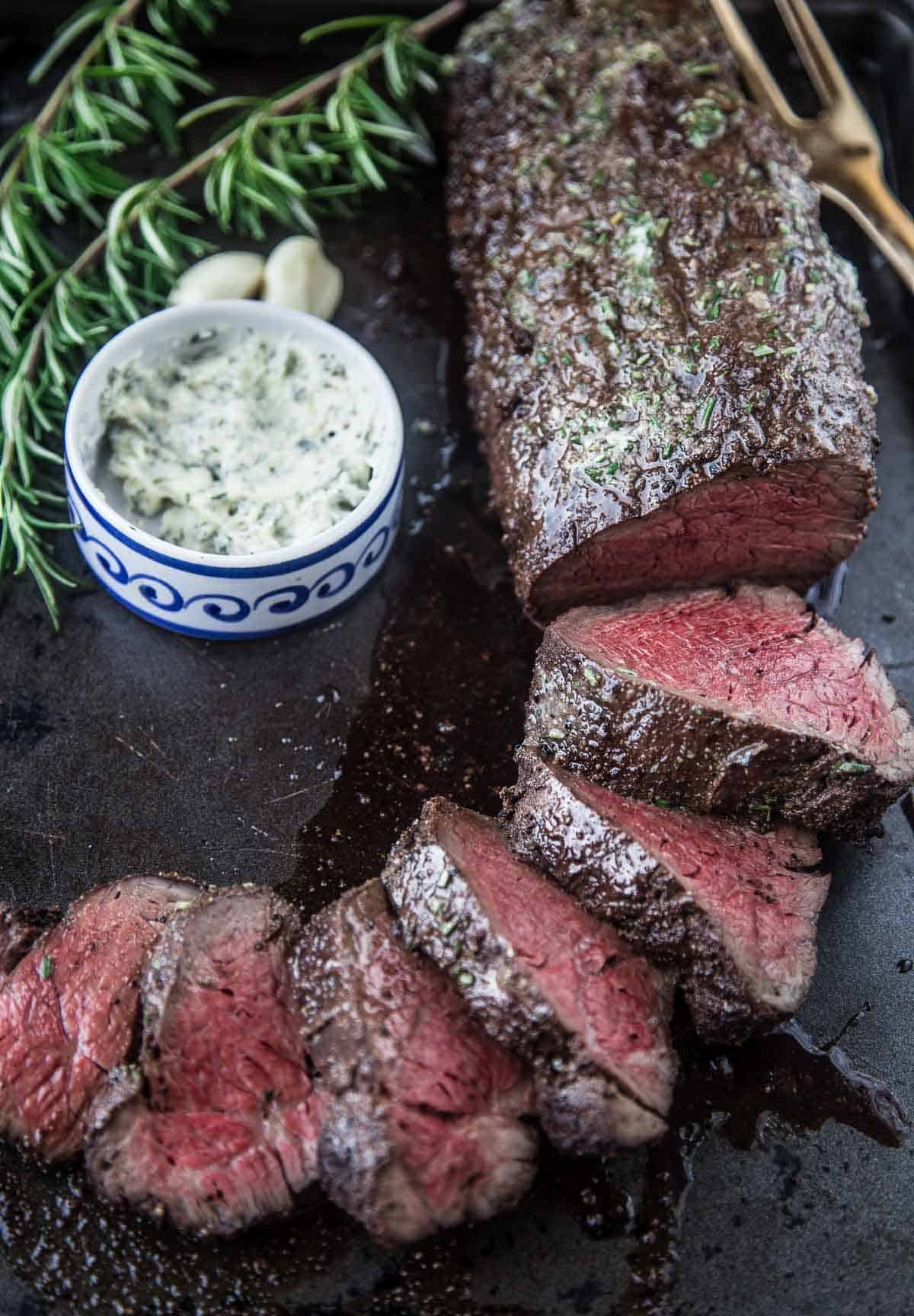 This post is sponsored by Beef. It's What's For Dinner. on behalf of the Beef Checkoff. All opinions are my own.
Recipe Highlights
Smoke the beef tenderloin first to add a smoky flavor.
Finish over direct (high) heat to get the right sear and crust.
Adjust the timing based on your desired finishing temperature.
We also have a grilled beef tenderloin recipe if you want something faster finished with a savory Dijon mustard sauce.
Whether a holiday dinner or special occasion, various cuts of beef create a great options for crowds, and can be adapted for use on a grill or smoker. Our smoke roasted beef Tenderloin is the perfect example. This step by step process follows the reverse sear method to give you the perfect, tender, smoked beef Tenderloin every time.
Jump to:
But first let's talk about Beef Tenderloin.
What is Beef Tenderloin — The Cut
Beef Tenderloin is a muscle that comes from the rear or backbone of the cow beneath the ribs. This location is why this lean and tender cut is so sought after. Beef Tenderloin is the most tender beef muscle that comes from the area under the backbone of the animal. That is why the luscious, soft, and buttery flavor of tenderloin is so delicious.
We like to simplify the whole tenderloin into three parts.
The Butt
The Center Cut
The Tail
Have questions on various grades of beef? Check out this great article on the grading system from Beef. It's What's For Dinner. when making a decision on buying beef tenderloin.
How to Trim Beef Tenderloin
When buying a whole beef Tenderloin, you will see either peeled or unpeeled. Unpeeled has the silver skin and surrounding muscle still on it, often referred to as "the chain". Peeled typically has all of that removed (and much easier for when you trim). Regardless of which you find, you will still need to do some trimming. For our smoked beef Tenderloin, we are using the center cut.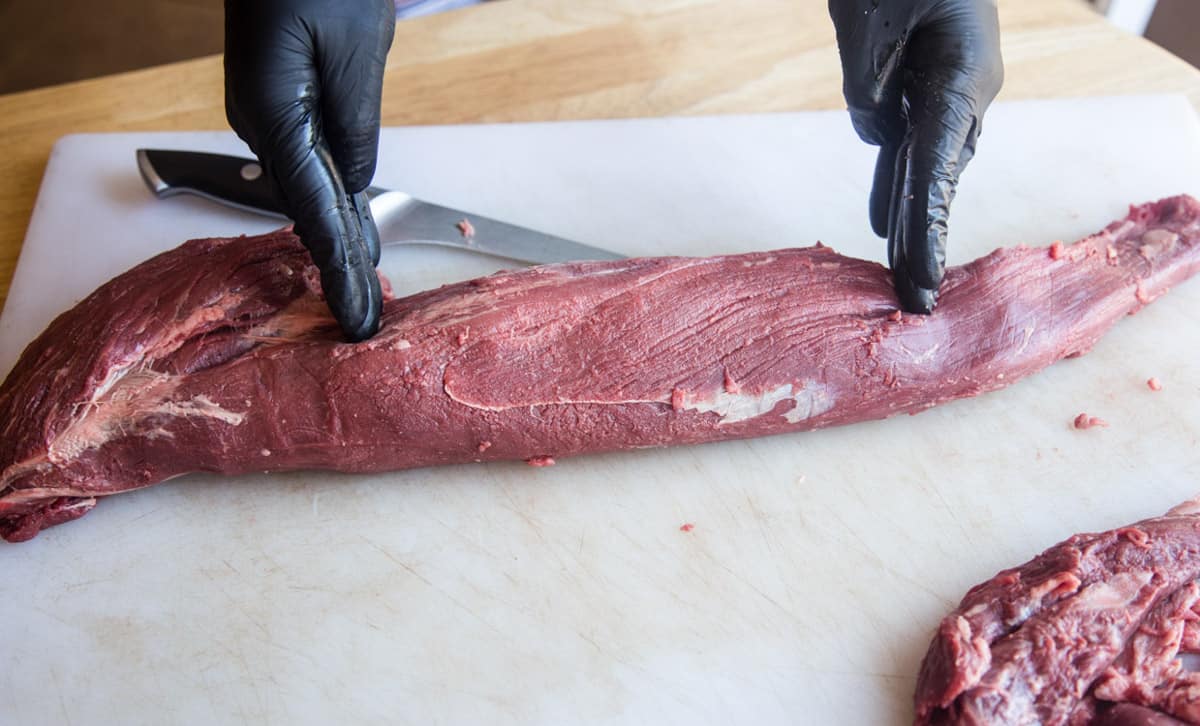 Pro-Tip – Buying large beef cuts, like tenderloin, prime rib, or strip loin is a great way to save money. Just trim and then cut up the steaks, and vacuum freeze until you're ready to use them.
First, trim off the tail, or the thinner tapered side so the center cut tenderloin is a consistent size. This is important for consistent internal temperature while cooking.
Option – You can tuck the tail back and tie it along the tenderloin, this method is common when roasting in the oven. For this recipe, cut off the tail and use for a stir fry.
Next, cut off the butt end. There will be a few areas of muscle that are loose or were removed when separating the loin, such as the chain. Bring the knife along the edge of the loin on the butt end and remove the flap meat and then bring a vertical slice to remove butt from the tenderloin for the same consistent size. Save this trim, or butt, for smaller steaks, or to cook for sliced steak sandwiches.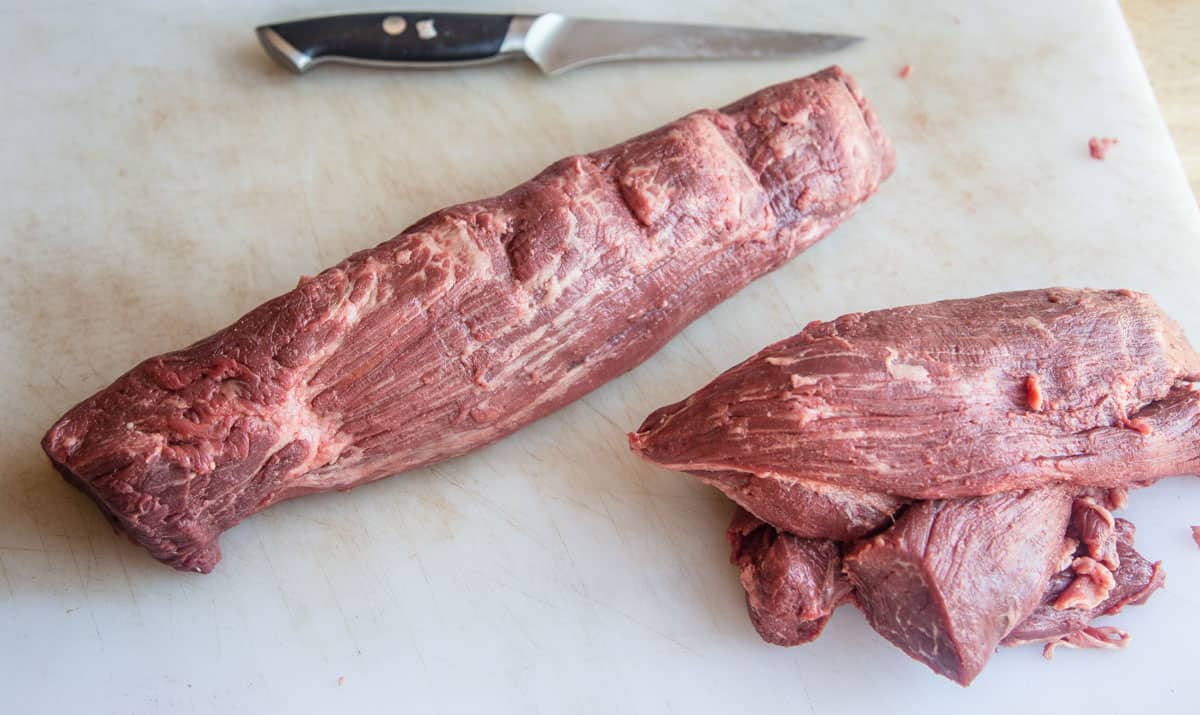 Finally what is left is the center cut beef Tenderloin. Remove the silver skin and larger pieces of fat. This is the step where you can slice into Filet Mignon from the center cut of beef if you wanted to make individual steaks. Leaving the center cut tenderloin whole (sometimes referred to as the Chateaubriand steak) for the smoker is much easier for smoking and grilling, otherwise known as the reverse searing method.
Looking for a good Filet recipe? Check this one out.
What Is The Best Seasoning for Beef Tenderloin on the Grill or Smoker
Our go-to beef dry rub is a simple mix of equal parts kosher salt, coarse ground pepper, and granulated garlic (not garlic powder). This cut is lean and delicious on its own, so we simply want to compliment the beefy flavor.
How to Reverse Sear Beef Tenderloin – Smoke Roasting
For smoke roasting we follow our basic reverse sear method. This incorporates a wood smoke flavor profile, and then finish with roasting temperature, or high heat, to get the exterior texture expected in a roasted tenderloin.
What is the reverse sear method?
Smoke – Process in which the lower heat and smoke will flavor the meat. We use apple wood and smoke at 250 degrees F until the internal temperature of the meat reaches 115 degrees F. The Tenderloin is not done yet, we are going to continue cooking over high heat to our desired finishing temperature of 130 degrees F. (USDA Recommends 145 degrees but we like ours cooked less).
Sear – When the beef tenderloin reaches the desired smoke internal temperature of 115 degrees, remove the meat and add it to a high heat to finish. (Grill, Broiler, or cast iron pan). In this case we removed the meat, then increased the temperature of the grill (getting it nice and hot), then finish it by searing it over the hot grill. Alternatively you can finish it in a searing hot cast-iron pan, if your pan is large enough for your loin.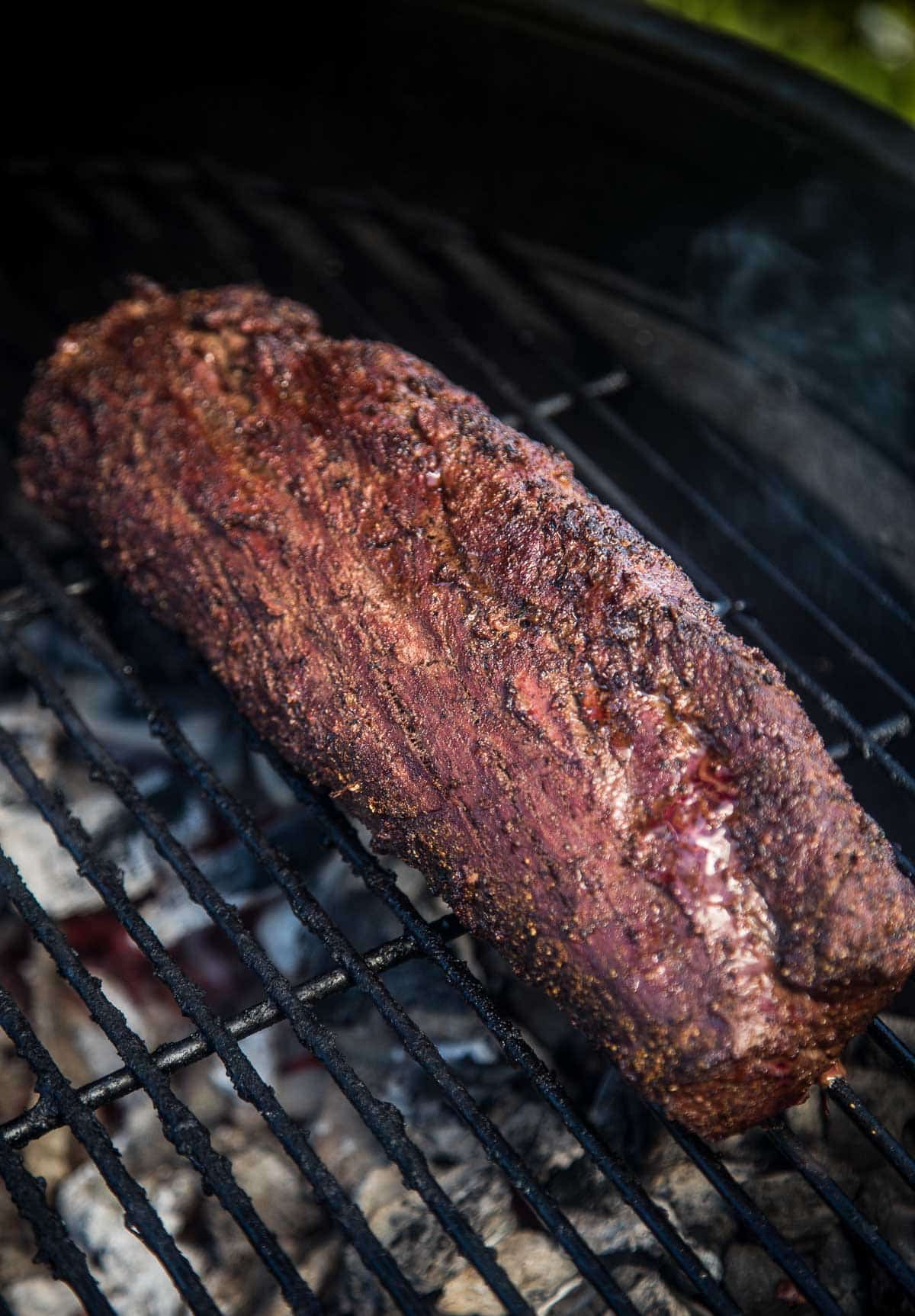 Rest – Critical step to remove the meat from the grill at your desired internal temperature, which for us is 125 degrees F, and let rest for 15 minutes. The internal temperature will rise to 130 degrees F. The resting period allows the cells to cool slowly and absorb the moisture back in so the meat stays juicy.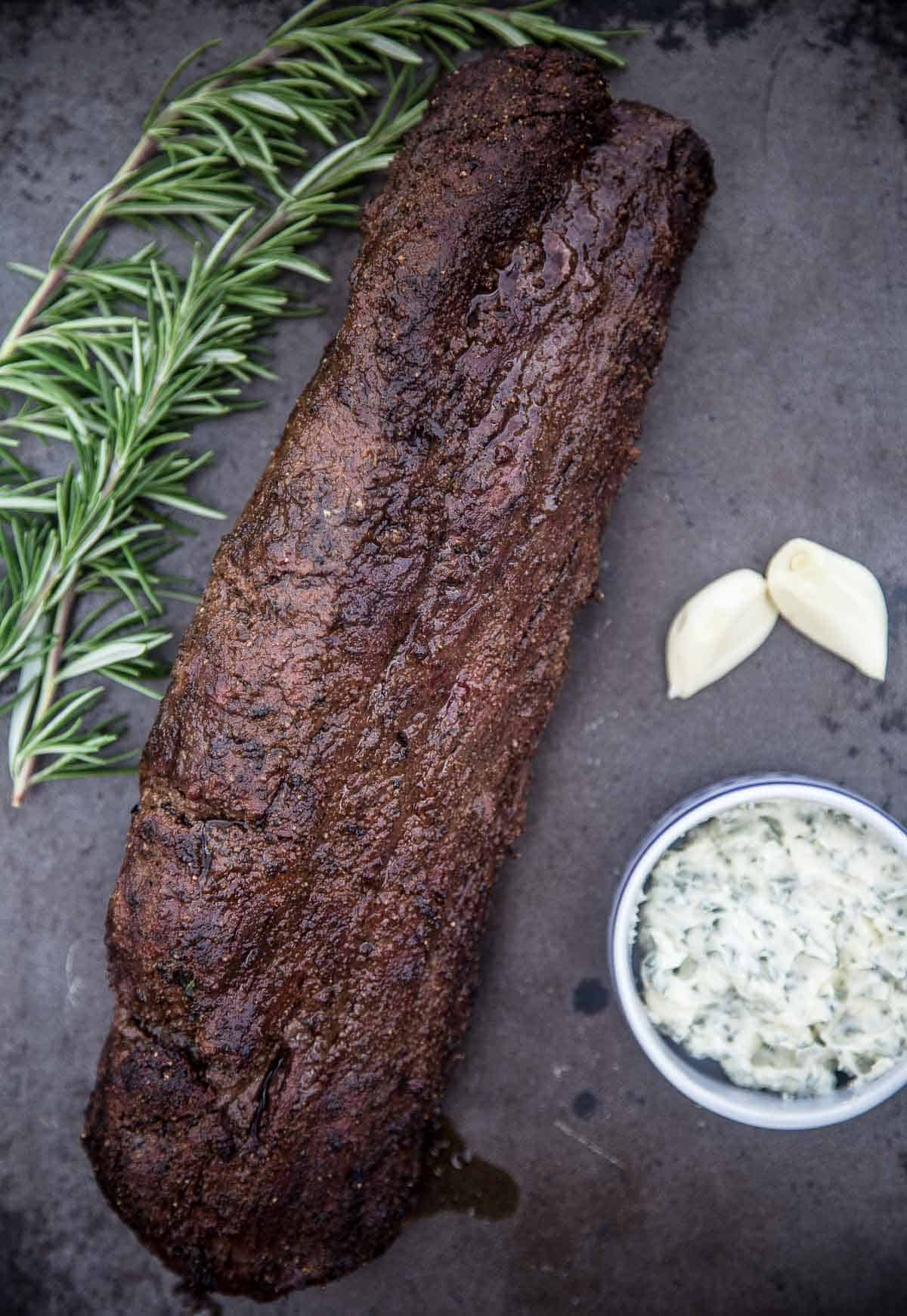 What Internal Temperature Do I Cook Whole Beef Tenderloin To?
For this cut and for a crowd we cook the beef tenderloin to rare, or 125 degrees Fahrenheit (it will temp up to 130, see below). Be sure temperature is taken in various areas of the beef tenderloin using a good instant read thermometer.
Pull at 125 degrees F, because of the cooking process called carryover cooking. The internal temperature of the meat will continue to rise another 5 degrees to the target temperature of 130 degrees F as it rests. This avoids overshooting the target temperature. You can check out this link on additional details on determining doneness.
If you like your roast cooked longer focus on pulling 5 degrees before your target temperature.
What to Serve With Smoked Beef Tenderloin
Add a simple finish to the beef tenderloin with a compound herb butter. This can also be modified as a pan sauce. Simply combine room temperature unsalted butter, finely diced herbs, finely grated garlic, and a touch of salt. Add to the sliced steak as you plate and it will melt into the tender meat.
Pro Tip – Use a fine mesh cheese grater for the peeled garlic, it is so much easier than mincing using a knife.
For sides, beef tenderloin is perfect with grilled broccolini, roasted potatoes, or your favorite sautéed greens.
Slice the beef tenderloin in small medallions of 2 to 3 ounces each and serve two to a plate. Now go grab your beef tenderloin, invite your friends over for a great memorable meal, and get smoking!
What Wine to Pair with Smoked Beef Tenderloin?
Beef Tenderloin is a lean cut of beef packed with flavor. Which means for wine, a less tannic wine is best like a Merlot from Sonoma or Washington state, or Rhone Valley Syrah. We also have the complete guide to pairing wine with beef roasts.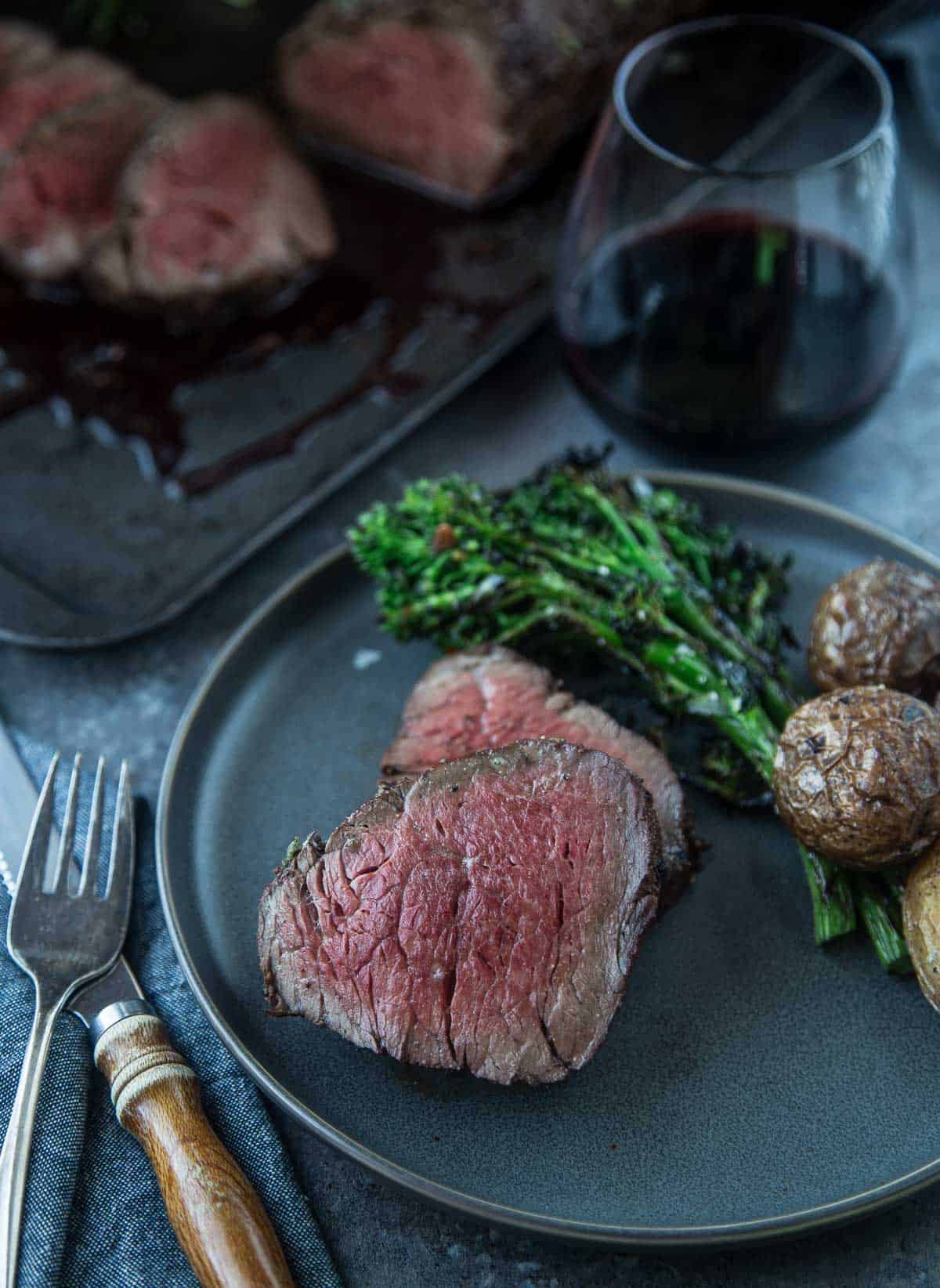 ---
Other Reverse Sear Beef Recipes
Other Sides For Smoked Beef Tenderloin
Mary (a certified sommelier and recipe developer) and Sean (backyard pitmaster) are co-authors of the critically acclaimed cookbook, Fire + Wine, and have been creating content for the IACP nominated website Vindulge since 2009. They live in Oregon on a farm just outside Portland.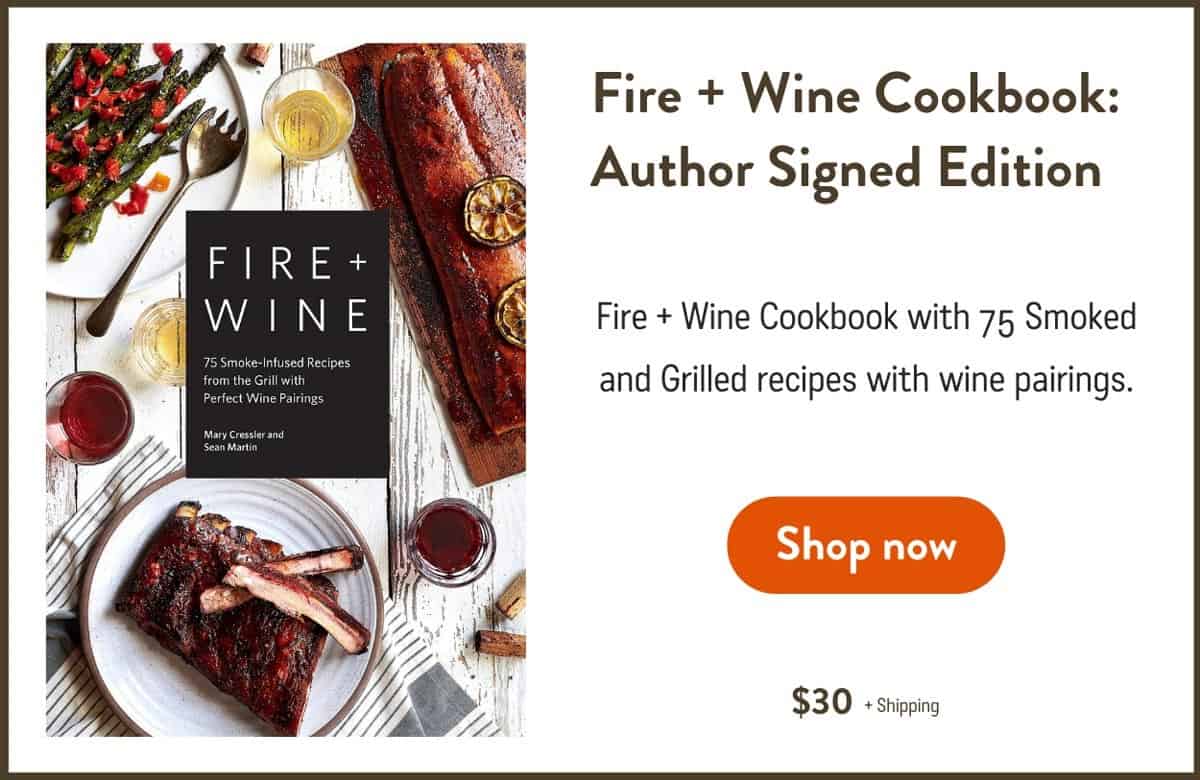 Tried this recipe? Give us a star rating and we would love to see! Mention @vindulge or use the hashtag #vindulge on all the social media handles. And consider subscribing to our newsletter where we drop all our favorite ideas and inspirations every week.
This post may contain affiliate links. This means if you click on the link, we may receive a small commission if you purchase through the link. We partner with brands we know and love and use and it helps keep the blog going!